Abstract
Climate change threatens freshwater fish by severely modifying water quality and hydrological dynamics, hence altering the species distribution. We assessed the climate change effects on the geographical distribution of Salminus brasiliensis, a keystone species of economic interest in the La Plata River basin. Using ecological niche models, we estimated the species range in the present time and assessed the range shift phenomena through climatically suitable areas in the future. We also quantified the predictive uncertainty from niche models, atmosphere–ocean general circulation models, and carbon emission scenarios. Our predictions indicated a great range contraction of S. brasiliensis in the future. The south-central portion of the basin should retain the climate refuge function for the species at 2050. Nonetheless, the segregation of this climate refuge in two smaller parts was predicted at the end of the century. Our study also revealed that the greatest source of uncertainty in forecasts of species range shifts arises from using alternative niche algorithms in modeling process. Our results contribute to more effective measures for conservation of S. brasiliensis, thus helping to ensure the ecosystem processes and socioeconomic activities in the basin dependent on this species.
Access options
Buy single article
Instant access to the full article PDF.
USD 39.95
Price excludes VAT (USA)
Tax calculation will be finalised during checkout.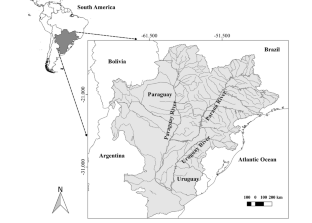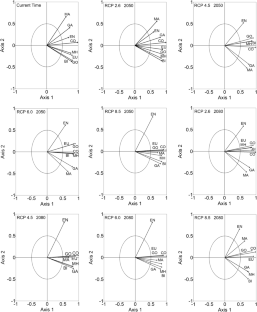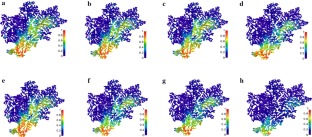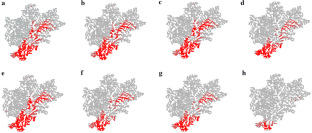 References
Abell, R., 2002. Conservation biology for the biodiversity crisis: a freshwater follow-up. Conservation Biology 16: 1435–1437.

Abell, R., M. Thieme, T. H. Ricketts, N. Olwero, R. Ng, P. Petry, E. Dinerstein, C. Revenga & J. Hoekstra, 2010. Concordance of freshwater and terrestrial biodiversity. Conservation Letters 4: 127–136.

Agência Nacional de Energia Elétrica—ANEEL, 2018. Sistema de Informações Geográficas do Setor Elétrico (SIGEL). [https://sigel.aneel.gov.br/Down/]. Accessed 07 Feb 2017.

Agostinho, A. A., L. C. Gomes, I. S. Suzuki & H. F. Júlio Jr., 2003. Migratory fishes of the Upper Paraná River Basin, Brazil. In Carolsfeld, J., B. Harvey, C. Ross & A. Baer (eds), Migratory fishes of South America: biology, fisheries and conservation status. World Fisheries Trust, British Columbia: 19–99.

Agostinho, A. A., S. M. Thomaz & L. C. Gomes, 2004. Threats for biodiversity in the floodplain of the Upper Paraná River: effects of hydrological regulation by dams. Ecohydrology & Hydrobiology 4: 267–280.

Agostinho, A. A., S. M. Thomaz & L. C. Gomes, 2005. Conservation of the Biodiversity of Brazil's Inland Waters. Conservation Biology 19: 646–652.

Agostinho, A. A., L. C. Gomes & F. Pelicice, 2007. Ecologia e Manejo dos Recursos Pesqueiros em Reservatórios do Brasil. EDUEM, Maringá: 501p.

Agostinho, A. A., F. M. Pelicice & L. C. Gomes, 2008. Dams and the fish fauna of the Neotropical region: impacts and management related to diversity and fisheries. Brazilian Journal of Biology 68: 1119–1132.

Allouche, O., A. Tsoar & R. Kadmon, 2006. Assessing the accuracy of species distribution models: prevalence, kappa and the true skill statistic (TSS). Journal of Applied Ecology 43: 1223–1232.

Almeida, V. L. L., N. S. Hahn & A. E. A. M. Vazzoller, 1997. Feeding patterns in five predatory fishes of the high Paraná River floodplain (PR, Brazil). Ecology of Freshwater Fish 6: 123–133.

Amis, M., M. Rouget, M. Lotter & J. Day, 2009. Integrating freshwater and terrestrial priorities in conservation planning. Biological Conservation 142: 2217–2226.

Araújo, M. B. & M. New, 2007. Ensemble forecasting of species distributions. Trends in Ecology and Evolution 22: 43–47.

Araújo, M. B. & A. T. Peterson, 2012. Uses and misuses of bioclimatic envelope modeling. Ecology 93(7): 1527–1539.

Baigún, C., S. B. Sverlij & H. López, 2003. Recursos pesqueros y pesquerías del Río de la Plata interior y medio (margen argentino). Informes de la División Zoología Vertebrados de la Universidad Nacional de La Plata, Argentina. Protección Ambiental del Río de La Plata y su Frente Marítimo: Prevención y Control de la Contaminación y Restauración de Hábitats, Montevideo. [www.freplata.org/documentos/tecnico.asp]. Accessed June 2016.

Bailly, D., A. A. Agostinho & H. I. Suzuki, 2008. Influence of the flood regime on the reproduction of fish species with different reproductive strategies in the Cuiabá River, Upper Pantanal, Brazil. Rivers Research and Applications 24: 1218–1229.

Balian, E. V., H. Segers, C. Lévèque & K. Martens, 2008. The freshwater animal diversity assessment: an overview of the results. Hydrobiologia 595: 627–637.

Barbieri, G., F. A. Sales & M. A. Cestarolli, 2001a. Growth and first sexual maturation size of Salminus maxillosus Valenciennes, 1849 (Characiformes, Characidae) in Mogi Guaçu river, state of São Paulo, Brazil. Acta Scientiarium (Biological Sciences) 23: 453–459.

Barbieri, G., F. A. Salles & M. A. Cestarolli, 2001b. Reproductive and nutritional dynamics of Salminus maxillosus Valenciennes, 1849 (Pisces, Characidae) at Mogi Guaçu river, state of São Paulo, Brazil. Acta Scientiarium (Biological Sciences) 23: 441–444.

Barletta, M., A. J. Jaureguizar, C. Baigun, N. F. Fontoura, A. A. Agostinho, V. M. F. Almeida-Val, A. L. Val, R. A. Torres, L. F. Jimenes-Segura, T. Giarrizzo, N. N. Fabré, V. S. Batista, C. Lasso, D. C. Taphorn, M. F. Costa, P. T. Chaves, J. P. Vieira & M. F. M. Corrêa, 2010. Fish and aquatic habitat conservation in South America: a continental overview with emphasis on Neotropical systems. Journal of Fish Biology 76: 2118–2176.

Barradas, J. R. S., L. G. Silva, B. C. Harvey & N. F. Fontoura, 2012. Estimating migratory fish distribution from altitude and basin area: a case study in a large Neotropical river. Freshwater Biology 57: 2297–2305.

Barzotto, E., P. V. Sanches, A. Bialetzki, L. Orvati & L. C. Gomes, 2015. Larvae of migratory fish (Teleostei: Ostariophysi) in the lotic remnant of the Paraná River in Brazil. Zoologia 32: 270–280.

Bozza, A. N. & N. S. Hahn, 2010. Uso de recursos alimentares por peixes imaturos e adultos de espécies piscívoras em uma planície de inundação neotropical. Biota Neotropica 10: 217–226.

Brown, J. H. & B. A. Maurer, 1987. The American Naturalist 130: 1–17.

Brown, J. H., J. F. Gillooly, A. P. Allen, V. M. Savage & G. B. West, 2004. Toward a metabolic theory of ecology. Ecology 85: 1771–1789.

Busby, J. R., 1991. BIOCLIM: a bioclimatic analysis and prediction system. In Margules, C. R. & M. P. Austin (eds), Conservation: cost effective biological surveys and data analysis. CSIRO Publishing, Melbourne: 64–68.

Capinha, C. & P. Anastácio, 2010. Assessing the environmental requirements of invaders using ensembles of distribution models. Diversity and Distributions 17: 13–24.

Carolsfeld, J., B. Harvey, C. Ross & A. Baer, 2003. Migratory Fishes of South America: Biology, Fisheries, and Conservation Status. International Development Research Centre and the World Bank, Ottawa.

Carpenter, G., A. N. Gillison & J. Winter, 1993. Domain: a flexible modeling procedure for mapping potential distributions of plants and animals. Biodiversity Conservation 2: 667–680.

Comte, L. & S. Grenouillet, 2013. Species distribution modelling and imperfect detection: comparing occupancy versus consensus methods. Diversity and Distributions 19: 996–1007.

Coronel, G., Á. Menéndez & L. Chamorro, 2006. Physiography and Hydrology. In Barros, V., R. Clarke & P. S. Dias (eds), Climate change in the La Plata Basin. Inter-American Institute on Global Change, Buenos Aires: 44–60.

Cowx, I. G. & R. L. Welcomme, 1998. Rehabilitation of rivers for fish. Fishing News Books, Blackwell Science, Oxford.

Creel, S. & D. Christianson, 2008. Relationships between direct predation and risk effects. Trends in Ecology & Evolution 23: 194–201.

Dawson, T. P., S. T. Jackson, J. I. House, I. C. Prentice & G. M. Mace, 2011. Beyond predictions: biodiversity conservation in a changing climate. Science 332: 53–58.

de Vazzoler, A. E. A. M., 1996. Biologia da Reprodução de Peixes Teleósteos: Teoria e Prática. EDUEM, Maringá, Paraná: 169.

Diniz-Filho, J. A. F., L. M. Bini, T. F. Rangel, R. D. Loyola, C. Hof, D. Nogués-Bravo & M. B. Araujo, 2009. Partitioning and mapping uncertainties in ensembles of forecasts of species turnover under climate change. Ecography 32: 897–906.

Diniz-Filho, J. A. F., V. G. Ferro, T. Santos, J. C. Nabout, R. Dobrovolski & P. Marco, 2010a. The three phases of the ensemble forecasting of niche models: geographic range and shifts in climatically suitable areas of Utetheisa ornatrix (Lepidoptera, Arctiidae). Revista Brasileira de Entomologia 54: 339–349.

Diniz-Filho, J. A. F., J. C. Nabout, L. M. Bini, R. D. Loyola, T. F. Rangel, D. Nogues-Bravo & M. B. Araújo, 2010b. Ensemble forecasting shifts in climatically suitable areas for Tropidacris cristata (Orthoptera: Acridoidea: Romaleidae). Insect Conservation and Diversity 3: 213–221.

Dudgeon, D., A. H. Arthington, M. O. Gessner, Z. I. Kawabata, D. J. Knowler, C. Leveque, R. J. Naiman, A. H. Prieur-Richard, D. Soto, M. L. J. Stiassny & C. A. Sullivan, 2006. Freshwater biodiversity: importance, threats, status and conservation challenges. Biological Reviews 81: 163–182.

Esteves, K. E. & A. V. Pinto Lobo, 2001. Feeding pattern Salminus maxillosus (Pisces, Characidae) at Cachoeira Das Emas MogiGuaçu river São Paulo state, southeast Brazil). Revista Brasileira de Zoologia 61: 267–276.

Farber, O. & R. Kadmon, 2003. Assessment of alternative approaches for bioclimatic modelling with special emphasis on the Mahalanobis distance. Ecological Modelling 160: 115–130.

Feitosa, L. A., R. Fernandes, R. S. Costa, L. C. Gomes & A. A. Agostinho, 2004. Parâmetros populacionais e simulação do rendimento por recruta de Salminus brasiliensis (Cuvier, 1816) do alto rio Paraná. Acta Scientiarum (Biological Sciences) 26: 317–323.

Ficke, A. D., C. A. Myrick & L. J. Hansen, 2007. Potential impacts of global climate change on freshwater fisheries. Reviews in Fish Biology and Fisheries 17: 581–613.

Fraser, D. F. & J. F. Gilliam, 1992. Nonlethal impacts of predator invasion: facultative suppression of growth and reproduction. Ecology 73: 959–970.

Gagne, T. O., K. L. Ovitz, L. P. Griffin, J. W. Brownscombe, S. J. Cooke & A. J. Danylchuk, 2017. Evaluating the consequences of catch-and-release recreational angling on golden dorado (Salminus brasiliensis) in Salta, Argentina. Fisheries Research 186: 625–633.

Gama, M., D. Crespo, M. Dolbeth & P. M. Anastácio, 2017. Ensemble forecasting of Corbicula fluminea worldwide distribution: Projections of the impact of climate change. Aquatic Conservation: Marine and Freshwater Ecosystems 27: 675–684.

Godoy, M. P. 1975. Peixes do Brasil, subordem Characoidei. Bacia do rio Mogi Guassu. Piracicaba, Brasil. Editora Franciscana, 4 vols

Gomes, S. E., 2015. Temperatura del agua continental y su influencia en las migraciones de los peces en la cuenca del Río De La Plata. Revista del Museo Argentino de Ciencias Naturales 17(1): 43–49.

Gower, J. C., 1971. A general coefficient of similarity and some of its properties. Biometrics 27: 857–874.

Griffiths, D., 2010. Pattern and process in the distribution of North American freshwater fish. Biological Journal of the Linnaean Society 100: 46–61.

Hahn, L., K. English, J. Carosfeld, L. G. M. Silva, J. D. Latini, A. A. Agostinho & D. R. F. Fernandez, 2007. Preliminary study on the application of radio-telemetry techniques to evaluate movements of fish in the Lateral Canal at Itaipu Dam, Brazil. Neotropical Ichthyology 5: 103–108.

Hamilton, S. K., 2009. Biogeochemical implications of climate change for tropical rivers and floodplains. Hydrobiologia 657: 19–35.

Hawkins, B. A., E. E. Porter & J. A. F. Diniz-Filho, 2003. Productivity and history as predictors of the latitudinal diversity gradient for terrestrial birds. Ecology 84: 1608–1623.

Heino, J., R. Virkkala & H. Toivonen, 2009. Climate change and freshwater biodiversity: detected patterns, future records and adaptations in northern regions. Biological Reviews 84: 39–54.

Heithaus, M. R., A. Frid, A. J. Wirsing & B. Worm, 2008. Predicting ecological consequences of marine top predator declines. Trends in Ecology & Evolution 23: 202–210.

Hirzel, A. H., J. Hausser, D. Chessel & N. Perrin, 2002. Ecological-niche factor analysis: how to compute habitat suitability maps without absence data? Ecology 83: 2027–2036.

Hixon, M. A., S. W. Palaca & S. A. Sandin, 2002. Population regulation: historical context and contemporary challenges of open versus closed systems. Ecology 83(6): 1490–1508.

Hoeinghaus, D. J., A. A. Agostinho, L. C. Gomes, F. M. Pelicice, E. K. Okada, J. D. Latini, E. A. L. Kashiwaqui & K. O. Winemiller, 2009. Effects of river impoundment on ecosystem services of large tropical rivers: embodied energy and market value of artisanal fisheries. Conservation Biology 23: 1222–1231.

Isaak, D. J., M. K. Young, D. E. Nagel, D. L. Horan & M. C. Groce, 2015. The cold-water climate shield: delineating refugia for preserving salmonid fishes through the 21st century. Global Change Biology 21: 2540–2553.

Iturbide, M., J. Bedia & J. M. Gutiérrez, 2018. Tackling Uncertainties of Species Distribution Model Projections with Package mopa. The R Journal 10: 122–139.

Iwaszkiw, J. M. & F. F. Lacoste, 2011. Artisanal fish at del Plata basin (Argentina) and its implications for the biodiversity conservation. Revista del Museo Argentino de Ciencias Naturales 13: 21–25.

Jiménez-Valverde, A., 2012. Insights into the area under the receiver operating characteristic curve (AUC) as a discrimination measure in species distribution modelling. Global Ecology and Biogeography 21: 498–507.

Johnson, J. C., 2005. The role of body size in mating interactions of the sexually cannibalistic fishing spider Dolomedes triton. Ethology 11: 51–61.

Junk, W. J. & K. M. Wantzen, 2004. The flood pulse concept: new aspects, approaches and applications—an update. In Welcomme, R. L. & T. Petr (eds), Proceedings of the second international symposium on the management of large rivers for fisheries. FAO Regional Office for Asia and the Pacific, Bangkok: 117–149.

Karling, L. C., A. Isaac, I. P. Affonso, R. M. Takemoto & G. C. Pavanellii, 2013. The impact of a dam on the helminth fauna and health of a neotropical fish species Salminus brasiliensis (Cuvier 1816) from the upper Paraná River, Brazil. Journal of Helminthology 87: 245–251.

Kelly, A. & C. Kohler, 1996. Manipulation of spawning cycles of channel catfish in indoor water recircualting systems. The Progressive Fish Culturist 58: 221–228.

Keppel, G. & G. W. Wardell-Johnson, 2015. Refugial capacity defines holdouts, microrefugia and stepping-stones: a response to Hannah et al. Trends in Ecology and Evolution 30: 233–234.

Legendre, P. & L. Legendre, 2012. Numerical ecology. Elsevier Science BV, Amsterdam.

Liu, M. & Y. Sadovy, 2005. Habitat association and social structure of the chocolate hind, Cephalopholis boenak (Pisces: Serranidae: Epinephelinae), at Ping Chau Island, north-eastern Hong Kong waters. Environmental Biology of Fishes 74: 9–18.

Lopes, T. M., D. Bailly, B. A. Almeida, N. C. L. Santos, B. C. G. Gimenez, G. O. Landgraf, P. C. L. Sales, M. S. Lima-Ribeiro, F. A. S. Cassemiro, T. F. Rangel, J. A. F. Diniz-Filho, A. A. Agostinho & L. C. Gomes, 2017. Two sides of a coin: effects of climate change on the native and non-native distribution of Colossoma macropomum in South America. PLoS ONE 12: 1–18.

Lopes, J. M., C. B. M. Alves, A. Peressin & P. S. Pompeu, 2018. Influence of rainfall, hydrological fluctuations, and lunar phase on spawning migration timing of the Neotropical fish Prochilodus costatus. Hydrobiologia 818: 145–161.

Millennium Ecosystem Assessment —MEA, 2005. Ecosystems and human well-being: Wetlands and water synthesis. Island Press, Washington.

Mohseni, O. & H. G. Stefan, 1999. Stream temperature/air temperature relationship: a physical interpretation. Journal of Hydrology 218: 128–141.

Morelli, T. L., C. Daly, S. Z. Dobrowski, D. M. Dulen, J. L. Ebersole, S. T. Jackson, J. D. Lundquist, C. I. Millar, S. P. Maher, W. B. Monahan, K. R. Nydick, K. T. Redmond, S. C. Sawyer, S. Stock & S. R. Beissinger, 2016. Managing climate change refugia for climate adaptation. PLoS ONE 11: 1–17.

Morelli, T. L., S. P. Maher, C. W. M. Lim, C. Kastely, L. M. Eastman, L. E. Flint, S. R. Beissinger & C. Moritz, 2017. Climate change refugia and habitat connectivity promote species persistence. Climate Change Responses 4: 1–12.

Ochoa-Ochoa, L. M., O. A. Flores-Villela & J. E. Bezaury-Creel, 2016. Using one vs. many, sensitivity and uncertainty analyses of species distribution models with focus on conservation area networks. Ecological Modelling 320: 372–382.

Oliveira, P. T. S., E. Wendland, M. A. Nearing, R. L. Scott, R. Rosolem & H. R. Rocha, 2015. The water balance components of undisturbed tropical woodlands in the Brazilian Cerrado. Hydrology and Earth System Sciences 19: 2899–2910.

Oliveira, A. G., M. A Valencia, R. G. Rauber, R. M. Dias & A. A. Agostinho. 2018. Ecology of "dourado" Salminus brasiliensis (Cuvier 1816): the "king of the river". In: K. Brink, P. Gough, J. Royte, P. P. Schollema & H. Wanningen (Org.). From Sea to Source. 2ed. The Netherlands: World Fish Migration Foundation: 188–189.

Ormerod, S. J., 2009. Climate change, river conservation and the adaptation challenge. Aquatic Conservation 19: 609–613.

Paine, R. T., 1966. Food web complexity and species diversity. The American Naturalist 100: 65–75.

Paine, R. T., 1974. Intertidal community structure. Oecologia 15: 93–120.

Pecl, G. T., M. B. Araújo, J. D. Bell, J. Blanchard, T. C. Bonebrake, C. Chen, T. D. Clark, R. K. Colwell, F. Danielsen, B. Evengård, L. Falconi, S. Ferrier, S. Frusher, R. A. Garcia, R. B. Griffis, A. J. Hobday, C. Janion-Scheepers, M. A. Jarzyna, S. Jennings, J. Lenoir, H. I. Linnetved, V. Y. Martin, P. C. McCormack, J. McDonald, N. J. Mitchell, T. Mustonen, M. Pandolfi, N. P. Pettorelli, E. Popova, S. A. Robinson, B. R. Scheffers, J. D. Shaw, C. J. B. Sorte, J. M. Strugnell, J. M. Sunday, M. Tuanmu, A. Vergés, C. Villanueva, T. Wernberg, E. Wapstra & E. Williams, 2017. Biodiversity redistribution under climate change: impacts on ecosystems and human well-being. Science 355: 9214.

Pereira, H. M., P. W. Leadley, V. Proença, R. Alkemade, J. P. W. Scharlemann, J. F. Fernandez-Manjarrés, M. B. Araújo, P. Balvanera, R. Biggs, W. W. L. Cheung, L. Chini, H. D. Cooper, E. L. Gilman, S. Guénette, G. C. Hurtt, H. P. Huntington, G. M. Mace, T. Oberdorff, C. Revenga, P. Rodrigues, R. J. Scholes, U. R. Sumaila & M. Walpole, 2010. Scenarios for global biodiversity in the 21st century. Science 330: 1496–1501.

Peterson, A. T. & J. Soberón, 2012. Species distribution modeling and ecological niche modeling: getting the concepts right. Natureza & Conservação 10: 102–107.

Peterson, A. T., J. Soberón, R. G. Pearson, R. P. Anderson, E. Martínez-Meyer, M. Nakamura & M. B. Araújo, 2011. Ecological niches and geographic distributions. Princeton University Press, Princeton.

Petrere, M., 1985. Migraciones de peces de agua dulce en America Latina: algunos comentarios. FAO Copescal Documento Ocasional 1: 17.

Petri, A. C., L. C. Gomes, P. A. Piana & A. A. Agostinho, 2010. The role of the predatory trahira (Pisces: Erythrinidae) in structuring fish assemblages in lakes of a Neotropical floodplain. Hydrobiologia 651: 115–126.

Phillips, S. J., R. P. Anderson & R. E. Schapire, 2006. Maximum entropy modeling of species geographic distributions. Ecological Modelling 190: 231–259.

Piana, P. A., L. C. Gomes & A. A. Agostinho, 2006. Comparison of predator–prey interaction models for fish assemblages from the neotropical region. Ecological Modelling 192: 259–270.

Poff, N. L., 2002. Ecological response to and management of increased flooding due to climate change. Philosophical Transactions of the Royal Society of London 360: 1497–1510.

Quirós, R., 2004. The La Plata river basin: international basin development and riverine fisheries. In Welcomme, R. L. & T. Petr (eds), Proceedings of the Second International Symposium on the Management of Large Rivers for Fisheries. Food and Agriculture Organization and Mekong River Commission, FAO Regional Office for Asia and the Pacific, Bangkok: 253–272.

R Development Core Team, 2017. R: a language and environment for statistical computing. Version 3.2.2. R Foundation for Statistical Computing, Vienna, Austria. http://www.R-project.org/.

Rangel, T. F., J. A. F. Diniz-Filho & L. M. Bini, 2010. SAM: a comprehensive application for Spatial Analysis in Macroecology. Ecography 33: 46–50.

Reiss, H., S. Cunze, K. König, H. Neumann & I. Kröncke, 2011. Species distribution modelling of marine benthos: a North Sea case study. Marine Ecology Progress Series 442: 71–86.

Reynalte-Tataje, D. A., A. P. Nuñer, M. C. Nunes, V. Garcia, C. A. Lopes & E. Zaniboni-Filho, 2012. Spawning of migratory fish species between two reservoirs of the upper Uruguay River, Brazil. Neotropical Ichthyology 10(4): 829–835.

Santos, H. A., P. S. Pompeu & C. B. Martinez, 2007. Swimming performance of the migratory neotropical fish Leporninus reinhardti (Characiformes: Anostomidae). Neotropical Ichthyology 5: 139–146.

Schmitz, O. J., V. Krivan & O. Ovadia, 2004. Trophic cascades: the primacy of trait-mediated indirect interactions. Ecology Letters 7: 153–163.

Schoener, T. W., 1968. The Anolis lizards of Bimini: resource partitioning in a complex fauna. Ecology 49: 704–726.

Soberón, J., 2007. Grinnellian and Eltonian niches and geographic distributions of species. Ecology Letters 10: 1115–1123.

Sokal, R. R. & F. J. Rohlf, 1995. Biometry: The principles and practice of statistics in biological research. W.H. Freeman and Co, New York.

Stockwell, D. R. B. & D. Peters, 1999. The GARP modeling system: problems and solutions to automated spatial predictions. International Journal of Geographical Information Science 13: 143–158.

Suzuki, H. I., A. E. A. Vazzoler, E. E. Marques, M. A. P. Lizama & P. Inada, 2004. Reproductive ecology of the fish assemblages. In Thomaz, S. M., A. A. Agostinho & N. S. Hahn (eds), The Upper Paraná River and its Floodplain: physical aspects, ecology and conservation. Backhuys Publishers, Leiden: 271–291.

Sverlij, S. B. & A. Espinach-Ros, 1986. El dorado Salminus maxillosus (Pisces, Characiformes), em el rio de La Plata y rio Uruguay inferior. Revista de Investigacíon y Desarrollo Pesquero 6: 57–75.

Tedesco, P. A., F. Leprieur, B. Hugueny, S. Brosse, H. H. Dürr, O. Beauchard, F. Busson & T. Oberdorff, 2012. Patterns and processes of global riverine fish endemism. Global Ecology and Biogeography 21: 977–987.

Terribile, L. C., J. A. F. Diniz-Filho & P. De Marco, 2010. How many studies are necessary to compare niche-based models for geographic distributions? Inductive reasoning may fail at the end. Brazilian Journal of Biology 70: 263–269.

Tessarolo, G., T. F. Rangel, M. B. Araújo & J. Hortal, 2014. Uncertainty associated with survey design in Species Distribution Models. Diversity and Distributions 20: 1258–1269.

Thomas, C. D., A. Cameron, R. E. Green, M. Bakkenes, L. J. Beaumont, Y. C. Collingham, B. F. N. Erasmus, M. F. Siqueira, A. Grainger, L. Hannah, L. Hughes, B. Huntley, A. S. van Jaarsveld, G. F. Midgley, L. Miles, M. A. Ortega-Huerta, A. Townsend Peterson, O. L. Phillips & S. E. Williams, 2004. Extinction risk from climate change. Nature 427: 145–148.

Thuiller, W., T. Münkemüller, S. Lavergne, D. Mouillot, N. Mouquet & D. Gravel, 2013. A road map for integrating eco-evolutionary processes into biodiversity models. Ecology Letters 16: 94–105.

Tófoli, R. M., R. M. Dias, G. H. Z. Alves, D. J. Hoeinghaus, L. C. Gomes, M. T. Baumgartner & A. A. Agostinho, 2017. Gold at what cost? Another megaproject threatens biodiversity in the Amazon. Perspectives in Ecology and Conservation 15: 129–131.

Trussel, G. C., P. J. Ewanchuk & C. M. Matassa, 2006. Habitat effects on the relative importance of trait and density mediated indirect interactions. Ecology Letters 9: 1245–1252.

Urban, M. C., G. Bocedi, A. P. Hendry, J.-B. Mihoub, G. Peer, A. Singer, J. R. Bridle, L. G. Crozier, L. DeMeester, W. Godsoe, A. Gonzalez, J. J. Hellmann, R. D. Holt, A. Huth, K. Johst, C. B. Krug, P. W. Leadley, S. C. F. Palmer, J. H. Pantel, A. Schmitz, P. A. Zollner & J. M. J. Travis, 2016. Improving the forecast for biodiversity under climate change. Science 353: 84661–84669.

Van Vliet, M. T. H., F. Ludwig, J. J. G. Zwolsman, G. P. Weedon & P. Kabat, 2011. Global river temperatures and sensitivity to atmospheric warming and changes in river flow. Water Resources Research 47: W02544.

Van Vliet, M. T. H., F. Ludwig & P. Kabat, 2013. Global streamflow and thermal habitats of freshwater fishes under climate change. Climatic Change 121: 739–754.

Vos, C. C., P. Berry, P. Opdam, H. Baveco, B. Nijhof, J. O'Hanley, C. Bell & H. Kuipers, 2008. Adapting landscapes to climate change: examples of climate-proof ecosystem networks and priority adaptation zones. Journal of Applied Ecology 45: 1722–1731.

Watanabe, E., M. J. Kishi, A. Ishida & M. N. Aita, 2012. Western Arctic primary productivity regulated by shelf-break warm eddies. Journal of Oceanography 68: 703–718.

Wiens, J. A., D. Stralberg, D. Jongsomjit, C. A. Howell & M. A. Snyder, 2009. Niches, models, and climate change: assessing the assumptions and uncertainties. Proceedings of the National Academy of Sciences USA 106: 19729–19736.

Winemiller, K. O., 1989. Patterns of variation in life history among South American fishes in seasonal environments. Oecologia 81(2): 225–241.

Winemiller, K. O., 1992. Life history strategies and the effectiveness of sexual selection. Oikos 62: 318–327.

Winemiller, K. O., P. B. Mcintyre, L. Castello, E. Fluet-Chouinard, T. Giarrizzo, S. Nam, I. G. Baird, W. Darwall, N. K. Lujan, I. Harrison, M. L. J. Stiassny, R. A. M. Silvano, D. B. Fitzgerald, F. M. Pelicice, A. A. Agostinho, L. C. Gomes, J. S. Albert, E. Baran, M. Petrere Jr., C. Zarfl, M. Mulligan, J. P. Sullivan, C. C. Arantes, L. M. Sousa, A. A. Koning, D. J. Hoeinghaus, M. Sabaj, J. G. Lundberg, J. Armbruster, M. L. Thieme, P. Petry, J. Zuanon, G. Torrente Vilara, J. Snoeks, C. Ou, W. Rainboth, C. S. Pavanelli, A. Akama, A. Van Soesbergen & L. Sáenz, 2016. Balancing hydropower and biodiversity in the Amazon, Congo, and Mekong. Science 351: 128–129.

Woodward, G., D. M. Perkins & L. E. Brown, 2010. Climate change and freshwater ecosystems: impacts across multiple levels of organization. Philosophical Transactions of the Royal Society of London 365: 2093–2106.

Zaniboni-Filho, E., J. Ribolli, S. Hermes-Silva & A. P. O. Nuñer, 2017. Wide reproductive period of a long-distance migratory fish in a subtropical river, Brazil. Neotropical Ichthyology 15(1): e160135.

Zarfl, C., A. Lumsdon, J. Berlekamp, L. Tydecks & K. Tockner, 2015. A global boom in hydropower dam construction. Aquatic Sciences 77: 161–170.
Acknowledgements
We thank the National Council for Scientific and Technological Development (CNPq) and Higher Education Personnel (CAPES) for a scholarship granted to R. R., E. O. C., J. C. S., E.G. C., M. A. A., T. M., A. P., A. C. M. P., B. F. Z., E. M. C., G. A. M., I. J. O., J. L. A., J. E., J. V. F. S., J. R. P. A., J. A. S., M. J. M. G., M. S. I., and D.B. was supported by CAPES/PNPD post-doctoral fellowship, F. A. S. C. was supported by CNPq/INCt (grant DTI 380.376/2017-2) and A. A. A., J. A. F. D. F. and T. F. R. were supported by CNPq. P. L was supported by Fundação de Amparo à Pesquisa do Estado de São Paulo (FAPESP). We would like to thank Lucas Henrique Xavier for his contribution in the initial discussion of the study.
Additional information
Handling editor: Eric Larson
Publisher's Note
Springer Nature remains neutral with regard to jurisdictional claims in published maps and institutional affiliations.
Electronic supplementary material
Below is the link to the electronic supplementary material.
About this article
Cite this article
Ruaro, R., Conceição, E.O., Silva, J.C. et al. Climate change will decrease the range of a keystone fish species in La Plata River Basin, South America. Hydrobiologia 836, 1–19 (2019). https://doi.org/10.1007/s10750-019-3904-0
Received:

Revised:

Accepted:

Published:

Issue Date:

DOI: https://doi.org/10.1007/s10750-019-3904-0
Keywords