Abstract
The complex climatic and geological history of Southeast Asia has been hypothesised to determine the most important aspects of the current phylogeographical structure and distribution of living organisms throughout the region. To test existing hypotheses, the genetic structure of the tire track eel, Mastacembelus favus, was investigated using 823 bp of mitochondrial DNA cytochrome b from 469 individuals from 51 localities encompassing its native range. The results classified all haplotypes into two major lineages, Lineage 1, which was further divided into Lineages 1a (lower Mekong, eastern Gulf of Thailand and Malay—Thai Peninsula), 1b (Banpakong River), 1c (Chao Phraya, Gulf of Thailand and Malay—Thai Peninsula) and 1d (Khlang Yai River), and Lineage 2, the upper reaches of the lower Mekong and the middle Mekong. Strong genetic discontinuities dated approximately 5 MYA were discovered in the Mekong with limited geographical overlap, suggesting a historically dissected drainage between two sections and species colonisation via different routes. The widespread Lineage 1 showed a strong signature of population expansion during the Pleistocene climate oscillation. Haplotype characteristics in the Malay—Thai Peninsula are hypothesised to result from postglacial dispersal from the Mekong and Chao Phraya through an extended Pleistocene drainage network.
This is a preview of subscription content, log in to check access.
Access options
Buy single article
Instant access to the full article PDF.
US$ 39.95
Price includes VAT for USA
Subscribe to journal
Immediate online access to all issues from 2019. Subscription will auto renew annually.
US$ 199
This is the net price. Taxes to be calculated in checkout.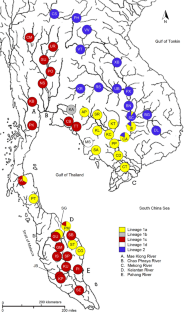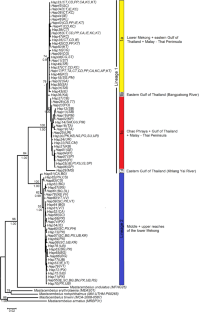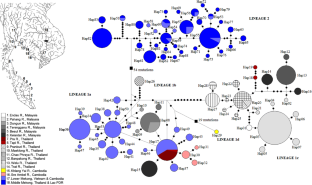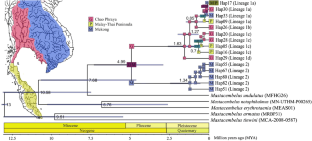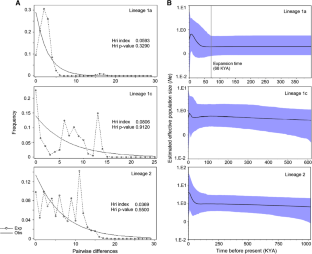 References
Abell, R., M. L. Thieme, C. Revenga, M. Bryer, M. Kottelat, N. Bogutskaya, B. Coad, N. Mandrak, S. Contreras Balderas, W. Bussing, M. L. J. Stiassny, P. Skelton, G. R. Allen, P. Unmack, A. Naseka, R. Ng, N. Sindorf, J. Robertson, E. Armijo, J. V. Higgins, T. J. Heibel, E. Wikramanayake, D. Olson, H. L. López, R. E. Reis, J. G. Lundberg, M. H. Sabaj Pérez & P. Petry, 2008. Freshwater ecoregions of the World: a new map of biogeographic units for freshwater biodiversity conservation. BioScience 58: 403–414.

Adamson, E. A. S., D. A. Hurwood, A. M. Baker & P. B. Mather, 2009. Population subdivision in Siamese mud carp Henicorhynchus siamensis in the Mekong River basin: implications for management. Journal of Fish Biology 75: 1371–1392.

Adamson, E. A. S., D. A. Hurwood & P. A. Mather, 2012. Insights into historical drainage evolution based on the phylogeography of the chevron snakehead fish (Channa striata) in the Mekong Basin. Freshwater Biology 57: 2211–2229.

Attwood, S. W., F. A. Fatih, I. C. Campbell & E. S. Upatham, 2008. The distribution of Mekong schistosomiasis, past and future: preliminary indications from an analysis of genetic variation in the intermediate host. Parasitology International 57: 256–270.

Attwood, W. & D. A. Johnston, 2001. Nucleotide sequence differences reveal genetic variation in Neotricula aperta (Gastropoda: Pomatiopsidae), the snail host of schistosomiasis in the lower Mekong Basin. The Biological Journal of the Linnean Society 73: 23–41.

Avise, J. C., 2000. Phylogeography: the history and formation of species. Harvard University Press, Cambridge, MA.

Bandelt, H.-J., P. Forster & A. Röhl, 1999. Median-joining networks for inferring intraspecific phylogenies. Molecular Biology and Evolution 16: 37–48.

Barrowclough, G. F., R. J. Gutiérrez & J. G. Groth, 1999. Phylogeography of spotted owl (Strix occidentalis) populations based on mitochondrial DNA sequences: gene flow, genetic structure, and a novel biogeographic pattern. Evolution 53: 919–931.

Beck, S. V., G. R. Carvalho, A. Barlow, L. Rüber, H. Hui Tan, E. Nugroho, D. Wowor, S. A. Mohd Nor, F. Herder, Z. A. Muchlisin & M. de Bruyn, 2017. Plio-Pleistocene phylogeography of the Southeast Asian Blue Panchax killifish, Aplocheilus panchax. PLoS ONE 2: e0179557.

Benjamini, Y. & Y. Hochberg, 1995. Controlling the false discovery rate: a practical and powerful approach to multiple testing. Journal of the Royal Statistical Society B 57: 289–300.

Blessing, J. J., J. C. Marshall & S. R. Balcombe, 2010. Humane killing of fishes for scientific research: a comparison of two methods. Journal of Fish Biology 76: 2571–2577.

Carvajal-Rodriguez, A. & J. de Uña-Alvarez, 2011. Assessing significance in high-throughput experiments by sequential goodness of fit and q-value estimation. PLoS ONE 6: e24700.

Chenoweth, S. F. & J. M. Hughes, 2003. Oceanic interchange and nonequilibrium population structure in the estuarine dependent Indo-Pacific tasselfish, Polynemus sheridani. Molecular Ecology 12: 2387–2397.

Clark, M. K., L. M. Schoenbohm, L. H. Royden, K. X. Whipple, B. C. Burchfiel, X. Zhang, W. Tang, E. Wang & L. Chen, 2004. Surface uplift, tectonics, and erosion of Eastern Tibet from large-scale drainage patterns. Tectonics 23: 1006.

Day, J. J., A. Fages, K. J. Brown, E. J. Vreven, M. L. J. Stiassny, R. Bills, J. P. Friel & L. Rüber, 2017. Multiple independent colonizations into the Congo Basin during the continental radiation of African Mastacembelus spiny eels. Journal of Biogeography 44: 2308–2318.

de Bruyn, M., E. Nugroho, M. M. Hossain, J. C. Wilson & P. B. Mather, 2005. Phylogeographic evidence for the existence of an ancient biogeographic barrier: the Isthmus of Kra Seaway. Heredity 94: 370–378.

de Bruyn, M., L. Rüber, S. Nylinder, B. Stelbrink, N. R. Lovejoy, S. Lavoué, H. H. Tan, E. Nugroho, D. Wowor, P. K. Ng, M. N. Siti Azizah, T. Von Rintelen, R. Hall & G. R. Carvalho, 2013. Paleo-drainage basin connectivity predicts evolutionary relationships across three Southeast Asian biodiversity hotspots. Systematic Biology 62: 398–410.

Delgado, C. L., N. Wada, M. W. Rosegrant, S. Meijer & M. Ahmed, 2003. Fish to 2020: Supply and Demand in Changing Global Market. IFPRI and World Fish Center, Washington, DC, Penang.

Dodson, J. J. & F. Lecomte, 2015. A DNA barcode-based evaluation of the Southeast Asian catfish genus Hemibagrus Bleeker, 1862 (Teleostei: Siluriformes; Bagridae). Advances in Evolutionary Biology 2015: 490158.

Dodson, J. J., F. Colombani & P. K. L. Ng, 1995. Phylogeographic structure in the mitochondrial DNA of a South-east Asian freshwater fish, Hemibagrus nemurus (Siluroidei; Bagridae) and Pleistocene sea-level changes on the Sunda shelf. Molecular Ecology 4: 331–346.

Drummond, A. J., A. Rambaut, B. Shapiro & O. G. Pybus, 2005. Bayesian coalescent inference of past population dynamics from molecular sequences. Molecular Biology and Evolution 22: 1185–1192.

Drummond, A. J., M. A. Suchard, D. Xie & A. Rambaut, 2012. Bayesian phylogenetics with BEAUti and the BEAST 1.7. Molecular Biology and Evolution 29: 1969–1973.

Dupanloup, I., S. Schneider & L. Excoffier, 2002. A simulated annealing approach to define the genetic structure of populations. Molecular Ecology 11: 2571–2581.

Excoffier, L., G. Laval & S. Schneider, 2005. Arlequin ver. 3.0: an integrated software package for population genetics data analysis. Evolutionary Bioinformatics Online 1: 47–50.

Fontaine, H. & D. R. Workman, 1978. Review of the geology and mineral resources of Kampuchea, Laos and Vietnam. In Third Regional Conference on Geology and Mineral Resources of Southeast Asia, 14–18 November, 1978, Bangkok. Bangkok: Asian Institute of Technology.

Frappart, F., K. D. Minh, J. L'Hermitte, A. Cazenave, G. Ramillien, T. Le Toan & N. Mognard-Campbell, 2006. Water volume change in the lower Mekong from satellite altimetry and imagery data. Geophysical Journal International 167: 570–584.

Froese, R. & D. Pauly (eds), 2016. FishBase. World Wide Web electronic publication. www.fishbase.org, version (01/2016).

Fu, Y. X., 1997. Statistical tests of neutrality of mutations against population growth, hitchhiking and background selection. Genetics 147: 915–925.

Grant, W. S. & B. W. Bowen, 1998. Shallow population histories in deep evolutionary lineages of marine fishes: insights from sardines and anchovies and lessons for conservation. Journal of Heredity 89: 415–426.

Gupta, A. & S. C. Liew, 2007. The Mekong from satellite imagery: a quick look at a large river. Geomorphology 85: 259–274.

Harpending, H. C., 1994. Signature of ancient population growth in a low-resolution mitochondrial DNA mismatch distribution. Human Biology 66: 591–600.

He, D. K. & Y. F. Chen, 2006. Biogeography and molecular phylogeny of the genus Schizothorax (Teleostei: Cyprinidae) in China inferred from cytochrome b sequences. Journal of Biogeography 33: 1448–1460.

Hedrick, P. W., 2009. Genetics of population, 4th ed. Jones and Bartlet Publishers, Sudbury.

Heuertz, M., S. Fineschi, M. Anzidei, R. Pastorelli, D. Salvini, L. Paule, N. Frascaria-Lacoste, O. J. Hardy, X. Vekemans & G. G. Vendramin, 2004. Chloroplast DNA variation and postglacial recolonization of common ash (Fraxinus excelsior L.) in Europe. Molecular Ecology 13: 3437–3452.

Hewitt, G., 2000. The genetic legacy of the Quaternary ice ages. Nature 405: 907–913.

Hoanh, C. T., N. D. Phong, N. H. Trung, L. C. Dung, N. X. Hien, N. V. Ngoc & T. P. Tuong, 2012. Modelling to support land and water management: experiences from the Mekong River Delta, Vietnam. Water International 37: 408–426.

Huang, Y., X. Guo, S. Y. W. Ho, H. Shi, J. Li, J. Li, B. Chai & Y. Wang, 2013. Diversification and demography of the Oriental Garden Lizard (Calotes versicolor) on Hainan Island and the Adjacent Mainland. PLoS ONE 8: e64754.

Hurwood, D. A., E. A. S. Adamson & P. B. Mather, 2008. Evidence for strong genetic structure in a regionally important, highly vagile cyprinid (Henicorhynchus lobatus) in the Mekong river basin. Ecology of Freshwater Fish 17: 273–283.

Hurwood, D. A., S. Dammannagoda, M. N. Krosch, K. R. Salin, A.-B. H. Youssef, M. de Bruyn & P. B. Mather, 2014. Impacts of climatic factors on evolution of molecular diversity and the natural distribution of wild stocks of the giant freshwater prawn (Macrobrachium rosenbergii). Freshwater Science 33: 217–231.

Hutchison, C. S., 1989. Geological Evolution of South-East Asia. Oxford Monographs on Geology and Geophysics. Clarendon Press, Oxford.

Jamsari, A. F. J., 2017. Molecular systematics, historical biogeography and population genetics of the Asian spiny eel (Synbranchiformes: Mastacembelidae). Unpublished D. Phil. Thesis, Universiti Sains Malaysia.

Kottelat, M., 1989. Zoogeography of the fishes from Indochinese inland waters with an annotated checklist. Bulletin Zoölogisch Museum Universiteit van Amsterdam 12: 1–54.

Kramer, A. & O. Sarnelle, 2008. Limits to genetic bottlenecks and founder events imposed by the allee effect. Oecologia 157: 561–569.

Landis, M. J., N. J. Matzke, B. R. Moore & J. P. Huelsenbeck, 2013. Bayesian analysis of biogeography when the number of areas is large. Systematic Biology 62: 789–804.

Liao, P.-C., D.-C. Kuo, C.-C. Lin, K.-C. Ho, T.-P. Lin & S.-Y. Hwang, 2010. Historical spatial range expansion and a very recent bottleneck of Cinnamomum kanehirae Hay (Lauraceae) in Taiwan inferred from nuclear genes. BMC Evolutionary Biology 10: 124.

Librado, P. & J. Rozas, 2009. DnaSP v5: a software for comprehensive analysis of DNA polymorphism data. Bioinformatics 25: 1451–1452.

Lukoschek, V., J. L. Osterhage, D. R. Karns, J. C. Murphy & H. K. Voris, 2011. Phylogeography of the Mekong mud snake (Enhydris subtaeniata): the biogeographic importance of dynamic river drainages and fluctuating sea levels for semiaquatic taxa in Indochina. Ecology and Evolution 1: 330–342.

Maggs, C. A., R. Castilho, D. Foltz, C. Henzler, M. T. Jolly, J. Kelly, J. Olsen, K. E. Perez, W. Stam, R. Väinölä, F. Viard & J. Wares, 2008. Evaluating signatures of glacial refugia for North Atlantic benthic marine taxa. Ecology 89: S108–S122.

Matzke, N. J., 2013. Probabilistic historical biogeography: new models for founder event speciation, imperfect detection, and fossils allow improved accuracy and model-testing. Frontiers of Biogeography 5: 242–248.

McConnell, S. K. J., 2004. Mapping aquatic faunal exchanges across the Sunda shelf, South-east Asia, using distributional and genetic data sets from the cyprinid fish Barbodes gonionotus (Bleeker, 1858). Journal of Natural History 38: 651–670.

Meyer, A., 1994. Shortcomings of the cytochrome b gene as a molecular marker. Trends in Ecology & Evolution 9: 278–280.

Miya, M., A. Kawaguchi & M. Nishida, 2001. Mitogenomic exploration of higher teleostean phylogenies: a case study for moderate-scale evolutionary genomics with 38 newly determined complete mitochondrial DNA sequences. Molecular Biology and Evolution 18: 1993–2009.

Myers, N., R. A. Mittermeier, C. G. Mittermeier, G. A. da Fonseca & J. Kent, 2000. Biodiversity hotspots for conservation priorities. Nature 403: 853–858.

Nazia, A. K., M. Suzana, H. Azhar, T. T. T. Nguyen & M. N. Siti Azizah, 2010. No genetic differentiation between geographically isolated populations of Clarias macrocephalus Günther in Malaysia revealed by sequences of mtDNA Cytochrome b and D-loop gene regions. Journal of Applied Ichthyology 26: 568–570.

Ngamsiri, T., M. Nakajima, S. Sukmanomon, N. Sukumasavin, W. Kamonrat, U. NaNakorn & N. Taniguchi, 2007. Genetic diversity of the wild Pangasianodon gigas collected from Thailand and Cambodia. Fisheries Science 73: 792–799.

Nguyen, T. T., U. Na-Nakorn, S. Sukmanomon & C. Ziming, 2008. A study on phylogeny and biogeography of mahseer species (Pisces: Cyprinidae) using sequences of three mitochondrial DNA gene regions. Molecular Phylogenetics and Evolution 48: 1223–1231.

Nichols, R. A. & G. M. Hewitt, 1994. The genetic consequences of long distance dispersal during colonization. Heredity 72: 312–317.

Nicolas, V., B. Schaeffer, A. D. Missoup, J. Kennis, M. Colyn, C. Denys, C. Tatard, C. Cruaud & C. Laredo, 2012. Assessment of three mitochondrial genes (16S, Cytb, CO1) for identifying species in the Praomyini tribe (Rodentia: Muridae). PLoS ONE 7: e36586.

Page, T. J. & J. M. Hughes, 2010. Comparing the performance of multiple mitochondrial genes in the analysis of Australian freshwater fishes. Journal of Fish Biology 77: 2093–2122.

Posada, D., 2008. JModelTest: phylogenetic model averaging. Molecular Biology and Evolution 25: 1253–1256.

Rainboth, W. J., 1996a. Fishes of the Cambodian Mekong. Food and Agricultural Organisation of the United Nations, Rome.

Rainboth, W. J., 1996b. The Taxonomy, Systematics, and Zoogeography of Hypsibarbus, A New Genus of Large Barbs (Pisces, Cyprinidae) from the Rivers of Southeastern Asia. University of California Press, Berkeley.

Rainboth, W. J., C. Vidthayanon & D. Y. Mai, 2012. Fishes of the greater Mekong ecosystem with species list and photographic atlas. Miscellaneous Publications, Museum of Zoology, University of Michigan, Michigan.

Rambaut, A., 2012. FigTree (Version 1.4.0) [Software]. Available from http://tree.bio.ed.ac.uk/software/figtree/.

Rambaut, A., M. A. Suchard, D. Xie & A. J. Drummond, 2014. Tracer (Version 1.6) [Software]. http://beast.bio.ed.ac.uk/Tracer.

Ramos-Onsins, S. E. & J. Rozas, 2002. Statistical properties of new neutrality tests against population growth. Molecular Biology and Evolution 19: 2092–2100.

Ree, R. H. & I. Sanmartín, 2018. Conceptual and statistical problems with the DEC + J model of founder event speciation and its comparison with DEC via model selection. Journal of Biogeography 45: 741–749.

Ree, R. H. & S. A. Smith, 2008. Maximum likelihood inference of geographic range evolution by dispersal, local extinction, and cladogenesis. Systematic Biology 57: 4–14.

Roberts, T. R., 1986. Systematic review of the Mastacembelidae or spiny eels of Burma and Thailand, with description of two new species of Macrognathus. Japanese Journal Ichthyology 33: 95–109.

Ronquist, F., M. Teslenko, P. van derMark, D. L. Ayres, A. Darling, S. Höhna, B. Larget, L. Liu, M. A. Suchard & J. P. Huelsenbeck, 2012. MrBayes 3.2: Efficient Bayesian phylogenetic inference and model choice across a large model space. Systematic Biology 61: 539–542.

Rosetti, N. & M. I. Remis, 2012. Spatial genetic structure and mitochondrial DNA phylogeography of Argentinean populations of the grasshopper Dichroplus elongatus. PLoS ONE 7: e40807.

Sathiamurthy, E. & H. K. Voris, 2006. Maps of Holocene sea level transgression and submerged lakes on the Sunda Shelf. Natural History Journal of Chulalongkorn University Supplement 2: 1–43.

Schenekar, T. & S. Weiss, 2011. High rate of calculation errors in mismatch distribution analysis results in numerous false inferences of biological importance. Heredity 107: 511–512.

Schlötterer, C., 2004. The evolution of molecular markers–just a matter of fashion? Nature Reviews Genetics 5: 63–69.

So, N., J. K. van Houdt & F. A. Volckaert, 2006. Genetic diversity and population history of the migratory catfishes Pangasianodon hypophthalmus and Pangasius bocourti in the Cambodian Mekong River. Fisheries Science 72: 469–476.

Sodhi, N. S., L. P. Koh, B. W. Brook & P. K. Ng, 2004. Southeast Asian biodiversity: an impending disaster. Trends in Ecology and Evolution 19: 654–660.

Sokheng, C., C. K. Chhea & J. Valbo-Jørgensen, 2000. Lateral fish migrations between Tonle Sap River and its flood plain. In Third Technical Symposium on Mekong Fisheries, 8–9 December 2000, Phnom Penh. Vientiane: Mekong River Commission.

Tajima, F., 1989. The effect of change in population size on DNA polymorphism. Genetics 123: 597–601.

Takagi, A. P., S. Ishikawa, T. Nao, S. L. Song, S. Hort, K. Thammavong, B. Saphakdy, A. Phomsouvanhm, M. Nishida & H. Kurokura, 2011. Genetic differentiation of Macrognathus siamensis within the Mekong River between Laos and Cambodia. Journal of Applied Ichthyology 27: 1150–1154.

Taki, Y., 1975. Geographic distribution of primary freshwater fishes in four principal areas of Southeast Asia. South East Asian Studies 13: 200–214.

Tamura, K., G. Stecher, D. Peterson, A. Filipski & S. Kumar, 2013. MEGA6: molecular evolutionary genetics analysis version 6.0. Molecular Biology and Evolution 30: 2725–2729.

Tan, M. P., A. F. J. Jamsari & M. N. Siti Azizah, 2012. Phylogeographic pattern of the striped snakehead, Channa striata in Sundaland: ancient river connectivity, geographical and anthropogenic signatures. PLoS ONE 7: e52089.

Tan, M. P., A. F. J. Jamsari, Z. A. Muchlisin & M. N. Siti Azizah, 2015. Mitochondrial genetic variation and population structure of the striped snakehead, Channa striata in Malaysia and Sumatra, Indonesia. Biochemical Systematics and Ecology 60: 99–105.

Teletchea, F., 2009. Molecular identification methods of fish species: reassessment and possible applications. Reviews in Fish Biology and Fisheries 19: 265–293.

Tsukagoshi, H., R. Yokoyama & A. Goto, 2011. Mitochondrial DNA analysis reveals a unique population structure of the amphidromous sculpin Cottus pollux middle-egg type (Teleostei: Cottidae). Molecular Phylogenetics and Evolution 60: 265–270.

Vergara, J., M. M. Azpelicueta & G. Garcia, 2008. Phylogeography of the Neotropical catfish Pimelodus albicans (Siluriformes: Pimelodidae) from río de la Plata basin, South America, and conservation remarks. Neotropical Ichthyology 6: 75–85.

Voris, H. K., 2000. Maps of pleistocene sea levels in Southeast Asia: shorelines, river systems, time durations. Journal of Biogeography 27: 1153–1167.

Vrijenhoek, R. C., 1998. Conservation genetics of freshwater fish. Journal of Fish Biology 53: 394–412.

Woodruff, D. S., 2010. Biogeography and conservation in Southeast Asia: how 2.7 million years of repeated environmental fluctuations affect today's patterns and the future of the remaining refugial-phase biodiversity. Biodiversity and Conservation 19: 919–941.

Xia, X., 2013. DAMBE5: a comprehensive software package for data analysis in molecular biology and evolution. Molecular Biology and Evolution 30: 1720–1728.

Yap, S. Y., 2002. On the distributional patterns of Southeast East Asian freshwater fish and their history. Journal of Biogeography 29: 1187–1199.

Zakaria-Ismail, M., 1994. Zoogeography and biodiversity of the freshwater fishes of Southeast Asia. Hydrobiologia 285: 41–48.
Acknowledgements
We would like to acknowledge Universiti Sains Malaysia for research funding (Research University Grant—1001/PBIOLOGI/815061) and for Vice Chancellor's Scholarship Award (May 2013–June 2016) to J.A.F.J. for his Ph.D. programme. We would like to thank Phanara Thach, Nguyen Hong Quyet Thang, Dang Quang Hieu, Preeda Phumee, Tinnapop Kuanwilai, Muhammad Fahmi Ahmad, Wan Mohd Amzar Wan Zainuddin, Muhammad Izzat Husna, Syed Ahmad Rizal, Haslawati Baharuddin, Mustafa Asmuni, Abdul Ghani Hassan, Yuichi Kano, Tan Heok Hui and Shalahuddin Adnan for their assistance in collecting and providing the samples. We also wish to thank the following collaborating institutions for the loan of tissue and fin samples: Florida Museum of Natural History, Kyushu University, Nagao Natural Environment Foundation, Lee Kong Chian Natural History Museum and Fisheries Research Institute Malaysia. We also thank Sébastien Lavoué for his assistance with statistical analysis and critical review of the manuscript.
Additional information
Publisher's Note
Springer Nature remains neutral with regard to jurisdictional claims in published maps and institutional affiliations.
Handling editor: Cecile Fauvelot
Electronic supplementary material
Below is the link to the electronic supplementary material.
About this article
Cite this article
Jamaluddin, J.A.F., So, N., Tam, B.M. et al. Genetic variation, demographic history and phylogeography of tire track eel, Mastacembelus favus (Synbranchiformes: Mastacembelidae) in Southeast Asia. Hydrobiologia 838, 163–182 (2019). https://doi.org/10.1007/s10750-019-03987-3
Received:

Revised:

Accepted:

Published:

Issue Date:
Keywords
Mastacembelus favus

Mastacembelidae

Cytochrome b

Phylogeography

Divergence time

Southeast Asia