Abstract
Oxidized manganese (Mn) forms tightly bound, dark precipitates on exposed rock surfaces in rivers, which could impact benthic communities. We combined a field survey with two experiments to identify patterns in benthic invertebrate community structure and potential mechanisms creating these patterns on substrates coated with Mn oxides and on 'uncoated' substrates in a large gravel-bed river. Uncoated substrate had roughly seven times higher densities of benthic macroinvertebrates, particularly fixed retreat filter feeders such as Brachycentrus, Rheotanytarsus, and Hydropsyche, while clinger taxa had similar densities between coated and uncoated substrates. In a substrate preference experiment conducted in laboratory microcosms, nymphs of a swimming mayfly (Isonychia bicolor) were more likely to avoid Mn-coated than uncoated substrate, while nymphs of a clinger mayfly family (Heptageniidae) showed no significant substrate preference or avoidance. In a field colonization experiment, invertebrate communities established on Mn-coated substrate had significantly higher variability in taxonomic composition but similar densities to communities on uncoated rocks. Combined, these results demonstrate a large difference in biological communities and describe patterns that occur during community assembly on Mn-coated substrate. While established communities responded negatively to Mn oxides, our results indicated coated substrate might also create community heterogeneity within large river riffle habitats.
Access options
Buy single article
Instant access to the full article PDF.
USD 39.95
Price excludes VAT (USA)
Tax calculation will be finalised during checkout.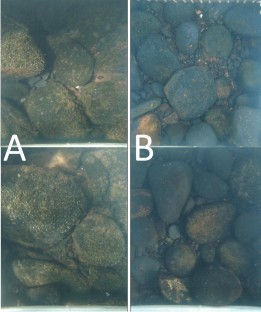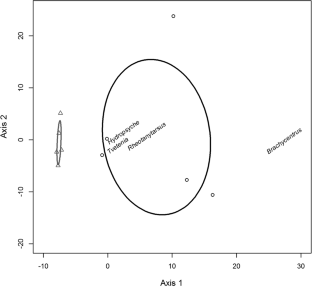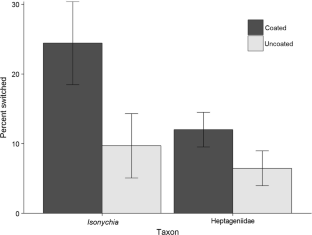 References
Adams, J. P., R. Kirst, L. E. Kearns & M. P. Krekeler, 2009. Mn-oxides and sequestration of heavy metals in a suburban catchment basin of the Chesapeake Bay watershed. Environmental Geology 58: 1269–1280.

Agrawal, A. & K. K. Sahu, 2006. Kinetic and isotherm studies of cadmium adsorption on manganese nodule residue. Journal of Hazardous Materials 137: 915–924.

Battaglia, M., G. C. Hose, E. Turak & B. Warden, 2005. Depauperate macroinvertebrates in a mine affected stream: clean water may be the key to recovery. Environmental Pollution 138: 132–141.

Battuello, M., R. M. Sartor, P. Brizio, N. Nurra, D. Pessani, M. C. Abete & S. Squadrone, 2017. The influence of feeding strategies on trace element bioaccumulation in copepods (Calanoida). Ecological Indicators 74: 311–320.

Besser, J. M., W. G. Brumbaugh, T. W. May, S. E. Church & B. A. Kimball, 2001. Bioavailability of metals in stream food webs and hazards to brook trout (Salvelinus fontinalis) in the Upper Animas River watershed, Colorado. Archives of Environmental Contamination and Toxicology 40: 48–59.

Bray, J. P., P. A. Broady, D. K. Niyogi & J. S. Harding, 2008. Periphyton communities in New Zealand streams impacted by acid mine drainage. Marine and Freshwater Research 59: 1084–1091.

Cadmus, P., W. H. Clements, J. L. Williamson, J. F. Ranville, J. S. Meyer & M. J. Gutierrez Gines, 2016. The use of field and mesocosm experiments to quantify effects of physical and chemical stressors in mining-contaminated streams. Environmental Science and Technology 50: 7825–7833.

Cain, D. J., M. N. Croteau & S. Luoma, 2011. Bioaccumulation dynamics and exposure routes of Cd and Cu among species of aquatic mayflies. Environmental Toxicology Chemistry 30: 2532–2541.

Cain, D. J., M. N. Croteau & C. C. Fuller, 2013. Dietary bioavailability of Cu adsorbed to colloidal hydrous ferric oxide. Environmental Science and Technology 47: 2869–2876.

Cain, D. J., M. N. Croteau, C. C. Fuller & A. H. Ringwood, 2016. Dietary uptake of Cu sorbed to hydrous iron oxide is linked to cellular toxicity and feeding inhibition in a benthic grazer. Environmental Science and Technology 50: 1552–1560.

Cairns Jr., J., 1982. Artificial substrates. Ann Arbor Science Publishers, Inc., Ann Arbor, MI.

Chiswell, B. & M. B. Mokhtar, 1986. The speciation of manganese in freshwaters. Talanta 33: 669–677.

Clements, W. H., 1991. Characterization of stream benthic communities using substrate-filled trays: colonization, variability, and sampling selectivity. Journal of Freshwater Ecology 6: 209–221.

Clements, W. H., 2004. Small-scale experiments support causal relationships between metal contamination and macroinvertebrate community responses. Ecological Applications 14: 954–967.

Clements, W. H., J. H. Van Hassel, D. S. Cherry & J. Cairns Jr., 1989. Colonization, variability, and the use of substratum-filled trays for biomonitoring benthic communities. Hydrobiologia 173: 45–53.

Clifford, H. F., R. J. Casey & K. A. Saffran, 1992. Short-term colonization of rough and smooth tiles by benthic macroinvertebrates and algae (chlorophyll a) in 2 streams. Journal of the North American Benthological Society 11: 304–315.

Costello, D. M., G. A. Burton, C. R. Hammerschmidt, E. C. Rogevich & C. E. Schlekat, 2011. Nickel phase partitioning and toxicity in field-deployed sediments. Environmental Science and Technology 45: 5798–5805.

Courtney, L. A. & W. H. Clements, 2002. Assessing the influence of water and substratum quality on benthic macroinvertebrate communities in a metal-polluted stream: an experimental approach. Freshwater Biology 47: 1766–1778.

Croteau, M. N. & S. N. Luoma, 2007. Characterizing dissolved Cu and Cd uptake in terms of the biotic ligand and biodynamics using enriched stable isotopes. Environmental Science and Technology 41: 3140–3145.

Croteau, M. N., D. J. Cain & C. C. Fuller, 2013. Novel and nontraditional use of stable isotope tracers to study metal bioavailability from natural particles. Environmental Science and Technology 47: 3424–3431.

Croteau, M. N., D. J. Cain & C. C. Fuller, 2017. Assessing the dietary bioavailability of metals associated with natural particles: extending the use of the reverse labeling approach to zinc. Environmental Science and Technology 51: 2803–2810.

Dale, H. M. & T. Gillespie, 1977. Diurnal fluctuations of temperature near the bottom of shallow water bodies as affected by solar radiation, bottom color and water circulation. Hydrobiologia 55: 87–92.

de Bello, F., M. Vandewalle, T. Reitalu, J. Lepš, H. C. Prentice, S. Lavorel & M. T. Sykes, 2013. Evidence for scale-and disturbance-dependent trait assembly patterns in dry semi-natural grasslands. Journal of Ecology 101: 1237–1244.

DeNicola, D. M. & M. G. Stapleton, 2002. Impact of acid mine drainage on benthic communities in streams: the relative roles of substratum vs. aqueous effects. Environmental Pollution 119: 303–315.

Dittman, E. K. & D. B. Buchwalter, 2010. Manganese bioconcentration in aquatic insects: Mn oxide coatings, molting loss, and Mn(II) thiol scavenging. Environmental Science and Technology 44: 9182–9188.

Dorn, R. I. & T. M. Oberlander, 1981. Microbial origin of desert varnish. Science 213: 1245–1247.

Downes, B. J., P. S. Lake, E. S. G. Schreiber & A. Glaister, 2000. Habitat structure, resources and diversity: the separate effects of surface roughness and macroalgae on stream invertebrates. Oecologia 123: 569–581.

Dudley, T. L. & C. M. D'Antonio, 1991. The effects of substrate texture, grazing, and disturbance on macroalgal establishment in streams. Ecology 72: 297–309.

Epler, J. H., 2001. Identification manual for the larval Chironomidae (Diptera) of North and South Carolina. Special Publication SJ2001-SP13. North Carolina Department of Environment and Natural Resources, Raleigh, North Carolina, and St Johns River Water Management District, Palatka, FL.

Frierdich, A. J., E. A. Hasenmueller & J. G. Catalano, 2011. Composition and structure of nanocrystalline Fe and Mn oxide cave deposits: implications for trace element mobility in karst systems. Chemical Geology 284: 82–96.

Fuller, C. C. & J. W. Harvey, 2000. Reactive uptake of trace metals in the hyporheic zone of a mining-contaminated stream, Pinal Creek, Arizona. Environmental Science and Technology 34: 1150–1155.

Gray, N. F., 1998. Acid mine drainage composition and the implications for its impact on lotic systems. Water Research 32: 2122–2134.

Grime, J. P., 2006. Trait convergence and trait divergence in herbaceous plant communities: mechanisms and consequences. Journal of Vegetation Science 17: 255–260.

Haack, E. A. & L. A. Warren, 2003. Biofilm hydrous manganese oxyhydroxides and metal dynamics in acid rock drainage. Environmental Science and Technology 37: 4138–4147.

Hazen, R. M., E. S. Grew, M. J. Origlieri & R. T. Downs, 2017. On the mineralogy of the "Anthropocene Epoch". American Mineralogist 102: 595–611.

Hochella, M. F., J. N. Moore, C. V. Putnis, A. Putnis, T. Kasama & D. D. Eberl, 2005a. Direct observation of heavy metal-mineral association from the Clark Fork River Superfund Complex: implications for metal transport and bioavailability. Geochimica et Cosmochimica Acta 69: 1651–1663.

Hochella, M. F., T. Kasama, A. Putnis, C. V. Putnis & J. N. Moore, 2005b. Environmentally important, poorly crystalline Fe/Mn hydrous oxides: ferrihydrite and a possibly new vernadite-like mineral from the Clark Fork River Superfund Complex. American Mineralogist 90: 718–724.

Houseman, G. R., G. G. Mittelbach, H. L. Reynolds & K. L. Gross, 2008. Perturbations alter community convergence, divergence, and formation of multiple community states. Ecology 89: 2172–2180.

Irving, E. C., D. J. Baird & J. M. Culp, 2003. Ecotoxicological responses of the mayfly Baetis tricaudatus to dietary and waterborne cadmium: implications for toxicity testing. Environmental Toxicology and Chemistry 22: 1058–1064.

Jenne, E. A., 1968. Controls on Mn, Fe Co, Ni, Cu, and Zn concentrations in soils and water: the significant role of hydrous Mn and Fe oxides. Advances in Chemistry 73: 337–387.

Kasama, T. & T. Murakami, 2001. The effect of microorganisms on Fe precipitation rates at neutral pH. Chemical Geology 180: 117–128.

Kemble, N. E., W. G. Brumbaugh, E. L. Brunson, F. J. Dwyer, C. G. Ingersoll, D. P. Monda & D. F. Woodward, 1994. Toxicity of metal-contaminated sediments from the upper Clark Fork River, Montana, to aquatic invertebrates and fish in laboratory exposures. Environmental Toxicology and Chemistry 13: 1985–1997.

Koryak, M., M. A. Shapiro & J. L. Sykora, 1972. Riffle zoobenthos in streams receiving acid mine drainage. Water Research 6: 1239–1247.

Lasier, P. J., P. V. Winger & K. J. Bogenrieder, 2000. Toxicity of manganese to Ceriodaphnia dubia and Hyalella azteca. Archives of Environmental Contamination and Toxicology 38: 298–304.

Lepori, F. & B. Malmqvist, 2009. Deterministic control on community assembly peaks at intermediate levels of disturbance. Oikos 118: 471–479.

Lind, C. J. & J. D. Hem, 1993. Manganese minerals and associated fine particulates in the streambed of Pinal Creek, Arizona, USA: a mining-related acid drainage problem. Applied Geochemistry 8: 67–80.

Linton, T. K., M. A. W. Pacheco, D. O. McIntyre, W. H. Clement & J. Goodrich-Mahoney, 2007. Development of bioassessment-based benchmarks for iron. Environmental Toxicology and Chemistry 26: 1291–1298.

MacCausland, A. & M. E. McTammany, 2007. The impact of episodic coal mine drainage pollution on benthic macroinvertebrates in streams in the anthracite region of Pennsylvania. Environmental Pollution 149: 216–226.

McKeown, D. A. & J. E. Post, 2001. Characterization of manganese oxide mineralogy in rock varnish and dendrites using X-ray absorption spectroscopy. American Mineralogist 86: 701–713.

McKnight, D. M. & G. L. Feder, 1984. The ecological effect of acid conditions and precipitation of hydrous metal oxides in a Rocky Mountain stream. Hydrobiologia 119: 129–138.

Merritt, R. W., K. W. Cummins & M. B. Berg, 2008. An introduction to the aquatic insects of North America, 4th ed. Kendall/Hunt, Dubuque, IA.

Minshall, G. W., 1984. Aquatic insect-substratum relationships. In Resh, V. H. & D. M. Rosenberg (eds), The Ecology of Aquatic Insects. Praeger Scientific, New York: 358–400.

Miyake, Y., T. Hiura, N. Kuhara & S. Nakano, 2003. Succession in a stream invertebrate community: a transition in species dominance through colonization. Ecological Research 18: 493–501.

Murdock, J. N. & W. K. Dodds, 2007. Linking benthic algal biomass to stream substratum topography. Journal of Phycology 43: 449–460.

Nelson, S. M. & R. A. Roline, 2003. Effects of multiple stressors on hyporheic invertebrates in a lotic system. Ecological Indicators 3: 65–79.

Newman, M. C., J. J. Alberts & V. A. Greenhut, 1985. Geochemical factors complicating the use of aufwuchs to monitor bioaccumulation of arsenic, cadmium, chromium, copper and zinc. Water Research 19: 1157–1165.

Niyogi, D. K., W. M. Lewis Jr. & D. M. McKnight, 2001. Litter breakdown in mountain streams affected by mine drainage: biotic mediation of abiotic controls. Ecological Applications 11: 506–516.

Niyogi, D. K., W. M. Lewis Jr. & D. M. McKnight, 2002. Effects of stress from mine drainage on diversity, biomass, and function of primary producers in mountain streams. Ecosystems 5: 554–567.

Odume, O. N., C. G. Palmer, F. O. Arimoro & P. K. Mensah, 2016. Chironomid assemblage structure and morphological response to pollution in an effluent-impacted river, Eastern Cape, South Africa. Ecological Indicators 67: 391–402.

Oksanen, J., G. F. Blanchet, M. Friendly, R. Kindt, P. Legendre, D. McGlinn, P. R. Minchin, R. B. O'Hara, G. L. Simpson, P. Solymos, M. H. M. Stevens, E. Szoecs & H. Wagner, 2016. vegan: Community Ecology Package. R package version 2.4-1. https://CRAN.R-project.org/package=vegan.

Onac, B. P., R. B. Pedersen & M. Tysseland, 1997. Presence of rare-earth elements in black ferromanganese coatings from Vântului Cave (Romania). Journal of Caves and Karst Studies 59: 128–131.

Ormerod, S. J., P. Boole, C. P. McCahon, N. S. Weatherley, D. Pascoe & R. W. Edwards, 1987. Short-term experimental acidification of a Welsh stream: comparing the biological effects of hydrogen ions and aluminium. Freshwater Biology 17: 341–356.

PADEP, 2017. Water Grab Sample data from Monitoring Station 21PA WQX597 WQN0401. Available from the National Water Quality Monitoring Council, Water Quality Portal [dataset].

Peckarsky, B. L., 1996. Alternative predator avoidance syndromes of stream-dwelling mayfly larvae. Ecology 77: 1888–1905.

Peckarsky, B. L., P. R. Fraissinet, M. A. Penton & D. J. Conklin, 1990. Freshwater macroinvertebrates of northeastern North America. Comstock Publishing Associates, Ithaca, NY.

Pfeiffer, J., E. Kosnicki, M. Bilger, B. Marshall & W. Davis, 2008. Taxonomic aids for mid-Atlantic benthic macroinvertebrates. EPA-260-R-08-014. Office of Environmental Information, Environmental Analysis Division, US Environmental Protection Agency, Washington, DC.

Pond, G. J., M. E. Passmore, F. A. Borsuk, L. Reynolds & C. J. Rose, 2008. Downstream effects of mountaintop coal mining: comparing biological conditions using family- and genus-level macroinvertebrate bioassessment tools. Journal of the North American Benthological Society 27: 717–737.

Post, J. E., 1999. Manganese oxide minerals: crystal structures and economic and environmental significance. Proceedings of the National Academy of Sciences 96: 3447–3454.

R Core Team, 2016. R: a language and environment for statistical computing. R Foundation for Statistical Computing, Vienna, Austria. https://www.R-project.org/.

Sanson, G. D., R. Stolk & B. J. Downes, 1995. A new method for characterizing surface roughness and available space in biological systems. Functional Ecology 9: 127–135.

Sasaki, A., A. Ito, J. Aizawa & T. Umita, 2005. Influence of water and sediment quality on benthic biota in an acidified river. Water Research 39: 2517–2526.

Schneck, F., A. Schwarzbold & A. S. Melo, 2011. Substrate roughness affects stream benthic algal diversity, assemblage composition, and nestedness. Journal of the North American Benthological Society 30: 1049–1056.

Scott, D. T., D. M. McKnight, B. M. Voelker & D. C. Hrncir, 2002. Redox processes controlling manganese fate and transport in a mountain stream. Environmental Science and Technology 36: 453–459.

Shaw, D. W. & G. W. Minshall, 1980. Colonization of an introduced substrate by stream macroinvertebrates. Oikos 34: 259–271.

Taniguchi, H. & M. Tokeshi, 2004. Effects of habitat complexity on benthic assemblages in a variable environment. Freshwater Biology 49: 1164–1178.

Tebo, B. M., H. A. Johnson, J. K. McCarthy & A. S. Templeton, 2005. Geomicrobiology of manganese (II) oxidation. Trends in Microbiology 13: 421–428.

Theobald, P. K., H. W. Lakin & D. B. Hawkins, 1963. The precipitation of aluminum, iron and manganese at the junction of Deer Creek with the Snake River in Summit County, Colorado. Geochimica et Cosmochimica Acta 27: 121–132.

USGS (US Geological Survey), 2017. USGS current water data for Pennsylvania. US Geological Survey, Reston, VA. http://waterdata.usgs.gov/pa/nwis/rt.

Vanschoenwinkel, B., A. Waterkeyn, M. Jocqué, L. Boven, M. Seaman & L. Brendonck, 2010. Species sorting in space and time—the impact of disturbance regime on community assembly in a temporary pool metacommunity. Journal of the North American Benthological Society 29: 1267–1278.

Verb, R. G. & M. L. Vis, 2000. Comparison of benthic diatom assemblages from streams draining abandoned and reclaimed coal mines and nonimpacted sites. Journal of the North American Benthological Society 19: 274–288.

Vuori, K. M., 1995. Direct and indirect effects of iron on river ecosystems. Annales Zoologici Fennici 32: 317–329.

Warner, R. W., 1971. Distribution of biota in a stream polluted by acid mine-drainage. Ohio Journal of Science 71: 202–215.

Waters, T. F., 1972. The drift of stream insects. Annual Review of Entomology 17: 253–272.

Wellnitz, T. A., K. A. Grief & S. P. Sheldon, 1994. Response of macroinvertebrates to blooms of iron-depositing bacteria. Hydrobiologia 281: 1–17.

Wiggins, G. B., 1996. Larvae of the North American Caddisfly Genera (Trichoptera), 2nd ed. University of Toronto Press, Toronto.

Wilson, M. J. & M. E. McTammany, 2016. Spatial scale and dispersal influence metacommunity dynamics of benthic invertebrates in a large river. Freshwater Science 35: 738–747.

Wilzbach, M. A., K. W. Cummins & R. A. Knapp, 1988. Toward a functional classification of stream invertebrate drift. Verhandlungen der Internationalen Vereinigung für Theoretische und Angewandte Limnologie 23: 1244–1254.

Winterbourn, M. J., W. F. McDiffett & S. J. Eppley, 2000. Aluminium and iron burdens of aquatic biota in New Zealand streams contaminated by acid mine drainage: effects of trophic level. Science of the Total Environment 254: 45–54.

Wood, S. N., 2011. Fast stable restricted maximum likelihood and marginal likelihood estimation of semiparametric generalized linear models. Journal of the Royal Statistical Society Series B Statistical Methodology 73: 3–36.
Acknowledgements
Research support was provided by the Katherine Mabis McKenna Foundation and the Degenstein Foundation. We would like to thank Meghan Reilly and Lizzie Walters for their valuable assistance in the field and laboratory and three anonymous reviewers for their constructive feedback on earlier versions of this manuscript.
Additional information
Handling editor: Marcelo S. Moretti
Publisher's Note
Springer Nature remains neutral with regard to jurisdictional claims in published maps and institutional affiliations.
Electronic supplementary material
Below is the link to the electronic supplementary material.
Diagram showing aquarium modified to create microcosm with circulating flow used for substrate preference experiment. (JPEG 72 kb)
About this article
Cite this article
Wilson, M.J., McTammany, M.E. & Bohr, H.R. Manganese oxides as localized drivers of benthic invertebrate density and community structure. Hydrobiologia 838, 85–98 (2019). https://doi.org/10.1007/s10750-019-03979-3
Received:

Revised:

Accepted:

Published:

Issue Date:

DOI: https://doi.org/10.1007/s10750-019-03979-3
Keywords
Habitat heterogeneity

Macroinvertebrate

Manganese oxide

River ecology