Abstract
Bromeliads are common plants in the Neotropics. Being epiphytic, they are often incorrectly considered as parasites and removed from agroforestry systems. However, their water-filled leaf axils provide habitats for a diverse group of aquatic organisms, potentially including cacao pollinating dipterans which could be beneficial to local farmers. Thus far, it is unclear how frequently and abundantly potential pollinators occur in bromeliads in cacao plantations. Therefore, we investigated the aquatic fauna in different types of bromeliads in Nicaraguan cacao agroforestry systems. Our main goal was to study the impact of bromeliad morphology and vertical position on aquatic biodiversity with particular attention for larvae of presumed cacao pollinators. Aquatic biodiversity was higher in larger bromeliads and in bromeliads positioned closer to the ground. Particularly invertebrates without flying life stages were deficient in elevated bromeliads suggesting dispersal limitation. Potential cacao pollinators occurred in 66% of the bromeliads and were most abundant in bromeliads with larger tanks that were located higher in the canopy rather than on the plantation floor. We conclude that larvae of cacao pollinators can be common and relatively abundant inhabitants of tank bromeliads in cacao trees, and it is likely that preserving these habitats could boost local pollinator abundances.
This is a preview of subscription content, log in to check access.
Access options
Buy single article
Instant access to the full article PDF.
US$ 39.95
Price includes VAT for USA
Subscribe to journal
Immediate online access to all issues from 2019. Subscription will auto renew annually.
US$ 199
This is the net price. Taxes to be calculated in checkout.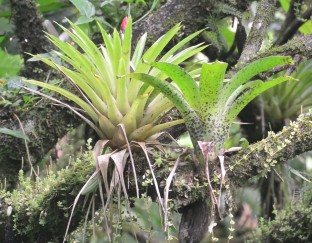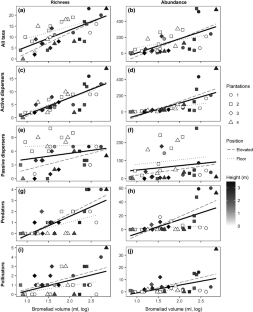 References
Borkent, A. & G. R. Spinelli, 2007. Aquatic Biodiversity in Latin America: Neotropical Ceratopogonidae (Diptera: Insecta), Vol. 4. Pensoft, Sofia.

Brouard, O., R. Céréghino, B. Corbara, C. Leroy, L. Pelozuelo, A. Dejean & J. F. Carrias, 2012. Understorey environments influence functional diversity in tank-bromeliad ecosystems. Freshwater Biology 57: 815–823.

Brown, B. V., A. Borkent, J. M. Cumming, D. M. Wood, N. E. Woodley & M. A. Zumbado, 2009. Manual of Central American Diptera. NRC Research Press, Ottawa.

Carr, M. K. V. & G. Lockwood, 2011. The water relations and irrigation requirements of cocoa (Theobroma Cacao L.): a review. Experimental Agriculture 47: 653–676.

Céréghino, R., C. Leroy, A. Dejean & B. Corbara, 2010. Ants mediate the structure of phytotelm communities in an ant-garden bromeliad. Ecology 91: 1549–1556.

Clarke, C. M. & R. L. Kitching, 1993. The metazoan food webs from six Bornean Nepenthes species. Ecological Entomology 18: 7–16.

Dézerald, O., C. Leroy, B. Corbara, J. F. Carrias, L. Pélozuelo, A. Dejean & R. Céréghino, 2013. Food-web structure in relation to environmental gradients and predator-prey ratios in tank-bromeliad ecosystems. PLoS ONE 8: e71735.

Dézerald, O., S. Talaga, C. Leroy, J. F. Carrias, B. Corbara, A. Dejean & R. Céréghino, 2014. Environmental determinants of macroinvertebrate diversity in small water bodies: insights from tank-bromeliads. Hydrobiologia 723: 77–86.

Fish, D. & S. de J. Soria, 1978. Water-holding plants (phytotelmata) as larval habitats for ceratopogonid pollinators of cacao in Bahia, Brazil. Revista Theobroma (Brasil) 8: 133–146.

Forbes, S. J. & T. D. Northfield, 2017. Increased pollinator habitat enhances cacao fruit set and predator conservation. Ecological Applications 27: 887–899.

Frank, J. H. & L. P. Lounibos, 2009. Insects and allies associated with bromeliads: a review. Terrestrial Arthropod Reviews 1: 125–153.

Givnish, T. J., M. H. J. Barfuss, B. Van Ee, R. Riina, K. Schulte, R. Horres, P. A. Gonsiska, R. S. Jabaily, D. M. Crayn, J. A. C. Smith, K. Winter, G. K. Brown, T. M. Evans, B. K. Holst, H. Luther, W. Till, G. Zizka, P. E. Berry & K. J. Sytsma, 2014. Adaptive radiation, correlated and contingent evolution, and net species diversification in Bromeliaceae. Molecular Phylogenetics and Evolution 71: 55–78.

Glendinning, D. R., 1972. Natural pollination of cocoa. New Phytologist 71: 719–729.

Groeneveld, J. H., T. Tscharntke, G. Moser & Y. Clough, 2010. Experimental evidence for stronger cacao yield limitation by pollination than by plant resources. Perspectives in Plant Ecology, Evolution and Systematics 12: 183–191.

Hammill, E., P. Corvalan & D. S. Srivastava, 2014. Bromeliad-associated reductions in host herbivory: do epiphytic bromeliads act as commensalists or mutualists? Biotropica 46: 78–82.

Hammill, E., T. B. Atwood & D. S. Srivastava, 2015. Predation threat alters composition and functioning of bromeliad ecosystems. Ecosystems 18: 857–866.

Horváth, Z., C. F. Vad & R. Ptacnik, 2016. Wind dispersal results in a gradient of dispersal limitation and environmental match among discrete aquatic habitats. Ecography 39: 726–732.

Jabiol, J., B. Corbara, A. Dejean & R. Céréghino, 2009. Structure of aquatic insect communities in tank-bromeliads in a East-Amazonian rainforest in French Guiana. Forest Ecology and Management 257: 351–360.

Jocque, M. & R. Field, 2014. Aquatic invertebrate communities in tank bromeliads: how well do classic ecological patterns apply? Hydrobiologia 730: 153–166.

Jocque, M., F. Fiers, M. Romero & K. Martens, 2013. Crustacea in phytotelmata: a global overview. Journal of Crustacean Biology 33: 451–460.

Kitching, R., 2000. Food Webs and Container Habitats. The Natural History and Ecology of Phytotelmata. Cambridge University Press, Cambridge, United Kingdom.

Legendre, P. & E. D. Gallagher, 2001. Ecologically meaningful transformations for ordination of species data. Oecologia 129: 271–280.

Lopez, L. C. S., B. Filizola, I. Deiss & R. I. Rios, 2005. Phoretic behaviour of bromeliad annelids (Dero) and ostracods (Elpidium) using frogs and lizards as dispersal vectors. Hydrobiologia 549: 15–22.

Marino, N. A. C., D. S. Srivastava & V. F. Farjalla, 2013. Aquatic macroinvertebrate community composition in tank-bromeliads is determined by bromeliad species and its constrained characteristics. Insect Conservation and Diversity 6: 372–380.

Merritt, R. W., K. W. Cummins & M. B. Berg, 2008. An Introduction to the Aquatic Insects of North America. Kendall/Hunt Publishing Company, Dubuque.

Petermann, J. S., V. F. Farjalla, M. Jocque, P. Kratina, A. A. M. Macdonald, N. A. C. Marino, P. M. De Omena, G. C. O. Piccoli, B. A. Richardson, M. J. Richardson, G. Q. Romero, M. Videla & D. S. Srivastava, 2015. Dominant predators mediate the impact of habitat size on trophic structure in bromeliad invertebrate communities. Ecology 96: 428–439.

Privat, F., 1979. Les Bromeliacées, Lieu de Developpement de Quelques Insectes Pollinisateurs des Fleurs de Cacao. Brenesia 16: 197–212.

Srivastava, D. S., M. K. Trzcinski, B. A. Richardson & B. Gilbert, 2008. Why are predators more sensitive to habitat size than their prey? Insights from Bromeliad insect food webs. The American Naturalist 172: 761–771.

Steffan, W. A. & N. L. Evenhuis, 1981. Biology of Toxorhynchites. Annual Review of Entomology 26: 159–181.

Toledo-Hernández, M., T. C. Wanger & T. Tscharntke, 2017. Neglected pollinators: can enhanced pollination services improve cocoa yields? A review. Agriculture, Ecosystems & Environment Elsevier 247: 137–148.

Trognitz, B., X. Scheldeman, K. Hansel-Hohl, A. Kuant, H. Grebe & M. Hermann, 2011. Genetic population structure of cacao plantings within a young production area in Nicaragua. PLoS ONE 6: e16056.

Vanschoenwinkel, B., S. Gielen, H. Vandewaerde, M. Seaman & L. Brendonck, 2008. Relative importance of different dispersal vectors for small aquatic invertebrates in a rock pool metacommunity. Ecography 31: 567–577.

Wambold, L. J., D. O. Chan, T. W. Therriault & J. Kolasa, 2011. Abiotic factors controlling species richness, diversity, and abundance in the Bromeliad Hohenbergia Polycephala (Bromeliaceae). Ecotropica 17: 91–101.

Winder, J. A., 1978. Cocoa flower diptera; their identity, pollinating activity and breeding sites. PANS 24: 5–18.

Young, A. M., 1985. Studies of cecidomyiid midges (Diptera: Cecidomyiidae) as cocoa pollinators (Theobroma cacao L.) in Central America. Proceedings of the Entomological Society of Washington 87: 49–79.

Young, A. M., 2007. The Chocolate Tree. A Natural History of Cacao, Revised and Expanded Edition. University Press of Florida, Gainesville.
Acknowledgements
We thank Marvin Palacios Montes, Catherine Turner and Justine Vansynghel for the logistical support. Our gratitude goes out to Miguel Peralta Riviera, Isabel Mongares Gutierrez, Serapio Aguilar Huerta and Anaíris Martinez who allowed us to work in their cacao plantations. This work was supported by the Flemish Interuniversity Council - University Development Cooperation (Grant Number NDOC2015PR005) and performed under the necessary permits obtained at the Ministerio del Ambiente y Recursos Naturales, Medio Ambiente Nicaragua (research permit DGPN/DB-IC-007-2016; export permit DGPN/DB-013-2016).
Ethics declarations
Conflict of interest
The authors declare that they have no conflict of interest.
Additional information
Handling editor: Dani Boix
Electronic supplementary material
Below is the link to the electronic supplementary material.
About this article
Cite this article
Vandromme, M., Trekels, H., Sepúlveda Ruiz, N. et al. Exploring the suitability of bromeliads as aquatic breeding habitats for cacao pollinators. Hydrobiologia 828, 327–337 (2019). https://doi.org/10.1007/s10750-018-3822-6
Received:

Revised:

Accepted:

Published:

Issue Date:
Keywords
Aquatic invertebrates

Biodiversity

Cacao plantations

Cecidomyiidae

Ceratopogonidae

Phytotelmata