Abstract
Cichlids of the genus Oreochromis ("Tilapias") are intensively used in aquaculture around the world. In many cases, when "Tilapia" were introduced for economic reasons to catchments that were home to other, often endemic, Oreochromis species, the loss of native species followed. Oreochromis hunteri is an endemic species of Crater Lake Chala on the slopes of Mount Kilimanjaro and is part of a small species flock in the upper Pangani drainage system of Tanzania. We identified three native and three invasive Oreochromis species in the region. Reconstructing their phylogeography, we found that O. hunteri is closely related to, but distinct from the other members of the upper Pangani flock. However, we found a second, genetically and phenotypically distinct Oreochromis species in Lake Chala whose origin we cannot fully resolve. Our ecological and ecomorphological investigations revealed that the endemic O. hunteri is currently rare in the lake, outnumbered by each of three invasive cichlid species. It is mitochondrially, phenotypically and trophically distinct from all others. The occurrence of the formerly abundant O. hunteri in such small numbers, its narrow habitat restriction and its limited morphological variability suggest recent population decline and loss of niche breadth in this critically endangered endemic cichlid species.
This is a preview of subscription content, log in to check access.
Access options
Buy single article
Instant access to the full article PDF.
US$ 39.95
Price includes VAT for USA
Subscribe to journal
Immediate online access to all issues from 2019. Subscription will auto renew annually.
US$ 199
This is the net price. Taxes to be calculated in checkout.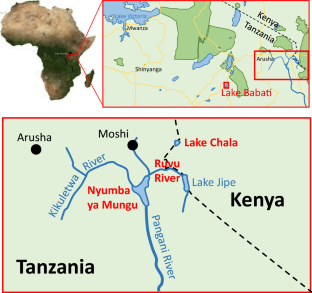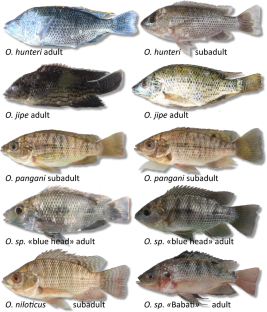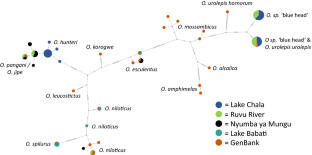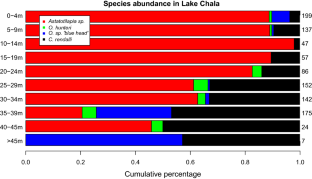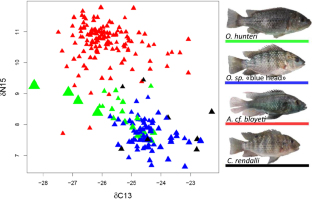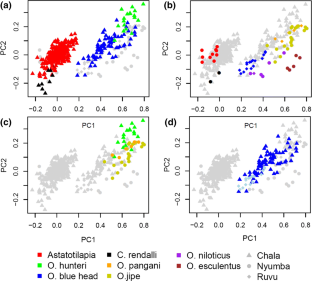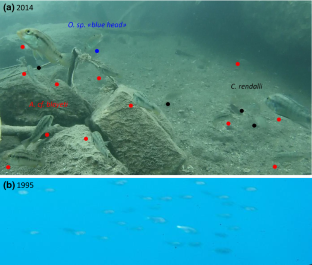 References
Angienda, P. O., H. J. Lee, K. R. Elmer, R. Abila, E. N. Waindi & A. Meyer, 2011. Genetic structure and gene flow in an endangered native tilapia fish (Oreochromis esculentus) compared to invasive Nile tilapia (Oreochromis niloticus) in Yala swamp, East Africa. Conservation Genetics 12: 243–255.

Bandelt, H. J., P. Forster & A. Rohl, 1999. Median-joining networks for inferring intraspecific phylogenies. Molecular Biology and Evolution 16: 37–48.

Barel C. D. N., M. J. P. Van Oijen, F. Witte & E. L. M. Wittemaas, 1976. Introduction to taxonomy and morphology of Haplochromine Cichlidae from Lake Victoria – Manual to Greenwoods revision papers. Netherlands Journal of Zoology 27: 333–389.

Casal, C. M. V., 2006. Global documentation of fish introductions: the growing crisis and recommendations for action. Biological Invasions 8: 3–11.

Crutchfield, J. U., 1995. Establishment and expansion of redbelly Tilapia and blue Tilapia in a power plant cooling reservoir. Uses and Effects of Cultured Fishes in Aquatic Ecosystems 15: 452–461.

D'Amato, M. E., M. M. Esterhuyse, B. C. W. van der Waal, D. Brink & F. A. M. Volckaert, 2007. Hybridization and phylogeography of the Mozambique tilapia Oreochromis mossambicus in southern Africa evidenced by mitochondrial and microsatellite DNA genotyping. Conservation Genetics 8: 475–488.

Dadzie, S., R. D. Haller & E. Trewavas, 1988. A note on the Fishes of Lake Jipe and Lake Chale on the Kenya-Tanzania border.

Daga, V. S., T. Debona, V. Abilhoa, E. A. Gubiani & J. R. S. Vitule, 2016. Non-native fish invasions of a Neotropical ecoregion with high endemism: a review of the Iguacu River. Aquatic Invasions 11: 209–223.

de Azevedo-Santos, V. M., O. Rigolin-Sa & F. M. Pelicice, 2011. Growing, losing or introducing? Cage aquaculture as a vector for the introduction of non-native fish in Furnas Reservoir, Minas Gerais, Brazil. Neotropical Ichthyology 9: 915–919.

DeGraaf, G. & L. Garibaldi, 2014. The value of african fisheries. FAO Fisheries and Aquaculture Circular 1093.

Deines, A. M., I. Bbole, C. Katongo, J. L. Feder & D. M. Lodge, 2014. Hybridisation between native Oreochromis species and introduced Nile tilapia O. niloticus in the Kafue River, Zambia. African Journal of Aquatic Science 39: 23–34.

Deines, A. M., M. E. Wittmann, J. M. Deines & D. M. Lodge, 2016. Tradeoffs among ecosystem services associated with global Tilapia introductions. Reviews in Fisheries Science & Aquaculture 24: 178–191.

Dieleman, J., B. Van Bocxlaer, C. Manntschke, D. W. Nyingi, D. Adriaens & D. Verschuren, 2015. Tracing functional adaptation in African cichlid fishes through morphometric analysis of fossil teeth: exploring the methods. Hydrobiologia 755: 73–88.

Dieleman, J., M. Muschick, W. D. Nyingi & D. Verschuren, 2018. Species integrity and origin of Oreochromis hunteri (Pisces: Cichlidae), endemic to crater Lake Challa (Kenya-Tanzania). Hydrobiologia.

FAO, 2007. The State of World Fisheries and Aquaculture, 2006th ed. FaAOotU Nations, Rome, Italy.

Firmat, C., P. Alibert, M. Losseau, J. F. Baroiller & U. K. Schliewen, 2013. Successive invasion-mediated interspecific hybridizations and population structure in the endangered cichlid Oreochromis mossambicus. PLoS ONE 8(5): e63880.

Ford, A. G. P., K. K. Dasmahapatra, L. Ruber, K. Gharbi, T. Cezard & J. J. Day, 2015. High levels of interspecific gene flow in an endemic cichlid fish adaptive radiation from an extreme lake environment. Molecular Ecology 24: 3421–3440.

Genner, M. J., E. Connell, A. Shechonge, A. Smith, J. Swanstrom, S. Mzighani, A. Mwijage, B. P. Ngatunga & G. F. Turner, 2013. Nile tilapia invades the Lake Malawi catchment. African Journal of Aquatic Science 38: 85–90.

Genner, M. J., O. Seehausen, D. F. R. Cleary, M. E. Knight, E. Michel & G. F. Turner, 2004. How does the taxonomic status of allopatric populations influence species richness within African cichlid fish assemblages? Journal of Biogeography 31: 93–102.

Kinaro, Z. O., L. Y. Xue & J. A. Volatiana, 2016. Complete mitochondrial DNA sequences of the Victoria tilapia (Oreochromis variabilis) and Redbelly Tilapia (Tilapia zilli): genome characterization and phylogeny analysis. Mitochondrial DNA 27: 2455–2457.

Lowe, M. R., W. Wu, M. S. Peterson, N. J. Brown-Peterson, W. T. Slack & P. J. Schofield, 2012. Survival, growth and reproduction of non-native Nile Tilapia II: fundamental niche projections and invasion potential in the Northern Gulf of Mexico. PLoS ONE 7(7): e41580.

Lowe, R. H., 1955. New species of Tilapia (Pisces, Cichlidae) from Lake Jipe and the Pangani River in East Africa. Bulletin of British Museum (Natural History) 2: 19.

Moser, F. N., J. C. van Rijssel, S. Mwaiko, J. I. Meier, B. Ngatunga & O. Seehausen, 2018. The onset of ecological diversification 50 years after colonization of a crater lake by haplochromine cichlid fishes. Proceedings of the Royal Society B-Biological Sciences 285(1884): 20180171.

Nagl, S., H. Tichy, W. E. Mayer, I. E. Samonte, B. J. McAndrew & J. Klein, 2001. Classification and phylogenetic relationships of African tilapiine fishes inferred from mitochondrial DNA sequences. Molecular Phylogenetics and Evolution 20: 361–374.

Nyingi, D., L. De Vos, R. Aman & J. F. Agnese, 2009. Genetic characterization of an unknown and endangered native population of the Nile tilapia Oreochromis niloticus (Linnaeus, 1758) (Cichlidae; Teleostei) in the Loboi Swamp (Kenya). Aquaculture 297: 57–63.

Ogutu-Ohwayo, R., R. E. Hecky, A. S. Cohen & L. Kaufman, 1997. Human impacts on the African Great Lakes. Environmental Biology of Fishes 50: 117–131.

R Core Team, 2015. R: A Language and Environment for Statistical Computing. R Core Team, Vienna.

Schliewen, U., D. Tautz & S. Pääbo, 1994. Sympatric speciation suggested by monophyly of crater lake cichlids. Nature 368: 306–308.

Seehausen, O., 2007. Evolution and ecological theory—chance, historical contingency and ecological determinism jointly determine the rate of adaptive radiation. Heredity 99: 361–363.

Shuai, F., X. Li, Y. Li, L. Jie, Y. Jiping & S. Lek, 2015. Forecasting the invasive potential of Nile tilapia (Oreochromis niloticus) in a large subtropical river using a univariate approach. Fundamental and Applied Limnology/Archiv für Hydrobiologie 187: 165–176.

Singh, A. K., D. Kumar, S. C. Srivastava, A. Ansari, J. K. Jena & U. K. Sarkar, 2013. Invasion and impacts of alien fish species in the Ganga River, India. Aquatic Ecosystem Health & Management 16: 408–414.

Trewavas, E., 1983. Tilapiine fishes of the genera Sarotherodon, Oreochromis and Danakilia. British Musuem (Natural Hististory), London.

Trewavas, E., J. Green & S. A. Corbet, 1972. Ecological studies on crater lakes in West Cameroon Fishes of Barombi Mbo. Journal of Zoology 167: 41.

Wagner, C. E., L. J. Harmon & O. Seehausen, 2014. Cichlid species-area relationships are shaped by adaptive radiations that scale with area. Ecology Letters 17: 583–592.

Watson, R. T., A. H. Zakri, et al., 2005. Ecosystems and Human Well-Being: Synthesis. Island Press, Washington.

Witte, F., 1984. Ecological differentiation in Lake Victoria haplochromines: Comparison of cichlid species flocks in African lakes. In Evolution of fish species flocks. Orono Press, University of Maine: 155–167.

Zhang, X. F., X. Y. Mei & R. D. Gulati, 2017. Effects of omnivorous tilapia on water turbidity and primary production dynamics in shallow lakes: implications for ecosystem management. Reviews in Fish Biology and Fisheries 27: 245–254.
Acknowledgements
We thank the Tanzanian Fisheries Research Institute (TAFIRI) for hosting and facilitating our research, COSTECH for research permits and the Lake Chala Safari Lodge for their support during fieldwork. We thank Mhoja Kayeba, Mohamed Haluna and Jonathan Makoye for their skilful help in the field, Guy Schnidrig and Vera Ogi for preparing stable isotope samples and conducting morphological measurements.
Funding
This research was supported by Swiss National Science Foundation Grant No. 31003A_144046 to OS. This research was done under research permits No. 2013-251-ER-2014-177 (FM), 2013-256-NA-2014-177 (JvR) and 2013-251-NA-2014-177 (OS) from the Tanzania Commission for Science and Technology (COSTECH).
Ethics declarations
Conflict of interest
We have no competing interests.
Additional information
Guest editors: S. Koblmüller, R. C. Albertson, M. J. Genner, K. M. Sefc & T. Takahashi / Advances in Cichlid Research III: Behavior, Ecology and Evolutionary Biology
About this article
Cite this article
Moser, F.N., van Rijssel, J.C., Ngatunga, B. et al. The origin and future of an endangered crater lake endemic; phylogeography and ecology of Oreochromis hunteri and its invasive relatives. Hydrobiologia 832, 283–296 (2019). https://doi.org/10.1007/s10750-018-3780-z
Received:

Revised:

Accepted:

Published:

Issue Date:
Keywords
Cichlid fish

Invasive species

Endemism

Competition

Tilapia

Endangered species