Abstract
Although food consumption rate has been identified as an important biological variable informing growth rates and population dynamics in fisheries management, equivalent measures receive little attention for native stream fishes. This research investigates whether spatial variation in fish gut fullness can be explained by streamflow velocity, population density, or prey abundance. We tested hypotheses associated with outcomes of habitat-specific energetic demands, exploitation competition, and resource-driven habitat use. Gut content biomass (GCB) of insectivorous fish species was compared at reach and at landscape scales in the Meramec River basin (Missouri, USA). Explanatory variables were selected using ridge regression with cross-validation. GCB of widely distributed species was correlated with body size, streamflow velocity, conspecific fish density, and prey abundance. At the reach scale, GCB was positively correlated with streamflow velocity in three species, supporting a prediction of an optimal foraging model. Negative relationships between GCB and density of Luxilus zonatus may be due to exploitation competition, while positive relationships between GCB and density of Etheostoma flabellare likely result from resource-driven habitat use. We found few relationships between GCB and explanatory variables at the landscape scale, suggesting that unmeasured biological and habitat variables are more important determining gut fullness at broad spatial scales.
Access options
Buy single article
Instant access to the full article PDF.
US$ 39.95
Tax calculation will be finalised during checkout.
Subscribe to journal
Immediate online access to all issues from 2019. Subscription will auto renew annually.
US$ 119
Tax calculation will be finalised during checkout.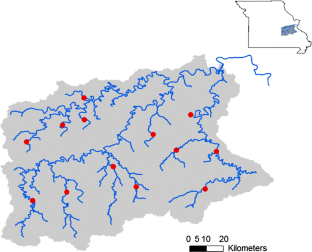 References
Allan, J. D. & M. M. Castillo, 2007. Stream Ecology: Structure and Function of Running Waters. Springer, Dordrecht.

Amundsen, P. A., R. Knudsen & A. Klemetsen, 2007. Intraspecific competition and density dependence of food consumption and growth in Arctic charr. Journal of Animal Ecology 76: 149–158.

Benke, A. C., A. D. Huryn, L. A. Smock & J. B. Wallace, 1999. Length-mass relationships for freshwater macroinvertebrates in North America with particular reference to the Southeastern United States. Journal of the North American Benthological Society 18: 308–343.

Bovee, K. D., B. L. Lamb, J. M. Bartholow, C. B. Stalnaker & J. Taylor, 1998. Stream habitat analysis using the instream flow incremental methodology. US Geological Survey, Biological Resources Division. Information and Technology Report USGS/BRD-1998-0004.

Cross, W. F., C. V. Baxter, K. C. Donner, E. J. Rosi-Marshall, T. A. Kennedy, R. O. Hall Jr., H. A. Wellard Kelly & R. S. Rogers, 2011. Ecosystem ecology meets adaptive management: Food web response to a controlled flood on the Colorado River, Glen Canyon. Ecological Applications 21: 2016–2033.

Davey, A. J., G. F. Turner, S. J. Hawkins & C. P. Doncaster, 2006. Mechanisms of density dependence in stream fish: Exploitation competition for food reduces growth of adult European bullheads (Cottus gobio). Canadian Journal of Fisheries and Aquatic Sciences 63: 597–606.

Dahlgren, J. P., 2010. Alternative regression methods are not considered in Murtaugh (2009) or by ecologists in general. Ecology Letters 13(5): E7–E9.

Eggers, D. M., 1977. Factors in interpreting data obtained by diel sampling of fish stomachs. Journal of the Fisheries Board of Canada 34: 290–294.

Elliott, J. & L. Persson, 1978. The estimation of daily rates of food consumption for fish. The Journal of Animal Ecology 47: 977–991.

Facey, D. E. & G. D. Grossman, 1992. The relationship between water velocity, energetic costs, and microhabitat use in four North American stream fishes. Hydrobiologia 239: 1–6.

Garvey, J. E., K. G. Ostrand & D. H. Wahl, 2004. Energetics, predation, and ration affect size-dependent growth and mortality of fish during winter. Ecology 85: 2860–2871.

Grossman, G. D., P. A. Rincon, M. D. Farr & R. E. Ratajczak, 2002. A new optimal foraging model predicts habitat use by drift-feeding stream minnows. Ecology of Freshwater Fish 11: 2–10.

Guisan, A., T. C. Edwards Jr. & T. Hastie, 2002. Generalized linear and generalized additive models in studies of species distributions: Setting the scene. Ecological Modelling 157(2): 89–100.

Hutchinson, G. E., 1961. The paradox of the plankton. American Naturalist 95: 137–145.

Huusko, A., L. Greenberg, M. Stickler, T. Linnansaari, M. Nykänen, T. Vehanen, S. Koljonen, P. Louhi & K. Alfredsen, 2007. Life in the ice lane: The winter ecology of stream salmonids. River Research and Applications 23: 469–491.

Hynes, H. B. N., 1970. The Ecology of Running Waters. Liverpool University Press, Liverpool.

Kestemont, P. & E. Baras, 2001. Environmental factors and feed intake: Mechanisms and interactions. In Houlihan, D., T. Boujard & M. Jobling (eds.), Food Intake in Fish. Blackwell Science Ltd, Paris.

Kuhn, M., 2008. Caret package. Journal of Statistical Software 28(5): 1–26.

Mundfrom, D. J., J. J. Perrett, J. Schaffer, A. Piccone & M. Roozeboom, 2006. Bonferroni adjustments in tests for regression coefficients. Multiple Linear Regression Viewpoints 32: 1–6.

Niu, S. Q. & J. H. Knouft, 2017. Hydrologic characteristics, food resource abundance, and spatial variation in stream assemblages. Ecohydrology. https://doi.org/10.1002/eco.1770.

Petty, J. T. & G. D. Grossman, 1996. Patch selection by mottled sculpin (Pisces: Cottidae) in a southern Appalachian stream. Freshwater Biology 35: 261–276.

Petty, J. T. & G. D. Grossman, 2010. Giving-up densities and ideal pre-emptive patch use in a predatory benthic stream fish. Freshwater Biology 55: 780–793.

Pflieger, W. L., 1997. The Fishes of Missouri. Missouri Department of Conservation, Missouri.

Post, J. R., E. Parkinson & N. Johnston, 1999. Density-dependent processes in structured fish populations: Interaction strengths in whole-lake experiments. Ecological Monographs 69: 155–175.

R Core Team, 2015. R: A language and environment for statistical computing. R Foundation for Statistical Computing, Vienna, Austria. [available on internet at https://www.R-project.org/].

Rosenfeld, J., 2003. Assessing the habitat requirements of stream fishes: An overview and evaluation of different approaches. Transactions of the American Fisheries Society 132: 953–968.

Rosenfeld, J. S. & S. Boss, 2001. Fitness consequences of habitat use for juvenile cutthroat trout: Energetic costs and benefits in pools and riffles. Canadian Journal of Fisheries and Aquatic Sciences 58: 585–593.

Rosenfeld, J. S., T. Leiter, G. Lindner & L. Rothman, 2005. Food abundance and fish density alters habitat selection, growth, and habitat suitability curves for juvenile Coho salmon (Oncorhynchus kisutch). Canadian Journal of Fisheries and Aquatic Sciences 62: 1691–1701.

Schultz, E. T., D. O. Conover & A. Ehtisham, 1998. The dead of winter: Size-dependent variation and genetic differences in seasonal mortality among Atlantic silverside (Atherinidae: Menidia menidia) from different latitudes. Canadian Journal of Fisheries and Aquatic Sciences 55: 1149–1157.

Sinclair, A. R., H. Dublin & M. Borner, 1985. Population regulation of Serengeti wildebeest: A test of the food hypothesis. Oecologia 65: 266–268.

Stoner, A., 2004. Effects of environmental variables on fish feeding ecology: Implications for the performance of baited fishing gear and stock assessment. Journal of Fish Biology 65: 1445–1471.

Thompson, A. R., J. T. Petty & G. D. Grossman, 2001. Multi-scale effects of resource patchiness on foraging behaviour and habitat use by longnose dace, Rhinichthys cataractae. Freshwater Biology 46: 145–160.

Warton, D. I., 2008. Penalized normal likelihood and ridge regularization of correlation and covariance matrices. Journal of the American Statistical Association 103: 340–349.

Whittingham, M. J., P. A. Stephens, R. B. Bradbury & R. P. Freckleton, 2006. Why do we still use stepwise modelling in ecology and behaviour? Journal of Animal Ecology 75: 1182–1189.

Xu, C., B. H. Letcher & K. H. Nislow, 2010. Context-specific influence of water temperature on brook trout growth rates in the field. Freshwater Biology 55: 2253–2264.
Acknowledgements
We thank Dr. Melissa Anthony, Dr. Collin Beachum, Dr. Huicheng Chien, Summer Issa, Dr. Matt Michel, Sam Vohsen, and Seth Weixlmann for the help with fieldwork. Kara Andres, Dr. Nima Ehsani, Kevin Krause, Megan Pagliaro, and Dr. Vincent Wu provided helpful comments on a draft of this manuscript. We also appreciate the insightful comments from two anonymous reviewers. This research was supported by the U.S. National Science Foundation (DEB-0844644 and DEB-1311179), a Reis Biological Research award from Saint Louis University, and the Department of Biology at Saint Louis University.
Additional information
Handling editor: Eric Larson
Electronic supplementary material
Below is the link to the electronic supplementary material.
About this article
Cite this article
Niu, S.Q., Haake, D.M. & Knouft, J.H. Gut content biomass of stream fishes: associations with streamflow velocity, population density, and prey abundance at two spatial scales. Hydrobiologia 826, 85–97 (2019). https://doi.org/10.1007/s10750-018-3719-4
Received:

Revised:

Accepted:

Published:

Issue Date:
Keywords
Feeding

Energetic demand

Exploitation competition

Resource-driven habitat use

Ridge regression

Cross-validation