Abstract
Mahseers, the members of the fish genus Tor, are economically important as sport and food fishes, but their population is declining in South and Southeast Asia. Taxonomic discrepancies exist in discussions surrounding a few species of mahseer in India. In this study, we hypothesize that Tor mosal is wrongly synonymized with T. putitora, and T. barakae with T. tor. To test this, we collected samples from the type localities, and from known distribution areas. We observed a clear morphological distinctiveness among these four species using Principal Component Analysis. The most prominent distinctive parameters among the four species were body depth and head length. Phylogenetic analysis using Bayesian Inference and Maximum Likelihood for both partial mtCOI and mtCytb datasets revealed monophyletic origin, and supported distinctive species level delimitation which was consensus with morphological identity. Moreover, the automatic species delimitation methods (ABGD and PTP) also quantify the four species. The mean K2P distance was 1.57% between T. putitora and T. tor, 2.60% between T. mosal and T. putitora, 3.27% between T. mosal and T. tor, and 2.63% between T. barakae and T. tor. Based on this study, we validate T. mosal and T. barakae, and provide taxonomic keys to the species.
This is a preview of subscription content, log in to check access.
Access options
Buy single article
Instant access to the full article PDF.
US$ 39.95
Price includes VAT for USA
Subscribe to journal
Immediate online access to all issues from 2019. Subscription will auto renew annually.
US$ 199
This is the net price. Taxes to be calculated in checkout.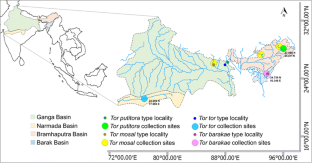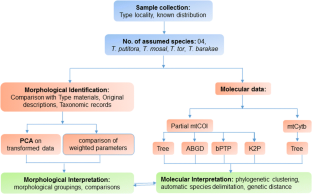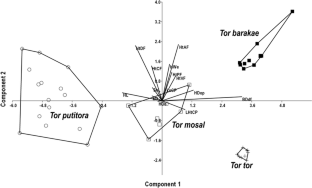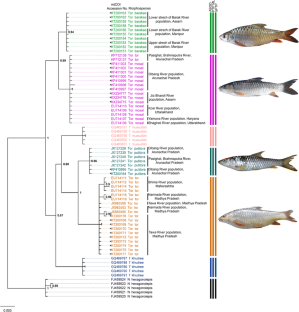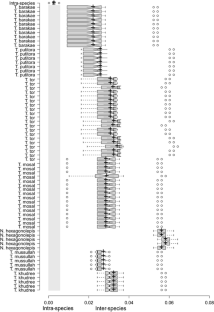 References
Arunkumar, L. & C. Basudha, 2003. Tor barakae, a new species of mahseer fish (Cyprinidae: Cyprininae) from Manipur, India. Aquacult 4: 271–276.

Bhattacharjee, M. J., B. A. Laskar, B. Dhar & S. K. Ghosh, 2012. Identification and re-evaluation of freshwater catfishes through DNA barcoding. PLoS ONE 7: e49950. https://doi.org/10.1371/journal.pone.0049950.

Chen, W., M. Xiuhui, S. Yanjun, M. Yuntao & H. Shunping, 2015. The fish diversity in the upper reaches of the Salween River, Nujiang River, revealed by DNA barcoding. Scientific Reports 5: 17437. https://doi.org/10.1038/srep17437.

Desai, V. R., 2003. Synopsis of biological data on the Tor mahseer Tor tor (Hamilton, 1822). FAO Fisheries Synopsis, Rome 158: 36p.

Dinesh, K., M. C. Nandeesha, P. Nautiyal & P. Aiyappa, 2010. Mahseers in India: a review with focus on conservation and management. Indian Journal of Animal Sciences 80: 26–38.

Drummond, A. J., M. A. Suchard, D. Xie & A. Rambaut, 2012. Bayesian phylogenetics with BEAUti and the BEAST 1.7. Molecular Biology and Evolution 29: 1969–1973.

Eschmeyer, W. N., R. Fricke and R. van der Laan, 2017. Catalog of fishes: genera, species, references. [available on internet at http://researcharchive.calacademy.org/research/ichthyology/catalog/fishcatmain.asp].

Gray, J. E., 1830–1835. Illustrations of Indian zoology; chiefly selected from the collection of Major-General Hardwicke, F. R. S., 20 parts in 2 vols. Pls. 1–202. Fishes on pls. 84–99 in vol. 1 and 88–102 in vol. 2.

Hamilton, F., 1822. An account of the fishes found in the river Ganges and its branches. Archibald Constable and Company, Edinburg.

Hebert, P. D., A. Cywinska, S. L. Ball & J. R. deWaard, 2003. Biological identifications through DNA barcodes. Proceedings of the Royal Society B: Biological Science 270: 313–321.

Hebert, P. D., E. H. Penton, J. M. Burns, D. H. Janzen & W. Hallwachs, 2004. Ten species in one: dNA barcoding reveals cryptic species in the neotropical skipper butterfly Astraptes fulgerator. Proceedings of the National Academy of Sciences, USA 101: 14812–14817.

Hebert, P. D. & T. R. Gregory, 2005. The promise of DNA barcoding for taxonomy. Systematic Biology 54: 852–859.

Hoàng, H. D., H. M. Pham, J. D. Durand, N. T. Tran & P. D. Phan, 2015. Mahseers genera Tor and Neolissochilus (Teleostei: cyprinidae) from southern Vietnam. Zootaxa 4006: 551–568.

Hora, S. L. & D. D. Mukerji, 1936. Fish of the Naga Hills, Assam. Records of Indian Museum 38: 328–330.

Hora, S. L., 1940. The game fishes of India X. The mahseer or the large scaled Barbels of India, The mosal mahseer, Barbus (Tor) mosal (Hamilton). Journal Bombay Natural History Society 41: 784–794.

IUCN, 2017. The IUCN Red List of Threatened Species. [available on internet at http://www.iucnredlist.org].

Jayaram, K. C., 1999. The Freshwater fishes of the Indian region. Narendra Publishing House, New Delhi.

Jhingran, V. G. & K. L. Sehgal, 1978. Coldwater fisheries of India. Inland Fisheries Society of India, Barrackpore.

Kar, D. & N. Sen, 2007. Systematic list and distribution of fishes in Mizoram, Tripura and Barak drainage of northeastern India. Zoos' Print Journal 22: 2599–2607.

Khare, P., V. Mohindra, A. S. Barman, R. K. Singh & K. K. Lal, 2014. Molecular evidence to reconcile taxonomic instability in mahseer species (Pisces: Cyprinidae) of India. Organisms Diversity and Evolution 14: 307–326.

Khedkar, G. D., R. Jamdade, S. Naik, L. David & D. Haymer, 2014. DNA barcodes for the fishes of the Narmada, one of India's longest rivers. PLoS ONE 9: e101460. https://doi.org/10.1371/journal.pone.0101460.

Kosygin, L., 2011. Biodiversity and conservation strategies of fishes of the Tlawng river, Mizoram, India, with some new records. In Kosygin, L. (ed.), Biodiversity, ecology and conservation of rivers and streams of North East India. Akansha Publishing House, New Delhi: 1–13.

Kottelat, M., 2013. The fishes of the inland waters of southeast Asia: a catalogue and core bibliography of the fishes known to occur in freshwaters, mangroves and estuaries. Raffles Bulletin of Zoology, Supplementary 27: 1–663.

Laskar, B. A., M. J. Bhattacharjee, B. Dhar, P. Mahadani, S. Kundu & S. K. Ghosh, 2013. The species dilemma of northeast Indian mahseer (Actinopterygii: Cyprinidae): DNA barcoding in clarifying the riddle. PLoS ONE 8: e53704. https://doi.org/10.1371/journal.pone.0053704.

McDonald, J. A., 1948. Circumventing the Mahseer and other Sporting Fish in India and Burma. Natraj publication, Dehradun.

Menon, A. G. K., 1992. Taxonomy of mahseer fishes on the genus Tor of Gray with description of new species from Deccan. Journal Bombay Natural History Society 89: 244–258.

Mutanen, M., M. Kekkonen, S. W. Prosser, P. D. Hebert & L. Kaila, 2015. One species in eight: dNA barcodes from type specimens resolves a taxonomic quagmire. Molecular Ecology Resource 15: 967–984.

Nautiyal, P., 2006. Rising awareness and efforts to conserve the Indian mahseers. Current Science 91: 1604.

Nautiyal, P., 2014. Review of the art and science of Indian Mahseer (game fish) from nineteenth to twentieth century: road to extinction or conservation? Proceedings of National Academy of Sciences, India, Section B, Biological Sciences 84: 215–236.

Pinder, A. C., R. Raghavan & J. R. Britton, 2015. The legendary hump-backed mahseer Tor sp. of India's River Cauvery: an endemic fish swimming towards extinction? Endangered Species Research 28: 11–17.

Posada, D. & K. A. Crandall, 1998. Modeltest: testing the model of DNA substitution. Bioinformatics 14: 817–818.

Puillandre, N., A. Lambert, S. Brouillet & G. Achaz, 2012. ABGD, automatic barcode gap discovery for primary species delimitation. Molecular Ecology 21: 1864–1877.

Raghavan, R., N. Dahanukur & R. Britz, 2017. The type locality of Tor mosal (Hamilton, 1822) (Teleostei: Cyprinidae). Zootaxa. https://doi.org/10.11646/zootaxa.4317.3.12.

Ratnasingham, S. & P. D. N. Hebert, 2013. A DNA-based registry for all animal species: the barcode index number (BIN) system. PLoS ONE 8: e66213. https://doi.org/10.1371/journal.pone.0066213.

Ronquist, F. & J. P. Huelsenbeck, 2003. MrBayes 3: bayesian phylogenetic inference under mixed models. Bioinformatics 19: 1572–1574.

Sambrook, J. & D. W. Russell, 2001. Molecular cloning: A laboratory manual. Cold Spring Harbour Laboratory Press, Cold Spring Harbour, New York.

Talwar, P. K. & A. G. Jhingran, 1991. Inland fishes of india and adjacent countries. Oxford and IBH publishing, New Delhi.

Tamura, K., G. Stecher, D. Peterson, A. Filipski & S. Kumar, 2013. MEGA6.0: molecular evolutionary genetics analysis version 6.0. Molecular Biology and Evolution 30: 2725–2729.

Tang, C. Q., A. M. Humphreys, D. Fontaneto & T. G. Barraclough, 2014. Effects of phylogenetic reconstruction method on the robustness of species delimitation using single-locus data. Methods in Ecology and Evolution 5: 1086–1094.

Thomas, H. S., 1897. The rod in india. Thacker and Company, London.

Thompson, J. D., T. J. Gibson & D. G. Higgins, 2002. Multiple sequence alignment using ClustalW and ClustalX. Current Protocol in Bioinformatics, Chapter. https://doi.org/10.1002/0471250953.bi0203s00.

Verma, S. K. & L. Singh, 2003. Novel universal primers establish identity of an enormous number of animal species for forensic application. Molecular Ecology Notes 3: 28–31.

Vishwanath, W., 2010. Tor barakae. The IUCN Red List of Threatened Species 2010: eT168258A6471070 downloaded on 19 September 2017.

Ward, R. D., T. S. Zemlak, B. H. Innes, P. R. Last & P. D. N. Hebert, 2005. DNA barcoding of Australia's fish species. Philosophical Transaction of Royal Society of London, B, Biological Sciences 360: 1847–1857.

Yang, L., et al., 2015. Phylogeny and polyploidy: resolving the classification of cyprinine fishes (Teleostei: Cypriniformes). Molecular Phylogenetics and Evolution 85: 97–116.

Zhang, J., P. Kapli, P. Pavlidis & A. Stamatakis, 2013. A general species delimitation method with applications to phylogenetic placements. Bioinformatics 29: 2869–2876.
Acknowledgements
We are thankful to the Director, Zoological Survey of India, Kolkata, for providing necessary facilities through core funding of the organization; and the Department of Forest, Government of Assam for necessary permission of sampling. We also acknowledge the research funding from the Science and Engineering Research Board, Department of Science and Technology, Ministry of Science and Technology, Government of India, New Delhi, in favor of Boni Amin Laskar (SB/FT/LS-162/2012) and Shantanu Kundu (PDF/2015/000302). We thank Madeline Jarvis-Cross, a native English speaker of University of Toronto, Canada, and Dr. B. I. Choudhury, University of Toronto, Canada for technical and linguistic improvement in the MS.
Additional information
Handling editor: Diego Fontaneto
Electronic supplementary material
Below is the link to the electronic supplementary material.
About this article
Cite this article
Laskar, B.A., Kumar, V., Kundu, S. et al. Taxonomic quest: validating two mahseer fishes (Actinopterygii: Cyprinidae) through molecular and morphological data from biodiversity hotspots in India. Hydrobiologia 815, 113–124 (2018). https://doi.org/10.1007/s10750-018-3555-6
Received:

Revised:

Accepted:

Published:

Issue Date:
Keywords
Mahseer

Tor

Northeast India

Brahmaputra

Barak

Eastern Himalaya

Indo-Burma

DNA barcoding

Conservation