Abstract
In this work, we assessed the occupancy of two native amphibian species of the Valcheta stream in the Somuncura Plateau, northern Patagonia: the Valcheta frog, Pleurodema somuncurense and the Argentine common toad, Rhinella arenarum. We hypothesized that the occupancy of both amphibian species will be shaped by the presence of trout; we also expected a decline in occupancy assuming that the new predator in the system will affect native amphibian populations. Between December 2014 and March 2015, we conducted surveys in 148 sites along the headwaters of Valcheta stream. We modelled the occupancy by including the presence of trout, the temperature of water and the coverage of rocks and vegetation as site-habitat covariates. Models including trout were among the best ranked for both amphibian species. The presence of trout reduced the occupancy of both species and the magnitude of this reduction was much higher in the Valcheta frog than in the Argentine common toad. Overall, our results are of great relevance for land managers considering that the Valcheta frog is among the only three IUCN Critically Endangered amphibians in Argentina.
This is a preview of subscription content, log in to check access.
Access options
Buy single article
Instant access to the full article PDF.
US$ 39.95
Price includes VAT for USA
Subscribe to journal
Immediate online access to all issues from 2019. Subscription will auto renew annually.
US$ 199
This is the net price. Taxes to be calculated in checkout.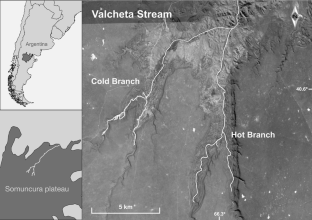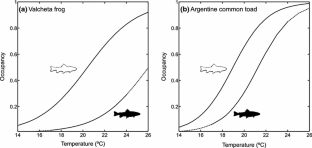 References
Bailey, L. L., D. I. MacKenzie & J. D. Nichols, 2014. Advances and applications of occupancy models. Methods in Ecology and Evolution 5: 1269–1279.

Berg, C., 1896. Batracios Argentinos. Enumeración sistemática, sinonímica y bibliográfica de los batracios de la República Argentina (con un cuadro sinóptico de clasificación). Anales del Museo Nacional de Historia Natural "Bernardino Rivadavia". Buenos Aires 5: 147–226.

Buria, L., R. J. Albariño, V. Díaz Villanueva, B. E. Modenutti & E. G. Balseiro, 2007. Impact of exotic rainbow trout on the benthic macroinvertebrate community from Andean-Patagonian headwater streams. Fundamental and Applied Limnology Archiv für Hydrobiologie 168: 145–154.

Burnham, K. P. & D. R. Anderson, 2003. Model Selection and Multimodel Inference: A Practical Information-Theoretic Approach. Springer, New York.

Cei, J. M., 1969a. The Patagonian Telmatobiid fauna of the volcanic Somuncura Plateau of Argentina. Journal of Herpetology 3: 1–18.

Cei, J. M., 1969b. La meseta basáltica de Somuncura, Río Negro, herpetofauna endémica y sus peculiares equilíbrios biocenóticos. Physis 28: 257–271.

Crawford, S. S. & A. M. Muir, 2008. Global introductions of salmon and trout in the genus Oncorhynchus: 1870–2007. Reviews in Fish Biology and Fisheries 18: 313–344.

Crump, M. L. & N. J. Scott JR, 1994. Visual encounter surveys. In Heyer, W. R., M. A. Donnelly, R. W. Mc Diarmid, L. A. C. Hayek & M. S. Foster (eds), Measuring and Monitoring Biological Diversity Standard Methods for Amphibians. Smithsonian Institution Press, Washington DC: 84–92.

Draper, N. R. & H. Smith, 1981. Applied Regression Analysis, rev ed. Wiley, New York.

Eaton, B. R., W. M. Tonn, C. A. Paszkowski, A. J. Danylchuk & S. M. Boss, 2005. Indirect effects of fish winterkills on amphibian populations in boreal lakes. Canadian Journal of Zoology 83: 532–1539.

Fiske, I. & R. B. Chandler, 2011. Unmarked: an R package for fitting hierarchical models of wildlife occurrence and abundance. Journal of Statistical Software 43: 1–23.

Funk, W. C. & W. W. Dunlap, 1999. Colonization of high elevation lakes by long-toed salamanders (Ambystoma macrodactylum). Canadian Journal of Zoology 77: 1759–1767.

Gillespie, G. R., 2001. The role of introduced trout in the decline of the spotted tree frog (Litoria spenceri) in south-eastern Australia. Biological Conservation 100: 187–198.

Habit, E., P. Piedra, D. E. Ruzzante, S. J. Walde, M. C. Belk, V. E. Cussac, J. Gonzalez & N. Colin, 2010. Changes in the distribution of native fishes in response to introduced species and other anthropogenic effects. Global Ecology and Biogeography 19: 697–710.

Hensel, R., 1867. Beiträge zur Kenntniss der Wirbelthiere Sud brasiliens. Wiegmanns Archiv für Naturgeschichte 33: 120–162.

Humphrey, J. E., 1893. The Saprolegniaceae of the United States, with notes on other species. Transactions of the American Philosophical Society 17: 63–148.

IUCN SSC Amphibian Specialist Group. 2017. The IUCN Red List of Threatened Species. Version 2017–1. www.iucnredlist.org. Accessed 2 June 2017.

Jiménez de la Espada, M., 1872. Nuevos batrácios Americanos. Anales de la Sociedad Española de Historia Natural. Madrid 1: 84–88.

Kats, L. B. & R. P. Ferrer, 2003. Alien predators and amphibian declines: review of two decades of science and the transition to conservation. Diversity and Distributions 9: 99–110.

Knapp, R. A., B. M. Boianob & V. T. Vredenburg, 2007. Removal of nonnative fish results in population expansion of a declining amphibian (mountain yellow-legged frog, Rana muscosa). Biological Conservation 135: 11–20.

Lowe, S., M. Browne & M. de Poorter, 2004. 100 de las Especies Exóticas Invasoras más dañinas del mundo. Una selección del Global Invasive Species Database. Pub. GEEI, CSE, UICN: 1–12.

Macchi, P. J. & P. H. Vigliano, 2014. Salmonid introduction in Patagonia: the ghost of past, present and future management. Ecología Austral 24: 162–172.

MacKenzie, D. I. & A. J. Royle, 2005. Designing occupancy studies: general advice and allocating survey effort. Journal of Applied Ecology 42: 1105–1114.

Martín-Torrijos, L., J. V. Sandoval-Sierra, J. Muñoz, J. Diéguez-Uribeondo, J. Bosch & J. M. Guayasamin, 2016. Rainbow trout (Oncorhynchus mykiss) threaten Andean amphibians. Neotropical Biodiversity 2: 26–36.

Matthews, K. R., K. L. Pope, H. K. Preisler & R. A. Knapp, 2001. Effects of nonnative trout on Pacific treefrogs (Hyla regilla) in the Sierra Nevada. Copeia 4: 1130–1137.

McDowall, R. M., 2003. Impacts of introduced salmonids on native galaxiids in New Zealand upland streams: a new look at an old problem. Transactions of the American Fisheries Society 132: 229–238.

Miloch, D., A. Bonino, G. C. Leynaud & J. N. Lescano, 2015. La invasión de salmónidos en las Sierras Pampeanas Centrales condiciona la distribución de dos anfibios endémicos. Libro de Resúmenes, XVI Congreso Argentino de Herpetología, Tucumán.

Ortubay, S., 1998. Biología de Gymnocharacinus bergi (Pisces, Characidae). Doctoral Thesis, Universidad Nacional del Comahue, Bariloche.

Ortubay, S. & V. Cussac, 2000. Threatened fishes of the world: Gymnocharacinus bergi Steindachner, 1903 (Characidae). Environmental Biology of Fishes 58: 144.

Ortubay, S. G., S. E. Gómez & V. E. Cussac, 1997. Lethal temperatures of a Neotropical fish relic in Patagonia, the scale-less characinid Gymnocharacinus bergi. Environmental Biology of Fishes 49: 341–350.

Ortubay, S., V. E. Cussac, M. Battini, J. Barriga, J. Aigo, M. Alonso, P. Macchi, M. Reissig, J. Yoshioka & S. F. Fox, 2006. Is the decline of birds and amphibians in a steppe lake of northern Patagonia a consequence of limnological changes following fish introduction? Aquatic Conservation: Marine and Freshwater Ecosystems 16: 93–105.

Pascual, M., P. Macchi, J. Urbanski, F. Marcos, C. R. Rossi, M. Novara & P. Dell'Arciprete, 2002. Evaluating potential effects of exotic freshwater fish from incomplete species presence-absence data. Biological Invasions 4: 101–113.

Pilliod, D. S. & C. R. Peterson, 2001. Local and landscape effects of introduced trout on amphibians in historically fishless watersheds. Ecosystems 4: 322–333.

Quiroga, S., F. P. Kacoliris, I. García, H. Povedano, M. A. Velasco & S. Salva, 2017. Invasive rainbow trout Oncorhynchus mykiss preying on the endangered naked characin Gymnocharacinus bergii beyond its thermal tolerance range. Journal of Fish Biology. https://doi.org/10.1111/jfb.13478.

Riva Rossi, C. M., E. P. Lessa & M. A. Pascual, 2004. The origin of introduced rainbow trout (Oncorhynchus mykiss) in the Santa Cruz River, Patagonia, Argentina, as inferred from mitochondrial DNA. Canadian Journal of Fisheries and Aquatic Sciences 61: 1095–1101.

R Studio Team, 2015. RStudio: Integrated development for R. R Studio, Inc., Boston, MA. http://www.rstudio.com.

Steindachner, F., 1903. Ber einige neue Fisch- und Reptilienarten des k. k. naturhistorischen Hofmuseums. Anzeiger der Akademie der Wissenschaften Wien 40: 17–18.

Taylor, B., A. McIntosh & B. Peckarsky, 2001. Sampling stream invertebrates using electroshocking techniques: implications for basic and applied research. Canadian Journal of Fisheries and Aquatic Sciences 58: 437–445.

Úbeda, C., E. Lavilla & N. Basso, 2010. Atelognathus patagonicus. The IUCN Red List of Threatened Species 2010: e.T56323A11459931. http://dx.doi.org/10.2305/IUCN.UK.2010-2.RLTS.T56323A11459931.en. www.iucnredlist.org.

Velasco, M. A., F. P. Kacoliris, I. Berkunsky, S. Quiroga & J. D. Williams, 2016. Current distributional status of the Critically Endangered Valcheta frog: implications for conservation. Neotropical Biology and Conservation 11: 110–113.

Velasco, M. A., C. Ubeda, J. D. Williams & F. P. Kacoliris. Reproductive biology of the critically endangered valcheta frog, Pleurodema somuncurense (Anura: Leptodactylidae), from Patagonia, Argentina. The South American Journal of Herpetology, in press.

Vigliano, P. H., D. A. Beauchamp, D. Milano, P. J. Macchi, M. F. Alonso, M. I. García Asorey, M. A. Denegri, J. E. Ciancio, G. Lippolt, M. Rechencq & J. P. Barriga, 2009. Quantifying predation on galaxiids and other native organisms by introduced rainbow trout in an Ultraoligotrophic Lake in Northern Patagonia, Argentina: a bioenergetics modelling approach. Transactions of the American Fisheries Society 138: 1405–1419. https://doi.org/10.1577/T08-067.1.

Vredenburg, V. T., 2004. Reversing introduced species effects: experimental removal of Introduced fish leads to rapid recovery of a declining frog. Proceedings of the National Academy of Sciences of the United States of America 101: 7646–7650.

Walbaum, J. J., 1792. Petri Artedi Sueci Genera piscium in quibus systema totum ichthyologiae proponitur cum classibus, ardinibus, generum characteribus, specierum differentiis, observationibus plurimi s. Ichthyologiae, pars. iii, Grypeswaldiae.

Welcomme, R. L., 1988. International introductions of inland aquatic species. FAO Fisheries Technical 294. Food and Agriculture Organization of the United Nations, Rome.
Acknowledgements
We would like to thank park-rangers (Ariel Lapa; Valeria Pazos; Mariela Guzmán and Gerardo Melivilo) and volunteers (Joaquín Carrera; Mauricio Akmentins; Camila Kass; Facundo Bossa; Marcos Waldbillig and María Luz Arellano) for their kind assistance during the fieldwork. Jorge Williams made valuable suggestions for improving this manuscript. The Secretaría de Ambiente y Desarrollo Sustentable de Río Negro gave us necessary permits to perform this work. This study was supported by Mohamed Bin Zayed Species Conservation Fund; PIP-11220150100598CO-Consejo Nacional de Investigaciones Científicas y Técnicas (CONICET) and F14AP00749-Wildlife Without Borders - Amphibians in Decline (USFWS).
Additional information
Guest editors: John E. Havel, Sidinei M. Thomaz, Lee B. Kats, Katya E. Kovalenko & Luciano N. Santos / Aquatic Invasive Species II
About this article
Cite this article
Velasco, M.A., Berkunsky, I., Simoy, M.V. et al. The rainbow trout is affecting the occupancy of native amphibians in Patagonia. Hydrobiologia 817, 447–455 (2018). https://doi.org/10.1007/s10750-017-3450-6
Received:

Revised:

Accepted:

Published:

Issue Date:
Keywords
Exotic invasive species

Occupancy model

Oncorhynchus mykiss
Pleurodema somuncurense
Rhinella arenarum