Abstract
The genus Alburnus, a member of the Cyprinidae family, includes 43 species that are widely distributed in Europe and the northern part of Western Asia. To date, inter-specific relationships within the genus have not been assessed in detail. The main objective of this research was to assess phylogenetic relationships of the genus and solve taxonomic uncertainties. For this purpose, the mitochondrial gene cytochrome c oxidase subunit I (COI) was selected and analyzed by Bayesian and maximum-likelihood approaches. Inter- and intra-specific genetic distances of the putative species were calculated. In addition, body shape was quantified by landmark-based geometric morphometrics on the available material from Turkey in order to determine whether the emerging patterns of shape are congruent with the COI phylogeny. Our data suggest multiple synonymies within the genus and the addition of a new species, Alburnus kurui sp. n., from the Dalaman River. We conclude that by including this new species and considering the synonymies, the genus Alburnus now comprises 36 species.
This is a preview of subscription content, log in to check access.
Access options
Buy single article
Instant access to the full article PDF.
US$ 39.95
Price includes VAT for USA
Subscribe to journal
Immediate online access to all issues from 2019. Subscription will auto renew annually.
US$ 199
This is the net price. Taxes to be calculated in checkout.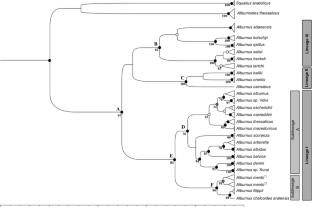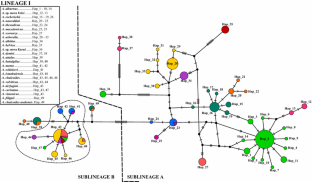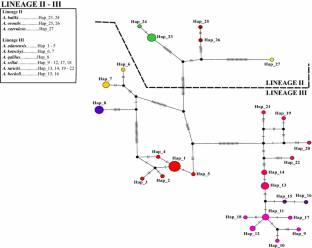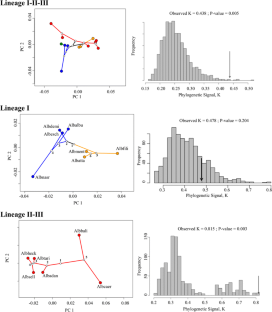 References
Adams, D. C., 2014. A generalized K statistic for estimating phylogenetic signal from shape and other high-dimensional multivariate data. Systematic Biology 63: 685–697.

Adams, D. C., M. L. Collyer & E. Sherratt, 2015. Geomorph: software for geometric morphometric analyses. R Package version 3.0.0. http://cran.r-project.org/web/packages/geomorph/index.html.

Avise, J. C., 1994. Molecular Markers, Natural History and Evolution: Natural History and evolution. Chapman-Hall, New York.

Battalgazi, F., 1944. Poissons nouveaux et peu connus de la Turquie. Revue de la Faculté des Sciences de l'Université d'Istanbul, Série B, Sciences Naturelles 9: 299–305.

Battalgil, F., 1941. Les poissons des eaux douces de la Turquie. Revue de la Faculté des Sciences de l'Université d'Istanbul, Série B, Sciences Naturelles 6: 170–186.

Battalgil, F., 1942. Contribution a la connaissance des poisons des eaux douces de la Turquie. Revue de la Faculté des Sciences de l'Université d'Istanbul, Série B, Sciences Naturelles 7: 287–306.

Battalgil, F., 1944. Nouveaux poisons des eaux douces de la Turquie. Revue de la Faculté des Sciences de l'Université d'Istanbul, Série B, Sciences Naturelles 9: 126–133.

Behrens-Chapuis, S., F. Herder, M. F. Geiger, H. R. Esmaeili, N. A. Hamidan, M. Özuluğ & R. Šanda, 2015. Adding nuclear rhodopsin data where mitochondrial COI indicates discrepancies – can this marker help to explain conflicts in cyprinids. DNA Barcodes 3(1): 187–199.

Bianco, P. G., 1990. Potential role of the palaeohistory of the Mediterranean and Paratethys basin on the early dispersal of Euro-Mediterranean freshwater fishes. Ichthyological Exploration of Freshwaters 1: 167–184.

Birecikligil, S. S., Ş. Y. Yücel & E. Çiçek, 2016. A taxonomic evaluation of Alburnus sellal Heckel, 1843 and Alburnus adanensis Battalgazi, 1944 based on morphological characters and mitochondrial DNA sequences. Pakistan Journal of Zoology 48: 465–473.

Bogutskaya, N., 1997. Contribution to the knowledge of Leuciscinae fishes of Asia Minor. Part 2. An annotated check-list of Leuciscinae fishes (Leuciscinae, Cyprinidae) of Turkey with descriptions of a new species and two new subspecies. Mitteilungen aus dem Hamburgischen Zoologischen Museum und Institut 94: 161–186.

Bogutskaya, N. G., F. Küçük & E. Ünlü, 2000. Alburnus baliki, a new species of cyprinid fish from the Manavgat River system, Turkey. Ichthyological Exploration of Freshwaters 11: 55–64.

Bouckaert, R., J. Heled, D. Kühnert, T. Vaughan, C.-H. Wu, D. Xie, M. A. Suchard, A. Rambaut & A. J. Drummond, 2014. BEAST 2: a software platform for Bayesian evolutionary analysis. PLoS Computational Biology 10: e1003537.

Boulenger, G. A., 1896. On freshwater fishes from Smyrna. Annals and Magazine of Natural History 6: 153–154.

Clement, M., Q. Snell, P. Walke, D. Posada & K. Crandall, 2002. TCS: estimating gene genealogies. In IEEE International Parallel Distribution Symposium, p. 0184.

Darriba, D., G. L. Taboada, R. Doallo & D. Posada, 2012. JModelTest 2: more models, new heuristics and parallel computing. Nature Methods 9: 772.

Devedjian, K., 1915. Fish and Fishery in Turkey. Düyun-u Umumiye-i Osmaniye Varidat-ı Mahsusa İdare-i Merkeziyesi Matbaası, İstanbul.

Drummond, A. & A. Rambaut, 2007. BEAST: Bayesian evolutionary analysis by sampling trees. BMC Evolutionary Biology 7(1): 214.

Erk'akan, F., 1983. The fish species of the Sakarya basin and their abundance. Hacettepe Bulletin of Natural Sciences & Engineering 12: 21–38.

Eschmeyer, W. N., R. Fricke & R. van der Laan (eds), 2016. Catalog of Fishes: Genera, Species, References. http://researcharchive.calacademy.org/research/ichthyology/catalog/fishcatmain.asp.

Fricke, R., M. Bilecenoğlu & H. M. Sarı, 2007. Annotated checklist of fish and lamprey species (Gnathostomata and Petromyzontomorphi) of Turkey, including a Red List of threatened and declining species. Stuttgarter Beiträge zur Naturkunde 706: 1–169.

Froese, R. & D. Pauly (eds), 2015. Fishbase. World Wide Web Electronic Publication. www.fishbase.org, version (03/2017).

Geiger, M. F., F. Herder, M. T. Monaghan, V. Almada, R. Barbieri, M. Bariche, P. Berrebi, J. Bohlen, M. Casal-Lopez, G. B. Delmastro, et al., 2014. Spatial heterogeneity in the Mediterranean biodiversity hotspot affects barcoding accuracy of its freshwater fishes. Molecular Ecology Resources 14: 1210–1221.

Geldiay, R. & S. Balık, 2007. Freshwater Fishes of Turkey. Ege University Press, Bornova.

GIS Development Team, 2017. QGIS Geographic Information System. Open Source Geospatial Foundation Project. http://www.qgis.org/.

Gülle, İ., F. Küçük & S. S. Güçlü, 2017. Re-description and new distribution area of an endemic anatolian fish species, Alburnus nasreddini Battalgil, 1944. Turkish Journal of Fisheries and Aquatic Sciences 17(5): 863–869.

Hanko, B., 1924. Fische aus Kleinasien. Annales Musei Historico-Naturalis Hungarici 21: 137–158.

Hebert, P. D. N., A. Cywinska, S. Ball & J. Dewaard, 2003. Biological identifications through DNA barcodes. Proceedings of the Royal Society of London Series B – Biological Sciences 270: 313–321.

Ivey, J. L. & S. R. Santos, 2007. The complete mitochondrial genome of the Hawaiian anchialine shrimp Halocaridina rubra Holthuis, 1963 (Crustacea: Decapoda: Atyidae). Gene 394: 35–44.

Jukes, T. H. & C. R. Cantor, 1969. Evolution of protein molecules. In Munro, H. N. (ed.), Mammalian Protein Metabolism. Academic Press, New York.

Keskin, E. & H. H. Atar, 2013. DNA barcoding commercially important fish species of Turkey. Molecular Ecology Resources 13: 788–797.

Ketmaier, V., F. Finamore, C. Largiader, M. Milone & P. Bianco, 2009. Phylogeography of bleaks Alburnus spp. (Cyprinidae) in Italy, based on cytochrome b data. Journal of Fish Biology 75: 997–1017.

Kimura, M., 1980. A simple method for estimating evolutionary rate of base substitutions through comparative studies of nucleotide sequences. Journal of Molecular Evolution 16: 111–120.

Knebelsberger, T., A. R. Dunz, D. Neumann & M. F. Geiger, 2015. Molecular diversity of Germany's freshwater fishes and lampreys assessed by DNA barcoding. Molecular Ecology Resources 15: 562–572.

Kottelat, M., 1997. European freshwater fishes. An heuristic checklist of the freshwater fishes of Europe (exclusive of former USSR), with an introduction for non-systematists and comments on nomenclature and conservation. Biologia, Bratislava 52: 1–271.

Kottelat, M. & J. Freyhof, 2007. Handbook of European Freshwater Fishes. Cornol/Freyhof, Switzerland/Berlin.

Kumar, S., G. Stecher & K. Tamura, 2016. MEGA7: Molecular Evolutionary Genetics Analysis version 7.0 for bigger datasets. Molecular Biology and Evolution 33(7): 1870–1874.

Kuru, M., 1982. Türkiye Tatlısu Balıkları Kataloğu. Hacettepe Üniversitesi Fen Fakültesi Basımevi, Beytepe.

Kuru, M., S. V. Yerli, F. Mangıt, E. Ünlü & A. Alp, 2014. Fish biodiversity in inland waters of Turkey. Journal of Academic Documents for Fisheries and Aquaculture 1: 93–120.

Ladiges, W., 1960. Süsswasserfische der Türkey, 1. Teil Cyprinidae. Mitteilungen aus dem Hamburgischen Zoologischen Museum und Institut 58: 105–150.

Larkin, M. A., G. Blackshields, N. P. Brown, R. Chenna, P. A. McGettigan, H. McWilliam, F. Valentin, I. M. Wallace, A. Wilm, R. Lopez, J. D. Thompson, T. J. Gibson & D. G. Higgins, 2007. Clustal W and Clustal X version 2.0. Bioinformatics 23: 2947–2948.

Librado, P. & J. Rozas, 2009. DnaSP v5: a software for comprehensive analysis of DNA polymorphism data. Bioinformatics 25: 1451–1452.

Mangıt, F., 2014. Morphometric and Phylogenetic Studies on Genus Alburnus (Teleostei: Cyprinidae). PhD Thesis, Hacettepe University Graduate School of Science and Engineering, 82 pp. (In Turkish).

Mayr, E., 1963. Animal Species and Evolution. Harvard University Press, Cambridge, MA.

Özuluğ, M. & J. Freyhof, 2007a. Alburnus demiri, a new species of bleak from western anatolia, Turkey (Teleostei: Cyprinidae). Ichthyological Exploration of Freshwaters 18: 307–312.

Özuluğ, M. & J. Freyhof, 2007b. Rediagnosis of four species of Alburnus from Turkey and description of two new species (Teleostei: Cyprinidae). Ichthyological Exploration of Freshwaters 18: 233–246.

Parin, N. V., S. A. Evseenko & E. D. Vasili'eva, 2014. Fishes of Russian Seas: Annotated Catalogue. KMK Scientific Press, Moscow.

Perea, S., M. Böhme, P. Zupančič, J. Freyhof, R. Šanda, M. Özuluğ, A. Abdoli & I. Doadrio, 2010. Phylogenetic relationships and biogeographical patterns in circum-mediterranean subfamily Leuciscinae (Teleostei, Cyprinidae) inferred from both mitochondrial and nuclear data. BMC Evolutionary Biology 10: 265.

Por, F. D. & C. Dimentan, 1985. Continuity of Messian biota in the Mediterranean basin. In Stanley, D. J. & F. C. Wezel (eds.), Geological Evolution of the Mediterranean Basin. Springer, New York.

Puillandre, N., A. Lamber, S. Brouillet & G. Achaz, 2012. ABGD, Automatic Barcode Gap Discovery for primary species delimitation. Molecular Ecology 21: 1864–1877.

R Core Team, 2015. R: A Language and Environment for Statistical Computing. R Foundation for Statistical Computing, Vienna. https://www.R-project.org/.

Rambaut, A., M. A. Suchard, D. Xie & A. J. Drummond, 2014. Tracer v1.6 [Computer Software and Manual]. http://beast.bio.ed.ac.uk/Tracer.

Rohlf, F. J., 2015. The tps series of software. Hystrix, the Italian Journal of Mammalogy 26: 9–12.

Stamatakis, A., 2006. Raxml-vi-HPC: maximum likelihood-based phylogenetic analyses with thousands of taxa and mixed models. Bioinformatics 22: 2688–2690.

Steindachner, F., 1897. Bericht über dei von Dr. Escherich in der umgebung von Angora gesammelten fische und reptilian. Denkschriften (Akademie der Wissenschaften in Wien) 64: 685–699.

Tang, K. L., M. K. Agnew, M. V. Hirt, T. Sado, L. M. Schneider, J. Freyhof, Z. Sulaiman, E. Swartz, C. Vidthayanon & M. Miya, 2010. Systematics of the subfamily Danioninae (Teleostei: Cypriniformes: Cyprinidae). Molecular Phylogenetics and Evolution 57: 189–214.

Triantafyllidis, A., D. Bobori, C. Koliamitra, E. Gbandi, M. Mpanti, O. Petriki & N. Karaiskou, 2011. DNA barcoding analysis of fish species diversity in four north Greek lakes. Mitochondrial DNA 22: 37–42.

Winfield, I. & J. S. Nelson (eds), 2012. Cyprinid Fishes: Systematics, Biology and Exploitation, Vol. 3. Springer, Dordrecht.
Acknowledgements
This study was supported by the Hacettepe University Scientific Research Projects Coordination Unit, Sampling Project No. 011 D06 601 007, Sequence Analyses Project No. 1448, and Software Project No. 014 D01 601 015-489. This study is a part of the Ph.D. thesis of Fatih Mangıt. The authors would also like to thank Hacettepe Technology Transfer Center for proof reading service.
Additional information
Handling editor: Christian Sturmbauer
Electronic supplementary material
Below is the link to the electronic supplementary material.
About this article
Cite this article
Mangit, F., Yerli, S.V. Systematic evaluation of the genus Alburnus (Cyprinidae) with description of a new species. Hydrobiologia 807, 297–312 (2018). https://doi.org/10.1007/s10750-017-3405-y
Received:

Revised:

Accepted:

Published:

Issue Date:
Keywords
Phylogeny

MTDNA

COI

Geometric morphometrics

Alburnus kurui sp. n