Abstract
Riverbank erosion is linked to increasing risks in piedmont areas due to urbanization and hydromorphological alterations of rivers. Changes in riparian vegetation and in sediment dynamics modify aquatic macroinvertebrate communities. In this context, riverbank stabilization is a major issue in the conservation of stream ecosystem functioning. In this study, we aimed at assessing the impacts of riverbank stabilization techniques on the taxonomic and functional properties of benthic macroinvertebrate communities living in alpine mountain streams. For this purpose, the effects of four riverbank stabilization techniques (riprap, mixed, cribwall, and fascine) on the taxonomic richness and biological traits involved in the main ecological processes were tested and compared with natural bank conditions. Overall, the macroinvertebrate richness was lower in stabilized banks than in natural conditions, and communities welcomed on natural banks were significantly different from those found on managed banks. The biological trait composition such as "maximum potential size," "life cycle duration," "reproduction," "feeding habits," and "trophic status" differed significantly among riverbanks, especially between natural banks and the riprap, mixed, and cribwall trio. In a context of macroinvertebrate biodiversity and functional restoration, we can advocate the fascine technique as the most suitable technique tested.
Access options
Buy single article
Instant access to the full article PDF.
USD 39.95
Price includes VAT (USA)
Tax calculation will be finalised during checkout.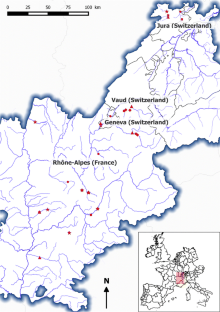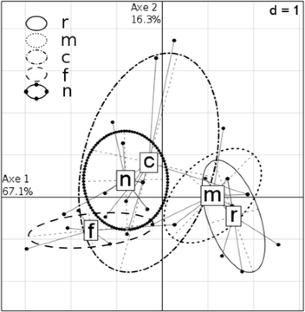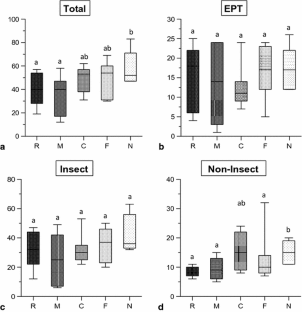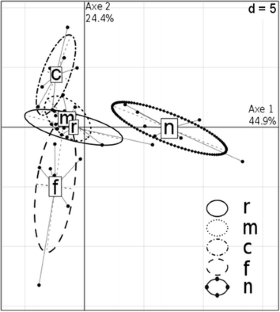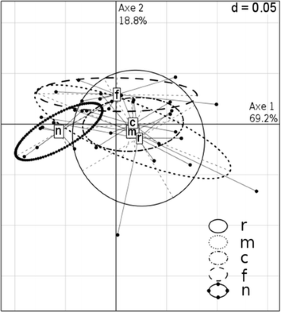 References
AFNOR, 2009. Qualité écologique des milieux aquatiques. Qualité de l'eau. Prélèvement des macro-invertébrés aquatiques en rivières peu profondes. Association française de normalisation XP T 90-333.

AFNOR, 2010. Qualité de l'eau. Traitement au laboratoire d'échantillons contenant des macro-invertébrés de cours d'eau. XP T90-388.

Anstead, L., R. R. Boar & N. K. Tovey, 2012. The effectiveness of a soil bioengineering solution for river bank stabilisation during flood and drought conditions: two case studies from East Anglia. Area 44: 479–488.

Archaimbault, V. & B. Dumont, 2010. L'indice biologique global normalisé (IBGN): principes et évolution dans le cadre de la directive cadre européenne sur l'eau. Sciences, Eaux et Territoires 1: 36–39.

Bariteau, L., D. Bouchard, G. Gagnon, M. Levasseur, S. Lapointe & M. Bérubé, 2013. A riverbank erosion control method with environmental value. Ecol Eng 58: 384–392.

Beisel, J. N., P. Usseglio-Polatera & J. C. Moreteau, 2000. The spatial heterogeneity of a river bottom: a key factor determining macroinvertebrate communities. Hydrobiologia 422: 163–171.

Benke, A. C., T. C. Jr, D. M. Van Arsdall & F. K. Parrish, 1984. Invertebrate productivity in a subtropical blackwater river: the importance of habitat and life history. Ecol Monogr 54: 25–63.

Bledsoe, B. P. & C. C. Watson, 2001. Effects of urbanization on channel instability. J Am Water Res Assoc 37: 255–270.

Bournaud, M., B. Cellot, P. Richoux & A. Berrahou, 1996. Macroinvertebrate community structure and environmental characteristics along a large river: congruity of patterns for identification to species or family. J N Am Benthol Soc 15: 232–253.

Bowman, M. F. & R. C. Bailey, 1997. Does taxonomic resolution affect the multivariate description of the structure of freshwater benthic macroinvertebrate communities? Can J Fish Aquat Sci 54: 1802–1807.

Brown, B. L., 2007. Habitat heterogeneity and disturbance influence patterns of community temporal variability in a small temperate stream. Hydrobiologia 586: 93–106.

Carline, R. F. & M. C. Walsh, 2007. Responses to riparian restoration in the Spring Creek watershed, Central Pennsylvania. Restor Ecol 15: 731–742.

Cavaillé, P., F. Dommanget, N. Daumergue, G. Loucougaray, T. Spiegelberger, E. Tabacchi & A. Evette, 2013. Biodiversity assessment following a naturality gradient of riverbank protection structures in French prealps rivers. Ecol Eng 53: 23–30.

Cavaillé, P., L. Ducasse, V. Breton, F. Dommanget, E. Tabacchi & A. Evette, 2015. Functional and taxonomic plant diversity for riverbank protection works: bioengineering techniques close to natural banks and beyond hard engineering. J Environ Manag 151: 65–75.

Clarke, K. R., 1993. Non-parametric multivariate analyses of changes in community structure. Aust J Ecol 18: 117–143.

Cooperman, M. S., S. G. Hinch, S. Bennett, M. A. Branton, R. V. Galbraith, J. T. Quigley & B. A. Heise, 2007. Streambank restoration effectiveness: lessons learned from a comparative study. Fisheries 32: 278–291.

Darby, S. E., 1999. Effect of riparian vegetation on flow resistance and flood potential. J Hydraul Eng 125: 443–454.

Dolédec, S. & D. Chessel, 1987. Rythmes saisonniers et composantes stationnelles en milieu aquatique. I: description d'un plan d'observation complet par projection de variables. Acta oecologica Oecalogia Gen 8: 403–426.

Dolédec, S., B. Statzner & M. Bournaund, 1999. Species traits for future biomonitoring across ecoregions: patterns along a human-impacted river. Freshw Biol 42: 737–758.

Ernst, A. G., D. R. Warren & B. P. Baldigo, 2012. Natural-channel-design restorations that changed geomorphology have little effect on macroinvertebrate communities in headwater streams. Restor Ecol 20: 532–540.

Evette, A., S. Labonne, F. Rey, F. Liebault, O. Jancke & J. Girel, 2009. History of bioengineering techniques for erosion control in rivers in western europe. Environ Manag 43: 972–984.

Fisher, S. G. & G. E. Likens, 1973. Energy flow in Bear Brook, New Hampshire: an integrative approach to stream ecosystem metabolism. Ecol Monogr 43: 421–439.

Florsheim, J. L., J. F. Mount & A. Chin, 2008. Bank erosion as a desirable attribute of rivers. BioScience 58: 519–529.

Floury, M., M. Usseglio, P. Usseg, M. Ferreol, C. Delattre & Y. Souchon, 2013. Global climate change in large European rivers: long-term effects on macroinvertebrate communities and potential local confounding factors. Glob Chang Biol 19: 1085–1099.

Galeone, D.G., 2000. Preliminary effects of streambank fencing of pasture land on the quality of surface water in a small watershed in Lancaster County, Pennsylvania. Water-Resources Investigations Report 00-4205, U.S. Department of the Interior, U.S. Geological Survey, Lemoyne, Pennsylvania.

Gayraud, S., B. Statzner, P. Bady, A. Haybach, F. Schöll, P. Usseglio-Polatera & M. Bacchi, 2003. Invertebrate traits for the biomonitoring of large European rivers: an initial assessment of alternative metrics. Freshw Biol 48: 2045–2064.

Haidekker, A. & D. Hering, 2008. Relationship between benthic insects (Ephemeroptera, Plecoptera, Coleoptera, Trichoptera) and temperature in small and medium-sized streams in Germany: a multivariate study. Aquat Ecol 42: 463–481.

Jaehnig, S. C., K. Brabec, A. Buffagni, S. Erba, A. W. Lorenz, T. Ofenboeck, P. F. M. Verdonschot & D. Hering, 2010. A comparative analysis of restoration measures and their effects on hydromorphology and benthic invertebrates in 26 central and southern European rivers. J Appl Ecol 47: 671–680.

Januschke, K., S. C. Jaehnig, A. W. Lorenz & D. Hering, 2014. Mountain river restoration measures and their success(ion): effects on river morphology, local species pool, and functional composition of three organism groups. Ecol Indic 38: 243–255.

Kail, J., J. Arle & S. C. Jaehnig, 2012. Limiting factors and thresholds for macroinvertebrate assemblages in European rivers: empirical evidence from three datasets on water quality, catchment urbanization, and river restoration. Ecol Indic 18: 63–72.

Knight, A. W. & R. L. Bottorff, 1984. The importance of riparian vegetation to stream ecosystems. California riparian systems: ecology, conservation, and productive management. University of California Press, Berkeley: 160–167.

Lepori, F., D. Palm, E. Brännäs & B. Malmqvist, 2005. Does restoration of structural heterogeneity in streams enhance fish and macroinvertebrate diversity? Ecol Appl 15: 2060–2071.

Li, M. H. & K. E. Eddleman, 2002. Biotechnical engineering as an alternative to traditional engineering methods: a biotechnical streambank stabilization design approach. Landsc Urban Plan 60: 225–242.

Malavoi, J. R., 1989. Typology of flow features or morphodynamic units in high-energy streams. Bulletin Francais De La Peche Et De La Pisciculture 315: 189–210.

Metropolis, N. & S. Ulam, 1949. The Monte Carlo method. J Am Stat Assoc 44: 335–341.

Ormerod, S. J., 2004. A golden age of river restoration science? Aquat Conserv 14: 543–549.

Piégay, H., A. Alber, L. Slater & L. Bourdin, 2009. Census and typology of braided rivers in the French Alps. Aquat Sci 71: 371–388.

Pautou, G., J. Girel, J. L. Peiry, F. Hughes, K. Richards & R. Foussadier, 1996. Changes in vegetation in fluvial hydrosystems using as exemples the high Rhone and the Isere in the Gresivaudan. Revue d'écologie alpine 3: 41–66.

Purcell, A. H., C. Friedrich & V. H. Resh, 2002. An assessment of a small urban stream restoration project in northern California. Restor Ecol 10: 685–694.

R Development Core Team, 2008. R: A Language and Environment for Statistical Computing. R Foundation for Statistical Computing, Vienne.

Reid, H. E., G. J. Brierley & I. K. G. Boothroyd, 2010. Influence of bed heterogeneity and habitat type on macroinvertebrate uptake in peri-urban streams. Int J Sediment Res 25: 203–220.

Resh, V. H. & J. D. Unzicker, 1975. Water quality monitoring and aquatic organisms: the importance of species identification. J Water Pollut Control Fed 47: 9–19.

Schiff, R., G. Benoit & J. Macbroom, 2011. Evaluating stream restoration: a case study from two partially developed 4th order Connecticut, U.S.A. streams and evaluation monitoring strategies. River Res Appl 27: 431–460.

Schiechtl, H. M., R. Stern & L. Jaklitsch, 1997. Water bioengineering techniques: for watercourse, bank and shoreline protection. Blackwell Science, Oxford.

Selvakumar, A., T. P. O'Connor & S. D. Struck, 2010. Role of stream restoration on improving benthic macroinvertebrates and In-stream water quality in an urban watershed: case study. J Environ Eng 136: 127–139.

Strayer, D. L., S. E. G. Findlay, D. Miller, H. M. Malcom, D. T. Fischer & T. Coote, 2012. Biodiversity in Hudson River shore zones: influence of shoreline type and physical structure. Aquat Sci 74: 597–610.

Sudduth, E. & J. Meyer, 2006. Effects of bioengineered streambank stabilization on bank habitat and macroinvertebrates in urban streams. Environ Manag 38: 218–226.

Stoll, S., J. Kail, A. W. Lorenz, A. Sundermann & P. Haase, 2014. The importance of the regional species pool, ecological species traits and local habitat conditions for the colonization of restored river reaches by fish. PLoS ONE 9: e84741.

Sundermann, A., S. Stoll & P. Haase, 2011. River restoration success depends on the species pool of the immediate surroundings. Ecol Appl 21: 1962–1971.

Surber, E. W., 1970. Procedure in taking stream bottom samples with the stream square foot bottom sampler. Proceeding of the 23rd. Annual Conference of the southern Association of Game and fish Commissioners.

Tachet, H., P. Richoux, M. Bournaud & P. Usseglio-Polatera, 2010. Invértebrés d'eau douce. Systématique, biologie, écologie. CNRS Editions, Paris. 607 p.

Thioulouse, J., D. Chessel, S. Dolédec & J. M. Olivier, 1997. ADE-4: a multivariate analysis and graphical display software. Stat Comput 7: 75–83.

Tonkin, J. D., S. Stoll, A. Sundermann & P. Haase, 2014. Dispersal distance and the pool of taxa, but not barriers, determine the colonisation of restored river reaches by benthic invertebrates. Freshw Biol 59: 1843–1855.

Townsend, C. R., S. Dolédec & M. R. Scarsbrook, 1997. Species traits in relation to temporal and spatial heterogeneity in streams: a test of habitat templet theory. Freshw Biol 37: 367–387.

Van Looy, K., C. Cavillon, T. Tormos, J. Piffady, P. Landry & Y. Souchon, 2013. A scale-sensitive connectivity analysis to identify ecological networks and conservation value in river networks. Lands Ecol 28: 1239–1249.

Vannote, R. L., G. W. Minshall, K. W. Cummins, J. R. Sedell & C. E. Cushing, 1980. River continuum concept. Can J Fish Aquat Sci 37: 130–137.

Water and Rivers Commission, 2000. Stream Stabilisation Water and Rivers Commission, River Restoration Report, No. RR 10.

Yamamuro, A. M. & G. A. Lamberti, 2007. Influence of organic matter on invertebrate colonization of sand substrata in a northern Michigan stream. J N Am Benthol Soc 26: 244–252.
Acknowledgements
This work would not have been possible without the help of the Irstea Mountain Ecosystem Research Unit of Grenoble, Paul Sabatier University, CNRS Ecolab, Toulouse, and Hepia, Genève. The authors are also grateful to Franck Baz, Emmanuelle Dauffy-Richard, Cécile Etienne, Ghislain Huyghe, Patrice Prunier, and Frédéric Labat (AQUABIO society) for their active support. The French Agency for biodiversity (AFB), French-Swiss Interreg IV Project Geni'Alp, and the Agence de l'Eau Rhone-Alpes are thanked for funding this study.
Additional information
Handling editor: Marcelo S. Moretti
About this article
Cite this article
Cavaillé, P., Dumont, B., Van Looy, K. et al. Influence of riverbank stabilization techniques on taxonomic and functional macrobenthic communities. Hydrobiologia 807, 19–35 (2018). https://doi.org/10.1007/s10750-017-3380-3
Received:

Revised:

Accepted:

Published:

Issue Date:
Keywords
Riverbank restoration

Bioengineering

Macroinvertebrates

Taxonomic richness

Biological traits