Abstract
Native species may show invasiveness toward a recipient ecosystem through increases in abundance as a result of artificial stocking events. Salmonid species are typical examples of native invaders whose abundance is increased after stocking with hatchery fish. This study evaluated the effects of hatchery chum salmon fry on sympatric wild masu salmon fry, benthic invertebrate prey, and algae, after a single stocking event in Mamachi stream, Hokkaido, northern Japan. The results suggested that the stocked hatchery chum salmon fry decreased the foraging efficiency and growth of the wild masu salmon fry through interspecific competition, and depressed the abundance of Ephemerellidae and total grazer invertebrates (Glossosomatidae, Heptageniidae, and Baetidae) through predation. Also, the hatchery chum salmon fry may increase algal biomass through depression of grazer abundance by predation (top-down effect). These results suggested that a single release of hatchery chum salmon fry into a stream may influence the recipient stream ecosystem.
Access options
Buy single article
Instant access to the full article PDF.
US$ 39.95
Tax calculation will be finalised during checkout.
Subscribe to journal
Immediate online access to all issues from 2019. Subscription will auto renew annually.
US$ 119
Tax calculation will be finalised during checkout.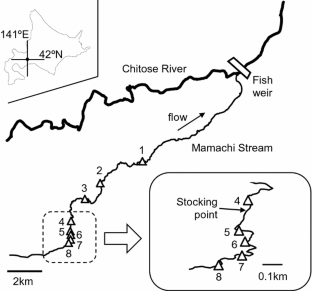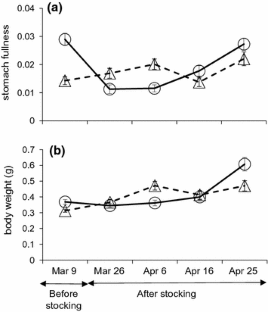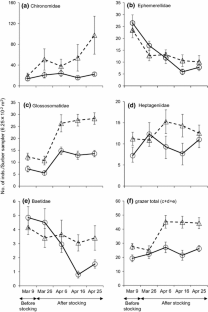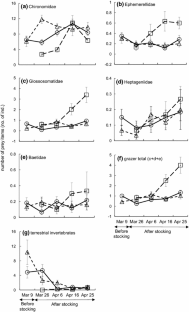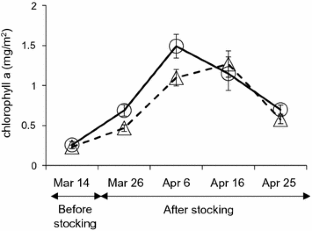 References
Becker, G., 2001. Larval size, case construction and crawling velocity at different substratum roughness in three scraping caddis larvae. Archiv für Hydrobiologie 151: 317–334.

Buoro, M., J. D. Olden & J. Cucherousset, 2016. Global Salmonidae introductions reveal stronger ecological effects of changing intraspecific compared to interspecific diversity. Ecology Letters 19: 1363–1371.

Carey, M. P., B. L. Sanderson, K. A. Barnas & J. D. Olden, 2012. Native invaders—challenges for science, management, policy, and society. Frontiers in Ecology and the Environment 10: 373–381.

Craig, D. A., 1990. Behavioural hydrodynamics of Cloeon dipterum larvae (Ephemeroptera: Baetidae). Journal of the North American Benthological Society 9: 346–357.

Elliott, J. M., 1971. The distances travelled by drifting invertebrates in a Lake Distinct stream. Oecologia 6: 350–379.

Hasegawa, K. & S. Takahashi, 2013. Micro-scale environment of seaward migration route of stocked chum salmon fry. Transactions of the American Fisheries Society 142: 1232–1237.

Hasegawa, K., K. Ohkuma & T. Ohnuki, 2011. Focal point selection of chum and masu salmon fry in streams. Nippon Suisan Gakkashi 77: 1095–1097. (in Japanese).

Hasegawa, K., K. Morita, K. Ohkuma, T. Ohnuki & Y. Okamoto, 2014a. Effects of hatchery chum salmon fry on density-dependent intra- and interspecific competition between wild chum and masu salmon fry. Canadian Journal of Fisheries and Aquatic Sciences 71: 1475–1482.

Hasegawa, K., N. Ishiyama & H. Kawai, 2014b. Replacement of nonnative rainbow trout by nonnative brown trout in the Chitose river system, Hokkaido, northern Japan. Aquatic Invasions 9: 221–226.

Hasegawa, K., T. Mori & C. Yamazaki, 2017. Density-dependent effects of non-native brown trout Salmo trutta on the species-area relationship in stream fish assemblages. Journal of Fish Biology 90: 370–383.

Hilborn, R., 2004. Population management in stock enhancement and sea ranching. In Leber, K. M., S. Kitada, H. L. Blankenship & T. Svåsand (eds.), Stock Enhancement and Sea Ranching. Blackwell, Oxford: 201–209.

Hirner, J. L. M. & S. P. Cox, 2007. Effects of rainbow trout (Oncorhynchus mykiss) on amphibians in productive recreational fishing lakes of British Columbia. Canadian Journal of Fisheries and Aquatic Sciences 64: 1770–1780.

Hoar, W. S., 1951. The behaviour of chum, pink and coho salmon in relation to their seaward migration. Journal of Fisheries Research Board of Canada 8: 241–263.

Howell, B. R., E. Moksness & T. Svåsand, 1999. Stock enhancement and sea ranching. Fishing News Books, Oxford.

Kaspersson, R., J. Höjesjö & S. Pedersen, 2010. Effects of density on foraging success and aggression in age-structured groups of brown trout. Animal Behaviour 79: 709–715.

Kitada, S., 2014. Japanese chum salmon stock enhancement: current perspective and future challenges. Fisheries Science 80: 237–249.

Kobayashi, T., 1980. Salmon propagation in Japan. In Thorpe, J. E. (ed.), Salmon Ranching. Academic Press, London: 91–107.

Kobayashi, T. & S. Harada, 1968. Ecological observation on the salmon of Nishibetsu River III. The feeding habit of chum salmon fry, Oncorhynchus keta (Walbaum), and the food taken during seaward migration. Scientific Reports of the Hokkaido Salmon Hatchery 22: 15–35. (in Japanese with English abstract).

Kobayashi, T. & Y. Ishikawa, 1964. An ecological study on the salmon fry, Oncorhynchus keta (Walbaum) VIII. The growth and feeding habit of the fry during seaward migration. Scientific Reports of the Hokkaido Salmon Hatchery 18: 7–15. (in Japanese with English abstract).

Maynard, D. J. & J. G. Trial, 2014. The use of hatchery technology for the conservation of Pacific and Atlantic salmon. Reviews in Fish Biology and Fisheries 24: 803–817.

Mori, T., M. Murakami & T. Saitoh, 2010. Latitudinal gradients in stream invertebrate assemblages at a regional scale on Hokkaido Island, Japan. Freshwater Biology 55: 1520–1532.

Nagata, M., Y. Miyakoshi, H. Urabe, M. Fujiwara, Y. Sasaki, K. Kasugai, M. Torao, D. Ando & M. Kaeriyama, 2012. An overview of salmon enhancement and the need to manage and monitor natural spawning in Hokkaido, Japan. Environmental Biology of Fishes 94: 311–323.

Pace, M. L., J. J. Cole, S. Carpenter & J. Kitchell, 1999. Trophic cascades revealed in diverse ecosystems. Trends in Ecology and Evolution 14: 483–488.

Parker, I. M., D. Simberloff, W. M. Lonsdale, K. Goodell, M. Wonham, P. M. Kareiva, M. H. Williamson, B. Von Holle, P. B. Moyle, J. E. Byers & L. Goldwasser, 1999. Impact: toward a framework for understanding the ecological effects of invaders. Biological Invasions 1: 3–19.

Rose, G. A., 1986. Growth decline in subyearing brook trout (Salvelinus fontinalis) after emergence of rainbow trout (Salmo gairdneri). Canadian Journal of Fisheries and Aquatic Sciences 43: 187–193.

Takahashi, S., K. Hasegawa, H. Ito, M. Ban & Y. Miyauchi, 2016. Comparisons of growth of chum salmon fry released into rivers of which temperature and prey abundance conditions were different. Nippon Suisan Gakkaishi 82: 559–568. (in Japanese with English abstract).

Volk, E. C., S. L. Schroder & J. J. Grimm, 1999. Otolith thermal marking. Fisheries Research 43: 205–219.

Watson, R., 1999. Salmon, Trout & Charr of the World. Swan Hill Press, Shrewsbury.
Acknowledgements
We thank the staff of the Hokkaido National Fisheries Research Institute for helping with the field work, and Dr Yoshikazu Takashima for sorting and identifying benthic invertebrates. We are also grateful to Dr Todd Pearsons for his helpful comments on an earlier version of the manuscript. This study was supported by the Japan Society for the Promotion of Science, Grants-in-Aid for Scientific Research (KAKENHI) Program (Grant No. JP16K07857) to KH.
Additional information
Handling editor: Eric Larson
Electronic supplementary material
Below is the link to the electronic supplementary material.
About this article
Cite this article
Hasegawa, K., Ohta, T. & Takahashi, S. Are hatchery chum salmon fry a native invader? Direct and indirect effects of stocking salmon fry on stream organisms. Hydrobiologia 806, 111–121 (2018). https://doi.org/10.1007/s10750-017-3344-7
Received:

Revised:

Accepted:

Published:

Issue Date:
Keywords
Benthic invertebrates

Competition

Masu salmon

Predation

Top-down effect