Abstract
Territorial farmer damselfishes are facilitators that selectively farm turf algae in degraded reef patches. The effect of damselfish on algae and corals has been widely studied but the ability of the damselfish to establish farms on other substrates is less understood. In the giant clam ocean nursery in Bolinao, northwestern Philippines, farmer damselfishes, particularly Stegastes nigricans, Dischistodus prosopotaenia, and D. chrysopoecilus, make use of giant clam shells as substrate for turf algae farms. To facilitate growth of the algal crop, damselfishes reduce shading and create more space for cultivation by trimming the overhanging mantles of Tridacna gigas within their colonies. This form of habitat modification occurs within weeks, with affected clams exhibiting mantle lesions and turf algae growth on their shells. These observations suggest that damselfishes can potentially extend their farmed turf algae patches in a manner that, although not typical of natural reef conditions, may be facilitated by the availability of giant clam shells as substrate. The versatility of damselfishes in establishing turf algae farms on a different substrate and their ability to condition the habitat through active modification of other reef biota emphasize the potential of the farmer damselfish to significantly influence reef community structure and biodiversity.
This is a preview of subscription content, log in to check access.
Access options
Buy single article
Instant access to the full article PDF.
US$ 39.95
Price includes VAT for USA
Subscribe to journal
Immediate online access to all issues from 2019. Subscription will auto renew annually.
US$ 199
This is the net price. Taxes to be calculated in checkout.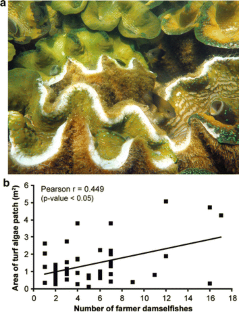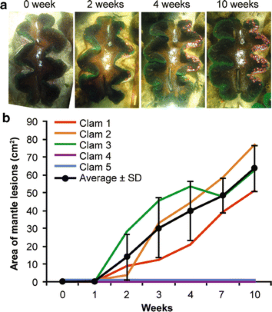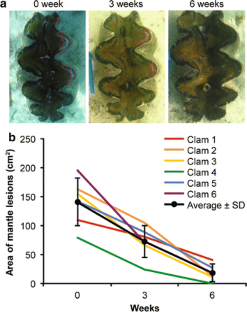 References
Cabaitan, P. C., H. T. Yap & E. D. Gomez, 2016. The spaghetti sponge Callyspongia samarensis (Wilson, 1925) provides temporary habitat for reef fish recruits. Marine Biodiversity 46: 541.

Casey, J. M., T. D. Ainsworth, J. H. Choat & S. R. Connolly, 2014. Farming behaviour of reef fishes increases the prevalence of coral disease associated microbes and black band disease. Proceedings Biological Sciences 281(1788): 20141032.

Ceccarelli, D. M., 2007. Modification of benthic communities by territorial damselfish: a multi-species comparison. Coral Reefs 26(4): 853–866.

Ceccarelli, D. M., G. P. Jones & L. J. McCook, 2001. Territorial damselfishes as determinants of the structure of benthic communities on coral reefs. Oceanography and Marine Biology: An Annual Review 39: 355–389.

Ceccarelli, D. M., G. P. Jones & L. J. McCook, 2005. Effects of territorial damselfish on an algal-dominated coastal coral reef. Coral Reefs 24(4): 606–620.

Ceccarelli, D., G. Jones & L. McCook, 2011. Interactions between herbivorous fish guilds and their influence on algal succession on a coastal coral reef. Journal of Experimental Marine Biology and Ecology 399(1): 60–67.

Ceccarelli, D., M. Emslie & A. Lewis, 2013. Farming versatility by Pomacentrus wardi. Marine and Freshwater Research 64(6): 558–561.

English, S., C. Wilkinson & V. Baker, 1997. Survey Manual for Tropical Marine Resources. Australian Institute of Marine Science, Townsville.

Gobler, C. J., D. B. Thibault, T. W. Davis, P. B. Curran, B. J. Peterson & L. B. Liddle, 2006. Algal assemblages associated with Stegastes sp. territories on Indo-Pacific coral reefs: characterization of diversity and controls on growth. Journal of Experimental Marine Biology and Ecology 336(1): 135–145.

Gochfeld, D. J., 2010. Territorial damselfishes facilitate survival of corals by providing an associational defense against predators. Marine Ecology Progress Series 398: 137–148.

Gordon, T. A. C., B. Cowburn & R. D. Sluka, 2015. Defended territories of an aggressive damselfish contain lower juvenile coral density than adjacent non-defended areas on Kenyan lagoon patch reefs. Coral Reefs 34(1): 13–16.

Hata, H. & M. Kato, 2002. Weeding by the herbivorous damselfish Stegastes nigricans in nearly monocultural algae farms. Marine Ecology Progress Series 237: 227–231.

Hata, H. & M. Kato, 2004. Monoculture and mixed-species algal farms on a coral reef are maintained through intensive and extensive management by damselfishes. Journal of Experimental Marine Biology and Ecology 313: 285–296.

Hata, H. & M. Kato, 2006. A novel obligate cultivation mutualism between damselfish and Polysiphonia algae. Biology Letters 2(4): 593–596.

Hata, H., M. Nishihira & S. Kamura, 2002. Effects of habitat-conditioning by the damselfish Stegastes nigricans (Lacepède) on the community structure of benthic algae. Journal of Experimental Marine Biology and Ecology 280(1–2): 95–116.

Hattori, A. & T. Shibuno, 2013. Habitat use and coexistence of three territorial herbivorous damselfish on different-size patch reefs. Journal of the Marine Biological Association of the United Kingdom 93(8): 2265–2272.

Hoey, A. S. & D. R. Bellwood, 2010. Damselfish territories as a refuge for macroalgae on coral reefs. Coral Reefs 29(1): 107–118.

Holt, A. L., S. Vahidinia, Y. L. Gagnon, D. E. Morse & A. M. Sweeney, 2014. Photosymbiotic giant clams are transformers of solar flux. Journal of the Royal Society Interface 11(101): 20140678.

Jones, C., J. Lawton & M. Shachak, 1994. Organisms as ecosystem engineers. Oikos 69: 373–386.

Kaufman, L., 1977. The three spot damselfish: effects on benthic biota of Caribbean coral species. Proceedings of the 3rd International Coral Reef Symposium 1:559–564.

Klumpp, D. W. & N. V. C. Polunin, 1989. Partitioning among grazers of food resources within damselfish territories on a coral reef. Journal of Experimental Marine Biology and Ecology 125: 145–169.

Klumpp, D. W., B. L. Bayne & A. J. S. Hawkins, 1992. Nutrition of the giant clam Tridacna gigas (L.) I. Contribution of filter feeding and photosynthates to respiration and growth. Journal of Experimental Marine Biology and Ecology 155(1): 105–122.

Letourneur, Y., 2000. Spatial and temporal variability in territoriality of a tropical benthic damselfish on a coral reef (Réunion Island). Environmental Biology of Fishes 57(4): 377–391.

Lucas, J., 1988. Giant clam description, distribution and life history. Giant Clams in Asia and the Pacific. ACIAR Monograph No. 9, Canberra.

McManus, J. W., R. Reyes & C. Nanola, 1997. Effects of some destructive fishing methods on coral cover and potential rates of recovery. Environmental Management 21(1): 69–78.

Neo, M. L., W. Eckman, K. Vicentuan, S. L. M. Teo & P. A. Todd, 2015. The ecological significance of giant clams in coral reef ecosystems. Biological Conservation 181: 111–123.

Nishihira, M., 1993. Habitat structure and biodiversity in the coral reef areas: ecological process in habitat creation and community development on microatolls of the massive coral Porites. Symbiosphere (Biology International) 29: 26–29.

Peyton, K. A., L. M. Valentino & K. P. Maruska, 2014. Dual roles of an algal farming damselfish as a cultivator and opportunistic browser of an invasive seaweed. PLoS ONE 9(10): e109007.

San Diego-McGlone, M. L., R. V. Azanza, C. L. Villanoy & G. S. Jacinto, 2008. Eutrophic waters, algal bloom and fish kill in fish farming areas in Bolinao, Pangasinan, Philippines. Marine Pollution Bulletin 57(6–12): 295–301.

Schneider, C. A., W. S. Rasband & K. W. Eliceiri, 2012. NIH Image to ImageJ: 25 years of image analysis. Nature Methods 9: 671–675.

Smith, J., C. Hunter & C. Smith, 2010. The effects of top-down versus bottom-up control on benthic coral reef community structure. Oecologia 163(2): 497–507.

Soo, P. & P. A. Todd, 2014. The behaviour of giant clams (Bivalvia: Cardiidae: Tridacninae). Marine Biology 161(12): 2699–2717.

Sweet, M. J., J. C. Bythell & M. M. Nugues, 2013. Algae as reservoirs for coral pathogens. PLoS ONE 8(7): e69717.

Vermeij, M. J. A., H. DeBey, G. Grimsditch, J. Brown, D. Obura, R. DeLeon & S. A. Sandin, 2015. Negative effects of gardening damselfish Stegastes planifrons on coral health depend on predator abundance. Marine Ecology Progress Series 528: 289–296.

Vicentuan-Cabaitan, K., M. L. Neo, W. Eckman, S. L.-M. Teo & P. A. Todd, 2014. Giant clam shells host a multitude of epibionts. Bulletin of Marine Science 90: 795–796.
Acknowledgements
The authors wish to acknowledge the Bolinao Marine Laboratory for logistical support. We thank Fernando Castrence and Renato Adolfo for field assistance. This work was supported by a grant from the Marine Science Institute of the University of the Philippines and National Geographic Society (ASIA-08-15). Christopher Malvicini was supported by the Skidmore College Summer Funded Internship Award Program 2016.
Additional information
Handling editor: Diego Fontaneto
Electronic supplementary material
Below is the link to the electronic supplementary material.
About this article
Cite this article
Cabaitan, P.C., Malvicini, C., Sabban, F. et al. Versatile habitat conditioning by damselfish cultivating turf algae on giant clams. Hydrobiologia 805, 89–96 (2018). https://doi.org/10.1007/s10750-017-3284-2
Received:

Revised:

Accepted:

Published:

Issue Date:
Keywords
Tridacna gigas
Stegastes nigricans

Facilitation

Farming behavior

Degraded reef