Abstract
The watershed land uses in Mediterranean wetlands are essential to understand the functioning of aquatic communities. This study was designed to assess the relationship between watershed land uses, wetland characteristics and zooplankton assemblages (branchiopods and copepods) in 24 Mediterranean wetlands of the southern Iberian Peninsula, which greatly differ in both wetland land uses (olive groves, pasture, scrublands, and forest) and in their morphometric and limnological features. Firstly, results from a Principal Component Analysis allowed us to classify wetlands in two categories: impacted and non-impacted. Then, one-way Analysis of Variance was performed to test differences in zooplankton species richness and a Permutational Analysis of Variance was performed to test differences in zooplankton assemblages between categories. Lastly, a Non-metric Multidimensional Scaling analysis was chosen for the lake-by-species ordination. The results support the hypothesis that zooplankton richness and composition were negatively affected by watershed land uses, mainly agriculture practices. Moreover, species zooplankton assemblages were clearly linked to the two different wetlands categories. The present study puts forward the important role of zooplankton community for testing land use effects in Mediterranean wetlands.
Access options
Buy single article
Instant access to the full article PDF.
USD 39.95
Price excludes VAT (USA)
Tax calculation will be finalised during checkout.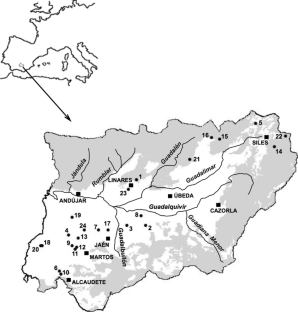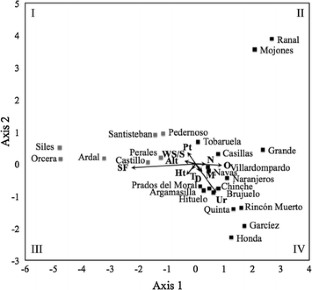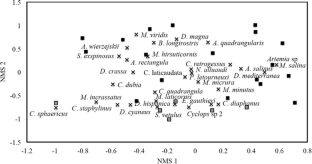 References
AEMET, 2011. Atlas climático ibérico. Ministerio de Medio Ambiente y Medio Rural y Marino, Madrid, España.

Alfonso, G., G. Belmonte, F. Marrone & L. Naselli-Flores, 2010. Does lake age affect zooplankton diversity in Mediterranean lakes and reservoirs? A case study from southern Italy. Hydrobiologia 653: 149–164.

Alfonso, G., L. Beccarisi, V. Pieri, A. Frassanito & G. Belmonte, 2016. Using crustaceans to identify different pond types. A case study from the Alta Murgia National Park, Apulia (South-eastern Italy). Hydrobiologia 782: 53–69.

Allen, P. E. & S. I. Dodson, 2011. Land use and ostracod community structure. Hydrobiologia 668: 202–219.

Álvarez-Cobelas, N., C. Rojo & D. G. Angeler, 2005. Mediterranean limnology: current status, gaps and the future. Journal of Limnology 64: 13–29.

Angeler, D. G., 2007. Resurrection ecology and global climate change research in freshwater ecosystems. Journal of the North American Benthological Society 26: 12–22.

Angeler, D. G. & G. García, 2005. Using emergence from soil propagule banks as indicators of ecological integrity in wetlands: advantages and limitations. Journal of the North American Benthological Society 24: 740–752.

Angeler, D. G. & J. Moreno, 2007. Zooplankton community resilence after press-type anthropogenic stress in temporary ponds. Ecological Applications 17: 1105–1115.

Angeler, D. G. & M. Álvarez-Cobelas, 2005. Island biogeography and landscape structure: integrating ecological effects in a landscape perspective of anthropogenic impacts in temporary wetlands. Environmental Pollution 138: 421–425.

Angeler, D. G., A. J. Boulton, K. M. Jenkins, B. Sánchez, M. Álvarez-Cobelas & S. Sánchez-Carrillo, 2007. Alternative states and temporary wetlands: research opportunities for understanding effects of anthropogenic stress and natural disturbances. In Clarkson, A. (ed.), Environmental Research Advances. Nova Science Publishers Inc, New York: 5–17.

Angeler, D. G., O. Viedma, S. Sánchez-Carrillo & M. Álvarez-Cobelas, 2008. Conservation issues of temporary wetland Branchiopoda (Anostraca, Notostraca: Crustacea) in a semiarid agricultural landscape: what spatial scales are relevant? Biological Conservation 141: 1224–1234.

Angeler, D. G., C. Trigal, S. Drakare, R. K. Johnson & W. Goedkoop, 2010. Identifying resilence mechanisms to recurrent ecosystem perturbations. Oecologia 164: 231–241.

Bagella, S., S. Gascón, M. C. Caria, J. Sala, M. A. Mariani & D. Boix, 2010. Identifying key environmental factors related to plant and crustacean assemblages in Mediterranean temporary ponds. Biodiversity and Conservation 19: 1749–1768.

Borgognone, M. G., J. Bussi & G. Hough, 2001. Principal component analysis in sensory analysis: covariance or correlation matrix? Food Quality and Preference 12: 323–326.

Brinson, M. M. & A. I. Malvárez, 2002. Temperate freshwater wetlands: types, status, and threats. Environmental Conservation 29: 115–133.

Calero, J., M. P. Cordovilla, V. Aranda, R. Borjas & C. Aparicio, 2013. Effect of organic agriculture and soil forming factors on soil quality and physiology of olive trees. Agroecology and Sustainable Food Systems 37: 193–214.

Casado, S. & C. Montes, 1995. Guía de los lagos y humedales de España. J. M, Reyero, Madrid, España.

Casas, J. J., J. Toja, S. Bonachela, F. Fuentes, I. Gallego, D. Juan, M. León, P. Peñalver, C. Pérez & P. Sánchez, 2011. Artificial ponds in a Mediterranean region (Andalusia, southern Spain): agricultural and environmental issues. Water and Environment Journal 25: 308–317.

De Leo, G. A. & S. Levin, 1997. The multifaceted aspects of ecosystem integrity. Conservation Ecology 1: 3.

Declerck, S., T. De Bie, D. Ercen, H. Hampel, S. Schrijvers, J. Van Wichelen, V. Gillard, R. Mandiki, B. Losson, D. Bauwens, S. Keijers, W. Vyverman, B. Goddeeris, L. De Meester, L. Brendonck & K. Martens, 2006. Ecological characteristics of small farmland ponds: associations with land use practices at multiple spatial scales. Biological Conservation 131: 523–532.

Del Arco, A. I., F. Guerrero, F. Jiménez-Gómez & G. Parra, 2015. Effects of nitrate concentration within legal limits on natural assemblages of plankton communities. Fundamental and Applied Limnology 187: 1–10.

Del Arco, A. I., F. Jiménez-Gómez, F. Guerrero & G. Parra, 2016. Can a copper sulphate pulse below toxic threshold change plankton communities? Aquatic Ecosystem Health and Management 19: 64–73.

Della Bella, V. & L. Mancini, 2009. Freshwater diatom and macroinvertebrate diversity of coastal permanent ponds along a gradient of human impact in a Mediterranean eco-region. Hydrobiologia 634: 25–41.

Dodson, S. I. & R. A. Lille, 2001. Zooplankton communities of restored depressional wetlands in Winconsin, USA. Wetlands 21: 292–300.

Dodson, S. I., R. A. Lillie & S. Will-Wolf, 2005. Land use, water chemistry, aquatic vegetation, and zooplankton community structure of shallow lakes. Ecological Applications 15: 1191–1198.

Dodson, S. I., W. R. Evenhart, A. K. Jandl & S. J. Krauskopf, 2007. Effect of watershed land use and lake age on zooplankton species richness. Hydrobiologia 579: 393–399.

Dodson, S. I., A. L. Newman, S. Will-Wolf, M. L. Alexander, M. Woodford & S. Van Egeren, 2009. The relationships between zooplankton community structure and lake characteristics in temperate lakes (Northern Wisconsin, USA). Journal of Plankton Research 31: 93–100.

Dudgeon, D., A. H. Arthington, M. O. Gessner, Z. I. Kawabata, D. J. Knowler, C. Lévêque, R. J. Naiman, A. H. Prieur-Richard, S. Soto, M. L. Stiassny & C. A. Sullivan, 2006. Freshwater biodiversity: importance, threats, status and conservation challenges. Biological Reviews 81: 163–182.

EPCN, 2008. The pond manifesto. European Pond Conservation Network (www.europeanponds.org).

Frisch, D., A. Arechederra & A. J. Green, 2009. Recolonisation potential of zooplankton propagule banks in natural and agriculturally modified sections of a semiarid temporary stream (Doñana, Southwest Spain). Hydrobiologia 624: 115–123.

Fuentes-Rodríguez, F., M. Juan, I. Gallego, M. Lusi, E. Fenoy, D. León, P. Peñalver, J. Toja & J. J. Casas, 2013. Diversity in Mediterranean farm ponds: trade-offs and synergies between irrigation modernisation and biodiversity conservation. Freshwater Biology 58: 63–78.

Gallego-Fernández, J. B., M. R. García-Mora & F. García-Novo, 1999. Small wetlands lost: a biological conservation hazard in Mediterranean landscapes. Environmental Conservation 26: 190–199.

García-Muñoz, E., J. D. Gilbert, G. Parra & F. Guerrero, 2010. Wetlands classification for amphibian conservation in Mediterranean landscapes. Biodiversity and Conservation 19: 901–911.

Gergel, S. E., 2005. Spatial and non-spatial factors: when do they affect landscape indicators of watershed loading? Landscape Ecology 20: 177–189.

Gilbert, J. D., I. de Vicente, R. Jiménez-Melero, G. Parra & F. Guerrero, 2014. Selecting priority conservation areas based on zooplankton diversity: the case of Mediterranean wetlands. Marine and Freshwater Research 65: 857–871.

Gilbert, J. D., I. de Vicente, F. Ortega, R. Jiménez-Melero, G. Parra & F. Guerrero, 2015a. A comprehensive evaluation of the crustacean assemblages in southern Iberian Mediterranean wetlands. Journal of Limnology 74: 169–181.

Gilbert, J. D., F. Guerrero, R. Jiménez-Melero & I. de Vicente, 2015b. Is the bioproduction number a good index of the trophic state in Mediterranean wetlands? Knowledge and Management of Aquatic Ecosystems 416: 05.

Haberman, J. & M. Haldna, 2014. Indices of zooplankton community as valuable tools in assessing the trophic state and water quality of eutrophic lakes: long term study of Lake Võrtsjärv. Journal of Limnology 73: 263–273.

Hammer, U. T., 1978. The saline lakes of Saskatchewan. III. Chemical characterization. Internationale Revue der gesamten Hydrobiologieund Hydrographie 63: 311–335.

Hoffmann, M. D. & S. I. Dodson, 2005. Land use, primary productivity, and lake area as descriptors of zooplankton diversity. Ecology 86: 255–261.

Jeppesen, E., P. Nõges, T. A. Davidson, J. Haberman, T. Nõges, K. Blank, T. L. Lauridsen, M. Søndergaard, C. Sayer, R. Laugaste, L. S. Johansson, R. Bjerring & S. L. Amisnck, 2011. Zooplankton as indicators in lakes – a scientific-based plea for including zooplankton in the ecological quality assessment of lakes according to the European Water Framework Directive (WFD). Hydrobiologia 676: 270–297.

Johnes, P., B. Moss & G. Phillips, 1996. The determination of total nitrogen and total phosphorus concentrations in freshwaters from land use, stock head age and population data: testing of model for use in conservation and water quality management. Freshwater Biology 36: 451–473.

Jones, J. R., M. F. Knowlton, D. V. Obrecht & E. A. Cook, 2004. Importance of landscape variables and morphology on nutrients in Missouri reservoirs. Canadian Journal of Fisheries and Aquatic Sciences 61: 1503–1512.

Lougheed, V. L. & P. Chow-Fraser, 2002. Development and use of a zooplankton index of wetland quality in the Laurentian Great Lakes basin. Ecological Applications 12: 474–486.

Lougheed, V. L., M. D. McIntosh, C. A. Parker & R. J. Stevenson, 2008. Wetland degradation leads to homogenization of the biota at local and landscape scales. Freshwater Biology 53: 2402–2413.

McCarty, J. P., 2001. Ecological consequences of recent climate change. Conservation Biology 15: 320–331.

McCune, B. & M. J. Mefford, 1999. PC-ORD. Multivariate Analysis of Ecological Data, Version 4. Gleneden Beach, MJM Software Design.

McCune, B., J. B. Grace & D. L. Urban, 2002. Analysis of Ecological Communities. MJM Software Design, Gleneden Beach.

Mitsch, W. J. & J. G. Gosselink, 2000. Wetlands, 3rd ed. Wiley & Sons, New York.

Moreno-Mateos, D. & F. A. Comín, 2010. Integrating objectives and scales for planning and implementing wetland restoration and creation in agricultural landscapes. Journal of Environmental Management 91: 2087–2095.

Moreno-Mateos, D., Ü. Mander, F. A. Comín, C. Pedrocchi & E. Uuemaa, 2008. Relationships between landscape pattern, wetland characteristics, and water quality in agricultural catchments. Journal of Environmental Quality 37: 2170–2180.

Naveh, Z. & A. Lieberman, 1994. Landscape Ecology: theory and Application. Springer, New York.

Ortega, F., G. Parra & F. Guerrero, 2006. Usos del suelo en las cuencas hidrográficas de los humedales del Alto Guadalquivir: importancia de una adecuada gestión. Limnetica 25: 723–732.

Parra, G., R. Jiménez-Melero & F. Guerrero, 2005. Agricultural impacts on Mediterranean wetlands: the effects of pesticides on survival and hatching rates in copepods. Annales de Limnologie - International Journal of Limnology 41: 161–167.

Pullin, A. S., A. Baldi, O. E. Can, M. Dieterich, V. Kati, B. Livoreil, G. Lövei, B. Mihók, O. Nevin, N. Selva & I. Sousa-Pinto, 2009. Conservation focus on Europe: major conservation policy issues that need to be informed by conservation science. Conservation Biology 23: 818–824.

Quinn, G. P. & M. J. Keough, 2002. Experimental Design and Data Analysis for Biologists. Cambridge University Press, Cambridge.

REFRESH project, 2010. Zooplankton: an integrative Biological Quality Element for assessing the Ecological Status of lakes. http://www.refresh.ucl.ac.uk/webfm_send/2240

Rhazi, L., P. Grillas, A. M. Toure & L. T. Ham, 2001. Impact of land use in catchment and human activities on water, sediment and vegetation of Mediterranean temporary pools. Comptes Rendus de l'Académie des Sciences – Series III – Sciences de la Vie 324: 165–177.

Ruhí, A., D. Boix, J. Sala, S. Gascón & X. D. Quintana, 2009. Spatial and temporal patterns of pioneer macrofauna in recently created ponds: taxonomic and functional approaches. Hydrobiologia 634: 137–151.

StatSoft Inc., 2004. STATISTICA (data analysis software system), version 7. http://www.statsoft.com.

Trigal, C., F. García-Criado & C. Fernández-Aláez, 2007. Macroinvertebrate communities of Mediterranean ponds (North Iberian Plateau): importance of natural and human-induced variability. Freshwater Biology 52: 2042–2055.

Van den Broeck, M., A. Waterkeyn, L. Rhazi, P. Grillas & L. Brendonck, 2015. Assessing the ecological integrity of endorheic wetlands, with focus on Mediterranean temporary ponds. Ecological Indicators 54: 1–11.

Van Egeren, S. J., S. I. Dodson, B. Torke & J. T. Maxted, 2011. The relative significance of environmental and anthropogenic factors affecting zooplankton community structure in Southeast Wisconsin Till Plain lakes. Hydrobiologia 668: 137–146.

Van Hoey, G., A. Borja, S. Birchenough, L. Buhl-Mortensen, S. Degraer, D. Fleischer, F. Kerckhof, P. Magni, I. Muxika, H. Reiss, A. Schröder & M. L. Zettler, 2010. The use of benthic indicators in Europe: from the Water Framework Directive to the Marine Strategy Framework Directive. Marine Pollution Bulletin 60: 2187–2196.

Waterkeyn, A., B. Vanschoenwinkel, P. Grillas & L. Brendonck, 2010. Effect of salinity on seasonal community patterns of Mediterranean temporary wetland crustaceans: a mesocosm study. Limnology and Oceanography 55: 1712–1722.

Zacharias, I., E. Dimitriou, A. Dekker & E. Dorsman, 2007. Overview of temporary ponds in the Mediterranean region: threats, management and conservation issues. Journal of Environmental Biology 28: 1–9.
Acknowledgements
Our thanks go to the Consejería de Medio Ambiente (Junta de Andalucía) for permission to collect zooplankton samples in wetlands. Thanks to Francisco J. Márquez for the useful statistical comments.
Additional information
Handling editor: Juan Carlos Molinero
About this article
Cite this article
Gilbert, J.D., de Vicente, I., Ortega, F. et al. Linking watershed land uses and crustacean assemblages in Mediterranean wetlands. Hydrobiologia 799, 181–191 (2017). https://doi.org/10.1007/s10750-017-3211-6
Received:

Revised:

Accepted:

Published:

Issue Date:

DOI: https://doi.org/10.1007/s10750-017-3211-6
Keywords
Agriculture

Pond

Catchment management

Land use

Zooplankton

Conservation