Abstract
In temporally variable environments producing offspring with variable phenotypes can help parents to buffer against different future environmental conditions. Freshwater zooplankton can produce clutches with eggs of different sizes, but it remains unknown whether such variable offspring provisioning could be promoted by uncertainty in the quality of growing seasons. We studied provisioning patterns in 572 clutches that were produced throughout the life of 77 fairy shrimp pairs from six temporary pools along a gradient in habitat uncertainty (i.e. probability of early drying). Our results show that larger embryos hatch earlier during inundations, which is a benefit under time stress, but that the production of larger offspring comes at a cost of reduced numbers. Parents from all pools produced variably sized offspring within each clutch. This could represent a bet hedging strategy in relation to variation in hydroperiod among inundations that is inherent to all studied pools. In addition, parents from more uncertain habitats produced larger clutches of smaller eggs and they invested more in early-life reproductive output at the expense of longevity. Overall, our study illustrates that natural variation in inundation regime could be reflected in adaptive variable egg provisioning in zooplankton.
Access options
Buy single article
Instant access to the full article PDF.
US$ 39.95
Tax calculation will be finalised during checkout.
Subscribe to journal
Immediate online access to all issues from 2019. Subscription will auto renew annually.
US$ 119
Tax calculation will be finalised during checkout.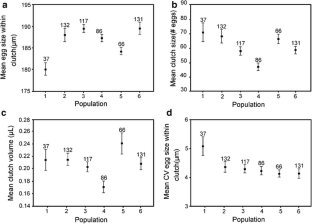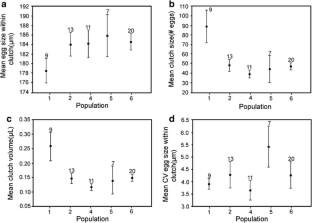 References
Ali, A. J. & H. J. Dumont, 1995. Larviculture of the fairy shrimp, Streptocephalus proboscideus (Crustacea: anostraca): Effect of food concentration and physical and chemical properties of the culture medium Studies on Large Branchiopod Biology and Aquaculture II. Hydrobiologia 298(1–3): 159–165.

Allen, R. M., Y. M. Buckley & D. J. Marshall, 2008. Offspring size plasticity in response to intraspecific competition: An adaptive maternal effect across life-history stages. The American Naturalist 171(2): 225–237.

Altermatt, F., V. I. Pajunen & D. Ebert, 2008. Climate change affects colonization dynamics in a metacommunity of three Daphnia species. Global Change Biology 14(6): 1209–1220.

Anonymous, 1985. Methods for measuring the acute toxicity of effluents to freshwater and marine organisms. US Environmental Protection Agency Report EPA/600/4-85/013.

Boersma, M., 1997. Offspring size and parental fitness in Daphnia magna. Evolutionary Ecology 11(4): 439–450.

Brendonck, L. & L. De Meester, 2003. Egg banks in freshwater zooplankton: Evolutionary and ecological archives in the sediment. Hydrobiologia 491(1–3): 65–84.

Brendonck, L. & B. J. Riddoch, 2000. Egg bank dynamics in anostracan desert rock pool populations (Crustacea: Branchiopoda). Archiv Fur Hydrobiologie 148(1): 71–84.

Brendonck, L., B. J. Riddoch, V. Van De Weghe & T. Van Dooren, 1998. The maintenance of egg banks in very short-lived pools: A case study with anostracans (Branchiopoda). Ergebnisse der Limnologie 52: 141–161.

Dumont, H. J. F. & S. V. Negrea, 2002. Introduction to the class Branchiopoda. In Dumont, H. J. F. (ed.), Guides to the Identification of the Microinvertebrates of the Continental Waters of the World, Vol. 19. Backhuys Publishers, Leiden: 398.

Dziminski, M. A., P. E. Vercoe & J. D. Roberts, 2009. Variable offspring provisioning and fitness: A direct test in the field. Functional Ecology 23(1): 164–171.

Ebert, D., 1994. A maturation size threshold and phenotypic plasticity of age and size at maturity in Daphnia magna. Oikos 69: 309–317.

Einum, S. & I. A. Fleming, 2004. Environmental unpredictability and offspring size: Conservative versus diversified bet-hedging. Evolutionary Ecology Research 6(3): 443–455.

Evans, M. E. K. & J. J. Dennehy, 2005. Germ banking: Bet-hedging and varlable release from egg and seed dormancy. Quarterly Review of Biology 80(4): 431–451.

Gliwicz, Z. M. & C. Guisande, 1992. Family planning in Daphnia: Resistance to starvation in offspring born to mothers grown at different food levels. Oecologia 91(4): 463–467.

Hairston, N. G., 1996. Zooplankton egg banks as biotic reservoirs in changing environments. Limnology and Oceanography 41(5): 1087–1092.

Hairston, N. G. & C. M. Kearns, 2002. Temporal dispersal: Ecological and evolutionary aspects of zooplankton egg banks and the role of sediment mixing. Integrative and Comparative Biology 42(3): 481–491.

Innes, D. J., 1997. Sexual reproduction of Daphnia pulex in a temporary habitat. Oecologia 111(1): 53–60.

Jamieson, C. & C. Burns, 1988. The effects of temperature and food on copepodite development, growth and reproduction in three species of Boeckella (Copepoda; Calanoida). Hydrobiologia 164(3): 235–257.

Kirk, K., 1997. Egg size, offspring quality and food level in planktonic rotifers. Freshwater Biology 37(3): 515–521.

Koops, M. A., J. A. Hutchings & B. K. Adams, 2003. Environmental predictability and the cost of imperfect information: Influences on offspring size variability. Evolutionary Ecology Research 5(1): 29–42.

LaMontagne, J. & E. McCauley, 2001. Maternal effects in Daphnia: What mothers are telling their offspring and do they listen? Ecology Letters 4(1): 64–71.

Marshall, D. J., R. Bonduriansky & L. F. Bussière, 2008. Offspring size variation within broods as a bet-hedging strategy in unpredictable environments. Ecology 89(9): 2506–2517.

McGinley, M. A., D. H. Temme & M. A. Geber, 1987. Parental investment in offspring in variable environments: Theoretical and empirical considerations. American Naturalist 130: 370–398.

Mura, G., 2001. Life history strategy of Chirocephalus ruffoi (Crustacea, Anostraca) in Mediterranean temporary mountain pools. Hydrobiologia 462: 145–156.

Mura, G., G. Fancello & S. Di Guiseppe, 2003. Adaptive strategies in populations of Chirocephalus diaphanus (Crustacea, Anostraca) from temporary waters in the Reatine Apennines (Central Italy). Journal of Limnology 62: 35–40.

Pinceel, T., B. Vanschoenwinkel, J. Uten & L. Brendonck, 2013. Mechanistic and evolutionary aspects of light-induced dormancy termination in a temporary pond crustacean. Freshwater Science 32(2): 517–524.

Pinceel, T., B. Vanschoenwinkel, L. Brendonck & F. Buschke, 2016. Modelling the sensitivity of life history traits to climate change in a temporary pool crustacean. Scientific Reports 6: 29451.

Prophet, C. W., 1963. Some factors influencing the hatching of anostracan eggs. Transactions of the Kansas Academy of Science 1903: 150–159.

Radzikowski, J., 2013. Resistance of dormant stages of planktonic invertebrates to adverse environmental conditions. Journal of Plankton Research 35: 707–723.

Rogers, D. C., 2015. Hatching response to temperature along a latitudinal gradient by the fairy shrimp Branchinecta lindahli (Crustacea; Branchiopoda; Anostraca) in culture conditions. Journal of Limnology 74(1): 85–94.

Simons, A. M., 2011. Modes of response to environmental change and the elusive empirical evidence for bet hedging. Proceedings of the Royal Society B-Biological Sciences 278(1712): 1601–1609.

Simovich, M. A. & S. A. Hathaway, 1997. Diversified bet-hedging as a reproductive strategy of some ephemeral pool anostracans (Branchiopoda). Journal of Crustacean Biology 17(1): 38–44.

Smith, C. C. & S. D. Fretwell, 1974. The optimal balance between size and number of offspring. American Naturalist 108: 499–506.

Sorgeloos, P., E. Bossuyt, E. Lavina, M. Baezamesa & G. Persoone, 1977. Decapsulation of Artemia cysts – Simple technique for improvement of use of brine shrimp in aquaculture. Aquaculture 12(4): 311–315.

Taborsky, B., 2006. Mothers determine offspring size in response to own juvenile growth conditions. Biology Letters 2(2): 225–228.

Tuytens, K., B. Vanschoenwinkel, A. Waterkeyn & L. Brendonck, 2014. Predictions of climate change infer increased environmental harshness and altered connectivity in a cluster of temporary pools. Freshwater Biology 59(5): 955–968.

Vanhaecke, P. & P. Sorgeloos, 1980. International Study on Artemia. IV, The biometrics of Artemia strains from different geographical origin. In Persoone, G., P. Sorgeloos, O. A. Roels, E. Jaspers (eds), The Brine Shrimp Artemia. Ecology, Culturing, use in Aquaculture, Vol. 3. Universa Press, Wetteren.

Vanschoenwinkel, B., S. Gielen, M. Seaman & L. Brendonck, 2008. Any way the wind blows – Frequent wind dispersal drives species sorting in ephemeral aquatic communities. Oikos 117(1): 125–134.

Vanschoenwinkel, B., M. T. Seaman & L. Brendonck, 2010. Hatching phenology, life history and egg bank size of a fairy shrimp (Branchiopoda, Crustacea) in relation to the ephemerality of its habitat. Aquatic Ecology 44: 771–780.

Williams, T. D., 1994. Intraspecific variation in egg size and egg composition in birds: Effects on offspring fitness. Biological Reviews 69(1): 35–59.

Williams, D. D., 2006. The Biology of Temporary Waters. Oxford University Press, Oxford.
Acknowledgements
This research was funded by the Research Foundation Flanders (FWO-Vlaanderen) 3E090007 and 3E110799 and the Excellence Center financing on 'Eco and socio-evolutionary dynamics' (PF/10/007) of the KU Leuven Research Fund. The authors would like to thank Karen Tuytens for her assistance with the reconstruction of the hydroregime of the investigated rock pool habitats and two anonymous reviewers for their valuable comments on a previous version of the written manuscript.
Additional information
Guest editors: Federico Marrone, D. Cristopher Rogers, Paola Zarattini & Luigi Naselli-Flores / New Challenges in Anostracan Research: a Tribute to Graziella Mura
Electronic supplementary material
Below is the link to the electronic supplementary material.
About this article
Cite this article
Pinceel, T., Hawinkel, W., Wynants, E. et al. Habitat uncertainty explains variation in offspring provisioning strategies in a temporary pond crustacean. Hydrobiologia 801, 141–151 (2017). https://doi.org/10.1007/s10750-017-3121-7
Received:

Revised:

Accepted:

Published:

Issue Date:
Keywords
Bet hedging

Life history

Temporary waters

Propagule bank

Zooplankton