Abstract
Intraspecific and interspecific competition can be important factors affecting anuran tadpoles in temporary pools. We focus on two co-occurring anuran species that are of conservation concern in Israel and may negatively interact: Bufotes viridis (Laurenti, 1768) and Hyla savignyi (Audouin, 1829). We conducted a replacement design mesocosm experiment to examine intraspecific and interspecific competition between tadpoles of these two species. Plastic tubs were assigned to five replacement design treatments: 0 Hyla + 20 Bufotes; 0 Hyla + 40 Bufotes; 20 Hyla + 20 Bufotes; 20 Hyla + 0 Bufotes; and 40 Hyla + 0 Bufotes, and a control with no tadpoles which was used to test for effects of the tadpoles on invertebrate community structure. While H. savignyi was significantly affected by intraspecific density, with smaller body mass and longer time to metamorphosis at the high-density treatment, B. viridis showed no intraspecific or interspecific density-dependent effects. However, B. viridis time to metamorphosis was negatively correlated with water temperature, while its survivorship was positively correlated with water temperature. The tadpoles affected neither abundance nor taxon richness of invertebrates. Our results suggest that stronger intraspecific competition than interspecific competition may contribute to the common co-occurrence of these two anurans in the same pools.
Access options
Buy single article
Instant access to the full article PDF.
US$ 39.95
Tax calculation will be finalised during checkout.
Subscribe to journal
Immediate online access to all issues from 2019. Subscription will auto renew annually.
US$ 119
Tax calculation will be finalised during checkout.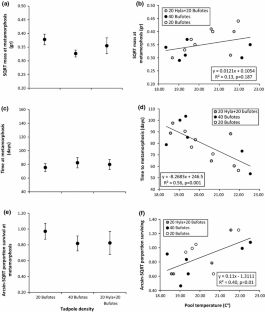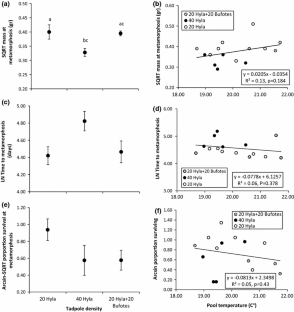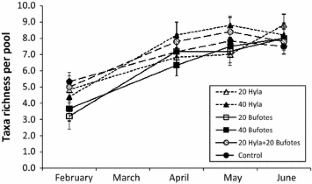 References
Adler, P. B., J. HilleRisLambers & J. M. Levine, 2007. A niche for neutrality. Ecology Letters 10: 95–104.

Alford, R. A. & S. J. Richards, 1999. Global amphibian declines: a problem in applied ecology. Annual Review of Ecology and Systematics 30: 133–165.

Alvarez, D. & A. Nicieza, 2002. Effects of temperature and food quality on anuran larval growth and metamorphosis. Functional Ecology 16: 640–648.

Bardsley, L. & T. J. Beebee, 2001. Strength and mechanisms of competition between common and endangered anurans. Ecological Applications 11: 453–463.

Begon, M., C. Townsend & J. Harper, 1990. Ecology: Individuals, Populations and Communities. Blackwell Scientific, Oxford.

Blaustein, L. & B. P. Kotler, 1993. Oviposition habitat selection by Culiseta longiareolata: effects of immature conspecifics, tadpoles and food levels. Ecological Entomology 18: 104–108.

Blaustein, L. & J. Margalit, 1994. Mosquito larvae (Culiseta longiareolata) prey upon and compete with toad tadpoles (Bufo viridis). Journal of Animal Ecology 63: 841–850.

Blaustein, L. & J. Margalit, 1995. Spatial distributions of Culiseta longiareolata (Culicidae: Diptera) and Bufo viridis (Amphibia: Bufonidae) among and within desert pools. Journal of Arid Environments 29: 199–211.

Blaustein, L. & J. Margalit, 1996. Priority effects in temporary pools: nature and outcome of mosquito larva-toad tadpole interactions depend on order of entrance. Journal of Animal Ecology 65: 77–84.

Blaustein, L. & S. S. Schwartz, 2001. Why study ecology in temporary pools? Israel Journal of Zoology 47: 303–312.

Blaustein, L., J. E. Garb, D. Shebitz & E. Nevo, 1999. Microclimate, developmental plasticity and community structure in artificial temporary pools. Hydrobiologia 392: 187–196.

Britson, C. A. & R. E. J. Kissell, 1996. Effects of food type on developmental characteristics of an ephemeral pond-breeding anuran, Pseudacris triseriata feriarum. Herpetologica 52: 374–382.

Chase, J. M. & M. A. Leibold, 2003. Ecological Niches – Linking Classical and Contemporary Approaches. The University of Chicago Press, Chicago, IL.

Chesson, P., 2000. Mechanisms of maintenance of species diversity. Annual review of Ecology and Systematics 31: 343–366.

Connell, J. H., 1961. The influence of interspecific competition and other factors on the distribution of the barnacle Chthamalus stellatus. Ecology 42: 710–723.

Crump, M. L., 1989. Effect of habitat drying on developmental time and size at metamorphosis in Hyla pseudopuma. Copeia 1989: 794–797.

Dayton, G. H. & L. A. Fitzgerald, 2001. Competition, predation, and the distributions of four desert anurans. Oecologia 129: 430–435.

Dolev, A. & A. Perevolotsky (eds), 2004. The Red Book of Vertebrates in Israel. Israel Nature and National Parks Protection Authority and Society for Protection of Nature in Israel Press, Jerusalem.

Eitam, A., L. Blaustein & M. Mangel, 2002. Effects of Anisops sardea (Hemiptera: Notonectidae) on oviposition habitat selection by mosquitoes and other dipterans and community structure in artificial pools. Hydrobiologia 485: 183–189.

Eitam, A., L. Blaustein, K. Van Damme, H. J. Dumont & K. Martens, 2004. Crustacean species richness in temporary pools: relationships with habitat traits. Hydrobiologia 525: 125–130.

Goldberg, D. E. & S. M. Scheiner, 2001. ANOVA and ANCOVA: field competition experiments. In Scheiner, S. M. & J. Gurevitch (eds), Design and Analysis of Ecological Experiments, 2nd ed. Oxford University Press, Oxford: 77–98.

Gosner, K. L., 1960. A simplified table for staging anuran embryos and larvae with notes on identification. Herpetologica 16: 183–190.

Griffiths, R. A., 1991. Competition between common frog, Rana temporaria, and natterjack toad, Bufo calamita, tadpoles: the effect of competitor density and interaction level on tadpole development. Oikos 61: 187–196.

Hayes, T., P. Falso, S. Gallipeau & M. Stice, 2010. The cause of global amphibian declines: a developmental endocrinologist's perspective. Journal of Experimental Biology 213: 921–933.

Houlahan, J. E., C. S. Findlay, B. R. Schmidt, A. H. Meyer & S. L. Kuzmin, 2000. Quantitative evidence for global amphibian population declines. Nature 404: 752–755.

Hubbell, S. P., 2001. The Unified Neutral Theory of Biodiversity and Biogeography. Princeton University Press, Princeton.

Hutchinson, G. E., 1959. Homage to Santa Rosalia or why are there so many kinds of animals? The American Naturalist 93: 145–159.

Juliano, S. A., 2010. Coexistence, exclusion, or neutrality? A meta-analysis of competition between Aedes albopictus and resident mosquitoes. Israel Journal of Ecology & Evolution 56: 325–351.

Katzmann, S., A. Waringer-Löschenkohl & J. A. Waringer, 2003. Effects of inter-and intraspecific competition on growth and development of Bufo viridis and Bufo bufo tadpoles. Limnologica-Ecology and Management of Inland Waters 33: 122–130.

Light, L. E., 1967. Growth inhibition in crowded tadpoles: intraspecific and interspecific effects. Ecology 48: 736–745.

McCallum, M. L., 2007. Amphibian decline or extinction? Current declines dwarf background extinction rate. Journal of Herpetology 41: 483–491.

Mokany, A. & R. Shine, 2003. Oviposition site selection by mosquitoes is affected by cues from conspecific larvae and anuran tadpoles. Austral Ecology 28: 33–37.

Monastersky, R., 2014. Biodiversity: life – a status report. Nature 516: 158–161.

Morin, P. J., 1998. Realism, precision, and generality in experimental ecology. In Resetarits, W. J. & J. Bernardo (eds), Issues and Perspectives in Experimental Ecology. Oxford University Press, New York: 50–70.

Parris, M. J. & R. D. Semlitsch, 1998. Asymmetric competition in larval amphibian communities: conservation implications for the northern crawfish frog, Rana areolata circulosa. Oecologia 116: 219–226.

Relyea, R. A., 2002. Competitor-induced plasticity in tadpoles: consequences, cues, and connections to predator-induced plasticity. Ecological Monographs 72: 523–540.

Relyea, R. A., 2004. Fine-tuned phenotypes: tadpole plasticity under 16 combinations of predators and competitors. Ecology 85: 172–179.

Silberbush, A. & L. Blaustein, 2011. Mosquito females quantify risk of predation to their progeny when selecting an oviposition site. Functional Ecology 21: 1091–1095.

Smith-Gill, S. J. & K. A. Berven, 1979. Predicting amphibian metamorphosis. American Naturalist 113: 563–585.

Stein, M. & L. Blaustein, 2015. Larval performance and oviposition habitat selection of the tree frog, Hyla savignyi, in response to conspecific larval density. Israel Journal of Ecology & Evolution 61: 61–66.

Wagner, W. E., 1986. Tadpoles and pollen: observations on the feeding behavior of Hyla regilla larvae. Copeia 1986: 802–804.

Wells, K. D., 2010. The Ecology & Behavior of Amphibians. University of Chicago Press, Chicago.

Young, B. E., K. R. Lips, J. K. Reaser, R. Ibáñez, A. W. Salas, J. R. Cedeño, L. A. Coloma, S. Ron, E. La Marca & J. R. Meyer, 2001. Population declines and priorities for amphibian conservation in Latin America. Conservation Biology 15: 1213–1223.
Acknowledgements
The authors thank Anna Gershberg Hayoon and Ronen Shapir for logistical help, Lital Sharvit for fruitful discussion and two anonymous reviewers for very helpful comments. The study was conducted with permission by the Israel Nature and Parks Authority [permit number 2013/38822], Haifa University Ethics committee [permit number 002-11] and was funded by Israel Science Foundation grant 891/12 awarded to Leon Blaustein.
Additional information
Handling editor: Chris Joyce
About this article
Cite this article
Stein, M., Mukherjee, S., Duchet, C. et al. Testing for intraspecific and interspecific larval competition between two anurans: Hyla savignyi and Bufotes viridis . Hydrobiologia 795, 81–90 (2017). https://doi.org/10.1007/s10750-017-3119-1
Received:

Revised:

Accepted:

Published:

Issue Date:
Keywords
Replacement design

Amphibians

Temporary pools

Larval performance