Abstract
In shallow, rocky-bottomed river systems in Nova Scotia, Canada, decomposition rates of autumn-fallen red maple (Acer rubrum) and speckled alder (Alnus incana) leaf litter were determined in spring and early summer using litter bags. In most shaded upstream tributaries, decomposition followed a typical exponential curve (k = −0.013 to −0.032 day−1). In unshaded, downstream reaches, and sometimes in low-order tributaries, decomposition was often exceptionally rapid (2–5% day−1) and followed a linear pattern, associated with dense congregations of the caddisfly Lepidostoma togatum. Linear mass loss persisted until litter bags were empty, after 35–50 days. Colonization of litter bags by L. togatum was advanced after 1 week, and peak densities (40–120 animals/bag) could be reached in 2–3 weeks. In a feeding experiment, alder litter in fine mesh litter bags containing 30 L. togatum larvae lost ~2.1% mass day−1, compared with only 0.1% day−1 without L. togatum. The L. togatum congregations were a distinctly seasonal phenomenon, beginning in early June and ending in mid-July when the last of the larvae (one or two cohorts) pupated. Severe resource limitation among detritivores in these degraded river systems apparently leads to dense colonization of added litter and extremely fast, shredder-mediated decomposition.
This is a preview of subscription content, log in to check access.
Access options
Buy single article
Instant access to the full article PDF.
US$ 39.95
Tax calculation will be finalised during checkout.
Subscribe to journal
Immediate online access to all issues from 2019. Subscription will auto renew annually.
US$ 199
Tax calculation will be finalised during checkout.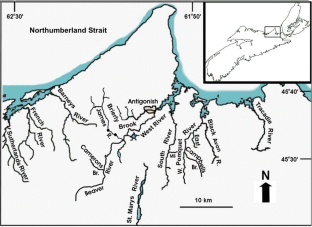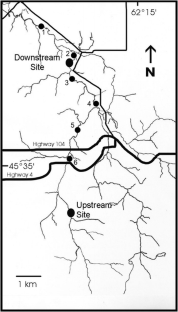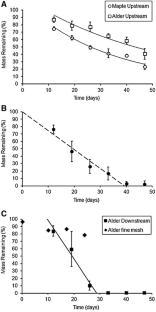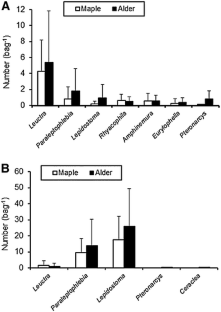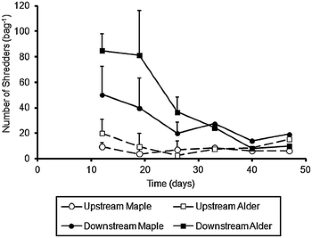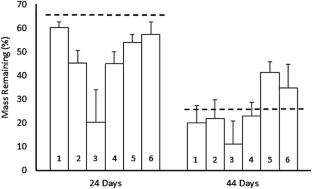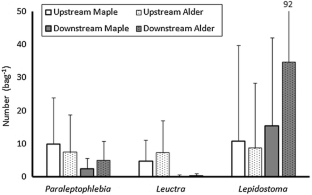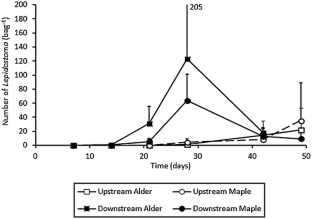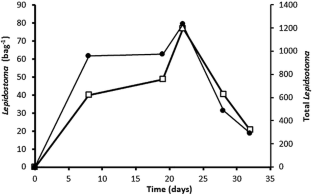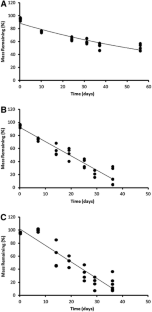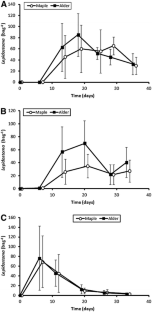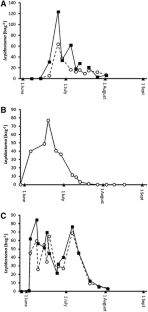 References
Abelho, M. & M. A. S. Graça, 2006. Effects of nutrient enrichment on decomposition and fungal colonization of sweet chestnut leaves in an iberian stream (Central Portugal). Hydrobiologia 560: 239–248.

Baldy, V., M. O. Gessner & E. Chauvet, 1995. Bacteria, fungi and the breakdown of leaf litter in a large river. Oikos 74: 93–102.

Bärlocher, F., 1985. The role of fungi in the nutrition of stream invertebrates. Botanical Journal of the Linnean Society 91: 85–94.

Bärlocher, F. & B. Kendrick, 1974. Dynamics of the fungal population on leaves in a stream. Journal of Ecology 62: 761–791.

Boulton, A. J. & P. I. Boon, 1991. A review of methodology used to measure leaf litter decomposition in lotic environments: time to turn over an old leaf? Australian Journal of Marine and Freshwater Research 42: 1–43.

Chauvet, E., N. Giani & M. O. Gessner, 1993. Breakdown and invertebrate colonization of leaf litter in two contrasting streams: significance of oligochaetes in a large river. Canadian Journal of Fisheries and Aquatic Sciences 50: 488–495.

Chung, K., J. B. Wallace & J. W. Grubaugh, 1993. The impact of insecticide treatment on abundance, biomass, and production of litterbag fauna in a headwater stream: a study of pretreatment, treatment and recovery. Limnologica 28: 93–106.

Dobson, M. & A. G. Hildrew, 1992. A test of resource limitation among shredding detritivores in low order streams in southern England. Journal of Animal Ecology 61: 69–77.

Elosegi, A. & S. Sabater, 2013. Effects of hydromorphological impacts on river ecosystem functioning: a review and suggestions for assessing ecological impacts. Hydrobiologia 712: 129–143.

Ferreira, V., V. Gulis & M. A. S. Graça, 2006. Whole-stream nitrate addition affects litter decomposition and associated fungi but not invertebrates. Oecologia 149: 718–729.

Floyd, T. A., C. MacInnis & B. R. Taylor, 2009. Effects of artificial woody structures on Atlantic salmon habitat and populations in a Nova Scotia stream. River Research and Applications 25: 272–282.

Folmer, O., M. Black, W. Hoeh, R. Lutz & R. Vrijenhoek, 1994. DNA primers for amplification of mitochondrial cytochrome c oxidase subunit I from diverse metazoan invertebrates. Molecular Marine Biology and Biotechnology 3: 294–299.

Graça, M. A. S., 2001. The role of invertebrates on leaf litter decomposition in streams: A review. International Review of Hydrobiology 86: 383–394.

Graça, M. A. S., R. C. F. Ferreira & C. N. Coimbra, 2001. Litter processing along a stream gradient: the role of invertebrates and decomposers. Journal of the North American Benthological Society 20: 408–420.

Grafius, E. & N. H. Anderson, 1979. Population dynamics, bioenergetics, and role of Lepidostoma quercina Ross (Trichoptera: Lepidostomatidae) in an Oregon woodland stream. Ecology 60: 433–441.

Grafius, E. & N. H. Anderson, 1980. Population dynamics and role of two species of Lepidostoma (Trichoptera: Lepidostomatidae) in an Oregon coniferous forest stream. Ecology 61: 808–816.

Gulis, V., V. Ferreira & M. A. S. Graça, 2006. Stimulation of litter decomposition and associated fungi and invertebrates by moderate eutrophication: implications for stream assessment. Freshwater Biology 51: 1655–1669.

Hieber, M. & M. Gessner, 2002. Contribution of stream detritivores, fungi and bacteria to leaf breakdown based on biomass estimates. Ecology 83(4): 1026–1038.

Hildrew, A. G., C. R. Townsend, J. Francis & K. Finch, 1984. Cellulolytic decomposition in streams of contrasting pH and its relationship with invertebrate community structure. Freshwater Biology 14(3): 323–328.

Houghton, D. C., C. M. Brandin & K. A. Brakel, 2011. Analysis of the caddisflies (Trichoptera) of the Manistee River watershed, Michigan. Great Lakes Entomologist 44: 1–16.

Kaushik, N. K. & H. B. N. Hynes, 1971. The fate of the dead leaves that fall into streams. Archiv für Hydrobiologie 68: 465–515.

Knopp, M. & R. Cormier, 1997. Mayflies: An Angler's Study of Trout Water Ephemeroptera. Greycliff Publishing Company, Helena.

Kominoski, J. S., L. B. Marczak & J. S. Richardson, 2011. Riparian forest composition affects stream litter decomposition despite similar microbial and invertebrate communities. Ecology 92: 151–159.

MacDonald, E. E. & B. R. Taylor, 2008. Factors influencing litter decomposition rates in upstream and downstream reaches of river systems of eastern Canada. Fundamental and Applied Limnology 171: 71–86.

MacLean, D. B., 1995. Adult Trichoptera of the Devil Track River watershed, Cook County, Minnesota, and their role in biomonitoring. Great Lakes Entomologist 28: 135–154.

Magoli, B., S. Lamothe & E. Chauvet, 2016. Litter breakdown for ecosystem integrity assessment also applies to streams affected by pesticides. Hydrobiologia 773: 87–102.

Maloney, D. C. & G. A. Lamberti, 1995. Rapid decomposition of summer-input streams in a northern Michigan stream. American Midland Naturalist 133: 184–195.

Melillo, J. M., J. D. Aber & J. F. Muratore, 1982. Nitrogen and lignin contol of hardwood leaf litter decomposition dynamics. Ecology 63: 621–626.

Menendez, M., M. Martinez, O. Hernandez & F. A. Comin, 2001. Comparison of leaf decomposition in two Mediterranean rivers: a large eutrophic river and an oligotrophic stream (S. Catalonia, NE Spain). International Review of Hydrobiology 86: 475–486.

Merritt, R. W., K. W. Cummins & M. B. Berg, 2008. Aquatic Insects of North America, 4th ed. Kendall/Hunt Publishing Company, Dubuque, Iowa.

Minshall, G. W., 1967. Role of allochthonous detritus in the trophic structure of a woodland springbrook community. Ecology 48: 139–149.

Minshall, G. W., K. W. Cummins, R. C. Petersen, C. E. Cushing, D. A. Bruns, J. R. Sedell & R. L. Vannote, 1985. Developments in stream ecosystem theory. Canadian Journal of Fisheries and Aquatic Sciences 42: 1045–1055.

Peckarsky, B. L., P. R. Fraissinet, M. A. Penton & D. J. Conklin Jr., 1990. Freshwater Macroinvertebrates of Northeastern North America. Comstock Publishing Associates, Ithaca.

Petersen, R. C. & K. W. Cummins, 1974. Leaf processing in a woodland stream. Freshwater Biology 4: 343–368.

Preston, C. M., J. A. Trofymow & The Canadian Intersite Decomposition Experiment Working Group, 2000. Variability in litter quality and its relationship to litter decay in Canadian forests. Canadian Journal of Botany 78: 1269–1287.

Richardson, J. S., 1991. Seasonal food limitation of detritivores in a montane stream: an experimental test. Ecology 72: 873–887.

Riipinen, M. P. & M. Dobson, 2010. Benthic organic matter biomass and invertebrate community structure in five conifer plantation streams in the Peak District (Derbyshire, England). Freshwater Forum 28: 61–75.

Rowe, R. & J. S. Richardson, 2001. Community responses to experimental food depletion: resource tracking by stream invertebrates. Oecologia 129: 473–480.

Short, R. A., S. P. Canton & J. V. Ward, 1980. Detrital processing and associated macroinvertebrates in a colorado mountain stream. Ecology 61: 727–732.

Speaker, R., K. Moore & S. Gregory, 1984. Analysis of the process of retention of organic matter in stream ecosystems. Verhandlungen des Internationalen Verein Limnologie 22: 1835–1841.

Stewart, K. W. & B. P. Stark, 1993. Nymphs of North American Stonefly Genera (Plecoptera). Entomological Society of America, Lanham.

Stockley, R. A., G. S. Oxford & R. F. G. Ormond, 1998. Do invertebrates matter? Detrital processing in the River Swale-Ouse. The Science of the Total Environment 210: 427–435.

Taylor, B. R. & I. V. Andrushchenko, 2014. Interaction of water temperature and shredders on leaf litter breakdown: a comparison of streams in Canada and Norway. Hydrobiologia 721: 77–88.

Taylor, B. R. & A. N. Dykstra, 2005. Effects of hot ground water on a small swamp-stream in Nova Scotia, Canada. Hydrobiologia 545: 129–144.

Taylor, B. R., C. Mallaley & J. F. Cairns, 2007. Limited evidence that mixing leaf litter accelerates decomposition or increases diversity of decomposers in streams of eastern Canada. Hydrobiologia 592: 405–422.

Wallace, J. B. & J. R. Webster, 1996. The role of macroinvertebrates in stream ecosystem structure. Annual Review of Entomology 41: 115–139.

Wallace, J. B., S. L. Eggert, J. L. Meyer & J. R. Webster, 1999. Effects of resource limitation on a detrital-based ecosystem. Ecological Monographs 69: 409–442.

Wallace, J. B., S. L. Eggert, J. L. Meyer & J. R. Webster, 2015. Stream invertebrate productivity linked to forest subsidies: 37 stream-years of reference and experimental data. Ecology 96: 1213–1228.

Weaver, J. S., 1988. A synopsis of the North American Lepidostomatidae (Trichoptera). Contributions of the American Entomological Institute 24: 1–141.

Webster, J. R. & E. F. Benfield, 1986. Vascular plant breakdown in freshwater ecosystems. Annual Review of Ecology and Systematics 17: 567–594.

Whiles, M. R., J. B. Wallace & K. Chung, 1993. The influence of Lepidostoma (Trichoptera: Lepidostomatidae) on recovery of leaf-litter processing in disturbed headwater streams. American Midland Naturalist 130: 356–363.

Wiggins, G. B., 2000. Larvae of the North American Caddisfly Genera (Trichoptera), 2nd ed. University of Toronto Press, Toronto.

Woodward, G., M. O. Gessner, P. S. Giller, V. Gulis, S. Hladyz, A. Lecerf, B. Malmqvist, B. G. McKie, S. D. Tiegs, H. Cariss, M. Dobson, A. Elosegi, V. Ferreira, M. A. S. Graça, T. Fleituch, J. O. Lacoursière, M. Nistorescu, J. Pozo, G. Risnoveanu, M. Schindler, A. Vadineanu, L. B.-M. Vought & E. Chauvet, 2012. Continental-scale effects of nutrient pollution on stream ecosystem functioning. Science 336: 1438–1440.
Acknowledgements
We extend thanks to M. Hines, T. Holden, C. Walsh and L.A. Dort for valuable assistance in the laboratory and field, to Y. Lin for DNA extraction, to D. Garbary and C. Bishop (Biology Dept., St. Francis Xavier University) for helpful comments on an earlier draft and to the Canadian Foundation for Innovation (CFI) and St. Francis Xavier University for funding support.
Additional information
Handling editor: Checo Colón-Gaud
About this article
Cite this article
Andrushchenko, I.V., Taylor, B.R., Toxopeus, J. et al. Congregations of the leaf-shredding insect Lepidostoma togatum mediate exceptionally rapid mass loss from leaf litter in Nova Scotia rivers. Hydrobiologia 788, 245–265 (2017). https://doi.org/10.1007/s10750-016-3001-6
Received:

Revised:

Accepted:

Published:

Issue Date:
Keywords
Litter decomposition

Shredders

Linear model

Streams

Resource limitation