Abstract
Ponds are common and abundant landscape features in temperate environments, particularly on floodplains where lateral connectivity with riverine systems persists. Despite their widespread occurrence and importance to regional diversity, research on the ecology and hydrology of temperate ephemeral and perennial floodplain ponds lags behind that of other shallow waterbodies. This study examines the aquatic macroinvertebrate diversity of 34 ponds (20 perennial and 14 ephemeral) on two unregulated riverine floodplain meadows in Leicestershire, UK. Perennial ponds supported nearly twice the diversity of ephemeral ponds. Despite frequent inundation of floodwater and connectivity with other floodplain waterbodies, ephemeral ponds supported distinct invertebrate communities when compared to perennial ponds. When the relative importance of physical, chemical, biological and spatial characteristics was examined, physical and chemical characteristics were found to account for more variation in community composition than biological or spatial variables. The results suggest that niche characteristics rather than neutral colonisation processes dominate the structure of invertebrate communities of floodplain ponds. The maintenance of pond networks with varying hydroperiod lengths and environmental characteristics should be encouraged as part of conservation management strategies to provide heterogeneous environmental conditions to support and enhance aquatic biodiversity at a landscape scale.
Access options
Buy single article
Instant access to the full article PDF.
USD 39.95
Price excludes VAT (USA)
Tax calculation will be finalised during checkout.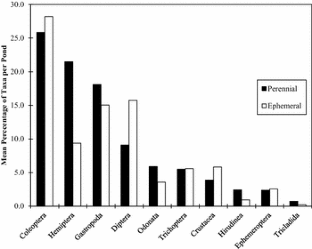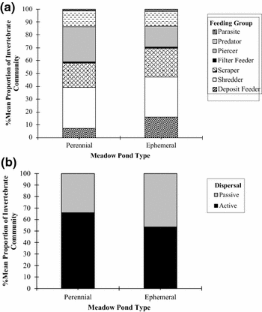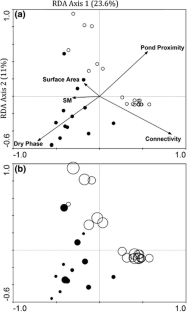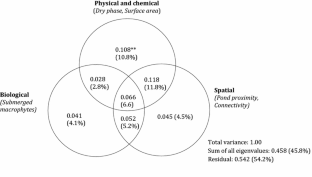 References
Armitage, P. D., A. Hawczak & J. H. Blackburn, 2012. Tyre track pools and puddles – anthropogenic contributors to aquatic diversity. Limnetica 42: 254–263.

Bagella, S., S. Gascon, M. C. Caria, J. Sala, M. A. Mariani & D. Boix, 2010. Identifying key environmental factors related to plant and crustacean assemblage in Mediterranean temporary ponds. Diversity Conservation 19: 1749–1768.

Bazzanti, M., V. D. Bella & M. Seminara, 2003. Factors affecting macroinvertebrate communities in astatic ponds in Central Italy. Journal of Freshwater Ecology 18: 537–548.

Bazzanti, M., C. Coccia & M. Giuseppina Dowgiallo, 2010. Microdistribution of macroinvertebrates in a temporary pond of Central Italy: taxonomic and functional analyses. Limnologica-Ecology and Management of Inland Waters 40: 291–299.

Biggs, J., A. Corfield, D. Walker, M. Whitfield & P. Williams, 1994. New approaches to pond management. British Wildlife 5: 273–287.

Biggs, J., G. Fox, M. Whitfield & P. Williams, 1998. A Guide to the Methods of the National Pond Survey. Pond Action, Oxford.

Bilton, D. T., A. Foggo & D. Rundle, 2001. Size permanence and the proportion of predators in ponds. Archiv fur Hydrobiologie 151: 451–458.

Bilton, D. T., L. C. McAbendroth, P. Nicolet, A. Bedford, S. D. Rundle, A. Foggo & P. M. Ramsay, 2009. Ecology and conservation status of temporary and fluctuating ponds in two areas of southern England. Aquatic Conservation: Marine and Freshwater Ecosystems 19: 134–146.

Boix, D., J. Kneitel, B. J. Robson, C. Duchet, L. Zuniga, J. Day, S. Gascon, J. Sala, X. D. Quintana & L. Blaustein, 2016. Invertebrates of Freshwater Temporary Ponds in Mediterranean Climates. In Batzer, D. & D. Boix (eds), Invertebrates in Freshwater Wetlands. Springer International Publishing, Basel: 141.

Borcard, D., P. Legendre & P. Drapeau, 1992. Partialling out the spatial component of ecological variation. Ecology 73: 1045–1055.

Bornette, G., C. Amoros & N. Lamouroux, 1998. Aquatic plant diversity in riverine wetlands: the role of connectivity. Freshwater Biology 39: 267–283.

Bratton, J. H., 1990. Seasonal Pools: an overlooked invertebrate habitat. British Wildlife 2: 22–29.

Brendonck, L., E. Michels, L. De Meester & B. Riddoch, 2002. Temporary ponds are not 'enemy-free'. Hydrobiologia 486: 147–159.

BRIG. 2008. UK Biodiversity Action Plan Priority Habitat Descriptions. Ponds: 1–101. http://jncc.defra.gov.uk/PDF/UKBAP_PriorityHabitatDesc-Rev2010.pdf. Accessed 18 April 2016.

Bronmark, C. & L. Hansson (eds), 2005. The Biology of Lakes and Ponds. Oxford University Press, Oxford.

Buijse, A. D., H. Coops, M. Staras, L. H. Jans, G. J. Van Geest, R. E. Grifts, B. W. Ibelings, W. Oosterberg & F. C. J. M. Roozen, 2002. Restoration strategies for river floodplains along large lowland rivers in Europe. Freshwater Biology 47: 889–907.

Castella, E., O. Béguin, A. L. Besacier-Monbertrand, D. Hug Peter, N. Lamouroux, H. Mayor Siméant, D. McCrae, J. M. Olivier & A. Paillex, 2015. Realised and predicted changes in the invertebrate benthos after restoration of connectivity to the floodplain of a large river. Freshwater Biology 60: 1131–1146.

Clarke, K. R. & R. N. Gorley, 2006. PRIMER v6: User Manual/Tutorial. PRIMER E-Ltd, Plymouth.

Collinson, N. H., J. Biggs, A. Corfield, M. J. Hodson, D. Walker, M. Whitfield & P. Williams, 1995. Temporary and permanent ponds: an assessment of the effects of drying out on the conservation value of aquatic macroinvertebrate communities. Biological Conservation 74: 125–133.

Cottenie, K., 2005. Integrating environmental and spatial processes in ecological community dynamics. Ecology Letters 8: 1175–1182.

Cottenie, K. & L. De Meester, 2003. Connectivity and Cladoceran species richness in a metacommunity of shallow lakes. Freshwater Biology 48: 823–832.

Cottenie, K., E. Michels, N. Nuytten & L. De Meester, 2003. Zooplankton metacommunity structure: regional vs. local processes in highly interconnected ponds. Ecology 84: 991–1000.

Davy-Bowker, J., 2002. A mark and recapture study of water beetles (Coleoptera: Dytiscidae) in a group of semi-permanent and temporary ponds. Aquatic Ecology 36: 435–446.

De Meester, L., S. Declerck, R. Stoks, G. Louette, F. Van De Meutter, T. De Bie, E. Michels & L. Brendonck, 2005. Ponds and pools as model systems in conservation biology, ecology and evolutionary biology. Aquatic Conservation: Marine and Freshwater Ecosystems 15: 715–725.

Dell, A. I., R. A. Alford & R. G. Pearson, 2014. Intermittent pool beds are cyclic habitats with distinct wet, moist and dry phases. PLoS One 9: 1–11.

Della Bella, V., M. Bazzanti & F. Chariotti, 2005. Macroinvertebrate diversity and conservation status of Mediterranean ponds in Italy: water permanence and mesohabitat influence. Aquatic Conservation: Marine and Freshwater Ecosystems 15: 583–600.

Drake, M., 2001. The importance of temporary waters for Diptera (true-flies). Freshwater Forum 17: 26–39.

Dufrêne, M. & P. Legendre, 1997. Species assemblages and indicator species: the need for a flexible asymmetrical approach. Ecological Monographs 67: 345–366.

Florencio, M., C. Díaz-Paniagua, C. Gómez-Rodríguez & L. Serrano, 2014. Diversity patterns in a macroinvertebrate community of a temporary pond network. Insect Conservation and Diversity 7: 4–21.

Google Earth, 2015. https://earth.google.com [last accessed 12/05/2016].

Gergel, S. E., 2002. Assessing cumulative impacts of levees and dams on floodplain ponds: a neutral-terrain model approach. Ecological Applications 12: 1740–1754.

Hassall, C., J. Hollinshead & A. Hull, 2011. Environmental correlates of plant and invertebrate species richness in ponds. Biodiversity conservation 20: 3189–3222.

Hassall, C., M. Hill, D. Gledhill & J. Biggs, 2016. The Ecology and Management of Urban Pondscapes. In Francis, R., J. D. A. Millington & M. A. Chadwick (eds), Urban Landscape Ecology: Science, Policy and Practice. Routledge, Abingdon.

Heino, J., A. S. Melo, T. Siqueira, J. Soininen, S. Valanko & L. M. Bini, 2014. Metacommunity organisation, spatial extent and dispersal in aquatic systems: patterns processes and prospects. Freshwater Biology 60: 845–869.

Helfield, J. M., J. Engstrom, J. T. Michel, C. Nilsson & R. Jansson, 2012. Effects of river restoration on riparian diversity in secondary channels of the Pite River, Sweden. Environmental Management 49: 130–141.

Hinden, H., B. Oertli, N. Menetrey, L. Sager & J. Lachavanne, 2005. Alpine pond biodiversity: what are the related environmental variables. Aquatic Conservation: Marine and Freshwater Ecosystems 15: 613–624.

Hurlbert, S. H., 1971. The nonconcept of species diversity: a critique and alternative parameters. Ecology 52: 577–585.

Jeffries, M. J., 2015. Flood, drought and the inter-annual variation to the number and size of ponds and small wetlands in an English lowland landscape over three years of weather extremes. Hydrobiologia 768: 255–272.

JNCC. 2015. http://jncc.defra.gov.uk/page-3408. Accessed 15 July 2015.

Lake, S., N. Bond & P. Reich, 2006. Floods down rivers: from damaging to replenishing forces. Advances in Ecological Research 39: 41–62.

Legendre, P. & H. J. B. Birks, 2012. From Classical to Canonical Conservation. In Birks, H. J. B., A. F. Lotter, S. Juggins & J. P. Smol (eds), Tracking Environmental Change Using Lake Sediments, Volume 5: Data Handling and Numerical Techniques. Springer, Dordrecht: 201–248.

Legendre, P. & E. D. Gallagher, 2001. Ecologically meaningful transformations for ordination of species data. Oecologia 129: 271–280.

Leibold, M. A., M. Holyoak, N. Mouquet, P. Amarasekare, J. M. Chase, M. F. Hoopes, R. D. Holt, J. B. Shurin, R. Law, D. Tilman, M. Loreau & A. Gonzalez, 2004. The metacommunity concept: a framework for multi-scale community ecology. Ecology Letters 7: 601–613.

Lott, D., 2001. Ground beetles and rove beetles associated with temporary ponds in England. Freshwater Forum 17: 40–53.

Marsh, T. J., S. Parry, M. C. Kendon & J. Hannaford, 2013. The 2010–12 Drought and Subsequent Extensive Flooding. Centre for Ecology & Hydrology, Wallingford: 54 pp.

McCabe, D. J. & N. J. Gotelli, 2000. Effects of disturbance frequency, intensity and area on assemblages of stream macroinvertebrates. Oecologia 124: 270–279.

Merritt, R. W. & K. W. Cummins, 1996. An Introduction to the Aquatic Insects of North America. Kendall/Hunt Publishing Company, Debuque.

Ng, I. S. Y., C. M. Carr & K. Cottenie, 2009. Hierarchical zooplankton metacommunities; distinguishing between high and limiting dispersal mechanisms. Hydrobiologia 619: 133–143.

Nicolet, P., 2001. Temporary ponds in the UK: a critical diversity resource for freshwater plants and animals. Freshwater Forum 17: 16–25.

Nicolet, P., J. Biggs, G. Fox, M. J. Hodson, C. Reynolds, M. Whitfield & P. Williams, 2004. The wetland plant and macroinvertebrate assemblages of temporary ponds in England and Wales. Biological Conservation 120: 261–278.

Nilsson, C., C. A. Reidy, M. Dynesius & C. Revenga, 2005. Fragmentation and flow regulation of the worlds large river systems. Science 308: 405–408.

Paillex, A., S. Doledec, E. Castella, S. Merigoux & D. Aldridge, 2013. Functional diversity in a large river floodplain: anticipating the response of native and alien macroinvertebrate to the restoration of hydrological connectivity. Journal of Applied Ecology 50: 97–106.

Paillex, A., E. Castella, P. S. E. Zu Ermgassen & D. C. Aldridge, 2015. Testing predictions of change in alien and native macroinvertebrate communities and their interaction after the restoration of a large river floodplain. Freshwater Biology 60: 1162–1175.

Quinlan, J. R., 1993. Combining Instance-Based and Model-Based Learning. In Proceedings of the Tenth International Conference on Machine Learning. Morgan Kaufmann, San Francisco: 236–243.

R Development Core Team, 2013. R: A language and environment for statistical computing. R Foundation for statistical computing: Vienna, Austria.

Reckendorfer, W., C. Baranyi, A. Funk & F. Schiemer, 2006. Floodplain restoration by reinforcing hydrological connectivity: expected effects on aquatic mollusc communities. Journal of Applied Ecology 43: 474–484.

Savage, A. A., 1989. Adults of the British Aquatic Hemiptera Heteroptera: A Key with Ecological Notes. Freshwater Biological Association Scientific Publication No. 50, Freshwater Biological Association, Cumbria.

Shiel, R. J., J. D. Green & D. L. Nielsen, 1998. Floodplain diversity: why are there so many species? Hydrobiologia 387(388): 39–46.

Starr, S. M., J. P. Benstead & R. A. Sponseller, 2014. Spatial and temporal organization of macroinvertebrate assemblages in a lowland floodplain ecosystem. Landscape Ecology 29: 1017–1031.

Tachet, H., P. Richoux, M. Bournaud & U. Usseglio-Polatera, 2003. Invertebres d'eau douche systematique, biologie, ecologie. CNRS Editions, Paris.

ter Braak, C. J. F. & P. Šmilaur, 2002. CANOCO Reference Manual and CanoDraw for Windows Users Guide: Software for Canonical Community Ordination (Version 4.5). Microcomputer Power, Ithaca, New York.

Tockner, K. & J. A. Stanford, 2002. Review of: riverine flood plains: present state and future trends. Environmental Conservation 29: 308–330.

Tockner, K., F. Malard & J. V. Ward, 2000. An extension of the flood pulse concept. Hydrological Processes 14: 2861–2883.

Tockner, K., M. Puschm, D. Borchardt & M. S. Lorang, 2010. Multiple stressors in coupled river-floodplain ecosystems. Freshwater Biology 55: 135–151.

Van De Meutter, F., L. De Meester & R. Stoks, 2007. Metacommunity structure of pond macroinvertebrates: effects of dispersal mode and generation time. Ecology 88: 1687–1695.

Vanschoenwinkel, B., C. Vries, M. Seaman & L. Brendonck, 2007. The role of metacommunity processes in shaping invertebrate rock pool communities along a dispersal gradient. Oikos 116: 1255–1266.

Ward, J. V., K. Tockner & F. Schiemer, 1999. Diversity of floodplain river ecosystems: ecotones and connectivity. Regulated Rivers: Research and Management 15: 125–139.

Waterkeyn, A., P. Grillas, B. Vanschoenwinkel & L. Brendonck, 2008. Invertebrate community patterns in Mediterranean temporary wetlands along hydroperiod and salinity gradients. Freshwater Biology 53: 1808–1822.

Williams, D. D., 1996. Environmental constraints in temporary freshwaters. Journal of the North American Benthological Society 15: 634–650.

Williams, D. D., 1997. Temporary ponds and their invertebrate communities. Aquatic Conservation: Marine and Freshwater Ecosystems 7: 105–117.

Williams, D. D., 2006. The Biology of Temporary Waters. Oxford University Press, Oxford.

Williams, P., J. Biggs, A. Crowe, J. Murphy, P. Nicolet, A. Meatherby & M. Dunbar 2010. Countryside survey report from 2007. Technical report No 7/07 Pond Conservation and NERC/Centre for Ecology and Hydrology, Lancaster.

Williams, P., J. Biggs, G. Fox, P. Nicolet & M. Whitfield, 2001. History, origins and importance of temporary ponds. Freshwater Forum 17: 7–15.

Williams, P., M. Whitfield, J. Biggs, S. Bray, G. Fox, P. Nicolet & D. Sear, 2003. Comparative diversity of rivers, streams, ditches and ponds in an agricultural landscape in Southern England. Biological Conservation 115: 329–341.

Williams, P., M. Whitfield & J. Biggs, 2008. How can we make new ponds biodiverse? A case study monitored over 7 years. Hydrobiolgia 597: 137–148.

Witten, I. H. & E. Frank, 2000. Data Mining: Practical Machine Learning Tools and Techniques with Java Implementations. Morgan Kaufmann, San Francisco.

Witten, I. H., E. Frank & M. A. Hall, 2011. Data Mining: Practical Machine Learning Tools and Techniques, 3rd ed. Morgan Kaufmann, Burlington.
Acknowledgments
The authors gratefully acknowledge Leicestershire and Rutland Wildlife Trust that granted access to their land. Special thanks to Chris Hill for helping with the identification of pond sites. Thanks are extended to Barry Kenny, Stuart Ashby and Danielle Ashdown for their assistance in the field. MJH gratefully acknowledges the support of a Loughborough University Graduate School Studentship in the Department of Geography to undertake the research presented in this paper.
Additional information
Guest editors: Mary Kelly-Quinn, Jeremy Biggs & Stefanie von Fumetti / The Importance of Small Water Bodies: Insights from Research
Electronic supplementary material
Below is the link to the electronic supplementary material.
About this article
Cite this article
Hill, M.J., Death, R.G., Mathers, K.L. et al. Macroinvertebrate community composition and diversity in ephemeral and perennial ponds on unregulated floodplain meadows in the UK. Hydrobiologia 793, 95–108 (2017). https://doi.org/10.1007/s10750-016-2856-x
Received:

Revised:

Accepted:

Published:

Issue Date:

DOI: https://doi.org/10.1007/s10750-016-2856-x
Keywords
Community composition

Community heterogeneity

Connectivity

Dry phase duration

Hydroperiod

Invertebrate

Species richness