Abstract
The Santa Cruz River is the last free-flowing river in Argentinean Patagonia. Two dams are projected, and no comprehensive pre-impoundment study has been undertaken. The present study investigated macroinvertebrate communities along three different hydrological periods and at three river sections located upstream and downstream of future dams. Fifty-three macroinvertebrate taxa were identified, with the most abundant orders being Ephemeroptera, Plecoptera, Coleoptera, and Crustacea (particularly amphipods). Ordination methods (CCA) and generalized linear models (GLM) were applied. According to the CCA, the main environmental variables related to macroinvertebrate density were temperature, suspended solids, depth, and substrate size. For the GLM, the main factors associated with macroinvertebrate abundance were location and hydrological period, and variables with the highest influences were temperature, substrate size, current speed, and depth. We anticipate that dam construction will modify in-stream habitat conditions, leading to changes in (i) macroinvertebrate community structure and (ii) local fish abundance due to loss of key prey taxa.
Access options
Buy single article
Instant access to the full article PDF.
US$ 39.95
Tax calculation will be finalised during checkout.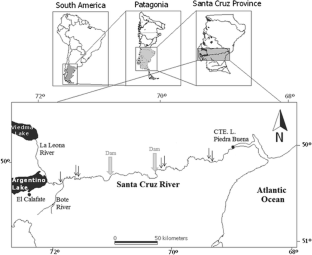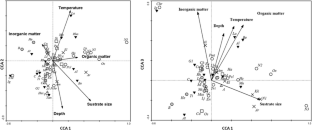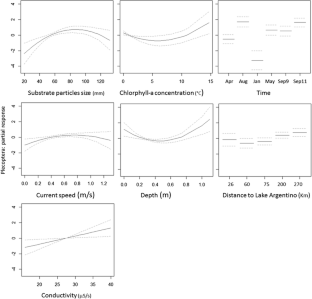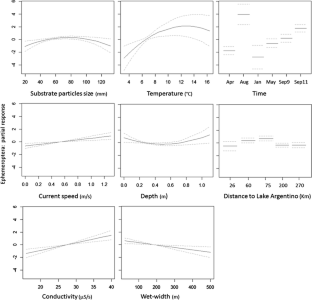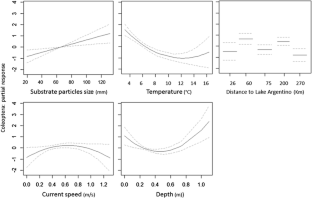 References
Acreman, M. C. & M. J. Dunbar, 2004. Defining environmental river flow requirements – a review. Hydrology and Earth System Sciences 8: 861–876.

Akaike, H., 1974. Stochastic theory of minimal realization. IEEE Transactions on Automatic Control 19: 716–723.

APHA, 1994. Standard methods for the examination of water and wastewater. American Public Health Association, Hanover.

Barton, K., 2013. MuMIn: Multi-model Inference. http://cran.r-project.org/web/packages/MuMIn/index.html.

Bredenhand, E. & M. J. Samways, 2009. Impact of a dam on benthic macroinvertebrates in a small river in a biodiversity hotspot: cape Floristic Region, South Africa. Journal of Insect Conservation 1: 297–307.

Brown, L. E., D. M. Hannah, A. M. Milner, C. Soulsby, A. Hodson & M. J. Brewer, 2006. Water source dynamics in an alpine glacierized river basin (Taillon-Gabiétous, French Pyrénées). Water Resources Research 42: W08404.

Brunet, F., D. Gaiero, J. L. Probst, P. J. Depetris, F. Gauthier Lafaye & P. Stille, 2005. δ13C tracing of dissolved inorganic carbon sources in Patagonian rivers (Argentina). Hydrological Processes 19: 3321–3344.

Castella, E., H. Adalsteinsson, J. E. Brittain, G. M. Gislason, A. Lehmann, V. Lencioni, B. Lods-Crozet, B. Maiolini, A. Milner, J. S. Olafsson, S. J. Saltveit & D. L. Snook, 2001. Macrobenthic invertebrate richness and composition along a latitudinal gradient of European glacier-fed streams. Freshwater Biology 46: 1811–1831.

Chapin, F. S., E. S. Zavaleta, V. T. Eviner, R. L. Naylor, P. M. Vitousek, H. L. Reynolds, D. U. Hooper, S. Lavore, O. E. Sala, S. E. Hobbie, M. C. Mack & S. Díaz, 2000. Consequences of changing biodiversity. Nature 405: 234–242.

De Ruiter, P. C., A. Neutel & J. C. Moore, 1995. Energetics, patterns of interaction strengths, and stability in real ecosystems. Science 269: 1257–1260.

Depetris, P. J., D. M. Gaiero, P. L. Probst, J. Hartmann & S. Kempe, 2005. Biogeochemical output and typology of rivers training Patagonia's Atlantic seaboard. Journal of Coastal Research 21: 835–844.

Domínguez, E. & H. R. Fernández (eds), 2009. Macroinvertebrados bentónicos sudamericanos. Sistemática y biología. Fundación Miguel Lillo, Tucumán.

Doyle, M., E. H. Stanley & J. M. Harbor, 2003. Channel adjustments following two dam removals in Wisconsin. Water Resources Research 39: 15 pp.

EC, 2000. Directive 2000/60/EC of the European Parliament and of the council of 23 October 2000 establishing a framework for Community action in the field of water policy (Water Framework Directive). L327. European Commission, Brussels: 1–72.

EC, 2009. Common implementation strategy for the Water Framework Directive. Guidance document No. 24: River Basin Management in a Changing Climate. Commission of the European Communities, Brussels. http://circa.europa.eu/Public/irc/env/wfd/library?l=/framework_directive/guidance_documents/management_finalpdf/_EN_1.0_&a=d.

Gislason, J. C., 1985. Aquatic insect abundance in a regulated stream under fluctuating and stable diel flow patterns. North American Journal of Fisheries Management 5: 39–46.

Gíslason, G. M., H. Adalsteinsson, I. Hansen & J. S. Ólafsson, 2001. Longitudinal changes in macroinvertebrate assemblages along a glacial river system in central Iceland. Freshwater Biology 45: 1737–1751.

Gordon, N. D., T. A. McMahon, B. L. Finlayson, C. J. Gippel & R. J. Nathan, 2004. Stream Hydrology. An Introduction for Ecologists. Wiley, Sussex.

Guisan, A. & N. E. Zimmermann, 2000. Predictive habitat distribution models in ecology. Ecological Modelling 135: 147–186.

Gurnell, A. M. & C. R. Fenn, 1987. Proglacial Channel Processes. In Gurnell, A. M. & M. J. Clark (eds), Glaciofluvial Sediment Transfer: An Alpine Perspective. Wiley, Chichester: 423–472.

Gup, T., 1994. Dammed from here to eternity: dams and biological integrity. Trout 35: 14–20.

Hart, D. D. & C. M. Finelli, 1999. Physical-biological coupling in streams: the pervasive effect of flow on benthic organisms. Annual Review of Ecology and Systematics 30: 363–395.

Hastie, T. & R. Tibshirani, 1990. Generalized Additive Models. Chapman and Hall, London.

Haxton, T. J. & C. S. Findlay, 2008. Meta-analysis of the impacts of water management on aquatic communities. Canadian Journal of Fisheries and Aquatic Sciences 65: 437–447.

Herbert, M. E. & F. P. Gelwick, 2003. Spatial variation of head- water fish assemblages explained by hydrologic variability and upstream effects of impoundment. Copeia 2003: 273–284.

Jakob, C., C. T. Robinson & U. Uehlinger, 2003. Longitudinal effects of experimental floods on stream benthos downstream from a large dam. Aquatic Sciences 65: 223–231.

Johnson, B. L., W. B. Richardson & T. J. Naimo, 1995. Past, present, and future concepts in large river ecology. BioScience 45: 134–141.

Khamis, K., D. M. Hannah, M. H. Calvis, L. E. Brown, E. Castella & A. M. Milner, 2014. Alpine aquatic ecosystem conservation policy in a changing climate. Environmental Science & Policy 43: 39–55.

Kinsolving, A. D. & M. B. Bain, 1993. Fish assemblage recovery along a riverine disturbance gradient. Ecological Applications 3: 531–544.

Legendre, P. & E. D. Gallagher, 2001. Ecological meaningful transformations for ordination of species data. Oecologia 129: 271–280.

Léger, P. & M. Leclerc, 2007. Hydrostatic, temperature, time-displacement model for concrete dams. Journal of Engineering Mechanics 133: 267–277.

Ligon, F. K., W. E. Dietrich & W. J. Trush, 1995. Downstream ecological effects of dams. BioScience 45: 183–192.

Lopretto, E. C. & G. Tell, 1995. Ecosistemas de aguas continentales. Metodologias para su estudio. Ed. Sur, Argentina.

Malmqvist, B. & M. Mäki, 1996. Benthic macroinvertebrate assemblages in north Swedish streams: environmental relationships. Ecography 17: 9–16.

Martínez, A., A. Larrañaga, A. Basaguren, J. Pérez, C. Mendoza-Lera & J. Pozo, 2013. Stream regulation by small dams affects benthic macroinvertebrate communities: from structural changes to functional implications. Hydrobiologia 711: 31–42.

Mc Mullen, L. E. & D. A. Lytle, 2012. Quantifying invertebrate resistance to floods: a global-scale meta-analysis. Ecological Applications 22: 2164–2175.

Merritt, R. W. & K. W. Cummins (eds), 1996. An Introduction to the Aquatic Insects of North America, 3rd ed. Kendall/Hunt, Dubuque.

Milner, A. M. & G. E. Petts, 1994. Glacial rivers: physical habitat and ecology. Freshwater Biology 32: 295–307.

Milner, A. M., J. E. Brittain, E. Castella & G. E. Petts, 2001. Trends of macroinvertebrate community structure in glacier-fed rivers in relation to environmental conditions: a synthesis. Freshwater Biology 46: 1833–1847.

Milner, A. M., L. E. Brown & D. M. Hannah, 2009. Hydroecological response of river systems to shrinking glaciers. Hydrological Processes 23: 62–77.

Ministerio de Planificación, 2015.Secretaria de Energía: http://www.energia.gov.ar/home/.

Miserendino, M. L., 2001. Macroinvertebrates assemblages in Andean Patagonian rivers and streams: environmental relationships. Hydrobiologia 444: 147–158.

Miserendino, M. L. & L. A. Pizzolon, 2003. Distribution of macroinvertebrates assemblages in the Azul-Quemquemtreu river basin, Patagonia, Argentina. New Zealand Journal of Marine and Freshwater Research 37: 525–539.

Pascual, M. A., V. Cussac, B. Dyer, D. Soto, P. Vigliano, S. Ortubay & P. Macchi, 2007. Freshwater fishes of Patagonia in the 21st century after a hundred years of human settlement, species introductions, and environmental change. Aquatic Ecosystem Health & Management 10: 212–227.

Poff, N. L., J. D. Allan, M. B. Bain, J. R. Karr, K. L. Prestegaard, B. D. Richter, R. E. Sparks & J. C. Stromberg, 1997. The natural flow regime. BioScience 47: 769–784.

Poff, N. L., C. M. Brown, T. E. Grantham, J. H. Matthews, M. A. Palmer, C. M. Spence, R. L. Wilby, M. Haasnoot, G. Mendoza, K. C. Dominique & A. Baeza, 2015. Sustainable water management under future uncertainty with eco-engineering decision scaling. Nature 6(1): 1–10.

Power, M. E., W. E. Dietrich & J. C. Finlay, 1996. Dams and downstream aquatic biodiversity: potential food web consequences of hydrologic and geomorphic change. Environmental Management 20: 887–895.

Pozo, J., E. Orive, H. Fraile & A. Basaguren, 1997. Effects of the Cernadilla–Valparaiso reservoir system on the River Tera. Regulated Rivers: Research and Management 13: 57–73.

Quiroga, A. P., J. L. Lancelotti, C. M. Riva-Rossi, M. Tagliaferro, M. Garcia Asorey & M. Pascual, 2015. Dams versus habitat: predicting the effects of dams on habitat supply and juvenile rainbow trout along the Santa Cruz River, Patagonia. Hydrobiologia 755: 57–72.

R Development Core Team, 2012. R: A language and environment for statistical computing. R. Foundation for statistical Computing, Vienna. Retrieved from http://www.R-project.org/.

Ramírez, A. & P. E. Gutiérrez-fonseca, 2014. Functional feeding groups of aquatic insect families in Latin America: a critical analysis and review of existing literature. Revista de Biología Tropical 62: 155–167.

Röthlisberger, H. & H. Lang, 1987. Glacial hydrology. In Gurnell, A. M. & M. J. Clark (eds), Glacio-fluvial sediment transfer. Wiley, Chichester: 207–284.

Salinas, L., 2014. Represas en Santa Cruz: confirman que la construcción arranca en enero – Dams in Santa Cruz: confirmation that construction starts in January. http://www.clarin.com/politica/Represas-Santa_Cruz-glaciar-construccion_0_1260474141.html.

Sandin, L., 2009. The effects of catchment land-use, near-stream vegetation, and river hydromorphology on benthic macro invertebrate communities in a south-Swedish catchment. Fundamental and Applied Limnology 174: 75–87.

Smith, H., P. J. Wood & J. Gunn, 2003. The influence of habitat structure and flow permanence on invertebrate communities in karst spring systems. Hydrobiologia 510: 53–66.

Sparks, R. E., 1995. Need for ecosystem management of large rivers and their floodplains. BioScience 45: 168–182.

SRH, 2013. Subsecretaría de Recursos Hídricos de la Nación. http://www.hidricosargentina.gov.ar/.

Tagliaferro, M., 2014. Estructura espacial, temporal y trófica de las comunidades acuáticas del río Santa Cruz. (Spatial, temporal, trophic structure of the aquatic communities of the Santa Cruz River). PhD Thesis – Universidad de Buenos Aires-Facultad de Ciencias Exactas y Naturales: 195 pp.

Tagliaferro, M., M. L. Miserendino, A. L. Liberoff, P. Quiroga & M. A. Pascual, 2013. Dams in the last large free-flowing rivers of Patagonia, the Santa Cruz River, environmental features, and macroinvertebrate community. Limnologica 4: 500–509.

Tagliaferro, M., A. Quiroga & M. Pascual, 2014. Spatial pattern and habitat requirements of Galaxias maculatus in the last Un-interrupted large river of Patagonia: a baseline for management. Environment and Natural Resources Research 4: 54–64.

Tagliaferro, M., I. Arismendi, J. Lancelotti & M. Pascual, 2015. A natural experiment of dietary overlap between introduced Rainbow Trout (Oncorhynchus mykiss) and native Puyen (Galaxias maculatus) in the Santa Cruz River, Patagonia. Environmental Biology of Fishes 98: 1311–1325.

TerBraak, C. J. F. & P. Smilauer, 1999. CANOCO for Windows (Version 4.02). A FORTRAN Program for Canonical Community Ordination – Centre for biometry Wageningen, Wageningen.

Townsend, C. R., A. G. Hildrew & K. Schofield, 1987. Persistence of stream communities in relation to environmental variability. Journal of Animal Ecology 56: 597–613.

Ward, J. V. & J. A. Stanford (eds), 1979. The Ecology of Regulated Streams. Plenum, New York.

Ward, J. V. & J. A. Stanford, 1982. Thermal responses in the evolutionary ecology of aquatic insects. Annual Review of Entomology 27: 97–117.

Wolman, M. G., 1954. A method of sampling coarse river-bed material. EOS Transactions American Geophysical Union 5: 951–956.

Wood, S. N., 2004. Stable and efficient multiple smoothing parameter estimation for generalized additive models. Journal of the American Statistical Association 99: 673–686.

Zhong, Y. & G. Power, 1996. Environmental impacts of hydroelectric projects on fish resources in China. Regulated Rivers: Research & Management 12: 81–98.

Zuur, A. F., E. N. Ieno, N. Walker, A. A. Saveliev & G. Smith, 2009. Mixed effects models and extensions in ecology with R. Springer, New York.
Acknowledgements
The authors wish to acknowledge the contributions of two anonymous reviewers that enriched this manuscript with their suggestions. We would also like to thank PhD Gabriela Romano for her suggestions. Funded by Consejo Nacional de Investigaciones Científicas y Tecnológicas and Agencia Nacional para la Promoción de la Ciencia y la Tecnología. M. T. was supported by CONICET Graduate Fellowship. Centro Nacional Patagónico (CENPAT-CONICET) provided support for the optic service. Ea. Río Bote, Ea. La Martina, Ea. San Ramón, Ea. La Marina, Los Plateados provided logistic support. This research project was conducted under the animal care regulations of CONICET.
Additional information
Handling editor: Marcelo S. Moretti
Electronic supplementary material
Below is the link to the electronic supplementary material.
About this article
Cite this article
Tagliaferro, M., Pascual, M. First spatio-temporal study of macroinvertebrates in the Santa Cruz River: a large glacial river about to be dammed without a comprehensive pre-impoundment study. Hydrobiologia 784, 35–49 (2017). https://doi.org/10.1007/s10750-016-2850-3
Received:

Revised:

Accepted:

Published:

Issue Date:
Keywords
Dams

Large rivers

GLM

Southern Hemisphere

Benthos