Abstract
Understanding genetic diversity across large spatial scales helps to reveal patterns of population structure. Mitochondrial DNA sequences and microsatellite loci were used to analyze the phylogeography of a common unionid species (Lasmigona costata) from the Laurentian Great Lakes and historically connected river drainages. Phylogeographic patterns were assessed to determine colonization routes into the Great Lakes following glacial recession. A suite of seven microsatellite loci were genotyped and a fragment of the mitochondrial gene COI was sequenced. Multiple analyses using microsatellite allele frequencies suggest at least two distinct genetic populations for L. costata. A total of seven hypothesized post-glacial dispersal scenarios were compared using isolation by distance to test the various dispersal models. Evidence was strongest for two post-glacial dispersal routes into the Great Lakes: one utilizing a connection between the Wabash and Maumee River watersheds, and one utilizing a connection between the Wisconsin River and Green Bay watersheds. A highly differentiated and monophyletic population of L. costata was identified in the Ozark Highlands, which may constitute a unique taxonomic entity.
Access options
Buy single article
Instant access to the full article PDF.
USD 39.95
Price excludes VAT (USA)
Tax calculation will be finalised during checkout.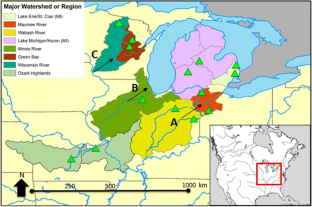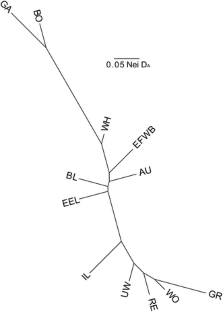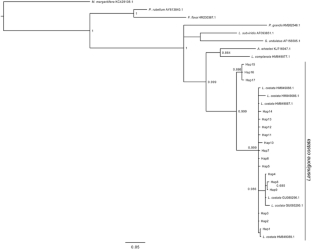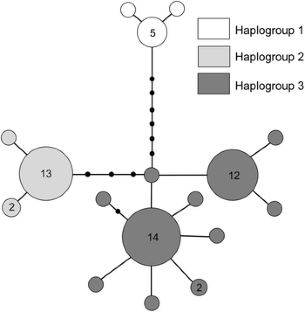 References
Berendzen, P. B., A. M. Simons & R. M. Wood, 2003. Phylogeography of the Northern Hogsucker, Hypentelium nigricans (Teleostei: Cypriniformes): Genetic evidence for the existence of the ancient Teays River. Journal of Biogeography 30: 1139–1152.

Berg, D. J., W. R. Haag, S. I. Guttman & J. B. Sickel, 1995. Mantle biopsy: a technique for nondestructive tissue-sampling of freshwater mussels. Journal of the North American Benthological Society 14: 577–581.

Berg, D. J., E. G. Cantonwine, W. R. Hoeh & S. I. Guttman, 1998. Genetic structure of Quadrula quadrula (Bivalvia: Unionidae): little variation across large distances. Journal of Shellfish Research 17: 1365–1373.

Bergner, J. L., 2013. Does scale matter? Genetic structuring and species assemblages of unionids in central Great Lakes tributaries. M.S. Thesis, Biology Department, Central Michigan University.

Borden, W. C. & R. A. Krebs, 2009. Phylogeography and postglacial dispersal of smallmouth bass (Micropterus dolomieu) into the Great Lakes. Canadian Journal of Fisheries and Aquatic Sciences 66: 2142–2156.

Brookfield, J. F. Y., 1996. A simple new method for estimating null allele frequency from heterozygote deficiency. Molecular Ecology 5: 453–455.

Calkin, P. E. & B. H. Feenstra, 1985. Evolution of the Erie-Basin Great Lakes. Quaternary Evolution of the Great Lakes, Geological Association of Canada Special Paper 30: 149–170.

Campbell, D. C., J. M. Serb, J. E. Buhay, K. J. Roe, R. L. Minton & C. Lydeard, 2005. Phylogeny of North American amblemines (Bivalvia, Unionoida): prodigious polyphyly proves pervasive across genera. Invertebrate Biology 124: 131–164.

Carlton, J. T., 2008. The zebra mussel Driessena polymorpha found in North America in 1986 and 1987. Journal of Great Lakes Research 34: 770–773.

Clark, J. A., K. M. Befus, T. S. Hooyer, P. W. Stewart, T. D. Shipman, C. T. Gregory & D. J. Zylstra, 2008. Numerical simulation of the paleohydrology of glacial Lake Oshkosh, eastern Wisconsin, USA. Quaternary Research 69: 117–129.

Clement, M., D. Posada & K. A. Crandall, 2000. TCS: a computer program to estimate gene genealogies. Molecular Ecology 9: 1657–1660.

Crandall, K. A. & A. R. Templeton, 1999. The zoogeography and centers of origin of the crayfish subgenus Procericambarus (Decapoda: Cambaridae). Evolution 53: 123–134.

Cummings, K. W., & G. T. Watters, 2010. Mussel/host database. Molluscs Division of the Museum of Biological Diversity at the Ohio State University, Columbus.

Earl, D. A. & B. M. vonHoldt, 2012. STRUCTURE HARVESTER: a website and program for visualizing STRUCTURE output and implementing the Evanno method. Conservation Genetics Resources 4: 359–361.

Elderkin, C. L., A. D. Christian, C. C. Vaughn, J. L. Metcalfe-Smith & D. J. Berg, 2007. Population genetics of the freshwater mussel, Amblema plicata (Say 1817) (Bivalvia: Unionidae): Evidence of high dispersal and post-glacial colonization. Conservation Genetics 8: 355–372.

Elderkin, C. L., A. D. Christian, J. L. Metcalfe-Smith & D. J. Berg, 2008. Population genetics and phylogeography of freshwater mussels in North America, Ellipto dilatata and Actinonaias ligamentina (Bivalvia: Unionidae). Molecular Ecology 17: 2149–2163.

Evanno, G., S. Regnaut & J. Goudet, 2005. Detecting the number of clusters of individuals using the software STRUCTURE: a simulation study. Molecular Ecology 14: 2611–2620.

Excoffier, L., 2004. Patterns of DNA sequence diversity and genetic structure after a range expansion: lessons from the infinite-island model. Molecular Ecology 13: 853–864.

Ferguson, C. D., M. J. Blum, M. L. Raymer, M. S. Eackles & D. E. Krane, 2013. Population structure, multiple paternity, and long-distance transport of spermatozoa in the freshwater mussel Lampsilis cardium (Bivalvia:Unionidae). Freshwater Science 32: 267–282.

Fetzner, W. J. & K. A. Crandall, 2003. Linear habits and the nested clade analysis: an empirical evaluation of geographic versus river distances using an Ozark crayfish (Decapoda: Cambaridae). Evolution 57: 2101–2118.

Fraser, D. J., 2008. How well can captive breeding programs conserve biodiversity? A review of Salmonids. Evolutionary Applications 1: 535–586.

Galbraith, H. S., K. M. Wozney, C. M. Smith, D. T. Zanatta & C. C. Wilson, 2011. Isolation and characterization of microsatellite loci in the freshwater mussel Lasmigona costata (Bivalvia: Unionidae). Conservation Genetics Resources 3: 9–11.

Galbraith, H. S., D. T. Zanatta & C. C. Wilson, 2015. Comparative analysis of riverscape genetic structure in rare, threatened and common freshwater mussels. Conservation Genetics 16: 845–857.

Google Inc., 2009. Google Earth (Version 5.1.3533.1731) [Software]. Available from http://www.google.com/earth/download/ge/agree.html.

Graf, D. L., 2002. Historical biogeography and late glacial origin of the freshwater pearly mussel (Bivalvia: Unionidae) faunas of Lake Erie, North America. Occasional Papers on Mollusks, The Department of Mollusks, Museum of Comparative Zoology, Harvard University, Cambridge, Massachusetts 6: 175-211.

Goudet, J., 1995. FSTAT (version 1.2): a computer program to calculate F-statistics. Journal of Heredity 86: 485–486.

Griekspoor, A., & T. Groothuis, 2006. 4Peaks. mekentosj.com.

Haag, W. R., 2010. A hierarchical classification of freshwater mussel diversity in North America. Journal of Biogeography 37: 12–26.

Haag, W. R., 2012. North American Freshwater Mussels: Natural History, Ecology, and Conservation. Cambridge University Press, New York.

Haag, W. R. & A. L. Rypel, 2011. Growth and longevity in freshwater mussels: evolutionary and conservation implications. Biological Reviews 86: 225–247.

Haag, W. R. & J. D. Williams, 2014. Biodiversity on the brink: an assessment of conservation strategies for North American freshwater mussels. Hydrobiologia 735: 45–60.

Hansel, A. K., D. M. Mickelson, A. F. Schneider & C. E. Larsen, 1985. Late Wisconsinan and Holocene history of the Lake Michigan basin. Quaternary Evolution of the Great Lakes, Geological Association of Canada Special Paper 30: 39–53.

Hewitt, G. M., 1996. Some genetic consequences of ice ages, and their role in divergence and speciation. Biological Journal of the Linnean Society 58: 247–276.

Hewitt, G. M., 2000. The genetic legacy of the Quaternary ice ages. Nature 405: 907–913.

Hoftyzer, E., J. D. Ackerman, T. J. Morris & G. L. Mackie, 2008. Genetic and environmental implications of reintroducing laboratory-raised unionid mussels into the wild. Canadian Journal of Fisheries and Aquatic Sciences 65: 1217–1229.

Inoue, K., E. M. Monroe, C. L. Elderkin & D. J. Berg, 2013. Phylogeographic and population genetic analyses reveal Pleistocene isolation followed by high gene flow in a wide ranging, but endangered, freshwater mussel. Heredity 112: 282–290.

Irons, K. S., M. A. McClelland & M. A. Pegg, 2006. Expansion of round goby in the Illinois waterway. American Midland Naturalist 156: 198–200.

Johnson, R. I., 1978. Systematics and zoogeography of Plagiola (= Dysnomia = Epioblasma), an almost extinct genus of freshwater mussels (Bivalvia: Unionidae) from Middle North America. Bulletin of the Museum of Comparative Zoology 148: 239–321.

Jones, J. W., E. M. Hallerman & R. J. Neves, 2006. Genetic management guidelines for captive propagation of freshwater mussels (Unionoidea). Journal of Shellfish Research 25: 527–535.

Kalinowski, S. T., 2009. How well do evolutionary trees describe genetic relationships between populations. Heredity 102: 506–513.

King, T. L., M. S. Eackles, B. Gjetvaj & W. R. Hoeh, 1999. Intraspecific phylogeography of Lasmigona subviridis (Bivalvia: Unionidae): conservation implications of range discontinuity. Molecular Ecology 8: S65–S78.

Krebs, R. A., W. C. Borden, N. M. Evans & F. P. Doerfer, 2013. Differences in population structure estimated within maternally- and paternally-inherited forms of mitochondria in Lampsilis siliquoidea (Bivalvia: Unionidae). Biological Journal of the Linnean Society 109: 229–240.

Larkin, M. A., G. Blackshields, N. P. Brown, R. Chenna, P. A. McGettigan, H. McWilliam, F. Valentin, I. M. Wallace, A. Wilm, R. Lopez, J. D. Thompson, T. J. Gibson & D. G. Higgins, 2007. Clustal W and Clustal X version 2.0. Bioinformatics 23: 2947–2948.

Larsen, C. E., 1987. Geological history of glacial Lake Algonquin and the Upper Great Lakes. US Geological Survey Bulletin 1801.

Larson, G. & R. Schaetzl, 2001. Origin and evolution of the Great Lakes. Journal of Great Lakes Research 27: 518–546.

Lucy, F., L. E. Burlakova, A. Karatayev, S. Mastitsky & D. T. Zanatta, 2014. Zebra mussel impacts on unionids: A synthesis of trends in North America and Europe. In Nalepa, T. F. & D. W. Schloesser (eds), Quagga and Zebra Mussels: Biology, Impact, and Control, 2nd ed. CRC Press, Boca Raton FL: 623–646.

Maddison, W. P., & D. R. Maddison, 2008. Mesquite: a modular system for evolutionary analysis. Version 3.0 http://mesquiteproject.org.

Mandrak, N. D. & E. J. Crossman, 1992. Postglacial dispersal of fresh-water fishes into Ontario. Canadian Journal of Zoology 70: 2247–2259.

Mantel, N., 1967. The detection of disease clustering and a generalized regression approach. Cancer Res. 27: 209–220.

Mayden, R. L., 1988. Vicariance biogeography, parsimony, and evolution in North American freshwater fishes. Systematic Zoology 37: 329–355.

Melching, C. S., J. Liang, L. Fleer & D. Wethington, 2015. Modeling the water quality impacts of the separation of the Great Lakes and Mississippi River basins for invasive species control. Journal of Great Lakes Research 41: 87–98.

Metcalfe-Smith, J. L., S. K. Staton, G. L. Mackie & N. M. Lane, 1998. Selection of candidate species of freshwater mussels (Bivalvia: Unionidae) to be considered for national status designation by COSEWIC. Canadia Field-Naturalist 112: 425–440.

Morris, T. J. & M. Burridge, 2006. Recovery strategy for northern riffleshell, snuffbox, round pigtoe, mudpuppy mussel and rayed bean in Canada. Fisheries and Oceans Canada, Ottawa, Species at Risk Act Recovery Strategy Series.

Near, T. J., L. M. Page & R. L. Mayden, 2001. Intraspecific phylogeography of Percina evides (Percidae: Etheostomatinae): an additional test of the Central Highlands pre-Pleistocene vicariance hypothesis. Molecular Ecology 10: 2235–2240.

Nei, M., 1972. Genetic distance between populations. American Naturalist 106: 283–292.

Neves, R. J., 1999. Conservation and commerce: management of freshwater mussel (Bivalvia: Unionoidea) resources in the United States. Malacologia 41: 461–474.

Nylander, J. A. A., 2004. MrModeltest v2. Program distributed by the author. Evolutionary Biology Centre, Uppsala University, Uppsala.

Oosterhout, C. V., W. F. Hutchinson, D. P. M. Wills & P. Shipley, 2004. MICRO-CHECKER: software for identifying and correcting genotyping errors in microsatellite data. Molecular Ecology Notes 4: 535–538.

Peakall, R. & P. E. Smouse, 2012. GenAlEx 6.5: genetic analysis in Excel. Population genetic software for teaching and research-an update. Bioinformatics 28: 2537–2539.

Pielou, E. C., 1991. After the Ice Age: The Return of Life to Glaciated North America. The University of Chicago Press, Chicago.

Posada, D., 2004. Collapse: Describing haplotypes from sequence alignments. Available at http://darwin.uvigo.es/software/collapse.html accessed September, 2014.

Pritchard, J. K., M. Stephens & P. Donnelly, 2000. Inference of population structure using multilocus genotype data. Genetics 155: 945–959.

Raymond, M. & F. Rousset, 1995. GENEPOP (version 1.2): population genetics software for exact tests and ecumenicism. Heredity 86: 248–249.

Ricciardi, A. & H. J. MacIsaac, 2000. Recent mass invasion of the North American Great Lakes by Ponto-Caspian species. Trends in Ecology and Evolution 15: 62–65.

Roe, K. J., P. D. Hartfield & C. Lydeard, 2001. Phylogeographic analysis of the threatened and endangered superconglutinate-producing mussels of the genus Lampsilis (Bivalvia: Unionidae). Molecular Ecology 10: 2225–2234.

Ronquist, F., M. Teslenko, P. van der Mark, D. L. Ayres, A. Darling, S. Hohna, B. Larget, L. Liu, M. A. Suchard & J. P. Huelsenbeck, 2012. MrBayes 3.2: Efficient Bayesian phylogenetic inference and model choice across a large model space. Systematic Biology 61: 539–542.

Sambrook, J., E. F. Fritsch & T. Maniatas, 1989. Molecular Cloning: A Laboratory Manual, 2nd ed. Cold Spring Harbor Laboratory Press, Plainview, NY.

Schloesser, D. W., J. L. Metcalfe-Smith, W. P. Kovalak, G. D. Longton & R. D. Smithee, 2006. Extirpation of freshwater mussels (Bivalvia: Unionidae) following the invasion of dreissenid mussels in an interconnecting river of the Laurentian Great Lakes. American Midland Naturalist 155: 307–320.

Schneider, S., D. Roessli, & L. Excoffier, 2000. Arlequin ver. 2.000: A software for population genetics data analysis. Genetics and Biometry Laboratory, University of Geneva, Switzerland.

Scott, M. W., M. T. Begley, R. A. Krebs & D. T. Zanatta, 2014. Mitochondrial DNA variation in the Eastern Pondmussel, Ligumia nasuta (Bivalvia: Unionoida), in the Great Lakes region. Walkerana 17: 60–67.

Soltis, D. E., A. B. Morris, J. S. McLachlan, P. S. Manos & P. S. Soltis, 2006. Comparative phylogeography of unglaciated eastern North America. Molecular Ecology 15: 4261–4293.

Strange, R. M. & B. M. Burr, 1997. Intraspecific phylogeography of North American highland fishes: a test of the pleistocene vicariance hypothesis. Evolution 51: 885–897.

Sunderman, J. A., 1987. Fort Wayne, Indiana: Paleozoic and Quaternary geology. Geological Society of American Centennial Field Guide—North-Central Section 325-332.

Tamura, K., G. Stecher, D. Peterson, A. Filipski & S. Kumar, 2013. MEGA6: molecular evolutionary genetics analysis version 6.0. Molecular Biology and Evolution 30: 2725–2729.

van der Schalie, H., 1945. The value of mussel distribution in tracing stream confluence. Papers of the Michigan Academy of Science, Arts, and Letters 30: 355–372.

Watters, T. G., M. A. Hoggarth & D. H. Stansbery, 2009. The Freshwater Mussels of Ohio. The Ohio State University Press, Columbus, OH.

Zanatta, D. T. & R. W. Murphy, 2007. Range-wide population genetic analysis of the endangered northern riffleshell mussel, Epioblasma torulosa rangiana (Bivalvia: Unionoida). Conservation Genetics 8: 1393–1404.

Zanatta, D. T. & R. W. Murphy, 2008. The phylogeographical and management implications of genetic population structure in the imperiled snuffbox mussel, Epioblasma triquetra (Bivalvia: Unionidae). Biological Journal of the Linnean Society 93: 371–384.

Zanatta, D. T. & A. T. Harris, 2013. Phylogeography and genetic variability of the freshwater mussels (Bivalvia: Unionidae) Ellipse, Venustaconcha ellipsiformis (Conrad 1836), and Bleeding Tooth, V. pleasii (Marsh 1891). American Malacological Bulletin 31: 267–279.
Acknowledgments
Funding for this project came from grants through the Faculty Research and Creative Endeavors program and the Research Excellence Fund at Central Michigan University. A research assistantship was granted to TLH from the CMU College of Science and Engineering. Many people assisted in sample collection in the field including: Brant Fischer from the Indiana Department of Natural Resources, Dr. Todd Crail from the University of Toledo, Steve McMurray and Scott Faiman from the Missouri Department of Conservation, Kevin Cummings and Jeremy Tiemann from the Illinois Natural History Survey, and Lisie Kitchel from the Wisconsin Department of Natural Resources. We also thank Dr. Bradley Swanson and Dr. Andrew Mahon for helpful guidance and discussion on earlier versions of this manuscript. Other members of the CMU Biology Department have been great resources throughout this project and have been invaluable in helping to see this project through: Shaughn Barnett, Mariah Wild Scott, Jordan Hoffman, Amanda Chambers, Mandi Caldwell, and Adrienne Gibson. This article is a contribution #75 of the Central Michigan University Institute for Great Lakes Research.
Additional information
Guest editors: Manuel P. M. Lopes-Lima, Ronaldo G. Sousa, Lyuba E. Burlakova, Alexander Y. Karatayev & Knut Mehler / Ecology and Conservation of Freshwater Bivalves
Electronic supplementary material
Below is the link to the electronic supplementary material.
About this article
Cite this article
Hewitt, T.L., Bergner, J.L., Woolnough, D.A. et al. Phylogeography of the freshwater mussel species Lasmigona costata: testing post-glacial colonization hypotheses. Hydrobiologia 810, 191–206 (2018). https://doi.org/10.1007/s10750-016-2834-3
Received:

Revised:

Accepted:

Published:

Issue Date:

DOI: https://doi.org/10.1007/s10750-016-2834-3
Keywords
Freshwater mussels

mtDNA

Microsatellites

Glacial refugia

Population genetics