Abstract
Patterns of sediment organic matter deposition in lakes reflect the factors that affect the production of organic matter in the lake and watershed and the removal of organic matter from the sediments. We surveyed the percent sediment organic matter of 22 lakes in the Alaskan Arctic and the rate of organic matter loss with sediment age in 3 lakes in the same region. The variation in sediment organic matter among lakes was greater than the variation between shallow and deep locations within the same lake, which is consistent with landscape-scale control of variation in sediment organic matter. In shallow water sediments, percent sediment organic matter was positively correlated with the amount of light reaching the sediments and the concentration of dissolved oxygen in the overlying water, suggesting that differences in organic matter content reflect differences in benthic production. The percent organic matter of the sediments in deep water was correlated with the percent organic matter in the sediments from shallow water but not environmental variables. The results suggest that variation in sediment organic matter in this region may be influenced by variation in benthic organic matter production more than by the loss of organic matter via mineralization.
Access options
Buy single article
Instant access to the full article PDF.
USD 39.95
Price excludes VAT (USA)
Tax calculation will be finalised during checkout.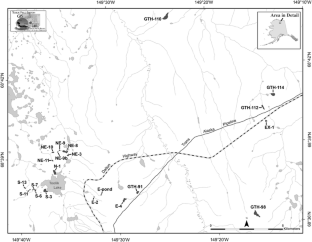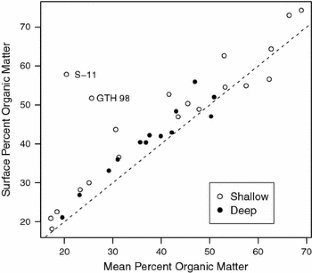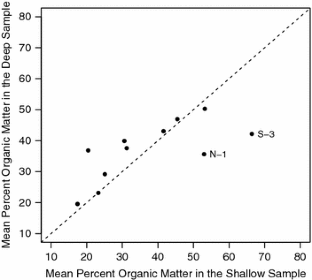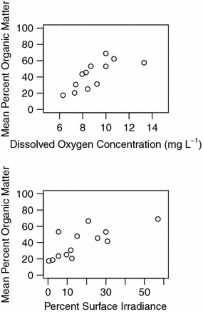 References
Appleby, P. G. & F. Oldfield, 1992. Uranium series disequilibrium: Application to Earth, Marine and Environmental Science in Application of lead-210 to sedimentation studies. Oxford Science Publications, London: 731–783.

Ask, J., J. Karlsson, L. Persson, P. Ask, P. Byström & M. Jansson, 2009. Terrestrial organic matter and light penetration: effects on bacterial and primary production in lakes. Limnology and Oceanography 54: 2034–2040.

Beaty, S. R., K. Fortino & A. E. Hershey, 2006. Distribution and growth of benthic macroinvertebrates among different patch types of the littoral zone of two arctic lakes. Freshwater Biology 51: 2347–2361.

Bjork-Ramberg, S., 1983. Production of epipelic algae before and during lake fertilization in a subarctic lake. Holarctic Ecology 6: 349–355.

Bretz, K. A. & S. C. Whalen, 2014. Methane cycling dynamics in sediments of Alaskan Arctic Foothill lakes. Inland Waters 4: 65–78.

Burdige, D. J., 2007. Preservation of organic matter in marine sediments: controls, mechanisms, and an imbalance in sediment organic carbon budgets? Chemical Reviews 107: 467–485.

Canfield, D. E., 1994. Factors influencing organic matter preservation in marine sediments. Chemical Geology 114: 315–329.

Capone, D. G. & R. P. Kiene, 1988. Comparison of microbial dynamics in marine and freshwater sediments: contrasts in anaerobic carbon catabolism. Limnology and Oceanography 33: 725–749.

Cole, J. J., Y. T. Prairie, N. T. Caraco, W. H. McDowell, L. T. Tranvik, R. G. Striegl, C. M. Duartie, P. Kortelainen, J. A. Downing, J. J. Middelburg & J. Melack, 2007. Plumbing the global carbon cycle: integrating inland waters into the terrestrial carbon budget. Ecosystems 10: 171–184.

Cornwell, J. C. & G. W. Kipphut, 1992. Biogeochemistry of manganese- and iron-rich sediments in Toolik Lake, Alaska. Hydrobiologia 240: 45–59.

den Heyer, C. & J. Kalff, 1998. Organic matter mineralization rates in sediments: a within and among lake study. Limnology and Oceanography 43: 695–705.

Fortino, K., A. E. Hershey, M. D. Keyes & S. C. Whalen, 2009. Summer sedimentation in six shallow arctic lakes. Hydrobiologia 621: 75–84.

Fortino, K., S. C. Whalen & C. R. Johnson, 2014. Relationship between lake transparency, thermocline depth, and sediment oxygen demand in Arctic lakes. Inland Waters 4: 79–90.

Hamilton, T. D., 2003. Glacial Geology of the Toolik Lake and Upper Kuparuk River regions. University of Alaska Fairbanks, Institute of Arctic Biology, Fairbanks, AK.

Hansson, L. A., 1992. Factors regulating peripytic algal biomass. Limnology and Oceanography 37: 322–328.

Heathcote, A. J. & J. A. Downing, 2012. Impacts of eutrophication on carbon burial in freshwater lakes in an intensively agricultural landscape. Ecosystems 15: 60–70.

Hermanson, M. H., 1990. 210Pb and 137Cs chronology of sediments from small, shallow Arctic lakes. Geochimica et Cosmochimica Acta 54: 1443–1451.

Hobbie, J. E., T. Traaen, P. Rublee, J. P. Reed, M. C. Miller & T. Fenchel, 1980. Limnology of Tundra Ponds in Decomposers, Bacteria, and Microbenthos. Dowden, Hutchensen & Ross, New York.

Holland, A. F., R. G. Zingmark & J. M. Dean, 1974. Quantitative evidence concerning the stabilization of sediments by marine benthic diatoms. Marine Biology 27: 191–196.

Karlsson, J., P. Byström, J. Ask, P. Ask, L. Persson & M. Jansson, 2009. Light limitation of nutrient-poor lake ecosystems. Nature 460: 506–510.

Livingstone, D. A., K. Bryan & R. G. Leahy, 1958. Effects of an arctic environment on the origin and development of freshwater lakes. Limnology and Oceanography 3: 192–214.

Lovett, G. M., J. J. Cole & M. L. Pace, 2006. Is net ecosystem production equal to ecosystem carbon accumulation? Ecosystems 9: 1–4.

Molot, L. M. & P. J. Dillon, 1996. Storage of terrestrial carbon in boreal lake sediments and evasion to the atmosphere. Global Biogeochemical Cycles 10: 483–492.

Oechel, W. C., G. L. Vourlitis, S. J. Hastings, R. C. Zulueta, L. Hinzman & D. Kane, 2000. Acclimation of ecosystem CO2 exchange in the Alaskan Arctic in response to decadal climate warming. Nature 406: 978–981.

Pace, M. & Y. T. Prairie, 2005. Respiration in Aquatic Ecosystems in Respiration in lakes. Oxford University Press, New York.

Paterson, D. M., 1989. Short-term changes in the erodibility of intertidal cohesive sediments related to the migratory behavior of epipelic diatoms. Limnology and Oceanography 34: 223–234.

Ping, C. L., J. G. Bockheim, J. M. Kimble, G. J. Michaelson & D. A. Walker, 1998. Characteristics of cryogenic soils along a latitudinal transect in Arctic Alaska. Journal of Geophysical Research 103: 28917–28928.

R Development Core Team, 2009. R: A Language and Environment for Statistical Computing. R Foundation for Statistical Computing, Vienna.

Stanley, D. W., 1976a. Productivity of epipelic algae in tundra ponds and a lake near Barrow, Alaska. Ecology 57: 1015–1024.

Stanley, D. W., 1976b. A carbon flow model of epipelic algal productivity in Alaskan Tundra ponds. Ecology 57: 1034–1042.

Vadeboncoeur, Y., D. M. Lodge & S. R. Carpenter, 2001. Whole-lake fertilization effects on the distribution of primary production between benthic and pelagic habitats. Ecology 82: 1065–1077.

Vadeboncoeur, Y., G. Peterson, M. J. Vander Zanden & J. Kalff, 2008. Benthic algal production across lake size gradients: interactions among morphometry, nutrients, and light. Ecology 89: 2542–2552.

Wetzel, R. G., 2001. Limnology: Lake and River Ecosystems. Academic Press, Orlando, FL.

Wetzel, R. G. & G. E. Likens, 2000. Limnological Analyses. Springer-Verlag, New York.

Whalen, S. C., B. A. Chalfant, E. N. Fischer, K. Fortino & A. E. Hershey, 2006. Comparative influence of resuspended glacial sediment on physiochemical characteristics and primary production in two arctic lakes. Aquatic Sciences 68: 65–77.

Whalen, S. C., B. A. Chalfant & E. N. Fischer, 2008. Epipelic and pelagic primary production in Alaskan Arctic lakes of varying depth. Hydrobiologia 614: 243–257.

Whalen, S. C., D. D. Lofton, G. E. McGowan & A. Strohm, 2013. Microphytobenthos in shallow arctic lakes: fine-scale distribution of chlorophyll a, radiocarbon assimilation, irradiance, and dissolved O2. Arctic Antarctic and Alpine Research 45: 285–295.
Acknowledgments
Invaluable field assistance was provided by Dendy Lofton, Matthew Harrell, Tim Yarborough, and all the members of the Geomorphic Trophic Hypothesis project. We would like to thank the Toolik Lake staff for all of their support during this project. Comments by Dina Leech improved a previous draft of this manuscript. The calculation of the lake and watershed areas and the production of the map in Fig. 1 were performed by Randy Fulweber and Jason Stuckey of the Toolik Lake GIS support staff. Funding was provided by National Science Foundation Grants NSF 0323557 and NSF 0516043.
Additional information
Handling editor: Zhengwen Liu
About this article
Cite this article
Fortino, K., Whalen, S.C. & Smoak, J.M. Patterns in the percent sediment organic matter of arctic lakes. Hydrobiologia 777, 149–160 (2016). https://doi.org/10.1007/s10750-016-2771-1
Received:

Revised:

Accepted:

Published:

Issue Date:

DOI: https://doi.org/10.1007/s10750-016-2771-1
Keywords
Light attenuation

Arctic

Alaska

Burial efficiency