Abstract
Coral reefs are ecologically and economically important, contributing to both fishing and ecotourism economies around the world. Tourism and recreational activities have increased in coastal areas and so has the use of sunscreen. Sunscreen reduces human exposure to harmful UV rays, but washes off during aquatic recreational activities, which may negatively affect reef biota. To evaluate how sunscreen affects coral reef ecosystems, we added sunscreen at concentrations similar to previous studies to growing environments containing flatworms (Convolutriloba macropyga) with symbiotic algae, photosynthetic diatoms (Nitzschia sp.), Aiptasia anemones, and pulse corals (Xenia sp.). Using behavioral observations and estimates of population and colony growth, we show nominal concentrations of sunscreen negatively affect all of the studied species. Furthermore, we show that mobile flatworms do not avoid water which contains sunscreen and flatworms exposed to sunscreen prefer darker conditions. Based on our results, beach goers should limit use of sunscreens when near coral reefs and consider alternative protective measures, such as the utilization of sun-protective clothing.
Access options
Buy single article
Instant access to the full article PDF.
US$ 39.95
Tax calculation will be finalised during checkout.
Subscribe to journal
Immediate online access to all issues from 2019. Subscription will auto renew annually.
US$ 119
Tax calculation will be finalised during checkout.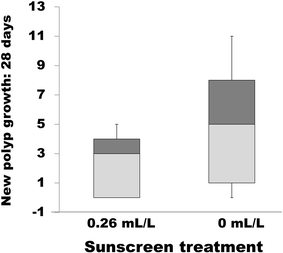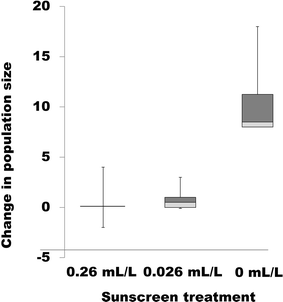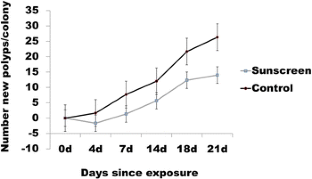 References
Bachelot, M., Z. Li, D. Munaron, P. Le Gall, C. Casellas, H. Fenet & E. Gomez, 2012. Organic UV filter concentrations in marine mussels from French coastal regions. Science of the Total Environment 420: 273–279.

Balmer, M. E., H.-R. Buser, M. D. Müller & T. Poiger, 2005. Occurrence of some organic UV filters in wastewater, in surface waters, and in fish from Swiss lakes. Environmental science & technology 39: 953–962.

Bartley, R., Z. T. Bainbridge, S. E. Lewis, F. J. Kroon, S. N. Wilkinson, J. E. Brodie & D. M. Silburn, 2014. Relating sediment impacts on coral reefs to watershed sources, processes and management: a review. Science of the Total Environment 468: 1138–1153.

Bellwood, D. R., T. P. Hughes, C. Folke & M. Nystrom, 2004. Confronting the coral reef crisis. Nature 429: 827–833.

Botta, C., J. Labille, M. Auffan, D. Borschneck, H. Miche, M. Cabié, A. Masion, J. Rose & J.-Y. Bottero, 2011. TiO2-based nanoparticles released in water from commercialized sunscreens in a life-cycle perspective: structures and quantities. Environmental Pollution 159: 1543–1550.

Carl, M., 2013. Predators and pests of captive corals. In Leewis, R. J. & M. Janse (eds), Advances in Coral Husbandry in Public Aquariums, Vol. 2., Public aquarium husbandry series Burgers' Zoo, Arnhem: 31–36.

Chen, J., X. Dong, Y. Xin & M. Zhao, 2011. Effects of titanium dioxide nano-particles on growth and some histological parameters of zebrafish (Danio rerio) after a long-term exposure. Aquatic Toxicology 101: 493–499.

Coghlan, A. & B. Prideaux, 2009. Welcome to the wet tropics: the importance of weather in reef tourism resilience 1. Current Issues in Tourism 12: 89–104.

Cohen, Y., A. Nissenbaum & R. Eisler, 1977. Effects of Iranian crude oil on the Red Sea octocoral Heteroxenia fuscescens. Environmental Pollution 12: 173–186.

Danovaro, R. & C. Corinaldesi, 2003. Sunscreen products increase virus production through prophage induction in marine bacterioplankton. Microbial Ecology 45: 109–118.

Danovaro, R., L. Bongiorni, C. Corinaldesi, D. Giovannelli, E. Damiani, P. Astolfi, L. Greci & A. Pusceddu, 2008. Sunscreens cause coral bleaching by promoting viral infections. Environmental health perspectives 116: 441.

Davenport, J. & J. L. Davenport, 2006. The impact of tourism and personal leisure transport on coastal environments: a review. Estuarine, Coastal and Shelf Science 67: 280–292.

Dinesen, Z., 1983. Patterns in the distribution of soft corals across the central Great Barrier Reef. Coral Reefs 1: 229–236.

Downs, C., E. Kramarsky-Winter, J. E. Fauth, R. Segal, O. Bronstein, R. Jeger, Y. Lichtenfeld, C. M. Woodley, P. Pennington & A. Kushmaro, 2014. Toxicological effects of the sunscreen UV filter, benzophenone-2, on planulae and in vitro cells of the coral, Stylophora pistillata. Ecotoxicology 23: 175–191.

Downs, C., E. Kramarsky-Winter, R. Segal, J. Fauth, S. Knutson, O. Bronstein, F. R. Ciner, R. Jeger, Y. Lichtenfeld & C. M. Woodley, 2016. Toxicopathological effects of the sunscreen UV filter, Oxybenzone (Benzophenone-3), on coral planulae and cultured primary cells and its environmental contamination in Hawaii and the US Virgin Islands. Archives of environmental contamination and toxicology 70: 265–288.

Fent, K., A. Zenker & M. Rapp, 2010. Widespread occurrence of estrogenic UV-filters in aquatic ecosystems in Switzerland. Environmental Pollution 158: 1817–1824.

FitzPatrick, S., K. Liberatore, J. Garcia, I. Burghardt, D. Colman, S. Moquin, C. Takacs-Vesbach & U. Shepherd, 2012. Symbiodinium diversity in the soft coral Heteroxenia sp. and its nudibranch predator Phyllodesmium lizardensis. Coral Reefs 31: 895–905.

Handy, R., R. Owen & E. Valsami-Jones, 2008. The ecotoxicology of nanoparticles and nanomaterials: current status, knowledge gaps, challenges, and future needs. Ecotoxicology 17: 315–325.

Iii, T. S. & J. G. Achatz, 2007. Convolutriloba macropyga sp. nov., an uncommonly fecund acoel (Acoelomorpha) discovered in tropical aquaria. Zootaxa 1525: 1–17.

Jennison, B. L., 1981. Reproduction in three species of sea anemones from Key West, Florida. Canadian Journal of Zoology 59: 1708–1719.

Jinendradasa S, Ekaratne S. 2002. Composition and monthly variation of fauna inhabiting reef-associated Halimeda. Proceedings of the Ninth International Coral Reef Symposium, Bali, 23–27 October 2000: 1059–1063.

Kim, J.-W., T. Isobe, B. R. Ramaswamy, K.-H. Chang, A. Amano, T. M. Miller, F. P. Siringan & S. Tanabe, 2011. Contamination and bioaccumulation of benzotriazole ultraviolet stabilizers in fish from Manila Bay, the Philippines using an ultra-fast liquid chromatography–tandem mass spectrometry. Chemosphere 85: 751–758.

Kowalewski, M., R. Domènech & J. Martinell, 2014. Vanishing clams on an Iberian beach: local consequences and global implications of zccelerating loss of shells to tourism. PLoS One 9: e83615.

Kremien, M., U. Shavit, T. Mass & A. Genin, 2013. Benefit of pulsation in soft corals. Proceedings of the National Academy of Sciences 110: 8978–8983.

Kumari, S., M. Behera & H. Tewari, 2010. Identification of potential ecotourism sites in West District, Sikkim using geospatial tools. Tropical Ecology 51: 75–85.

León, Y. M. & K. A. Bjorndal, 2002. Selective feeding in the hawksbill turtle, an important predator in coral reef ecosystems. Marine Ecology Progress Series 245: 249–258.

McClanahan, T. R. & N. A. Muthiga, 1988. Changes in Kenyan coral reef community structure and function due to exploitation. Hydrobiologia 166: 269–276.

Morgan S. 2010. To pulse or not to pulse: a proposed theory to explain the pulsing behavior exhibited by the alcyonacean, Xenia elongata in Maryland SMsCo, ed. St. Mary's City, MD.

Newsome, D., S. A. Moore & R. K. Dowling, 2012. Natural Area Tourism: Ecology, Impacts and Management. Channel View Publications, Clevedon.

Reyes-Nivia, C., G. Diaz-Pulido, D. Kline, O. H. Guldberg & S. Dove, 2013. Ocean acidification and warming scenarios increase microbioerosion of coral skeletons. Global Change Biology 19: 1919–1929.

Sánchez-Quiles, D. & A. Tovar-Sánchez, 2015. Are sunscreens a new environmental risk associated with coastal tourism? Environment international 83: 158–170.

Sieratowicz, A., D. Kaiser, M. Behr, M. Oetken & J. Oehlmann, 2011. Acute and chronic toxicity of four frequently used UV filter substances for Desmodesmus subspicatus and Daphnia magna. Journal of Environmental Science and Health, Part A 46: 1311–1319.

Studivan, M. S., W. I. Hatch & C. L. Mitchelmore, 2015. Responses of the soft coral Xenia elongata following acute exposure to a chemical dispersant. SpringerPlus 4: 1–10.

Sundseth, K. 2000. Natura 2000 in the Macaronesian Region. Office for official publications of the European Communities, Luxembourg.

Tovar-Sánchez, A., D. Sánchez-Quiles, G. Basterretxea, J. L. Benedé, A. Chisvert, A. Salvador, I. Moreno-Garrido & J. Blasco, 2013. Sunscreen products as emerging pollutants to coastal waters. PLoS One 8: e65451.

UNWTO E. 2014. Handbook on Tourism Destination Branding. Madrid, Spain: http://www.uneptie.org.

Vanni, M. J., C. Luecke, J. F. Kitchell, Y. Allen, J. Temte & J. J. Magnuson, 1990. Effects on lower trophic levels of massive fish mortality. Nature 344: 333–335.

Weisbrod, C. J., P. Y. Kunz, A. K. Zenker & K. Fent, 2007. Effects of the UV filter benzophenone-2 on reproduction in fish. Toxicology and applied pharmacology 225: 255–266.

Wong, S. Y., P. Y. Leung, A. B. Djurišić & K. Y. Leung, 2010. Toxicities of nano zinc oxide to five marine organisms: influences of aggregate size and ion solubility. Analytical and Bioanalytical Chemistry 396: 609–618.
Acknowledgments
Penny and Terry Szwed for travel assistance; Association of North Central Oklahoma Reefkeepers, Paul Whitby and Advanced Aquatics, Tulsa OK for reef organisms.
Additional information
Handling editor: Vasilis Valavanis
About this article
Cite this article
McCoshum, S.M., Schlarb, A.M. & Baum, K.A. Direct and indirect effects of sunscreen exposure for reef biota. Hydrobiologia 776, 139–146 (2016). https://doi.org/10.1007/s10750-016-2746-2
Received:

Revised:

Accepted:

Published:

Issue Date:
Keywords
Sunscreen

Ecotourism

Coral reef

Soft coral

Contamination

Flatworms

Anemone