Abstract
Residential shoreline and watershed development by humans are leading agents of environmental change in lake ecosystems that reduce abundances and diversity of littoral invertebrates. Invertebrate functional and life history traits are robust indicators of environmental quality and ecosystem functioning, yet surprisingly few studies have utilized trait-based approaches to assess impacts of human development to lake littoral communities. We assessed environmental characteristics of human development that impact functional diversity and structure the trait composition of invertebrate communities in lakes of northwestern United States. Multiple linear regressions revealed that functional diversity declined with increasing watershed development, lake total phosphorus, and littoral macrophyte cover. Results from multivariate constrained ordination and fourth corner analysis indicated that high phosphorus concentrations and abundant macrophyte cover removed taxa with semivoltine life histories and filter feeders from lake communities, and that both regional ecosystem and local habitat characteristics of human development were important determinants of invertebrate community structure. Human development had particularly pronounced effects on invertebrate communities in the sublittoral zone, for which overall community abundances declined. Our study indicates that human development favors lake communities dominated by multivoltine taxa and herbivores, which may have important implications for energy flow among terrestrial, littoral, and pelagic food webs.
Access options
Buy single article
Instant access to the full article PDF.
US$ 39.95
Tax calculation will be finalised during checkout.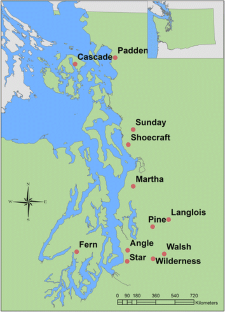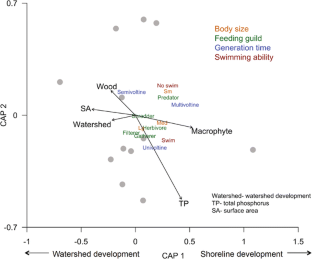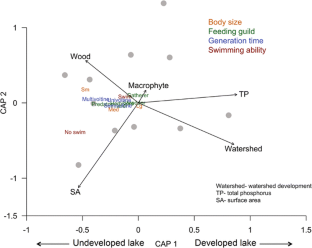 References
Anderson, M. J. & T. J. Willis, 2003. Canonical analysis of principal coordinates: a useful method of constrained ordination for ecology. Ecology 84: 511–525.

Angeler, D. G., C. R. Allen & R. K. Johnson, 2013. Measuring the relative resilience of subarctic lakes to global change: redundancies of functions within and across temporal scales. Journal of Applied Ecology 30: 572–584.

Arce, E., V. Archaimbault, C. P. Mondy & P. Usseglio-Polatera, 2014. Recovery dynamics in invertebrate communities following water-quality improvement: taxonomy- vs trait-based assessment. Freshwater Science 33: 1060–1073.

Baker, J. R., D. V. Peck & D. W. Sutton, 1997. Environmental monitoring and assessment program surface waters field operations manual for lakes. Environmental Protection Agency, U.S.

Barbour, M. T., J. Gerritsen, B. D. Snyder & J. B. Stribling, 1999. Rapid Bioassessment Protocols for Use in Streams and Wadeable Rivers: Periphyton, Benthic Macroinvertebrates and Fish, Second Edition. EPA 841-B-99-002. U.S. Environmental Protection Agency; Office of Water; Washington, D.C.

Bazzanti, M., L. Mastrantuono & A. G. Solimini, 2012. Selecting macroinvertebrate taxa and metrics to assess eutrophication at different depth zones of Mediterranean volcanic lakes. Fundamental and Applied Limnology 180: 133–143.

Botta-Dukát, Z., 2005. Rao's quadratic entropy as a measure of functional diversity based on multiple traits. Journal of Vegetation Science 16: 533–540.

Brauns, M., X.-F. Garcia, M. T. Pusch & N. Walz, 2007. Eulittoral macroinvertebrate communities of lowland lakes: discrimination among trophic states. Freshwater Biology 52: 1022–1032.

Brauns, M., B. Gucker, C. Wagner, X.-F. Garcia, N. Walz & M. T. Pusch, 2011. Human lakeshore development alters the structure and trophic basis of littoral food webs. Journal of Applied Ecology 48: 916–925.

Bray, J. R. & J. T. Curtis, 1957. An ordination of the upland forest communities of Southern Wisconsin. Ecological Monographs 48: 35–49.

Brown, R. A., 1981. Lakes as islands: biogeographic distribution, turnover rates, and species composition in the lakes of central New York. Journal of Biogeography 8: 75–83.

Caraco, N. F. & J. J. Cole, 2002. Contrasting impacts of a native and alien macrophyte on dissolved oxygen in a large river. Ecological Applications 12: 1496–1509.

Carpenter, S. R., N. F. Caraco, D. L. Correll, R. W. Howarth, A. N. Sharpley & V. H. Smith, 1998. Nonpoint source pollution of surface waters with phosphorus and nitrogen. Ecological Applications 8: 559–568.

Chessel, D., A. B. Dufour & J. Thioulouse, 2004. The ade4 package-I- One-table methods. R News 4: 5–10.

Christensen, D. L., B. R. Herwig, D. E. Schindler & S. R. Carpenter, 1996. Impacts of residential lakeshore development on coarse woody debris in north temperate lakes. Ecological Applications 6: 1143–1149.

Cloherty, T. M. & J. W. Rachlin, 2011. Physicochemical and shoreline development factors affecting lake littoral benthic macroinvertebrates. Journal of Freshwater Ecology 26: 517–525.

Covich, A. P., M. A. Palmer & T. A. Crowl, 1999. The role of benthic invertebrate species in freshwater ecosystems. Bioscience 49: 119–127.

Doledec, S., N. Phillips, M. Scarsbrook, R. H. Riley & C. R. Townsend, 2006. Comparison of structural and functional approaches to determining landuse effects on grassland stream invertebrate communities. Journal of the North American Benthological Society 25: 44–60.

Donohue, I., L. A. Donohue, B. N. Aínin & K. Irvine, 2009. Assessment of eutrophication pressure on lakes using littoral invertebrates. Hydrobiologia 633: 105–122.

Everett, R. A. & G. M. Ruiz, 1993. Coarse woody debris as a refuge from predation in aquatic communities. An experimental test. Oecologia 93: 475–486.

Francis, T. B. & D. E. Schindler, 2006. Degradation of littoral habitats by residential development: woody debris in lakes of the Pacific Northwest and Midwest, United States. AMBIO: A Journal of the Human Environment 35: 274–280.

Francis, T. B., D. E. Schindler, J. M. Fox & E. Seminet-Reneau, 2007. Effects of urbanization on the dynamics of organic sediments in temperate lakes. Ecosystems 10: 1057–1068.

Hansen, A. J., R. L. Knight, J. M. Marzluff, S. Powell, K. Brown, P. H. Gude & K. Jones, 2005. Effects of exurban development on biodiversity: patterns, mechanisms, and research needs. Ecological Applications 15: 1893–1905.

Hecky, R. E., R. E. H. Smith, D. R. Barton, S. J. Guildford, W. D. Taylor, M. N. Charlton & T. Howell, 2004. The nearshore phosphorus shunt: a consequence of ecosystem engineering by dreissenids in the Laurentian Great Lakes. Canadian Journal of Fisheries and Aquatic Sciences 61: 1285–1293.

Heino, J., 2008. Patterns of functional biodiversity and function-environment relationships in lake littoral macroinvertebrates. Limnology and Oceanography 53: 1446–1455.

Holm, S., 1979. A simple sequentially rejective multiple test procedure. Scandinavian Journal of Statistics 6: 65–70.

Jackson, D. A., P. Peres-Neto & J. D. Olden, 2001. What controls who is where in freshwater fish communities- the roles of biotic, abiotic, and spatial factors. Canadian Journal of Fisheries and Aquatic Sciences 58: 157–170.

Jankowski, K., D. E. Schindler & G. W. Holtgrieve, 2012. Assessing nonpoint-source nitrogen loading and nitrogen fixation in lakes using delta N-15 and nutrient stoichiometry. Limnology and Oceanography 57: 671–683.

Jeppesen, E., J. D. Jensen, M. Søndergaard, T. Lauridsen & F. Landkildehus, 2000. Trophic structure, species richness and biodiversity in Danish lakes: changes along a phosphorus gradient. Freshwater Biology 45: 201–218.

Johnson, R. K. & W. Goedkoop, 2002. Littoral macroinvertebrate communities: spatial scale and ecological relationships. Freshwater Biology 47: 1840–1854.

Kovalenko, K. E., V. J. Brady, J. J. H. Ciborowski, S. Ilyushkin & L. B. Johnson, 2014. Functional changes in littoral macroinvertebrate communities in response to watershed-level anthropogenic stress. PLoS One 9(7): e101499. doi:10.1371/journal.pone.0101499.

Laliberté, E. & P. Legendre, 2010. A distance-based framework for measuring functional diversity from multiple traits. Ecology 91: 299–305.

Lange, K., C. R. Townsend & C. D. Matthabi, 2014. Can biological traits of stream invertebrates help disentangle the effects of multiple stressors in an agricultural catchment? Freshwater Biology 59: 2431–2446.

Larson, E. R., J. D. Olden & N. Usio, 2011. Shoreline urbanization interrupts allochthonous subsidies to a benthic consumer over a gradient of lake size. Biology Letters 7: 551–554.

Legendre, P., R. Galzin & M. L. Harmelin-Vivien, 1997. Relating behavior to habitat: solutions to the fourth-corner problem. Ecology 78: 547–562.

McGoff, E., J. Aroviita, F. Pilotto, O. Miler, A. G. Solimini, G. Porst, T. Jurca, L. Donohue & L. Sandin, 2013a. Assessing the relationship between the Lake Habitat Survey and littoral macroinvertebrate communities in European lakes. Ecological Indicators 25: 205–214.

McGoff, E., A. G. Solimini, M. T. Pusch, T. Jurca & L. Sandin, 2013b. Does lake habitat alteration and land-use pressure homogenize European littoral macroinvertebrate communities? Journal of Applied Ecology 50: 1010–1018.

Merritt, R. W. & K. W. Cummins, 1996 (eds). An introduction to the aquatic insects of North America. Kendall Hunt, Dubuque.

Miler, O., G. Porst, E. McGoff, F. Pilotto, L. Donohue, T. Jurca, A. Solimini, L. Sandin, K. Irvine, J. Aroviita, R. Clarke & M. T. Pusch, 2013. Morphological alterations of lake shores in Europe: a multimetric ecological assessment approach using benthic macroinvertebrates. Ecological Indicators 34: 398–410.

Moore, J. W., D. E. Schindler, M. D. Scheuerell, D. Smith & J. Frodge, 2003. Lake eutrophication at the urban fringe, Seattle region, USA. AMBIO: A Journal of the Human Environment 32: 13–18.

Poff, N. L., 1997. Landscape filters and species traits: towards mechanistic understanding and prediction in stream ecology. Journal of the North American Benthological Society 16: 391–409.

Poff, N. L., J. D. Olden, N. K. M. Vieira, D. S. Finn, M. P. Simmons & B. C. Kondratieff, 2006. Functional trait niches of North American lotic insects: traits-based ecological applications in light of phylogenetic relationships. Journal of the North American Benthological Society 25: 730–755.

Porst, G., S. Bader, E. Münch & M. Pusch, 2012. Sampling approaches for the assessment of shoreline development based on littoral macroinvertebrates: the case of Lake Werbellin, Germany. Fundamental and Applied Limnology 180: 123–131.

Oksanen, J., F. G. Blanchet, R. Kindt, P. Legendre, P. R. Minchin, R. B. O'Hara, G. L. Simpson, P. Solymos, M. H. H. Stevens & H. Wagner. Package 'vegan' http://cran.r-project.org, https://github.com/vegandevs/vegan.

Olden, J. D., N. L. Poff & B. P. Bledsoe, 2006. Incorporating ecological knowledge into ecoinformatics: an example of modeling hierarchically structured aquatic communities with neural networks. Ecological Informatics 1: 33–42.

Pilotto, F., M. Bazzanti, V. Di Vito, D. Frosali, F. Livretti, L. Mastrantuono, M. T. Pusch, F. Sena & A. G. Solimini, 2015. Relative impacts of morphological alteration to shorelines and eutrophication on littoral macroinvertebrates in Mediterranean lakes. Freshwater Science 34: 410–422.

Pilotto, F., G. Free, A. C. Cardoso, G. Wolfram & A. G. Solimini, 2012. Spatial variance of profundal and sublittoral invertebrate benthic communities in response to eutrophication and morphological pressures. Fundamental and Applied Limnology 180: 101–110.

R Development Core Team, 2014. R: A language and environment for statistical computing. R Foundation for Statistical Computing, Vienna, Austria. ISBN 3-900051-07-0. http://www.R-project.org.

Richards, C., R. J. Haro, L. B. Johnson & G. E. Host, 1997. Catchment and reach-scale properties as indicators of macroinvertebrate species traits. Freshwater Biology 37: 219–231.

Schindler, D. E. & M. Scheurell, 2002. Habitat coupling in lake ecosystems. Oikos 98: 177–189.

Schleuter, D., M. Daufresne, F. Massol & C. Argillier, 2010. A user's guide to functional diversity indices. Ecological Monographs 80: 469–484.

Smith, R. F., P. D. Venugopal, M. E. Baker & W. O. Lamp, 2015. Habitat filtering and adult dispersal determine the taxonomic composition of stream insects in an urbanizing landscape. Freshwater Biology. doi:10.1111/fwb.12605.

Søndergaard, M., J. P. Jensen & E. Jeppesen, 2003. Role of sediment and internal loading of phosphorus in shallow lakes. Hydrobiologia 506–509: 135–145.

Southwood, T. R. E., 1977. Habitat, the templet for ecological strategies? Journal of Animal Ecology 46: 337–365.

Statzner, B. & L. A. Bêche, 2010. Can biological invertebrate traits resolve effects of multiple stressors on running water ecosystems? Freshwater Biology 55: 80–119.

Statzner, B., A. G. Hildrew & V. H. Resh, 2001. Species traits and environmental constraints: entomological research and the history of ecological theory. Annual Review of Entomology 46: 291–316.

Strayer, D. L. & S. E. G. Findlay, 2010. Ecology of freshwater shore zones. Aquatic Sciences 72: 127–163.

Strayer, D. L. & H. M. Malcolm, 2007. Submersed vegetation as habitat for invertebrates in the Hudson River estuary. Estuaries and Coasts 30: 253–264.

Strayer, D. L., C. Lutz, H. M. Malcolm, K. Munger & W. H. Shaw, 2003. Invertebrate communities associated with a native (Vallisneria americana) and an alien (Trapa natans) macrophyte in a large river. Freshwater Biology 48: 1938–1949.

Tamayo, M. & J. D. Olden, 2014. Forecasting the vulnerability of lakes to aquatic plant invasions. Plant Invasive Species Management 7: 32–45.

Thorp, J. H. & A. P. Covich, 2010. Ecology and classification of North American freshwater invertebrates. Academic Press, Amsterdam.

Thompson, R. & C. Townsend, 2006. A truce with neutral theory: local deterministic factors, species traits and dispersal limitation together determine patterns of diversity in stream invertebrates. Journal of Animal Ecology 75(2): 476–484.

Timm, H. & T. M. T. Möls, 2012. Littoral macroinvertebrates in Estonian lowland lakes: the effects of habitat, season, eutrophication and land use on some metrics of biological quality. Fund Appl Limnol. 180: 145–156.

Tolonen, K. T., H. Hämäläinen, I. J. Holopainen, K. Mikkonen & J. Karjalainen, 2003. Body size and substrate association of littoral insects in relation to vegetation structure. Hydrobiologia 499: 179–190.

Tolonen, K. T., I. J. Holopainen, H. Hamalainen, M. Rahkola- Sorsa, P. Ylostalo, K. Mikkonen & J. Karjalainen, 2005. Littoral species diversity and biomass: concordance among organismal groups and the effects of environmental variables. Biodiversity and Conservation 14: 961–980.

Townsend, C. R. & A. G. Hildrew, 1994. Species traits in relation to a habitat templet for river systems. Freshwater Biology 31: 265–275.

Townsend, C. R., S. Dolédec & M. R. Scarsbrook, 1997. Species traits in relation to temporal and spatial heterogeneity in streams: a test of habitat templet theory. Freshwater Biology 37: 367–387.

Twardochleb, L. A., 2015. Urban development modifies lake food webs in the Pacific Northwest. Master's Thesis, University of Washington, Seattle, WA.

Urbanič, G., 2014. A Littoral Fauna Index for assessing the impact of lakeshore alterations in Alpine lakes. Ecohydrol 7: 703–716.

U.S. Environmental Protection Agency (EPA), 2012. Freshwater Traits Database. Global Change Research Program, National Center for Environmental Assessment, Washington, DC; EPA/600/R-11/038F. Available from the National Technical Information Service, Springfield, VA, and online at http://www.epa.gov/ncea.

Vadeboncouer, Y. M., M. J. Vander Zanden & D. M. Lodge, 2002. Putting the lake back together: reintegrating benthic pathways into lake food web models. BioScience 52: 44–54.

Valderrama, J. C., 1981. The simultaneous analysis of total nitrogen and total phosphorus on natural waters. Marine Chemistry 10: 109–122.

Verberk, W. E. C. P., C. G. E. van Noordwijk & A. G. Hildrew, 2013. Delivering on a promise: integrating species traits to transform descriptive ecology into a predictive science. Freshwater Science 32: 531–537.

Villéger, S., N. W. H. Mason & D. Mouillot, 2008. New multidimensional functional diversity indices for a multifaceted framework in functional ecology. Ecology 89: 2290–2301.

Walters, A., 2011. Resistance of aquatic insects to a low-flow disturbance: exploring a trait-based approach. Journal of the North American Benthological Society 30: 346–356.

Weatherhead, M. A. & M. R. James, 2001. Distribution of macroinvertebrates in relation to physical and biological variables in the littoral zone of nine New Zealand lakes. Hydrobiologia 462: 115–129.

Wetzel, R. G. & G. E. Likens, 1991. Limnological analyses, 2nd ed. Springer-verlag, New York.
Acknowledgments
We thank Dave Beauchamp, Jennifer Ruesink, and Daniel Schindler for guidance during the study and two anonymous reviewers for comments that improved the manuscript. We also thank Meghan Rosewood for providing invaluable assistance in the field and laboratory. Financial support was provided by a National Science Foundation Graduate Research Fellowship (LAT), the University of Washington H. Mason Keeler Endowed Professorship (JDO), and the US Environmental Protection Agency Science to Achieve Results (STAR) Program (grant 833834) (JDO).
Additional information
Handling editor: Marcelo S. Moretti
About this article
Cite this article
Twardochleb, L.A., Olden, J.D. Human development modifies the functional composition of lake littoral invertebrate communities. Hydrobiologia 775, 167–184 (2016). https://doi.org/10.1007/s10750-016-2727-5
Received:

Revised:

Accepted:

Published:

Issue Date:
Keywords
Functional diversity

Lake habitat

Life history traits

Littoral macroinvertebrates

Urban development