Abstract
Water level fluctuations play a vital role in regulating macrophytes of shallow lakes. Morphology and growth dynamics of Phragmites australis, together with physico-chemical parameters of the sediment, were studied at stable (not degrading) and die-back (degrading) sites of Lake Balaton over an 8-year period that included low and average water levels. Lower water level increased plant density and green leaf number, positively affecting photosynthetically available leaf area. Nevertheless, rhizome carbohydrate content was not influenced by water level decrease. The physico-chemical parameters of the sediment did not vary greatly, although the nitrogen and phosphorus content and the midsummer redox potential of the sediment were higher at the low-water period. During the transition from average to low water levels, the sediment shifted from severely anoxic to poorly oxidised levels, with more favourable nutrient content, while the amount of ammonia and sulphides decreased, too. It was shown that lowering water levels could act on plants via increased redox potential of the sediment and could counteract the die-back of Phragmites, suggesting the effectiveness of water level decrease as a management practice to counter reed die-back.
Access options
Buy single article
Instant access to the full article PDF.
US$ 39.95
Tax calculation will be finalised during checkout.
Subscribe to journal
Immediate online access to all issues from 2019. Subscription will auto renew annually.
US$ 119
Tax calculation will be finalised during checkout.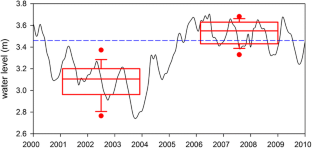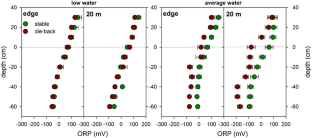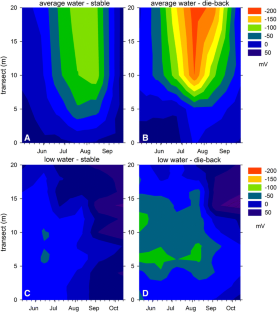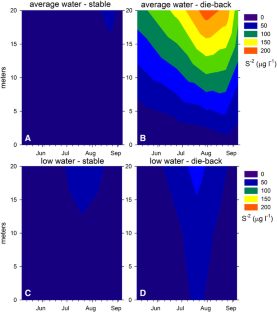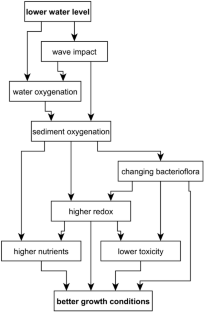 References
Armstrong, J. & W. Armstrong, 1991. A convective through-flow of gases in Phragmites australis (Cav.) Trin. ex Steud. Aquatic Botany 39: 75–88.

Armstrong, J. & W. Armstrong, 2001. An overview of the effects of phytotoxins on Phragmites australis in relation to die-back. Aquatic Botany 69: 251–268.

Armstrong, W., S. Justin, P. M. Beckett & S. Lythe, 1991. Root adaptation to soil waterlogging. Aquatic Botany 39: 57–73.

Armstrong, W., R. Brändle & M. B. Jackson, 1994. Mechanisms of flood tolerance in plants. Acta botanica Neerlandica: official publication of the Nederlandse Botanische Vereniging 43: 307–358.

Armstrong, J., R. E. Jones & W. Armstrong, 2006. Rhizome phyllosphere oxygenation in Phragmites and other species in relation to redox potential, convective gas flow, submergence and aeration pathways. New Phytologist 172: 719–731.

Baier, T. & E. Neuwirth, 2007. Excel : COM : R. Computational Statistics 22: 91–108.

Beckett, P. M., W. Armstrong & J. Armstrong, 2001. Mathematical modelling of methane transport by Phragmites: the potential for diffusion within the roots and rhizosphere. Aquatic Botany 69: 293–312.

Bendefy, L., & I. Nagy, 1969. A Balaton évszázados partvonalváltozási. Műszaki Könyvkiadó.

Blokhina, O., E. Virolainen & K. V. Fagerstedt, 2003. Antioxidants, oxidative damage and oxygen deprivation stress: a review. Annals of botany 91: 179.

Brinson, M. M., A. E. Lugo & S. Brown, 1981. Primary productivity, decomposition and consumer activity in freshwater wetlands. Annual Review of Ecology and Systematics 12: 123–161.

Brix, H., 1999. The European research project on reed die-back and progression (EUREED). Limnologica 29: 5–10.

Buzás, I., 1988. Soil-and Agrochemical Methods Manual. Parts 1-2. Mezőgazd. K.

Clevering, O. A., 1997. Effects of litter accumulation and water table on morphology and productivity of Phragmites australis. Wetlands Ecology and Management 5: 275–287.

Coops, H., F. W. van den Brink & G. van der Velde, 1996. Growth and morphological responses of four helophyte species in an experimental water-depth gradient. Aquatic Botany 54: 11–24.

Crawford, R. M. M. & R. Braendle, 1996. Oxygen deprivation stress in a changing environment. Journal of Experimental Botany 47: 145.

Den Hartog, C., J. Kvet & H. Sukopp, 1989. Reed. A common species in decline. Aquatic Botany 35: 1–4.

Dinka, M., P. Szeglet & I. Szabó, 1995. Hungarian Group Report Reed News Reports of EC Project EUREED - EV5 V-CT92-0083. Netherlands Institute of Ecology, The Netherlands: 96–107.

Dreywood, R., 1946. Qualitative test for carbohydrate material. Industrial & Engineering Chemistry Analytical Edition 18: 499.

Dusek, J., T. Picek & H. Cízková, 2008. Redox potential dynamics in a horizontal subsurface flow constructed wetland for wastewater treatment: diel, seasonal and spatial fluctuations. Ecological Engineering 34: 223–232.

Engloner, A. I. & M. Papp, 2006. Vertical differences in Phragmites australis culm anatomy along a water depth gradient. Aquatic Botany 85: 137–146.

Fiedler, S. & M. Sommer, 2004. Water and Redox Conditions in Wetland Soils—Their Influence on Pedogenic Oxides and Morphology. Soil Sci. Soc. Am. J. 68: 326–335.

Fürtig, K., A. Rüegsegger, C. Brunold & R. Brändle, 1996. Sulphide utilization and injuries in hypoxic roots and rhizomes of common reed (Phragmites australis). Folia Geobotanica 31: 143–151.

Hansen, D. L., C. Lambertini, A. Jampeetong & H. Brix, 2007. Clone-specific differences in Phragmites australis: effects of ploidy level and geographic origin. Aquatic Botany 86: 269–279.

Jackson, M. B., 2008. Ethylene-promoted Elongation: an Adaptation to Submergence Stress. Annals of Botany 101: 229–248.

Kovács, M., G. Turcsányi, Z. Tuba, S. E. Wolcsanszky, T. Vasarhelyi, A. Dely-Draskovits, S. Toth, A. Koltay, L. Kaszab, & P. Szoke, 1989. The decay of reed in Hungarian lakes. Symp. Biol. Hung.: 461–471.

Kubín, P. & A. Melzer, 1996. Does ammonium affect accumulation of starch in rhizomes of Phragmites australis (Cav.) Trin. ex Steud.? Folia Geobotanica 31: 99–109.

Kühl, H., H. Koppitz, H. Rolletschek & J.-G. Kohl, 1999. Clone specific differences in a Phragmites australis stand: I. Morphology, genetics and site description. Aquatic Botany 64: 235–246.

Ostendorp, W., 1989. "Die-back" of reeds in Europe – a critical review of literature. Aquatic Botany 35: 5–26.

Parent, C., N. Capelli, A. Berger, M. Crèvecoeur & J. F. Dat, 2008. An Overview of Plant Responses to Soil Waterlogging. Plant Stress 2: 20–27.

Paucá-Cománescu, M., O. A. Clevering, J. Hanganu & M. Gridin, 1999. Phenotypic differences among ploidy levels of Phragmites australis growing in Romania. Aquatic Botany 64: 223–234.

Romero, J. A., H. Brix & F. A. Comín, 1999. Interactive effects of N and P on growth, nutrient allocation and NH4 uptake kinetics by Phragmites australis. Aquatic Botany 64: 369–380.

Tóth, V. R., & K. Szabó, 2012. Morphometric structural analysis of Phragmites australis stands in Lake Balaton. Annales de Limnologie - International Journal of Limnology.

van der Putten, W. H., 1997. Die-back of Phragmites australis in European wetlands: an overview of the European Research Programme on Reed Die-back and Progression (1993-1994). Aquatic Botany 59: 263–275.

Vartapetian, B. B. & M. B. Jackson, 1997. Plant adaptations to anaerobic stress. Annals of Botany 79: 3.

Virág, Á., 1997. A Balaton múltja és jelene. Egri Nyomda.

Vretare Strand, V. & S. E. Weisner, 2002. Interactive effects of pressurized ventilation, water depth and substrate conditions on Phragmites australis. Oecologia 131: 490–497.

Vretare, V., S. E. Weisner, J. A. Strand & W. Granéli, 2001. Phenotypic plasticity in Phragmites australis as a functional response to water depth. Aquatic Botany 69: 127–145.

White, S. D. & G. G. Ganf, 2002. A comparison of the morphology, gas space anatomy and potential for internal aeration in Phragmites australis under variable and static water regimes. Aquatic Botany 73: 115–127.
Acknowledgments
This project was supported by NKFP 3B-022-04 and Grants from the Ministry of Local Government and Regional Development and Hungarian Academy of Sciences. The author is grateful to Stephanie C. J. Palmer for her help with the English of the text.
Additional information
Guest editors: M. Beklioğlu, M. Meerhoff, T. A. Davidson, K. A. Ger, K. E. Havens & B. Moss / Shallow Lakes in a Fast Changing World
About this article
Cite this article
Tóth, V.R. Reed stands during different water level periods: physico-chemical properties of the sediment and growth of Phragmites australis of Lake Balaton. Hydrobiologia 778, 193–207 (2016). https://doi.org/10.1007/s10750-016-2684-z
Received:

Revised:

Accepted:

Published:

Issue Date:
Keywords
Redox potential

Morphology

Growth dynamics

Carbohydrates

Water level changes