Abstract
The importance of competition among stream salamanders and other stream vertebrates in headwater systems is understudied. We conducted a replicated artificial stream experiment to evaluate competitive interactions among three common vertebrates. In this experiment, we measured change in body condition of salamanders in the black-bellied dusky complex (Desmognathus quadramaculatus/folkertsi) in the presence of two different fish species, Common Creek Chub (Semotilus atromaculatus) and Coosa Darter (Etheostoma coosae). There was no statistically significant change in body condition between the control and darter present treatments. However, salamander body condition was significantly reduced in the presence of the creek chubs suggesting an asymmetric competitive interaction between those two species. While predation is often cited as a potential mechanism limiting the distribution of stream species, the role of interspecific competition may be just as vital. Overall, our results highlight that competition, and not solely predation, may explain why some stream salamanders are restricted to headwater reaches.
Access options
Buy single article
Instant access to the full article PDF.
USD 39.95
Price includes VAT (USA)
Tax calculation will be finalised during checkout.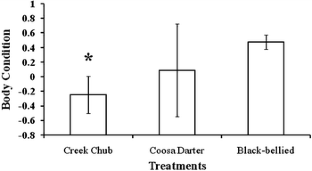 References
Aarssen, L. W., 1983. Ecological combining ability and competitive ability in plants: toward a general evolutionary theory of coexistence in systems of competition. American Naturalis 122: 707–731.

Baxter, C. V., K. D. Fausch, M. Murakami & P. L. Chapman, 2004. Fish invasion restructures stream and forest food webs by interrupting reciprocal prey subsidies. Ecology 85: 2656–2663.

Beachy, C. K., 1993. Guild structure in streamside salamander communities: a test for interactions among larval plethodontid salamanders. Journal of Herpetology 27: 465–468.

Beachy, C. K., 1994. Community ecology in streams effects of two species of predatory salamanders on a prey species of salamander. Herpetologica 50: 129–136.

Bruce, R. C., 1985. Larval periods, population structure and the effects of stream drift in larvae of the salamanders Desmognathus quadramaculatus and Leurognathus marmoratus in a southern Appalachian stream. Copeia 1985: 847–854.

Burton, T. M. & G. E. Likens, 1975. Energy flow and nutrient cycling in salamander populations in the Hubbard Brook Experimental Forest, New Hampshire. Ecology 56: 1068–1080.

Camp, C. D., 1997. The status of the black-bellied salamander (Desmognathus quadramaculatus) as a predator of heterospecific salamanders in Appalachian streams. Journal of Herpetology 31: 613–616.

Camp, C. D. & T. P. Lee, 1996. Intraspecific spacing and interaction within a population of Desmognathus quadramaculatus. Copeia 1996: 78–84.

Connell, J. H., 1980. Diversity and the coevolution of competitors, or the ghost of competition past. Oikos 35: 131–138.

Connell, J. H., 1983. On the prevalence and relative importance of interspecific competition: evidence from field experiments. American Naturalist 122: 661–696.

Davenport, J. M. & W. H. Lowe, 2015. Does dispersal influence the strength of intraspecific competition in a stream salamander? Journal of Zoology. doi:10.1111/jzo.12282. (In press).

Davic, R. D., 1991. Ontogenetic shift in diet of Desmognathus quadramaculatus. Journal of Herpetology 25: 108–111.

Davic, R. D. & H. H. Welsh Jr, 2004. On the ecological roles of salamanders. Annual Review of Ecology, Evolution, and Systematics 35: 405–434.

Etnier, D. A. & W. C. Starnes, 1993. The Fishes of Tennessee. The University of Tennessee Press, Knoxville, Tennessee.

Fraser, D. F. & T. E. Sise, 1980. Observations on stream minnows in a patchy environment: a test of a theory of habitat distribution. Ecology 61: 790–797.

Gido K.B. &. Jackson D.A. (eds), 2010. Community Ecology of Stream Fishes: Concepts, Approaches, and Techniques. American Fisheries Society, Symposium 73, Bethesda, Maryland.

Gurevitch, J., L. Morrow, A. Wallace & J. S. Walsh, 1992. A meta-analysis of field experiments in competition. American Naturalist 140: 539–572.

Gustafson, M. 1993. Intraguild predation among larval plethodontid salamanders: a field experiment in artificial stream pools. Oecologia 96: 271–275.

Gustafson, M. P., 1994a. Intraguild predation among larval plethodontid salamanders: a field experiment in artificial stream pools. Oecologia 96: 271–275.

Gustafson, M. P., 1994b. Size-specific interactions among larvae of the plethodontid salamanders Gyrinophilus porphyriticus and Eurycea cirrigera. Journal of Herpetology 28: 470–476.

Hairston Sr, N. G., 1986. Species packing in Desmognathus salamanders: experimental demonstration of predation and competition. American Naturalist 127: 266–291.

Hairston Sr, N. G., 1987. Community Ecology and Salamander Guilds. Cambridge University Press, Cambridge.

Holomuzki, J. R., J. P. Collins & P. E. Brunkow, 1994. Trophic control of fishless ponds by tiger salamander larvae. Oikos 71: 55–64.

Keen, W. H., 1982. Habitat selection and interspecific competition in two species of plethodontid salamanders. Ecology 63: 94–102.

Kleeberger, S. R., 1984. A test of competition in two sympatric populations of desmognathine salamanders. Ecology 65: 1846–1856.

Knight, T. M., M. W. McCoy, J. M. Chase, K. A. McCoy & R. D. Holt, 2005. Trophic cascades across ecosystems. Nature 437: 880–883.

Lotrich, V. A., 1973. Growth, production, and community composition of fishes inhabiting a first-, second-, and third-order stream of eastern Kentucky. Ecological Monographs 43: 377–397.

Lowe, W. H., K. H. Nislow & D. T. Bolger, 2004. Stage-specific and interactive effects of sedimentation and trout on a headwater stream salamander. Ecological Applications 14: 164–172.

Matthews, W. J., K. B. Gido, G. P. Garrett, F. P. Gelwick, J. G. Stewart & J. Schaefer, 2006. Modular experimental riffle-pool stream system. Transactions of the American Fisheries Society 135: 1559–1566.

McIntosh, A. R. & C. R. Townsend, 1996. Interactions between fish, grazing invertebrates, and algae in a New Zealand stream: a trophic cascade mediated by fish-induced changes to grazer behavior? Oecologia 108: 174–181.

Milanovich, J. R., J. C. Maerz & A. D. Rosemund, 2015. Stoichiometry and estimates of nutrient standing stocks of larval salamanders in Appalachian headwater streams. Freshwater Biology 60: 1340–1353.

Nakano, S., H. Miyasaka & N. Kuhara, 1999. Terrestrial-aquatic linkages: riparian arthropod inputs alter trophic cascades in a stream food web. Ecology 80: 2435–2441.

Peig, J. & A. J. Green, 2009. New perspectives for estimating body condition from mass/length data: the scaled mass index as an alternative method. Oikos 118: 1883–1891.

Peig, J. & A. J. Green, 2010. The paradigm of body condition: a critical reappraisal of current methods based on mass and length. Functional Ecology 24: 1323–1332.

Peterman, W. E., J. A. Crawford & R. D. Semlitsch, 2008. Productivity and significance of headwater streams: population structure and biomass of the black-bellied salamander (Desmognathus quadramaculatus). Freshwater Biology 53: 347–357.

Petranka, J. W., 1983. Fish predation: a factor affecting the spatial distribution of a stream-breeding salamander. Copeia 1983: 624–628.

Petranka, J. W., 1998. Salamanders of the United States and Canada. Smithsonian Institution Press, Washington, DC.

Petranka, J. W. & S. S. Murray, 2001. Effectiveness of removal sampling for determining salamander density and biomass: a case study in an Appalachian streamside community. Journal of Herpetology 35: 36–44.

Pflieger, W. L., 1997. The Fishes of Missouri. The Conservation Commission of the State of Missouri, Jefferson City.

Quist, M. C., M. R. Bower & W. A. Hubert, 2006. Summer food habits and trophic overlap of roundtail chub and creek chub in Muddy Creek, Wyoming. Southwestern Naturalist 51: 22–27.

R Core Team, 2014. R: A Language and Environment for Statistical Computing. R Foundation for Statistical Computing, Vienna.

Regester, K. J., M. R. Whiles & C. M. Taylor, 2006. Decomposition rates of salamander (Ambystoma maculatum) life stages and associated energy and nutrient fluxes in ponds and adjacent forest in southern Illinois. Copeia 2006: 640–649.

Resetarits Jr, W. J., 1991. Ecological interactions among predators in experimental stream communities. Ecology 72: 1782–1793.

Resetarits Jr, W. J., 1995a. Competitive asymmetry and coexistence in size-structured populations of brook trout and spring salamanders. Oikos 73: 188–198.

Resetarits Jr, W. J., 1995b. Limiting similarity and the intensity of competitive effects on the mottled sculpin, Cottus bairdi, in experimental stream communities. Oecologia 104: 31–38.

Resetarits Jr, W. J., 1997. Differences in an ensemble of streamside salamanders (Plethodontidae) above and below a barrier to brook trout. Amphibia-Reptilia 18: 15–25.

Rudolf, V. H. W., 2006. The influence of size-specific indirect interactions in predator–prey systems. Ecology 87: 362–371.

Rudolf, V. H. W., 2008. Impact of cannibalism on predator-prey dynamics: size-structured interactions and apparent mutualism. Ecology 89: 1650–1660.

Schoener, T. W., 1983. Field experiments on interspecific competition. American Naturalist 122: 240–285.

Semlitsch, R. D., K. M. O'Donnell & F. R. Thompson III, 2014. Abundance, biomass production, nutrient content, and the possible role of terrestrial salamanders in the Missouri Ozark forest ecosystems. Canadian Journal of Zoology 92: 997–1004.

Sih, A., S. Crowley, M. McPeek, J. Petranka & K. Strohmeier, 1985. Predation, competition, and prey communities: a review of field experiments. Annual Review of Ecology & Systematics 16: 269–311.

Spaeth, J. P. 2008. Competitive interactions and associated assemblage dynamics in congeneric darters of the Pascagoula drainage. Master's Thesis, University of Southern Mississippi, Hattiesburg, MS.

Southerland, M. T., 1986a. Behavioral interactions among four species of the salamander genus Desmognathus. Ecology 67: 175–181.

Southerland, M. T., 1986b. Coexistence of three congeneric salamanders: the importance of habitat and body size. Ecology 67: 721–728.

Southerland, M. T., R. E. Jung, D. P. Baxter, I. C. Chellman, G. Mercurio & J. H. Volstad, 2004. Stream salamanders as indicators of stream quality in Maryland, USA. Applied Herpetology 2: 23–46.

Vanni, M. J. 2010. Preface: when and where do fish have strong effects on stream ecosystems processes? In Gido K. B. & D. A. Jackson (eds), Community Ecology of Stream Fishes: Concepts, Approaches, and Techniques. American Fisheries Society, Symposium 73, Bethesda, Maryland: 531–538.

Vannote, R. L., G. W. Minshall, K. W. Cummins, J. R. Sedell & C. E. Cushing, 1980. The river continuum concept. Canadian Journal of Fisheries and Aquatic Sciences 37: 130–137.

Watson, M. B., T. K. Pauley & C. D. Camp, 2005. Desmognathus quadramaculatus (Holbrook, 1840) Black-bellied salamanders. In Lannoo, M. J. (ed.), Amphibian Declines. University of California Press, Berkeley, California: 723–726.

Wipfli, M. S., J. S. Richardson & R. J. Naiman, 2007. Ecological linkages between headwaters and downstream ecosystems: transport of organic matter, invertebrates, and wood down headwater channels. Journal of the American Water Resources Association 43: 72–85.

Wilbur, H. M., 1972. Competition, predation, and the structure of the Ambystoma-Rana sylvatica community. Ecology 53: 3–21.

Young, K. A., 2004. Asymmetric competition, habitat selection, and niche overlap in juvenile salmonids. Ecology 85: 134–149.
Acknowledgments
We thank Christine Bock and Dave Collins of the Tennessee Aquarium for sharing space for our streams. We would like to acknowledge Sarah Hazzard, Andy Kerr, Bernie Kuhajda, and Rodney Fuller for assisting in various aspects of this project. This project was funded by the Aquarium and Zoo Facilities Association's Clark Waldram Conservation Fund. All animals were collected under the appropriate permits.
Additional information
Handling editor: Lee B. Kats
About this article
Cite this article
Ennen, J.R., Davenport, J.M. & Alford, K.F. Evidence for asymmetric competition among headwater stream vertebrates. Hydrobiologia 772, 207–213 (2016). https://doi.org/10.1007/s10750-016-2661-6
Received:

Revised:

Accepted:

Published:

Issue Date:
Keywords
Desmognathus

Fish

Headwater stream

Interspecific competition

Plethodontidae

Salamander