Abstract
While the syntopic nature of many intertidal fish communities suggest that resources such as food are shared, little has been done to assess the importance of diet on the coexistence of intertidal fish of the U.K. In this study, six intertidal fish species (shanny, Lipophrys pholis, Blenniidae; long-spined scorpion fish, Taurulus bubalis, Cottidae; two-spotted goby, Gobiusculus flavescens, Gobiidae; rock goby, Gobius paganellus, Gobiidae; plaice, Pleuronectes platessa, Pleuronectidae; butterfish, Pholis gunnellus, Pholidae) were collected from two sites along the east coast of England (Filey and Thornwick Bay) and two sites around the coast of the Isle of Anglesey, North Wales (Rhosneigr and Penrhos), during summer and winter. A comparison of the diets of those in the highest abundances (L. pholis, T. bubalis and G. flavescens) found that, in general, prey preferences were dissimilar between species, albeit with some slight overlap, and therefore it could be said that diet acts as an important mechanism of interspecific coexistence.
Access options
Buy single article
Instant access to the full article PDF.
USD 39.95
Price excludes VAT (USA)
Tax calculation will be finalised during checkout.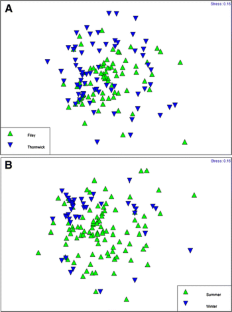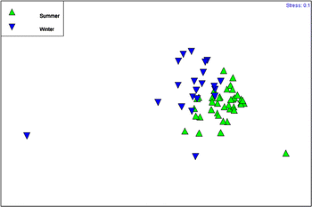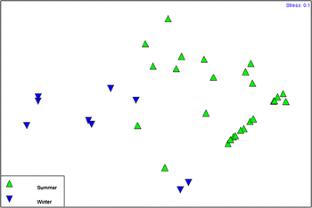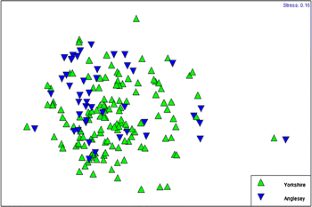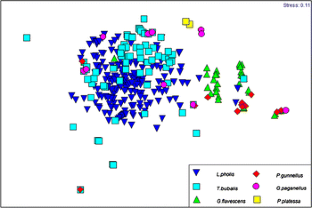 References
Barrett, C. J., M. L. Johnson & S. L. Hull, 2014. The mechanisms of intertidal fish coexistence: a model. PeerJ PrePrints 2: e660v1.

Case, T. J., 1983. Niche overlap and the assembly of island lizard communities. Oikos 41: 427–433.

Clarke, K. R. & R. N. Gorley, 2001. PRIMER v5: User manual/tutorial. PRIMER-E, Plymouth.

Clarke, K. R. & R. M. Warwlck, 1994. Changes in marine communities: an approach to statistical analysis and interpretation. Natural Environmental Research Council, Plymouth.

Crisp, D. J., 1964. The effects of the severe winter of 1962-1963 on marine life in Britain. The Journal of Animal Ecology 33: 165–210.

Dadzie, S., F. Abou-Seedo & E. Al-Qattan, 2000. The food and feeding habits of the silver pomfret, Pampus argenteus, (Euphrasen) in Kuwait waters. Journal of Applied Ichthyology 16: 61–67.

Denny, M. W. & S. D. Gaines, 2007. Encyclopedia of Tidepools and Rocky Shores. University of California Press, California.

Gause, G. F, 1934. The struggle for existence, in: Hardin, G. (1960). The competitive exclusion principle, Science, New Series 131: 1292–1297.

Gibson, R. N., 1999. In: Intertidal Fishes: Life in Two Worlds. Academic Press, San Diego.

Griffiths, S. P., 2000. The use of clove oil as an anaesthetic and method for sampling intertidal rockpool fishes. Journal of Fish Biology 57: 1453–1464.

Griffiths, S.P, 2002. Structure and dynamics of rockpool fish assemblages in Southeastern Australia. Doctor of Philosophy thesis, Department of Environmental Science, University of Wollongong, Australia.

Hayward, P. J. & J. S. Ryland, 1995. Handbook of the Marine Fauna of North-West Europe. Oxford University Press, Oxford.

Horn, M. H., K. L. M. Martin & M. A. Chotkowski, 1999. Intertidal Fishes: Life in Two Worlds. Academic Press, San Diego.

Hull, S. L., 1999. Comparison of tidepool phytal ostracod abundance and assemblage structure on three spatial scales. Marine Ecology Progress Series 182: 201–209.

Hull, S. L., L. J. Winter & G. W. Scott, 2001. Habitat heterogeneity, body size and phenotypic diversity in Idotea granulosa (Isopoda) on the north-east coast of England. Journal of the Marine Biological Association of the U.K. 81: 949–954.

Irons, D. B., R. G. Anthony & J. A. Estes, 1986. Foraging strategies of Glaucous-winged Gulls in a rocky intertidal community. Ecology 67: 1460–1474.

Johnson, L. J., P. J. Mill, S. L. Hull, P. Ducrotoy & K. J. Caley, 2000. Seasonal patterns in the reproductive activity of barnacle-dwelling littorinids. Journal of the Marine Biological Association of the U.K. 80: 821–826.

Mason, N. W. H., C. Lanoiselee, D. Mouillot, J. B. Wilson & C. Argillier, 2008. Does niche overlap control relative abundance in French lacustrine fish communities? A new method incorporating functional traits. Journal of Animal Ecology 77: 661–669.

Mazé, R. A., J. Domínguez & D. Pérez-Cardenal, 1999. Diet of Lipophrys pholis (L.) (Teleostei, Blenniidae) in Cantabrian coastal waters (Spain). Acta Oecologica 20: 435–448.

Monteiro, N. M., S. M. Quinteira, K. Silva, M. N. Vieira & V. C. Almada, 2005. Diet preference reflects the ontogenetic shift in microhabitat use in Lipophrys pholis. Journal of Fish Biology 67: 102–113.

Norton, S. F. & A. E. Cook, 1999. Intertidal Fishes: Life in Two Worlds. Academic Press, San Diego.

Pita, R., A. Mira & P. Beja, 2011. Assessing habitat differentiation between coexisting species: the role of spatial scale. Acta Oecologica 37: 124–132.

Šimková, A., M. Ondračková, M. Gelnar & S. Morand, 2002. Morphology and coexistence of congeneric ectoparasite species: reinforcement of reproductive isolation? Biological Journal of the Linnean Society 76: 125–135.

Solandt, J-L. & Lightfoot, P., 2010. Seasearch survey report of Flamborough head no take zone: a report to North Eastern Sea Fisheries Committee.

Smith, C., 1991. Filial Cannibalism as a reproductive strategy in care-giving teleosts? Netherlands Journal of Zoology 42: 607–613.

Taylor, A. R., 2004. The newsletter of the British Phycological Society. The Phycologist 66: 1–40.

Tucker Jr, J. W. & A. J. Chester, 1984. Effects of salinity, formalin concentration and buffer on quality of preservation of southern flounder, Paralichthys lethostigma, larvae. Copeia 4: 981–988.

Utne, A. C. W., D. L. Aksnes & J. Giske, 1993. Food, predation risk and shelter: an experimental study on the distribution of adult two-spotted goby Gobiusculus flavescens (Fabricius). Journal of Experimental Marine Biology and Ecology 166: 203–216.

Velasco, E. M., M. C. Gómez-Cama, J. A. Hermando & M. C. Soriguer, 2009. Trophic relationships in an intertidal rockpool fish assemblage in the gulf of Cádiz (NE Atlantic). Journal of Marine Systems 80: 248–252.

Vinuesa, J. H., 2007. Molt and reproduction of the European green crab Carcinus maenas (Decapoda: Portunidae) in Patagonia, Argentina. International Journal of Tropical Biology and Ecology and Conservation 55: 49–54.
Additional information
Handling editor: Vasilis Valavanis
About this article
Cite this article
Barrett, C.J., Johnson, M.L. & Hull, S.L. Diet as a mechanism of coexistence between intertidal fish species of the U.K.. Hydrobiologia 768, 125–135 (2016). https://doi.org/10.1007/s10750-015-2537-1
Received:

Revised:

Accepted:

Published:

Issue Date:

DOI: https://doi.org/10.1007/s10750-015-2537-1
Keywords