Abstract
The succession amongst different cyanobacteria genera remains understudied and poorly understood as much of the focus has been on mono-specific blooms. The spring–summer succession between Aphanizomenon flos-aquae and Microcystis and its underlying mechanism were investigated from 2009 to 2012 in hypereutrophic Dianchi Lake in China. Regularly, A. flos-aquae grows rapidly and forms bloom in March at water temperatures around 15°C, followed by Microcystis blooming around 18°C in April. Since 2010, the pattern of succession has changed, featuring an increase of Microcystis but decrease of A. flos-aquae biovolume, leading to near disappearance of A. flos-aquae in 2012. Coincidently, there was a sharp increase of nitrogen concentration in 2010, going up to 5.67 mg/l in 2011, and a big increase in the mass ratio of TN to TP from 13.6 in 2009 to 21.1 in 2011. We hypothesized that temperature is the most influential factor governing the initiation of rapid growth and succession between A. flos-aquae and Microcystis, while increase of TN and/or ratio of TN to TP may trigger the decline and disappearance of A. flos-aquae, time of recruitment, and the population dynamics of Microcystis. Our findings are not only meaningful to the understanding of the cyanobacterial bloom mechanism but also to the management of shallow eutrophic lakes.
Access options
Buy single article
Instant access to the full article PDF.
US$ 39.95
Tax calculation will be finalised during checkout.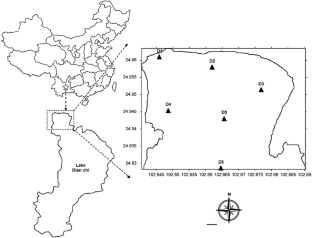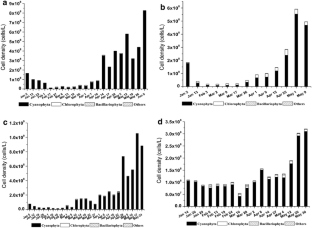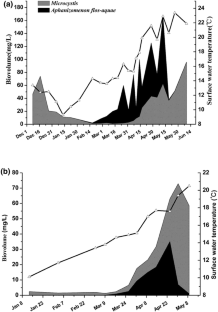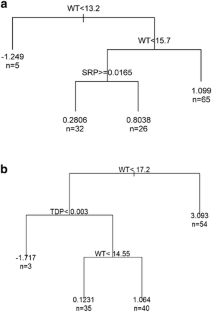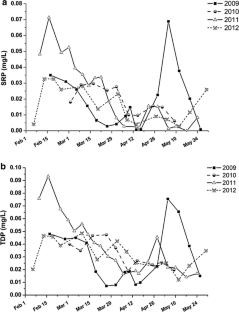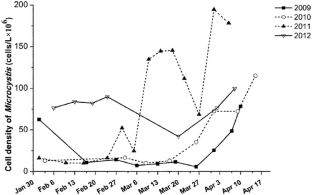 References
APHA, 1995. Standard Methods for the Examination of Water and Wastewater (19th edn). American Public Health Association, American Water Works Association, Water Environment Federation.

Atoui, A., H. Hafez & K. Slim, 2013. Occurrence of toxic cyanobacterial blooms for the first time in Lake Karaoun, Lebanon. Water and Environment Journal 27: 29–42.

Baker, K. K., 1981. Ecology and taxonomy of five natural populations of the genus Aphanizomenon Morren (Cyanophyceae). Archiv Fur Hydrobiologie 92: 222–251.

Breiman, L., J. H. Freidman, R. A. Olshen & C. J. Stone, 1984. Classification and Regression Trees. Wadsworth and Brooks/Cole, Monterey, California, USA.

Carey, C. C., B. W. Ibelings, E. P. Hoffmann, D. P. Hamilton & J. D. Brookes, 2012. Eco-physiological adaptations that favour freshwater cyanobacteria in a changing climate. Water Research 46: 1394–1407.

Ebina, J., T. Tsutsui & T. Shirai, 1983. Simultaneous determination of total nitrogen and total phosphorus in water using peroxodisulfate oxidation. Water Research 17: 1721–1726.

Hu, H. & Y. Wei, 2006. The Freshwater Algae of China – Systematics, Taxonomy and Ecology (in Chinese with Latin name, latin name index). Science, Beijing, China.

Huisman, J. & F. Weissing, 2001. Biological conditions for oscillations and chaos generated by multispecies competition. Ecology 82: 2682–2695.

Jones, R. I., 1979. Notes on the growth and sporulation of a natural population of Aphanizomenon flos-aquae. Hydrobiologia 62: 55–58.

Komárek, J. & J. Komárková, 2002. Review of the European Microcystis-morphospecies (cyanoprokaryotes) from nature. Czech Phycology 2: 1–24.

Kong, F. & L. Song, 2011. The formation and environmental characteristics of water-blooms blue–green algae (in Chinese). Science, Beijing.

Konopka, A. & T. D. Brock, 1978. Effect of temperature on blue–green algae (cyanobacteria) in Lake Mendota. Applied and Environmental Microbiology 36: 572–576.

Lehman, E. M., K. E. McDonald & J. T. Lehman, 2009. Whole lake selective withdrawal experiment to control harmful cyanobacteria in an urban impoundment. Water Research 43: 1187–1198.

Li, Y., M. Zhang & R. Wang, 2005. The temporal and spatial variation of the cyanobacteria which caused the water bloom in the Dianchi Lake, Kunming, China. Journal of Yunnan University (Natural Sciences Edition) 27: 272–276 (in Chinese).

Likens, G. E., 2010. Plankton of inland waters. Academic, Oxford, UK.

Liu, W. & R. Qiu, 2007. Water eutrophication in China and the combating strategies. Journal of Chemical Technology and Biotechnology 82: 781–786.

Liu, Y., W. Chen, D. Li, Y. Shen, G. Li & Y. Liu, 2006. First report of aphantoxins in China – water blooms of toxigenic Aphanizomenon flos-aquae in Dianchi Lake. Ecotoxicology and Environmental Safety 65: 84–92.

Messineo, V., S. Melchiorre, A. Di Corcia, P. Gallo & M. Bruno, 2010. Seasonal succession of Cylindrospermopsis raciborskii and Aphanizomenon ovalisporum blooms with cylindrospermopsin occurrence in the volcanic Lake Albano, Central Italy. Environmental Toxicology 25: 18–27.

Moisander, P. H., M. Ochiai & A. Lincoff, 2009. Nutrient limitation of Microcystis aeruginosa in northern California Klamath River reservoirs. Harmful Algae 8: 889–897.

Oliver, R. L. & G. G. Ganf, 2000. Freshwater blooms. In Whitton, B. A. & M. Potts (eds), The Ecology of Cyanobacteria. Kluwer Academic, Dordrecht, The Netherlands: 149–194.

Paerl, H. W., H. Xu, M. J. McCarthy, G. Zhu, B. Qin, Y. Li & W. S. Gardner, 2011. Controlling harmful cyanobacterial blooms in a hyper-eutrophic lake (Lake Taihu, China): the need for a dual nutrient (N & P) management strategy. Water Research 45: 1973–1983.

Scheffer, M. & S. R. Carpenter, 2003. Catastrophic regime shifts in ecosystems: linking theory to observation. Trends in Ecology & Evolution 18: 648–656.

Šejnohová, L. & B. Maršálek, 2012. Microcystis. In Whitton, B. A. (ed.), Ecology of Cyanobacteria II. Springer, Dordrecht, The Netherlands: 195–228.

Shen, H., 2007. Studies on physiological and biochemical responses to and competition for phosphorus in two bloom-forming cyanobacteria. [D] Graduate school of the Chinese academy of sciences (in Chinese).

Soares, M. C. S., M. I. de A Rocha, M. M. Marinho, S. M. F. O. Azevedo, C. W. Branco & V. L. Huszar, 2009. Changes in species composition during annual cyanobacterial dominance in a tropical reservoir: physical factors, nutrients and grazing effects. Aquatic Microbial Ecology 57: 137–149.

Takano, K. & S. Hino, 2000. Effect of temperature and soluble reactive phosphorus on abundance of Aphanizomenon flos-aquae (Cyanophyceae). Phycological Research 48: 9–13.

Teubner, K., R. Feyerabend, M. Henning, A. Nicklisch, P. Woitke & J. G. Kohl, 1999. Alternative blooming of Aphanizomenon flos-aquae or Planktothrix agardhii induced by the timing of the critical nitrogen: phosphorus ratio in hypertrophic riverine lakes. Archives of Hydrobiology 54: 325–344.

Therneau, T. M., & B. Atkinson, 2009. Rpart: recursive partitioning. R package version 3.1-45 [available on internet at http://CRAN.R-project.org/package=rpart].

Tsujimura, S., K. Ishikawa & H. Tsukada, 2001. Effect of temperature on growth of the cyanobacteriumAphanizomenonflos-aquae in Lake Biwa and Lake Yogo. Phycological Research 49: 275–280.

Tsukada, H., S. Tsujimura & H. Nakahara, 2006. Seasonal succession of phytoplankton in Lake Yogo over 2 years: effect of artificial manipulation. Limnology 7: 3–14.

Üveges, V., K. Tapolczai, L. Krienitz & J. Padisák, 2012. Photosynthetic characteristics and physiological plasticity of an Aphanizomenonflos-aquae (cyanobacteria, Nostocaceae) winter bloom in a deep oligo-mesotrophic lake (Lake Stechlin, Germany). Hydrobiologia 698: 263–272.

Wan, N., L. Song, N. Wang & J. Liu, 2008. The spatio-temporal distribution of algal biomass in Dianchi Lake and its impact factors. Acta Hydrobiologica Sinica 32: 184–188 (in Chinese with English abstract).

Wu, W., G. Li, D. Li & Y. Liu, 2010. Temperature may be the dominating factor on the alternant succession of Aphanizomenonflos-aquae and Microcystis aeruginosa in Dianchi Lake. Fresenius Environmental Bulletin 19: 846–853.

Xu, H., H. W. Paerl, B. Qin, G. Zhu & G. Gao, 2010. Nitrogen and phosphorus inputs control phytoplankton growth in eutrophic Lake Taihu, China. Limnology and Oceanography 55: 420–432.

Yamamoto, Y., 2009. Environmental factors that determine the occurrence and seasonal dynamics of Aphanizomenon flos-aquae. Journal of Limnology 68: 122–132.

Yamamoto, Y. & H. Nakahara, 2005. The formation and degradation of cyanobacterium Aphanizomenon flos-aquae blooms: the importance of pH, water temperature, and day length. Limnology 6: 1–6.
Acknowledgments
This work was supported by the National Basic Research Program of China (2008CB418006), NSF–Yunnan Joint Key Project (U0833604), the National Science Foundation of China (31300362), and the Major Science and Technology Program for Water Pollution Control and Treatment (2013ZX07102-005). Most work was conducted in Dianchi Lake Field Station of Institute of Hydrobiology, Chinese Academy of Science.
Additional information
Handling editor: David Philip Hamilton
About this article
Cite this article
Wu, Y., Li, L., Zheng, L. et al. Patterns of succession between bloom-forming cyanobacteria Aphanizomenon flos-aquae and Microcystis and related environmental factors in large, shallow Dianchi Lake, China. Hydrobiologia 765, 1–13 (2016). https://doi.org/10.1007/s10750-015-2392-0
Received:

Revised:

Accepted:

Published:

Issue Date:
Keywords
Cyanobacterial bloom

Succession

Microcystis
Aphanizomenon flos-aquae

Dianchi Lake