Abstract
The reliable determination of the total phosphorus (P) content stored in aquatic biota is essential for studies on nutrient stoichiometry, as well as for effective lake management measures. However, a variety of methods are found in the literature for sample P content determination, which renders it necessary to assess whether the data reported in different studies are comparable. We used different combinations of combustion durations, acid types and acid concentrations for sample digestion, and measured P concentrations subsequently with the standard colorimetric method. In addition, P contents of samples were assayed by ICP–OES and MP–AES methods. Our results confirmed that the variability among studies using different methods may explain some of the reported intraspecific and interspecific variation. We found that duration of combustion exerted the most important influence on the P retrieval, while acid type and acidity of the hydrolysing solution did not substantially influence the efficiency of sample digestion. We recommend using 8 h of combustion and 0.3 N HCl for acid hydrolysis prior to the colorimetric P analysis, and urge standardisation in the P analyses of biotic samples so as to obtain reliable results and data comparable among different studies.
Access options
Buy single article
Instant access to the full article PDF.
USD 39.95
Price excludes VAT (USA)
Tax calculation will be finalised during checkout.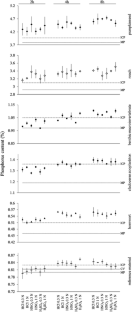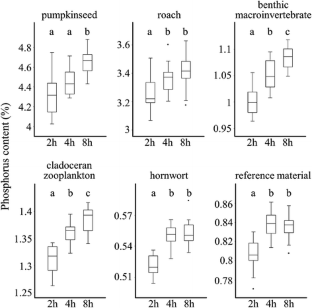 References
Benstead, J. P., J. M. Hood, N. V. Whelan, M. R. Kendrick, D. Nelson, A. F. Hanninen & L. M. Demi, 2014. Coupling of dietary phosphorus and growth across diverse fish taxa: a meta-analysis of experimental aquaculture studies. Ecology 95: 2768–2777.

Boros, G., I. Tátrai & S. A. Nagy, 2009. Using high-pressure Teflon bomb digestion in phosphorus determination of aquatic animals. International Journal of Limnology 45: 55–58.

Boros, G., J. Jyväsjärvi, P. Takács, A. Mozsár, I. Tátrai, M. Søndergaard & R. I. Jones, 2012. Between–lake variation in the elemental composition of roach (Rutilus rutilus L.). Aquatic Ecology 46: 385–394.

Brönmark, C. & L. A. Hansson, 2005. The Biology of Lakes and Ponds. Oxford University Press, Oxford.

Carpenter, S. R., K. L. Cottingham & D. E. Schindler, 1992. Biotic feedbacks in lake phosphorus cycles. Trends in Ecology and Evolution 7: 332–336.

Claeson, S. M., J. L. Li, J. E. Compton & P. A. Bisson, 2006. Response of nutrients, biofilm, and benthic insects to salmon carcass addition. Canadian Journal of Fisheries and Aquatic Sciences 63: 1230–1241.

Czamanski, M., A. Nugraha, P. Pondaven, M. Lasbleiz, A. Masson, N. Caroff, R. Bellail & P. Tréguer, 2011. Carbon, nitrogen and phosphorus elemental stoichiometry in aquacultured and wild–caught fish and consequences for pelagic nutrient dynamics. Marine Biology 158: 2847–2862.

Dodson, S. I., 2005. Introduction to Limnology. McGraw Hill, New York.

El–Sabaawi, R. W., T. J. Kohler, E. Zandoná, J. Travis, M. C. Marshall, S. A. Thomas, D. N. Reznick, M. Walsh, J. F. Gilliam, C. Pringle & A. S. Flecker, 2012. Environmental and organismal predictors of intraspecific variation in the stoichiometry of a neotropical freshwater fish. Plos One 7: 1–12.

Fehér, M., E. Baranyai, E. Simon, P. Bársony, I. Szücs, J. Posta & L. Stündl, 2013. The interactive effect of cobalt enrichment in Artemia on the survival and larval growth of barramundi, Lates calcarifer. Aquaculture 414–415: 92–99.

Frost, P. C., J. P. Benstead, W. F. Cross, H. Hillebrand, J. H. Larson, M. A. Xenopoulos & T. Yoshida, 2006. Threshold elemental ratios of carbon and phosphorus in aquatic consumers. Ecology Letters 9: 774–779.

Griffiths, D., 2006. The direct contribution of fish to lake phosphorus cycles. Ecology of Freshwater Fish 15: 86–95.

Hendrixson, H. A., R. W. Sterner & A. D. Kay, 2007. Elemental stoichiometry of freshwater fishes in relation to phylogeny, allometry and ecology. Journal of Fish Biology 70: 121–140.

Kufel, L. & I. Kufel, 2002. Chara beds acting as nutrient sinks in shallow lakes – a review. Aquatic Botany 72: 249–260.

Pai, S.-C., C.-C. Yang & J. P. Riley, 1990. Effects of acidity and molybdate concentration on the kinetics of the formation of the phosphoantimonylmolybdenum blue complex. Analitica Chimica Acta 229: 115–120.

Parmenter, R. R. & V. A. Lamarra, 1991. Nutrient cycling in a freshwater marsh–the decomposition of fish and waterfowl carrion. Limnology and Oceanography 36: 976–987.

Pilati, A. & M. J. Vanni, 2007. Ontogeny, diet shifts, and nutrient stoichiometry in fish. Oikos 116: 1663–1674.

Rodushkin, I., T. Ruth & A. Huhtasaari, 1999. Comparison of two digestion methods for elemental determinations in plant material by ICP techniques. Analytica Chimica Acta 378: 191–200.

Rønsholdt, B., 1995. Effect of size/age and feed composition on body composition and phosphorus content of rainbow trout Oncorhynchus mykiss. Water Science and Technology 31: 175–183.

Shearer, K. D., 1984. Changes in elemental composition of hatchery-reared rainbow trout, Salmo gairdneri, associated with growth and reproduction. Canadian Journal of Fisheries and Aquatic Sciences 41: 1592–1600.

Sterner, R. W., 2008. On the phosphorus limitation paradigm for lakes. International Review of Hydrobiology 93: 433–445.

Sterner, R. W. & J. J. Elser, 2002. Ecological Stoichiometry: The Biology of Elements from Molecules to the Biosphere. Princeton University Press, Princeton.

Sterner, R. W. & N. B. George, 2000. Carbon, nitrogen and phosphorus stoichiometry of cyprinid fishes. Ecology 81: 127–140.

Strickland, J. D. H. & T. R. Parsons, 1972. A Practical Handbook of Seawater Analysis. Fisheries Research Board of Canada, Ottawa.

Tanner, D. K., E. N. Leonard & J. C. Brazner, 1999. Microwave digestion method for phosphorus determination of fish tissue. Limnology and Oceanography 44: 708–709.

Tanner, D. K., J. C. Brazner & V. J. Brady, 2000. Factors influencing carbon, nitrogen, and phosphorus content of fish from a Lake Superior coastal wetland. Canadian Journal of Fisheries and Aquatic Sciences 57: 1243–1251.

Tarvainen, M., J. Sarvala & H. Helminen, 2002. The role of phosphorus release by roach (Rutilus rutilus L.) in the water quality changes of a biomanipulated lake. Freshwater Biology 47: 2325–2336.

Vrede, T., S. Drakare, P. Eklöv, A. Hein, A. Liess, J. Olsson, J. Persson, M. Quevedo, R. Stabo & R. Svenback, 2011. Ecological stoichiometry of Eurasian perch – intraspecific variation due to size, habitat and diet. Oikos 120: 886–896.

Walve, J. & U. Larsson, 1999. Carbon, nitrogen and phosphorus stoichiometry of crustacean zooplankton in the Baltic Sea: implications for nutrient recycling. Journal of Plankton Research 21: 2309–2321.
Acknowledgments
The authors would like to thank M. J. Vanni, S. Palmer, S. Harangi, E. Baranyai, Z. Vital and Z. Poller for help with laboratory work and manuscript preparation. We acknowledge the contribution of Agilent Technologies and the Novo-Lab Ltd. (Hungary) for providing the ICP-OES 720 and the MP-AES 4100.
Additional information
Handling editor: Judit Padisák
About this article
Cite this article
Boros, G., Mozsár, A. Comparison of different methods used for phosphorus determination in aquatic organisms. Hydrobiologia 758, 235–242 (2015). https://doi.org/10.1007/s10750-015-2293-2
Received:

Revised:

Accepted:

Published:

Issue Date:

DOI: https://doi.org/10.1007/s10750-015-2293-2
Keywords