Abstract
Ovabunda is a common genus of the family Xeniidae in the Red Sea. In the current study, 70 Ovabunda colonies were collected in Eilat (Gulf of Aqaba) and evaluated for inter- and intra-species variation, both morphologically and genetically, using three mitochondrial genes (mtMutS, COI, ND2) and the nuclear 28S rDNA. The purpose of the study was to elucidate species boundaries within the genus and determine which morphological characters are congruent with genetic clades. We found a large intraspecific variation in morphological characters and therefore faced difficulties when trying to assign colonies to species based on classical taxonomy. Genetic analyses revealed that the morphospecies did not cluster according to their classification but, rather, in two groups: one comprising colonies with pulsating polyps and the other with non-pulsating polyps. Comparisons of SNP sites in 28S among parents and their respective offspring suggest that the pulsating and non-pulsating groups are reproductively isolated, as we did not find any of the heterozygotes that would be expected if cross-fertilization existed between the two clades. Based on these findings, we recommend further documentation of polyp pulsation in the study of other genera of the family Xeniidae.
This is a preview of subscription content,
to check access.
Access this article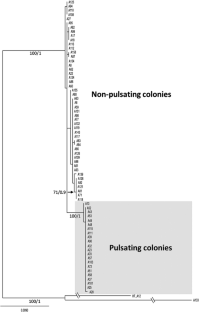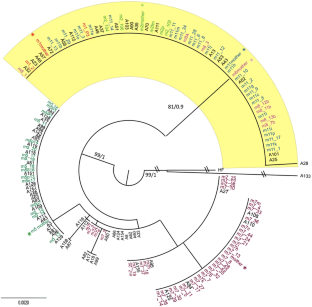 Similar content being viewed by others
References
Achituv, Y., Y. Benayahu & J. Hanania, 1992. Planulae brooding and acquisition of zooxanthellae in Xenia macrospiculata (Cnidaria: Octocorallia). Helgoländer Meeresuntersuchungen 46: 301–310.

Alderslade, P., 2001. Six new genera and six new species of soft corals, and some proposed familial and subfamilial changes within the Alcyonacea (Coelenterata: Octocorallia). Bulletin of the Biological Society of Washington 10: 15–65.

Benayahu, Y., 1991. Reproduction and developmental pathways of Red Sea Xeniidae (Octocorallia, Alcyonacea). In Coelenterate Biology: Recent Research on Cnidaria and Ctenophora. Springer, Dordrecht: 125–130.

Benayahu, Y., 2010. A new genus of a soft coral of the family Xeniidae (Cnidaria: Octocorallia) from Japan. Galaxea, Journal of Coral Reef Studies 12: 53–64.

Benayahu, Y. & Y. Loya, 1981. Competition for space among coral-reef sessile organisms at Eilat, Red Sea. Bulletin of Marine Science 31: 514–522.

Benayahu, Y. & Y. Loya, 1984a. Life history studies on the Red Sea soft coral Xenia macrospiculata Gohar, 1940. I. Annual dynamics of gonadal development. The Biological Bulletin 166: 32–43.

Benayahu, Y. & Y. Loya, 1984b. Life history studies on the Red Sea soft coral Xenia macrospiculata Gohar, 1940. II. Planulae shedding and post larval development. The Biological Bulletin 166: 44–53.

Benayahu, Y. & Y. Loya, 1984c. Substratum preferences and planulae settling of two red sea alcyonaceans: Xenia macrospiculata Gohar and Parerythropodium fulvum fulvum (Forskål). Journal of Experimental Marine Biology and Ecology 83: 249–260.

Benayahu, Y. & Y. Loya, 1985. Settlement and recruitment of a soft coral: why is Xenia macrospiculata a successful colonizer? Bulletin of Marine Science 36: 177–188.

Benayahu, Y., T. Yosief & M. H. Schleyer, 2002. Soft corals (Octocorallia, Alcyonacea) of the southern Red Sea. Israel Journal of Zoology 48: 273–283.

Berntson, E. A., F. M. Bayer, A. G. McArthur & S. C. France, 2001. Phylogenetic relationships within the Octocorallia (Cnidaria: Anthozoa) based on nuclear 18S rRNA sequences. Marine Biology 138: 235–246.

Concepcion, G. T., M. W. Crepeau, D. Wagner, S. E. Kahng & R. J. Toonen, 2008. An alternative to ITS, a hypervariable, single-copy nuclear intron in corals, and its use in detecting cryptic species within the octocoral genus Carijoa. Coral Reefs 27: 323–336.

Daly, M., M. R. Brugler, P. Cartwright, A. G. Collins, M. N. Dawson, D. G. Fautin, S. C. France, C. S. McFadden, D. M. Opresko & E. Rodriguez, 2007. The phylum Cnidaria: a review of phylogenetic patterns and diversity 300 years after Linnaeus. Zootaxa 1668: 127–182.

Darriba, D., G. L. Taboada, R. Doallo & D. Posada, 2012. jModelTest 2: more models, new heuristics and parallel computing. Nature Methods 9: 772.

Drummond, A. J., B. Ashton, M. Cheung, J. Heled, M. Kearse, R. Moir, S. Stones-Havas, T. Thierer & A. Wilson, 2009. Geneious Pro v47.

Ehrenberg, G. C., 1834. Beitrage zur physiologischen Kenntniss der Corallenthiere im allgemeinen, und besonders des rothen Meeres, Nebst einem Versuche zur physiologischen Systematik derselben. Abhandlungen der Königlichen Akademie der Wissenschaften zu Berlin: 225–287.

Folmer, O., M. Black, W. Hoeh, R. Lutz & R. Vrijenhoek, 1994. DNA primers for amplification of mitochondrial cytochrome c oxidase subunit I from diverse metazoan invertebrates. Molecular Marine Biodiversity and Biotechnology 3: 294–299.

Gabay, Y., Y. Benayahu & M. Fine, 2013. Does elevated pCO2 affect reef octocorals? Ecology and Evolution 3: 465–473.

Gilbert, M. T. P., W. Moore, L. Melchior & M. Worobey, 2007. DNA extraction from dry museum beetles without conferring external morphological damage. PLoS One 2: e272.

Gohar, H. A. F., 1940. Studies on the Xeniidae of the Red Sea. Their Ecology, Physiology, Taxonomy and Phylogeny. Publications of the Marine Biological Station, Ghardaqa (Red Sea).

Halàsz, A., C. S. McFadden, D. Aharonivich, R. Toonen & Y. Benayahu, 2014. A revision of the octocoral genus Ovabunda (Alderslade, 2001)(Anthozoa, Octocorallia, Xeniidae). ZooKeys 373: 1–41.

Haverkort-Yeh, R. D., C. S. McFadden, Y. Benayahu, M. Berumen, A. Halàsz & R. J. Toonen, 2013. A taxonomic survey of Saudi Arabian Red Sea octocorals (Cnidaria: Alcyonacea). Marine Biodiversity 43: 279–291.

Hickson, S. J., 1931. The alcyonarian family Xeniidae, with a revision of the genera and species. Great Barrier Reef Expedition 4: 137–179.

Huelsenbeck, J. P. & F. Ronquist, 2001. MRBAYES: Bayesian inference of phylogenetic trees. Bioinformatics 17: 754–755.

Kashman, Y. & A. Groweiss, 1980. New diterpenoids from the soft corals Xenia macrospiculata and Xenia obscuronata. The Journal of Organic Chemistry 45: 3814–3824.

Janes, M., C. S. McFadden & T. Chanmenthakul, 2014. A new species of Ovabunda (Octocorallia, Xeniidae) from the Andaman Sea, Thailand with notes on the biogeography of this genus. Zookeys 431: 1–17.

Kimura, M., 1980. A simple method for estimating evolutionary rates of base substitutions through comparative studies of nucleotide sequences. Journal of Molecular Evolution 16: 111–120.

Kremien, M., U. Shavit, T. Mass & A. Genin, 2013. Benefit of pulsation in soft corals. Proceedings of the National Academy of Sciences 110: 8978–8983.

Lepard, A. B., 2003. Analysis of variation in the mitochondrial encoded MSH1 in the genus Leptogorgia (Cnidaria: Octocorallia) and implications for population and systematics studies. M.S. thesis, University of Charleston, Charleston, SC.

McFadden, C. S. & L. P. van Ofwegen, 2013. A second, cryptic species of the soft coral genus Incrustatus (Anthozoa: Octocorallia: Clavulariidae) from Tierra del Fuego, Argentina, revealed by DNA barcoding. Helgoland Marine Research 67: 137–147.

McFadden, C. S., I. D. Tullis, M. B. Hutchinson, K. Winner & J. A. Sohm, 2004. Variation in coding (NADH dehydrogenase subunits 2, 3, and 6) and noncoding intergenic spacer regions of the mitochondrial genome in Octocorallia (Cnidaria: Anthozoa). Marine Biotechnology 6: 516–526.

McFadden, C. S., S. C. France, J. A. Sánchez & P. Alderslade, 2006. A molecular phylogenetic analysis of the Octocorallia (Cnidaria: Anthozoa) based on mitochondrial protein-coding sequences. Molecular Phylogenetics and Evolution 41: 513–527.

McFadden, C. S., L. P. van Ofwegen, E. J. Beckman, Y. Benayahu & P. Alderslade, 2009. Molecular systematics of the speciose Indo-Pacific soft coral genus, Sinularia (Anthozoa: Octocorallia). Invertebrate Biology 128: 303–323.

McFadden, C. S., Y. Benayahu, E. Pante, J. N. Thoma, P. A. Nevarez & S. C. France, 2011. Limitations of mitochondrial gene barcoding in Octocorallia. Molecular Ecology Resources 11: 19–31.

McFadden, C. S., A. S. Brown, C. Brayton, C. B. Hunt & L. P. van Ofwegen, 2014a. Application of DNA barcoding in biodiversity studies of shallow-water octocorals: molecular proxies agree with morphological estimates of species richness in Palau. Coral Reefs: 1–12.

McFadden, C. S., M. A. Reynods & P. M. Janes, 2014b. DNA barcoding of xeniid soft corals (Octocorallia: Alcyonacea: Xeniidae) from Indonesia: species richness and phylogenetic relationships. Systematics and Biodiversity 12: 1–11.

Reinicke, G. B., 1997. Xeniidae (Coelenterate: Octocorallia) of the Red Sea, with descriptions of six new species of Xenia. Fauna of Saudi Arabia 16: 5–62.

Ronquist, F. & J. P. Huelsenbeck, 2003. MrBayes 3: Bayesian phylogenetic inference under mixed models. Bioinformatics 19: 1572–1574.

Sánchez, J. A., C. S. McFadden, S. C. France & H. R. Lasker, 2003. Molecular phylogenetic analyses of shallow-water Caribbean octocorals. Marine Biology 142: 975–987.

Silvestro, D. & I. Michalak, 2012. raxmlGUI: a graphical front-end for RAxML. Organisms Diversity & Evolution 12: 335–337.

Shlesinger, T., 2014. Recruitment and mortality of corals in the coral reefs of Eilat. M.Sc. thesis, Tel Aviv University, Tel Aviv.

Stamatakis, A., 2006. RAxML-VI-HPC: maximum likelihood-based phylogenetic analyses with thousands of taxa and mixed models. Bioinformatics 22: 2688–2690.

Stemmer, K., I. Burghardt, C. Mayer, G. B. Reinicke, H. Wägele, R. Tollrian & F. Leese, 2013. Morphological and genetic analyses of xeniid soft coral diversity (Octocorallia; Alcyonacea). Organisms Diversity & Evolution 13: 135–150.

Tamura, K., D. Peterson, N. Peterson, G. Stecher, M. Nei & S. Kumar, 2011. MEGA5: molecular evolutionary genetics analysis using maximum likelihood, evolutionary distance, and maximum parsimony methods. Molecular Biology and Evolution 28: 2731–2739.

Toonen, R. J., J. B. Puritz, Z. H. Forsman, J. Whitney, I. Fernandez-Silva, K. Andrews & C. E. Bird, 2013. ezRAD: a simplified method for genomic genotyping in non-model organisms. PeerJ 1: e203.

Verseveldt, J., 1960. Biological results of the Snellius-Expedition XX. Octocorallia from the Malay Archipelago (Part 1). Temminckia 10: 209–251.

Verseveldt, J., 1974. Alcyonacea (Octocorallia) from the Red Sea, with a discussion of a new Sinularia species from Ceylon. Israel Journal of Zoology 23: 1–37.

Verseveldt, J. & J. Cohen, 1971. Some new species of Octocorallia from the Gulf of Elat (Red Sea). Israel Journal of Zoology 20: 53–67.

Wild, C. & M. S. Naumann, 2013. Effect of active water movement on energy and nutrient acquisition in coral reef-associated benthic organisms. Proceedings of the National Academy of Sciences 110: 8767–8768.

Yacobovitch, T., V. M. Weis & Y. Benayahu, 2003. Development and survivorship of zooxanthellate and azooxanthellate primary polyps of the soft coral Heteroxenia fuscescens: laboratory and field comparisons. Marine Biology 142: 1055–1063.

Yang, Y., 2005. Can the strengths of AIC and BIC be shared? A conflict between model identification and regression estimation. Biometrika 92: 937–950.
Acknowledgments
Support for this project came from the U.S.–Israeli Binational Science Foundation Grant #2008186 to Y.B., C.S.M. & R.J.T. and from the Israel Taxonomy Initiative (ITI). This research (Applications DE-TAF-662, AT TAF 2064, and GB TAF 3027) received support from the SYNTHESYS Project http://www.synthesys.info/which is financed by European Community Research Infrastructure Action under the FP7 "Capacities" Program. It also was in part supported by a Temminck Fellowship, the Naturalis Biodiversity Center, and The Israel Cohen Chair in Environmental Zoology to Y.B. We thank curators of the following museums for examination of material in their possession: A. Cabrinovic, The Natural History Museum London (BML); A.D. Chipman, National History collections of the Hebrew University of Jerusalem (HUJ); J. Jurkowska, Museum of Natural History, Wroclaw University, Poland (MNHHWU); H. Sattmann, The Naturhistorisches Museum Wien (NHMW); L.P. van Ofwegen, the Naturalis Biodiversity Center, formerly Rijksmuseum van Natuurlijke Historie, Leiden (RMNH); M. Grasshoff, Senckenberg Naturmuseum Frankfurt (SMF); and C. Lüter, Zoologisches Museum Berlin (ZMB). We thank The Interuniversity Institute for Marine Sciences (IUI) for assistance and use of facilities. We acknowledge A. Shlagman for professional curatorial skills, M. Weis for technical assistance and N. Paz for editorial assistance. We would like to thank C. Gochev, Y. Bar-On, and G. Ovadia for their help in the field work and the first two for colony and planulae maintenance; many thanks to N. Chernihovsky and M. Chernihovsky for colony collection using technical dives; we greatly appreciate D. Huchon and K. Tamar and for assistance with the phylogenetic analyses. This work was carried out by A.H. as partial fulfillment of the requirements for a PhD degree at Tel Aviv University.
Additional information
Guest editors: Yehuda Benayahu, Oren Levy & Tamar Lotan / Coelenterate Biology: Advanced Studies on Cnidaria and Ctenophora
Electronic supplementary material
Below is the link to the electronic supplementary material.
About this article
Cite this article
Halàsz, A., Reynolds, A.M., McFadden, C.S. et al. Could polyp pulsation be the key to species boundaries in the genus Ovabunda (Octocorallia: Alcyonacea: Xeniidae)?. Hydrobiologia 759, 95–107 (2015). https://doi.org/10.1007/s10750-014-2106-z
Received:

Revised:

Accepted:

Published:

Issue Date:

DOI: https://doi.org/10.1007/s10750-014-2106-z
Keywords