Abstract
Urban freshwaters provide a range of ecosystem services, including stormwater management, water treatment, biodiversity, and aesthetics. Management of freshwaters should aim to maximise as many of these services as possible, but managers are often focused on individual services. To test for the biodiversity value of stormwater management ponds (SMPs) in Ottawa, Canada, 20 SMPs were surveyed for macroinvertebrates using standardised sampling techniques. These were compared against 10 wetlands that were not managed for stormwater control (a combination of ornamental lakes, natural lakes, and nature reserves) in and around the same urban area (a total of 30 ponds). Natural wetlands and SMPs were very different in their water chemistry, which was correlated with the proportion of urban land use within 1 km of the site, with higher conductivity in SMPs with increasing urban land cover (P = 0.046). Despite this, natural wetlands and the richest SMPs contained similar levels of biodiversity and similar macroinvertebrate community structure. This study highlights that stormwater management can occur alongside biodiversity enhancement in urban areas, but correlations between urban land use, water chemistry, and the structure of biological communities suggests that run-off from urban areas is likely a major factor in structuring biological communities in built-up regions.
Access options
Buy single article
Instant access to the full article PDF.
USD 39.95
Price includes VAT (USA)
Tax calculation will be finalised during checkout.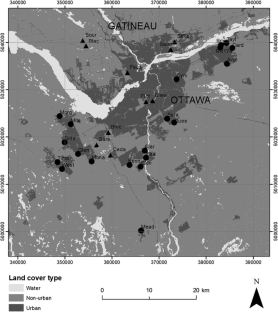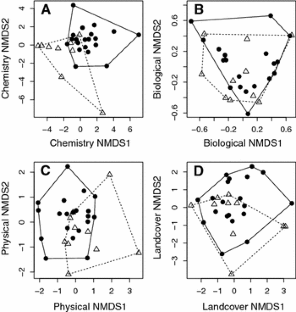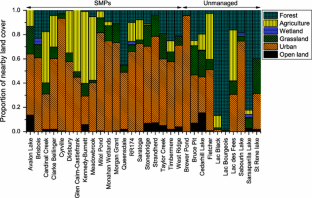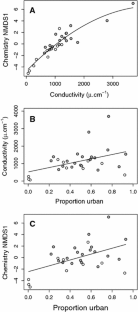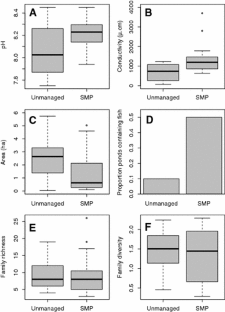 References
Ackley, J. W. & P. A. Meylan, 2010. Watersnake Eden: use of stormwater retention ponds by mangrove salt marsh snakes (Nerodia clarkii compressicauda) in urban Florida. Herpetological Conservation and Biology 5: 17–22.

Barton, K., 2013. MuMIn: Multi-model inference. http://CRAN.R-project.org/package=MuMIn, R package version 1.9.13.

Benbow, M. & R. Merritt, 2004. Road-salt toxicity of select Michigan wetland macroinvertebrates under different testing conditions. Wetlands 24: 68–76.

Birx-Raybuck, D., S. Price & M. Dorcas, 2010. Pond age and riparian zone proximity influence anuran occupancy of urban retention ponds. Urban Ecosystems 13: 181–190.

Blakely, T. J., J. S. Harding, A. R. McIntosh & M. J. Winterbourn, 2006. Barriers to the recovery of aquatic insect communities in urban streams. Freshwater Biology 51: 1634–1645.

Brand, A. B. & J. W. Snodgrass, 2010. Value of artificial habitats for amphibian reproduction in altered landscapes. Conservation Biology 24: 295–301.

Clements, R., L. P. Koh, T. M. Lee, R. Meier & D. Li, 2006. Importance of reservoirs for the conservation of freshwater molluscs in a tropical urban landscape. Biological Conservation 128: 136–146.

Davies, B., J. Biggs, P. Williams, M. Whitfield, P. Nicolet, D. Sear, S. Bray & S. Maund, 2008. Comparative biodiversity of aquatic habitats in the European agricultural landscape. Agriculture, Ecosystems & Environment 125: 1–8.

Dinh Van, K., L. Janssens, S. Debecker & R. Stoks, 2014. Temperature- and latitude-specific individual growth rates shape the vulnerability of damselfly larvae to a widespread pesticide. Journal of Applied Ecology 51: 919–928.

Downing, J. A., Y. T. Prairie, J. J. Cole, C. M. Duarte, L. J. Tranvik, R. G. Striegel, W. H. McDowell, P. Kortelainen, N. F. Caraco, J. M. Melack & J. J. Middelburg, 2006. The global abundance and size distribution of lakes, ponds and impoundments. Limnology and Oceanography 51: 2388–2397.

Downing, J. A., J. J. Cole, J. J. Middelburg, R. G. Striegel, C. M. Duarte, P. Kortelainen, Y. T. Prairie & K. A. Laube, 2008. Sediment organic carbon burial in agriculturally eutrophic impoundments over the last century. Global Biogeochemical Cycles 22:GB1018.

Dudgeon, D., A. H. Arthington, M. O. Gessner, Z. I. Kawabata, D. J. Knowler, C. Lévêque, R. J. Naiman, A. H. Prieur-Richard, D. Soto, M. L. J. Stiassny & C. A. Sullivan, 2006. Freshwater biodiversity: importance, threats, status and conservation challenges. Biological Reviews 81: 163–182.

Durance, I. & S. J. Ormerod, 2008. Trends in water quality and discharge confound long-term warming effects on river macroinvertebrates. Freshwater Biology 54: 388–405.

Environment Agency and Ponds Conservation Trust, 2002. A guide to monitoring the ecological quality of ponds and canals using PSYM. PCTPR, Oxford.

Foltz, S. & S. Dodson, 2009. Aquatic Hemiptera community structure in stormwater retention ponds: a watershed land cover approach. Hydrobiologia 621: 49–62.

Gagné, S. & L. Fahrig, 2007. Effect of landscape context on anuran communities in breeding ponds in the National Capital Region, Canada. Landscape Ecology 22: 205–215.

Gledhill, D. G., P. James & D. H. Davies, 2008. Pond density as a determinant of aquatic species richness in an urban landscape. Landscape Ecology 23: 1219–1230.

Goertzen, D. & F. Suhling, 2013. Promoting dragonfly diversity in cities: major determinants and implications for urban pond design. Journal of Insect Conservation 17: 399–409.

Hamer, A. J. & K. M. Parris, 2010. Local and landscape determinants of amphibian communities in urban ponds. Ecological Applications 21: 378–390.

Hamer, A., P. Smith & M. McDonnell, 2012. The importance of habitat design and aquatic connectivity in amphibian use of urban stormwater retention ponds. Urban Ecosystems 15: 451–471.

Hassall, C., 2014. The ecology and biodiversity of urban ponds. WIREs Water 1: 187–206.

Hassall, C., J. Hollinshead & A. Hull, 2011. Environmental correlates of plant and invertebrate species richness in ponds. Biodiversity and Conservation 20: 3189–3222.

Hitchings, S. P. & T. J. C. Beebee, 1997. Genetic substructuring as a result of barriers to gene flow in urban Rana temporaria (common frog) populations: implications for biodiversity conservation. Heredity 79: 117–127.

Jones, F. C., K. M. Somers, B. Craig & T. B. Reynoldson, 2007. Ontario Benthos Biomonitoring Network: Protocol Manual. Queen's Printer for Ontario, Toronto.

Karraker, N. E., J. P. Gibbs & J. R. Vonesh, 2008. Impacts of road deicing salt on the demography of vernal pool-breeding amphibians. Ecological Applications 18: 724–734.

Le Viol, I., J. Mocq, R. Julliard & C. Kerbiriou, 2009. The contribution of motorway stormwater retention ponds to the biodiversity of aquatic macroinvertebrates. Biological Conservation 142: 3163–3171.

Lomolino, M. V., 2000. Ecology's most general, yet protean pattern: the species-area relationship. Journal of Biogeography 27: 17–26.

Marsalek, J., 2003. Road salts in urban stormwater: an emerging issue in stormwater management in cold climates. Water Science and Technology 48: 61–70.

McCarthy, K. & R. Lathrop, 2011. Stormwater basins of the New Jersey coastal plain: subsidies or sinks for frogs and toads? Urban Ecosystems 14: 395–413.

McKinney, M. L., 2008. Effects of urbanization on species richness: a review of plants and animals. Urban Ecosystems 11: 161–176.

Mitsch, W. J. & J. G. Gosselink, 2000. The value of wetlands: importance of scale and landscape setting. Ecological Economics 35: 25–33.

Nassauer, J. I., 2004. Monitoring the success of metropolitan wetland restorations: cultural sustainability and ecological function. Wetlands 24: 756–765.

Natural Resources Canada, 2009. Geobase: Land Cover, circa 2000-Vector. Center for Topographic Information, Earth Sciences Sector. Natural Resources Canada, Sherbrooke.

Navis, S., A. Waterkeyn, T. Voet, L. De Meester & L. Brendonck, 2013. Pesticide exposure impacts not only hatching of dormant eggs, but also hatchling survival and performance in the water flea Daphnia magna. Ecotoxicology 22: 803–814.

Oertli, B., D. A. Joye, E. Castella, R. Juge, D. Cambin & J.-B. Lachavanne, 2002. Does size matter? The relationship between pond area and biodiversity. Biological Conservation 104: 59–70.

Oskanen, J., R. Kindt, P. Legendre, B. O'Hara & M. H. M. Stevens, 2007. vegan: Community ecology package, R package version 1.8-8. http://cran.r-project.org/, http://r-forge.r-project.org/projects/vegan/.

Parris, K. M., 2006. Urban amphibian assemblages as metacommunities. Journal of Animal Ecology 75: 757–764.

Paul, M. J. & J. L. Meyer, 2001. Streams in the urban landscape. Annual Review of Ecology and Systematics 32: 333–365.

Perry, T. & R. Nawaz, 2008. An investigation into the extent and impacts of hard surfacing of domestic gardens in an area of Leeds, United Kingdom. Landscape and Urban Planning 86: 1–13.

R Development Core Team, 2013. R: A Language and Environment for Statistical Computing. R Foundation for Statistical Computing, Vienna, Austria.

Rosset, V., A. Lehmann & B. Oertli, 2010. Warmer and richer? Predicting the impact of climate warming on species richness in small temperate waterbodies. Global Change Biology 16: 2376–2387.

Sala, O. E., F. S. Chapin, III, J. J. Armesto, E. Berlow, J. Bloomfield, R. Dirzo, E. Huber-Sanwald, L. F. Huenneke, R. B. Jackson, A. Kinzig, R. Leemans, D. M. Lodge, H. A. Mooney, M. Oesterheld, iacute, N. L. Poff, M. T. Sykes, B. H. Walker, M. Walker & D. H. Wall, 2000. Global biodiversity scenarios for the year 2100. Science 287:1770–1774.

Sanderson, E. W., M. Jaiteh, M. A. Levy, K. H. Redford, A. V. Wannebo & G. Woolmer, 2002. The Human Footprint and the Last of the Wild: the human footprint is a global map of human influence on the land surface, which suggests that human beings are stewards of nature, whether we like it or not. Bioscience 52: 891–904.

Sanzo, D. & S. J. Hecnar, 2006. Effects of road de-icing salt (NaCl) on larval wood frogs (Rana sylvatica). Environmental Pollution 140: 247–256.

Scher, O. & A. Thiery, 2005. Odonata, Amphibia and environmental characteristics in motorway stormwater retention ponds (Southern France). Hydrobiologia 551: 237–251.

Schneider, P. & S. J. Hook, 2010. Space observations of inland water bodies show rapid surface warming since 1985. Geophysical Research Letters 37: L22405.

Shutes, R. B. E., D. M. Revitt, A. S. Mungur & L. N. L. Scholes, 1997. The design of wetland systems for the treatment of urban run off. Water Science and Technology 35: 19–25.

Stoddard, J. L., D. S. Jeffries, A. Lukewille, T. A. Clair, P. J. Dillon, C. T. Driscoll, M. Forsius, M. Johannessen, J. S. Kahl, J. H. Kellogg, A. Kemp, J. Mannio, D. T. Monteith, P. S. Murdoch, S. Patrick, A. Rebsdorf, B. L. Skjelkvale, M. P. Stainton, T. Traaen, H. van Dam, K. E. Webster, J. Wieting & A. Wilander, 1999. Regional trends in aquatic recovery from acidification in North America and Europe. Nature 401: 575–578.

Vaughan, I. P. & S. J. Ormerod, 2012. Large-scale, long-term trends in British river macroinvertebrates. Global Change Biology 18: 2184–2194.

Vermonden, K., R. S. E. W. Leuven, G. van der Velde, M. M. van Katwijk, J. G. M. Roelofs & A. Jan Hendriks, 2009. Urban drainage systems: an undervalued habitat for aquatic macroinvertebrates. Biological Conservation 142: 1105–1115.

Vörösmarty, C. J., P. Green, J. Salisbury & R. B. Lammers, 2000. Global water resources: vulnerability from climate change and population growth. Science 289: 284–288.

Vörösmarty, C. J., P. B. McIntyre, M. O. Gessner, D. Dudgeon, A. Prusevich, P. Green, S. Glidden, S. E. Bunn, C. A. Sullivan, C. R. Liermann & P. M. Davies, 2010. Global threats to human water security and river biodiversity. Nature 467: 555.

Watts, P. C., J. R. Rouquette, I. J. Saccheri, S. J. Kemp & D. J. Thompson, 2004. Molecular and ecological evidence for small-scale isolation by distance in an endangered damselfly, Coenagrion mercuriale. Molecular Ecology 13: 2931–2945.

Whitehead, P. G., R. W. Battarbee, J. Crossman, J. A. Elliott, R. Wilby, D. T. Monteith & M. Kernan, 2012. River and lake water quality: future trends. NERC/Centre for Ecology & Hydrology. http://nora.nerc.ac.uk/id/eprint/17812.

Williams, P., M. Whitfield, J. Biggs, S. Bray, G. Fox, P. Nicolet & D. A. Sear, 2004. Comparative biodiversity of rivers, streams, ditches and ponds in an agricultural landscape in Southern England. Biological Conservation 115: 329–341.

Zedler, J. B., 2003. Wetlands at your service: reducing impacts of agriculture at the watershed scale. Frontiers in Ecology and the Environment 1: 65–72.
Acknowledgments
The study was funded by the Hugh Carey Gilson Award from the Freshwater Biological Association. The manuscript was greatly improved thanks to comments by Beat Oertli and two anonymous reviewers. The authors would also like to thank Chris Melanson at the City of Ottawa for provision of data and permission to access sites, and Tom Sherratt for logistical support. CH was supported by an Ontario Ministry of Research and Innovation Postdoctoral Fellowship.
Additional information
Handling editor: Beat Oertli
Electronic supplementary material
Below is the link to the electronic supplementary material.
About this article
Cite this article
Hassall, C., Anderson, S. Stormwater ponds can contain comparable biodiversity to unmanaged wetlands in urban areas. Hydrobiologia 745, 137–149 (2015). https://doi.org/10.1007/s10750-014-2100-5
Received:

Revised:

Accepted:

Published:

Issue Date:
Keywords
Urban

Wetland

Invertebrate

Diversity

Stormwater

Canada