Abstract
We conducted a mesocosm experiment to assess the impacts of large-bodied crustaceans on microbial communities. Three alien crustacean species (Daphnia pulex, Simocephalus vetulus and Macrocyclops albidus) were collected from the regional species pool and added to mesocosms that were filled with water from a eutrophic lake (Masurian Lake District, Poland). We then analysed chemical (total phosphorus and nitrogen concentrations) and biological (algae, bacteria, nanoflagellates, ciliates, rotifers, crustaceans) parameters over the course of the 40 day experiment. Alien crustacean species constituted 59–88% of the total crustacean biomass throughout the experiment. The final biomass of bacteria and copepods were not affected by the addition of alien species. However, rotifer and native cladoceran biomass tended to be lower while nanoflagellate and ciliate biomass were higher in mesocosms with alien species. Our research suggests that the large-bodied crustaceans altered the structure of the microbial loop. In the control, nanoflagellates were likely the main consumers of bacteria and thus constituted the main link between bacteria and higher trophic levels. In the mesocosms with large-bodied crustaceans, protists were likely not important as bacterial grazers because of strong top-down control of nanoflagellates by crustaceans. Combined, our results provide evidence that alien large-bodied crustaceans can significantly impact the microbial loop.
Access options
Buy single article
Instant access to the full article PDF.
USD 39.95
Price excludes VAT (USA)
Tax calculation will be finalised during checkout.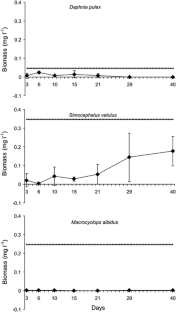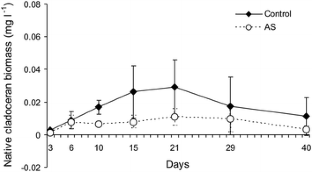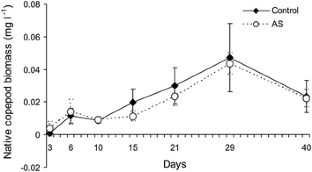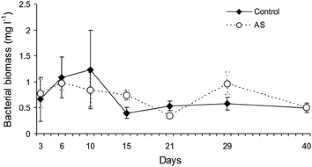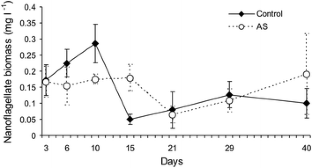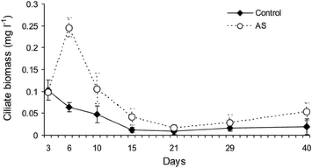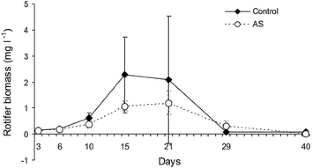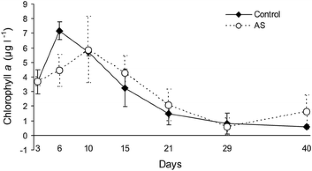 References
Adrian, R. & B. Schneider-Olt, 1999. Top-down effects of crustacean zooplankton on pelagic microorganisms in a mesotrophic lake. Journal of Plankton Research 21: 2175–2190.

APHA, 2005. Standard Methods for the Examination of Water and Wastewater. American Public Health Association, Washington.

Arndt, H., 1993. Rotifers as predators on components of the microbial web (bacteria, heterotrophic flagellates, ciliates) – a review. Hydrobiologia 255(256): 231–246.

Balushkina, E. V. & G. G. Vinberg, 1978. Relationship between body weight and size in plankton animals. Experimental and Field Investigations of Biological Production in Lakes. Zoological Institute, Academy of Sciences USSR, Leningrad: 58–72.

Bec, A., C. Desvilettes, A. Véra, D. Fontvieille & G. Boudier, 2003. Nutritional value of different food sources for the benthic Daphnidae Simocephalus vetulus: role of fatty acids. Archiv für Hydrobiologie 156: 145–163.

Carlson, R. E., 1977. A trophic state index for lakes. Limnology and Oceanography 22: 361–369.

DeBiase, A. E., R. W. Sanders & K. G. Porter, 1990. Relative nutritional value of ciliated protozoa and algae as food for Daphnia. Microbial Ecology 19: 199–210.

DeMott, W. R., 1989. The role of competition in zooplankton succession. In Sommer, U. (ed.), Plankton Ecology: Succession in Plankton Communities. Springer, New York: 195–252.

Ejsmont-Karabin, J., 1998. Empirical equations for biomass calculation of planktonic rotifers. Polish Archives of Hydrobiology 45: 513–522.

Foissner, W., H. Berger, H. Blatterer & F. Kohmann, 1991–1995. Taxonomische und ökologische Revision der Ciliaten des Saprobiensystems. Band I–IV. München, Informationberichte des Bayer Landesamtes für Wasserwirtschaft.

Gasol, J. M., P. A. del Giorgio, R. Massana & C. M. Duarte, 1995. Active versus inactive bacteria: size-dependence in a coastal marine plankton community. Marine Ecology Progress Series 128: 91–97.

Gilbert, J. J., 1994. Jumping behaviour in the oligotrich ciliates Strobilidium velox and Halteria grandinella, and its significance as a defense against rotifer predators. Microbial Ecology 27: 189–200.

Gliwicz, Z. M., 2004. Zooplankton. In O'Sullivan, P. E. & C. Reynolds (eds), The Lakes Handbook. Blackwell Science, Oxford: 461–516.

Goedkoop, W., L. Sonesten, H. Markensten & G. Ahlgren, 1998. Fatty acid biomarkers show dietary differences between dominant chironomid taxa in lake Erken. Freshwater Biology 40: 135–143.

Güde, H., 1988. Direct and indirect influences of crustacean zooplankton on bacterioplankton of Lake Constance. Hydrobiologia 159: 63–73.

Güde, H., 1989. The role of grazing on bacteria in plankton succession. In Sommer, U. (ed.), Plankton Ecology: Succession in Planktonic Communities. Springer, Berlin: 337–364.

Hall, S. R. & E. I. Mills, 2000. Exotic species in large lakes of the world. Aquatic Ecosystem Health and Management 3: 105–135.

Jack, J. D. & J. J. Gilbert, 1997. Effects of metazoan predators on ciliates in freshwater plankton communities. Journal of Eukaryotic Microbiology 44: 194–199.

Jeffrey, S. W., R. F. C. Mantoura & S. W. Wright, 1997. Phytoplankton Pigments in Oceanography. UNESCO Publishing, Paris.

Jürgens, K., 1994. Impact of Daphnia on planktonic microbial food webs – a review. Marine Microbial Food Webs 8: 295–324.

Jürgens, K., J. M. Gasol, R. Massana & C. Pedrós-Alió, 1994. Control of heterotrophic bacteria and protozoans by Daphnia pulex in the epilimnion of Lake Cisó. Archiv für Hydrobiologie 131: 55–78.

Jürgens, K. & G. Stolpe, 1995. Seasonal dynamics of crustacean zooplankton, heterotrophic nanoflagellates and bacteria in a shallow, eutrophic lake. Freshwater Biology 33: 27–38.

Kopylov, A. I. & D. B. Kosolapov, 2011. Microbial Loop in Plankton Communities of Marine and Freshwater Ecosystems. Knigograd, Izhewsk. (in Russian).

Laybourn-Parry, J., B. A. Abdullahi & S. Tinson, 1988. Temperature dependent energy partitioning in the benthic copepods Acanthocyclops viridis and Macrocyclops albidus. Canadian Journal of Zoology 66: 2709–2714.

Loureiro, C., J. L. Pereira, M. A. Pedrosa, F. Goncalves & B. B. Castro, 2013. Competitive outcome of Daphnia-Simocephalus experimental microcosms: salinity versus priority effects. PLoS One 8(8): e70572. doi:10.1371/journal.pone.0070572

Modenutti, B., C. Queimaliños, E. Balseiro & M. Reissig, 2003. Impact of different zooplankton structures on the microbial food web of a South Andean oligotrophic lake. Acta Oecologica 24: 289–298.

Norsker, N. H. & J. G. Støttrup, 1994. The importance of dietary HUFAs for fecundity and HUFA content in the harpacticoid, Thisbe holothuriae Humes. Aquaculture 125: 155–166.

Pace, M. L., J. E. Glasser & L. R. Pomeroy, 1984. A stimulation analysis of continental shelf food webs. Marine Biology 82: 47–63.

Porter, K. G. & Y. S. Feig, 1980. The use of DAPI for identifying and counting aquatic microflora. Limnology and Oceanography 25: 943–948.

Rey, J. R., S. O´Connell, S. Suárez, Z. Menendez, L. P. Lounibos & G. Byer, 2004. Laboratory and field studies of Macrocyclops albidus (Crustacea: Copepoda) for biological control of mosquitoes in artificial containers in a subtropical environment. Journal of Vector Ecology 29: 124–134.

Ricciardi, A. & H. J. MacIsaac, 2011. Impacts of biological invasions on freshwater ecosystems. In Richardson, D. M. (ed.), Fifty Years of Invasion Ecology: The Legacy of Charles Etton. Wiley-Blackwell, Oxford: 211–224.

Riemann, B. & K. Christoffersen, 1993. Microbial trophodynamics in temperate lakes. Marine Microbial Food Webs 7: 69–100.

Sanders, R. W., K. G. Porter, S. J. Bennett & A. E. DeBiase, 1989. Seasonal patterns of bacterivory by flagellates, ciliates, rotifers, and cladocerans in a freshwater planktonic community. Limnology and Oceanography 34: 673–687.

Sanders, R. W. & S. A. Wickham, 1993. Planktonic protozoa and metazoa: predation, food quality and population control. Marine Microbial Food Webs 7: 197–223.

Semenchenko, V. P., V. I. Razlutskij, I. Y. Feniova & D. N. Aibulatov, 2007. Biotic relations affecting species structure in zooplankton communities. Hydrobiologia 579: 219–231. doi:10.1007/s10750-006-0411-x

Sherr, E. B. & B. F. Sherr, 1992. Trophic roles of pelagic protists: phagotrophic flagellates as herbivores. Archiv für Hydrobiologie Beiheft Ergebnisse der Limnologie 37: 165–172.

Shurin, J. B., 2000. Dispersal limitation, invasion resistance, and the structure of pond zooplankton communities. Ecology 81: 3074–3086.

Wickham, S. A. & J. J. Gilbert, 1991. Relative vulnerabilities of natural rotifer and ciliate communities to cladocerans: laboratory and field experiments. Freshwater Biology 26: 77–86.

Wright, S. W. S., R. F. C. Jeffrey, C. A. Mantoura, T. Liewellyn, D. Bjornland, D. Repeta & N. Welschmeyer, 1991. Improved HPLC method for the analysis of chlorophylls and carotenoids from marine phytoplankton. Marine Ecology Progress Series 77: 183–196.
Acknowledgements
This research was supported by the Polish Ministry of Science and Higher Education (Project NN304 145837). We thank two anonymous reviewers for their helpful comments, which greatly helped us to improve the manuscript.
Additional information
Handling editor: David J. Hoeinghaus
About this article
Cite this article
Kalinowska, K., Ejsmont-Karabin, J., Rzepecki, M. et al. Impacts of large-bodied crustaceans on the microbial loop. Hydrobiologia 744, 115–125 (2015). https://doi.org/10.1007/s10750-014-2066-3
Received:

Revised:

Accepted:

Published:

Issue Date:

DOI: https://doi.org/10.1007/s10750-014-2066-3
Keywords
Crustaceans

Microbial loop

Trophic relations

Invasive species