Abstract
Biological invasions and damming are currently considered the main threats to aquatic biota. This is aggravated by the facilitative effect of damming on dispersal and establishment of non-native species. In this study, the invasion process by Geophagus proximus, an Amazonian Cichlid fish, was examined in different environments of the Upper Paraná River floodplain and Itaipu Reservoir. The effect of sediment retention prompted by damming (increasing water transparency) in the invasion process was investigated, in addition to the possible effects on the phylogenetically related Satanoperca pappaterra. The invasion process of G. proximus began in upstream reservoirs (source of propagules), then this species occupied the floodplain and later dispersed into the Itaipu Reservoir, being most successful (greater abundances) in environments with high water transparency (most above 200 cm). Increased abundances of the invasive species coincide with declined abundances of S. pappaterra. Diet overlap between these species was high, but apparently related to their omnivorous–detritivorous habits. Reproductive strategies were also similar. Therefore, it appears that the main factor that favored the invasive species was the increased transparency resulted from river damming, and that some interaction with S. pappaterra may be occurring.
This is a preview of subscription content, log in to check access.
Access options
Buy single article
Instant access to the full article PDF.
US$ 39.95
Price includes VAT for USA
Subscribe to journal
Immediate online access to all issues from 2019. Subscription will auto renew annually.
US$ 199
This is the net price. Taxes to be calculated in checkout.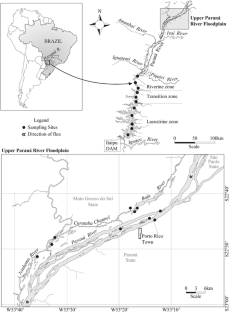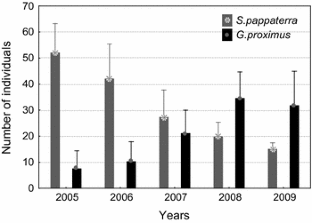 References
Agostinho, C. S. & H. F. Julio Jr., 2002. Observation of an invasion of the piranha Serrasalmus marginatus Valenciennes, 1847 (Osteichthyes, Serrasalmidae) into the Upper Paraná River, Brazil. Acta Scientiarum 24: 391–395.

Agostinho, A. A., C. C. Bonecker & L. C. Gomes, 2009. Effects of water quantity on connectivity: the case of the upper Paraná River floodplain. Ecohydrology & Hydrobiology 9: 99–113.

Agostinho, A. A., F. M. Pelicice & L. C. Gomes, 2008. Dams and the fish fauna of the Neotropical region: impacts and management related to diversity and fisheries. Brazilian Journal of Biology 68: 1119–1132.

Agostinho, A. A., L. C. Gomes & F. M. Pelicice, 2007. Ecologia e manejo de recursos pesqueiros em reservatórios do Brasil. Eduem, Maringá.

Azevedo-Santos, V. M., O. Rigolin-Sá & F. M. Pelicice, 2011. Growing, losing or introducing? Cage aquaculture as a vector for the introduction of nonnative fish in Furnas Reservoir, Minas Gerais, Brazil. Neotropical Ichthyology 9: 915–919.

Brown, M. E., D. K. Branstrator & L. J. Shannon, 2012. Population regulation of the spiny water flea (Bythotrephes longimanus) in a reservoir: implication for invasion. Limnology and Oceanography 57(1): 251–271.

Cassemiro, F. A. S., T. F. L. V. B. Rangel, F. M. Pelicice & N. S. Hahn, 2008. Allometric and ontogenetic patterns related to feeding of a neotropical fish Satanoperca pappaterra (Perciformes, Cichlidae). Ecology of Freshwater Fish 17: 155–164.

Carvalho, T. B., J. C. Ha & E. Goncalves-de-Freitas, 2012. Light intensity can trigger different agonistic responses in juveniles of three cichlid species. Marine and Freshwater Behaviour and Physiology 45: 91–100.

Carvalho, T. B., F. Z. Mendonça, R. S. Costa-Ferreira & E. Gonçalves-de-Freitas, 2013. The effect of increased light intensity on the aggressive behavior of the Nile tilapia, Oreochromis niloticus (Teleostei: Cichlidae). Zoologia 30: 125–129.

Cerdeira, R. G. P., M. L. Ruffino & V. J. Isaac, 2000. Fish catch among riverside communities around Lago Grande de Monte Alegre, Lower Amazon, Brazil. Fisheries Management and Ecology 7: 355–374.

Companhia Energética de São Paulo (CESP), 2005a. UHE Três Irmãos, Programa de monitoramento do ambiente aquático. Relatório Técnico OAE-TI-01/2005, São Paulo.

CESP (Companhia Energética de São Paulo), 2005b. Programa de manejo pesqueiro- Atividades desenvolvidas 2000–2004, Plano de trabalho 2004–2005. Relatório OA/007/2005, São Paulo.

Coulatti, R. I. & H. J. MacIsaac, 2004. A neutral terminology to define 'invasive' species. Diversity and Distribution 10: 135–141.

Espínola, L. A., C. V. Minte-Vera & H. F. Júlio Jr., 2010. Invasibility of reservoirs in the Paraná Basin, Brazil, to Cichla kelberi Kullander and Ferreira, 2006. Biological Invasions 12: 1873–1888.

Entsminger, G. L. 2012. EcoSim Professional: Null modeling software for ecologists, Version 1. Acquired Intelligence Inc., Kesey-Bear, & Pinyon Publishing. Montrose, CO 81403 [http://www.garyentsminger.com/ecosim/index.htm]. Accessed March 10 2014.

Garrone-Neto, D. & I. Sazima, 2009. The more stirring the better: cichlid fishes associate with foraging potamotrygonid rays. Neotropical Ichthyology 7: 499–501.

Gido, K. B. & J. H. Brown, 1999. Invasion of North American drainages by alien fish species. Freshwater Biology 42: 387–399.

Graça, W. J. & C. S. Pavanelli, 2007. Peixes da planície de inundação do alto rio Paraná e áreas adjacentes. EDUEM, Maringá.

Hahn, N. S. & F. Cunha, 2005. Feeding and trophic ecomorphology of Satanoperca pappaterra (Pisces, Cichlidae) in the Manso Reservoir, Mato Grosso State, Brazil. Brazilian Archives of Biology and Technology 48: 1007–1012.

Havel, J. E., C. E. Lee & J. V. Zanden, 2005. Do reservoirs facilitate invasions into landscapes? BioScience 55: 518–525.

Hellawel, J. M. & R. A. Abel, 1971. Rapid volumetric method for the analysis of the food of fishes. Journal of Fish Biology 3: 29–37.

Hyslop, E. P., 1980. Stomach of contents analysis: a review of methods and their application. Journal of Fish Biology 17: 411–429.

Johnson, P. T. J., J. D. Olden & M. J. Vander Zanden, 2008. Dam invaders: impoundments facilitate biological invasions intro freshwaters. Frontiers in Ecology and the Environment 6: 357–363.

Júlio Júnior, H. F., C. Deitós, A. A. Agostinho & C. S. Pavanelli, 2009. A massive introduction of fish species after eliminating a natural barrier in the upper rio Paraná basin. Neotropical Ichthyology 7: 709–718.

Kawakami, E. & G. Vazzoler, 1980. Método gráfico e estimativa de índice alimentar aplicado no estudo de alimentação de peixes. Boletim do Instituto Oceanográfico 29: 205–207.

Krebs, C. J., 1999. Ecological Methodology, 2nd ed. Addison Wesley Educational Publishers Inc, Menlo Park.

López-Fernández, H., R. L. Honeycutt, M. L. J. Stiassny & K. O. Winemiller, 2005. Morphology, molecules, and character congruence in the phylogeny of South American geophagine cichlids (Perciformes, Labroidei). Zoologica Scripta 34: 627–651.

Lowe-McConnel, R. H. L, 1999. Estudos ecológicos de comunidades de peixes tropicais. Tradução por Vazzoler, A. E. A., A. A. Agostinho & P. T. M. Cunningham. EDUSP, São Paulo.

Mack, R., D. Simberloff, W. M. Lonsdale, H. Evans, M. Clout & F. A. Bazzaz, 2000. Biotic invasions: causes, epidemiology, global consequences and control. Ecological Applications 10: 689–710.

Makrakis, S., L. C. Gomes, M. C. Makrakis, D. R. Fernadez & C. S. Pavanelli, 2007. The Canal da Piracema at Itaipu Dam as a fishpass system. Neotropical Ichthyology 5: 185–195.

Marques, H., J. H. P. Dias, R. A. F. Belmont & A. S. Boccardo, 2008. Efeitos da introdução de Geophagus proximus e Satanoperca pappaterra (Perciformes, Cichlidae) na pesca profissional no reservatório de Ilha Solteira, alto rio Paraná. In: II Encontro de Ciências da Vida, UNESP, Ilha Solteira, SP [http://www.feis.unesp.br/Home/Eventos/encivi/iiencivi-2008/hugo-marques.pdf]. Accessed March 29 2014.

Maruyama, L. S., P. M. G. Castro, P. Paiva, M. E. P. A. Silva & K. M. Silva, 2010. Produção pesqueira do baixo rio Tietê, nos anos de 2003-2004. Série Relatórios Técnicos 45: 1–16.

Moretto, E. M., F. T. Marciano, M. R. Velludo, N. Fenerich-Verani, E. L. C. Espindola & O. Rocha, 2008. The recent occurrence, establishment and potential impact of Geophagus proximus (Cichlidae: Perciformes) in the Tietê River reservoirs: an Amazonian fish species introduced in the Paraná Basin (Brazil). Biodiversity Conservation 17: 3013–3025.

Okada, E. K., A. A. Agostinho & L. C. Gomes, 2005. Spatial and temporal gradients in artisanal fisheries of a large Neotropical Reservoir: the Itaipu Reservoir, Brazil. Canadian Journal of Fisheries and Aquatic Sciences 62: 714–724.

Olden, J. D., N. L. Poff & K. R. Bestgen, 2006. Life-history strategies predict fish invasions and extirpations in the Colorado River Basin. Ecological Monographs 76: 25–40.

Palicka, J., 1992. The care of Geophagus surinamensis. Tropical Fish Hobbyist 40: 8–12.

Pelicice, F. M. & A. A. Agostinho, 2009. Fish fauna destruction after the introduction of a non-native predator (Cichla kelberi) in a Neotropical Reservoir. Biological Invasions 11: 1789–1801.

Price, J. N. & M. Partel, 2013. Can limiting similarity increase invasion resistance? A meta-analysis of experimental studies. Oikos 122: 649–656.

Ribeiro, H. B., 2007. Estrutura e evolução cariotípica de peixes ciclídeos sul americanos. Dissertation, UNESP, Botucatu.

Rahel, F. J., 2007. Biogeographic barriers, connectivity and homogenization of freshwater faunas: it's a small world after all. Freshwater Biology 52: 696–710.

Roberto, M. C., N. F. Santana & S. M. Thomaz, 2009. Limnology in the Upper Paraná River floodplain: large-scale spatial and temporal patterns, and the influence of reservoirs. Brazilian Journal of Biology 69(717): 725.

Sanches, F. H. C., C. A. Miyai, T. M. Costa, R. A. Christofoletti, G. L. Volpato & R. E. Barreto, 2012. Aggressiveness overcomes body-size effects in fights staged between invasive and native fish species with overlapping Niches. PLoS One 7: e29746. doi:10.1371/journal.pone.0029746

Sazima, I. & F. A. Machado, 1990. Underwater observations of piranhas in western Brazil. Environmental Biology of Fishes 28: 17–31.

Simberloff, D., 2003. Confronting introduced species: a form of xenophobia? Biological Invasions 5: 179–192.

Smith, W. S., E. L. G. Espíndola & O. Rocha, 2005a. As introduções de espécies de peixes exóticos e alóctones em bacias hidrográficas brasileiras. In Rocha, O., E. L. G. Espíndola, N. Fenerich-Verani, J. R. Verani & A. C. Rietzler (eds), Espécies Invasoras de Águas Doces: estudo de caso e propostas de manejo. Editora da Universidade Federal de São Carlos, São Carlos: 25–44.

Smith, W. S., E. L. G. Espíndola & O. Rocha, 2005b. As espécies de peixes introduzidas no Rio Tiête. In Rocha, O., E. L. G. Espíndola, N. Fenerich-Verani, J. R. Verani & A. C. Rietzler (eds), Espécies Invasoras de Águas Doces: estudo de caso e propostas de manejo. Editora da Universidade Federal de São Carlos, São Carlos: 165–179.

Thomaz, S. M., L. M. Bini & R. L. Bozelli, 2007. Floods increase similarity among aquatic habitats in river-floodplain systems. Hydrobiologia 579: 1–13.

Thomaz, S. M., A. A. Agostinho, L. C. Gomes, M. J. Silveira, M. Rejmánek, C. E. Aslan & E. Chow, 2012. Using space-for-time substitution and time sequence approaches in invasion ecology. Freshwater Biology 57: 2401–2410.

Thornton, K. W., B. L. Kimmel & F. E. Payne, 1990. Reservoir Limnology: Ecological Perspectives. Wiley, New York.

Universidade Estadual de Maringá (UEM), Nupélia/Itaipu Binacional, 2009. Monitoramento do rendimento e da socioeconomia da pesca no Reservatório de Itaipu. Relatório geral 2008, Maringá.

Vidotto, A. P. & E. D. Carvalho, 2007. Composition and structure of fish community in a stretch of the Santa Bárbara River influenced by Nova Avanhandava Reservoir (low Tietê River, São Paulo State, Brazil). Acta Limnologica Brasiliensia 19: 233–245.

Vidotto, A. P. & E. D. Carvalho, 2009. Aquatic insects is the main food resource of fish the community in a Neotropical reservoir. Neotropical Ichthyology 7: 701–708.
Acknowledgments
The authors thank Nupélia/UEM, Itaipu Binacional, the Graduate Program in Ecology of Continental Aquatic Environments (Programa de Pós-Graduação em Ecologia de Ambientes Aquáticos Continentais - PEA) and CNPq/PELD for financial support and infra-structure to develop the study; the Nupélia statistical fisheries team led by Edson Kiyoshi Okada; Harumi Irene Suzuki for assistance with data processing; and PROEX/CAPES for the Masters scholarship granted to Karen Silverio Gois. AAA, LCG, and FMP receive grants (Bolsa Produtividade em Pesquisa) from CNPq.
Additional information
Guest editors: Sidinei M. Thomaz, Katya E. Kovalenko, John E. Havel & Lee B. Kats / Aquatic Invasive Species
About this article
Cite this article
Gois, K.S., Pelicice, F.M., Gomes, L.C. et al. Invasion of an Amazonian cichlid in the Upper Paraná River: facilitation by dams and decline of a phylogenetically related species. Hydrobiologia 746, 401–413 (2015). https://doi.org/10.1007/s10750-014-2061-8
Received:

Revised:

Accepted:

Published:

Issue Date:
Keywords
Non-native species

Dispersion

Facilitation

Species introduction

Damming

Non-native impacts