Abstract
For 7 years, development of submerged vegetation was monitored after fish stock removal during the final phase of a restoration program in the shallow, 2.1 km2 Lake Loenderveen (The Netherlands). The lake shifted from a turbid, phytoplankton-dominated state, to a clear, macrophyte-dominated state. Vegetation development was very dynamic during years 1–5. Dominance of Elodea nuttallii (Planchon) St. John and Najas marina L. alternated in the initial few years and separate development of Chara species was recorded locally. Elodea nuttallii achieved the highest coverage in the 5th year, but part of the vegetation collapsed in the 6th year. In year 7, the system had recovered and became more stable. The dynamic developments, and spatial differences, are possibly explained by waterfowl interactions, soil nutrient status, and differences in growth form strategies of the species. It was concluded that the trophic level of the lake water was low enough for lake vegetation to recover following removal of most of the fish stock, but stability of the clear water state has increased considerably only after 6 years of development.
Access options
Buy single article
Instant access to the full article PDF.
US$ 39.95
Tax calculation will be finalised during checkout.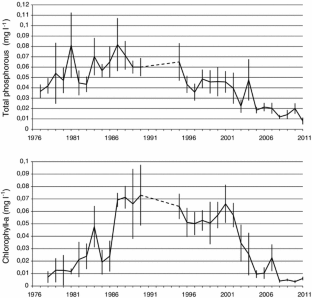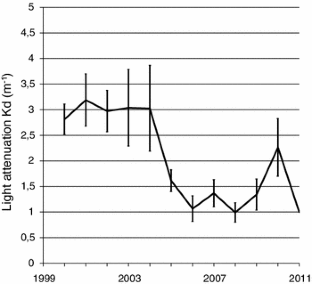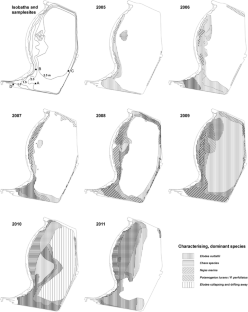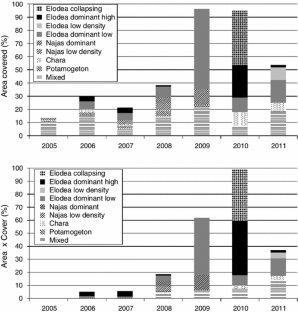 References
Bakker, E. S., J. M. Sarneel, R. D. Gulati, Z. Liu & E. van Donk, 2013. Restoring macrophyte diversity in shallow temperate lakes: biotic versus abiotic constraints. Hydrobiologia 710: 23–37. doi:10.1007/s10750-012-1142-9.

Barko, J. W., D. Gunnison & S. R. Carpenter, 1991. Sediment interactions with submerged macrophyte growth and community dynamics. Aquatic Botany 41: 41–65.

Best, E. P. H., D. de Vries & A. Reins, 1984. The macrophytes in the Loosdrecht Lakes: a story of their decline in the course of eutrophication. Verhandlungen Der Internationale Vereinigung Für Limnologie 22: 868–875.

European Commission, 2000. Directive 2000/60/EC. Establishing a Framework for Community Action in the Field of Water Policy: 72 pp.

Grime, J. P., 1979. Plant Strategies and Vegetation Processes. Wiley, Chichester: 222 pp.

Gulati, R. D. & E. van Donk, 2002. Lakes in the Netherlands, their origin, eutrophication and restoration: state-of-the-art review. Hydrobiologia 478: 73–106.

Hosper, H., 1997. Clearing Lakes: an ecosystem approach to the restoration and management of shallow lakes in The Netherlands. Thesis Wageningen University: 168 pp.

Janse, J. H., 2005. Model studies on the eutrophication of shallow lakes and ditches. Thesis Wageningen University: 376 pp.

Josefsson, M. 2011. NOBANIS—Invasive Species Fact Sheet—Elodea canadensis, Elodea nuttallii and Elodea callitrichoides—NOBANIS www.nobanis.org. Date of Access 28 November 2012: 12 pp.

Kiørboe, T., 1980. Distribution and production of submerged macrophytes in Tipper Grund (Ringkøbing Fjord, Denmark), and impacts of waterfowl grazing. Journal of Applied Ecology 17: 675–687.

Londo, G., 1976. The decimal scale for releves of permanent quadrats. Vegetatio 33: 61–64.

MacArthur, R. H. & E. O. Wilson, 1967. The Theory of Island Biogeography. Princeton University Press, Princeton: 203 pp.

Murphy, K. J., B. Rørslett & I. Springuel, 1990. Strategy analysis of submerged lake macrophyte communities: an international example. Aquatic Botany 36: 303–323.

Poelen, M. D. M., L. J. L. van den Berg, G. N. J. ter Heerdt, R. Bakkum, A. J. P. Smolders, N. G. Jaarsma, R. J. Brederveld & L. P. M. Lamers, 2012. Under water soil management in the Netherlands [In Dutch, original title: WaterBODEMbeheer in Nederland.] B-WARE Research Centre, Nijmegen; Report 2012.18: 141 pp.

Portielje, R. & D. van der Molen, 1997. Trend analysis on the state of eutrofication of Dutch Lakes, report I of the forth enquiry on eutrofication [In Dutch, original title: Trendanalyse eutrofiëringstoestand van de Nederlandse meren en plassen, deelrapport I voor de Vierde Eutrofiëringsenquête]. RIZA-report 97.060, Lelystad: 90 pp.

Pot, R., 2010. State and Trends in Water Quality of Dutch Lakes [In Dutch, original title: Toestand en trends in de waterkwaliteit van Nederlandse meren en plassen]. Roelf Pot, Oosterhesselen: 113 pp.

Sayer, C. D., T. A. Davidson & J. I. Jones, 2010. Seasonal dynamics of macrophytes and phytoplankton in shallow lakes: a eutrophication-driven pathway from plants to plankton? Freshwater Biology 55: 500–513.

Scheffer, M., 1998. Ecology of Shallow Lakes. Chapman and Hall, London: 357 pp.

Simpson, D. A., 1990. Displacement of Elodea canadensis Michx. by Elodea nuttallii (Planch.) St. John in the British Isles. Watsonia 18: 173–177.

Søndergaard, M., T. L. Lauridsen, E. Jeppesen & L. Bruun, 1997. Macrophyte-waterfowl interactions: tracking a variable resource and the impact of herbivory on plant growth. In Jeppesen, M., M. Sondergaard, M. Sondergaard & K. Christoffersen (eds), The Structuring Role of Submerged Macrophytes in Lakes. Springer, Berlin: 298–306.

Ter Heerdt, G. & M. Hootsman, 2007. Why biomanipulation can be effective in peaty lakes. Hydrobiologia 584: 305–316.

Van Raam, J. C., 1998. Handbook Charophytes [In Dutch, original title: Handboek Kranswieren]. Chara Boek, Hilversum: 229.

Wood, K. A., R. A. Stillman, R. T. Clarke, F. Daunt & M. T. O'Hare, 2012. The impact of waterfowl herbivory on plant standing crop: a meta-analysis. Hydrobiologia 686: 157–167.
Acknowledgments
The authors would like to thank colleagues from Het Waterlaboratorium for the analysis of the numerous samples provided, Rob Leewis and Erika Voortman for assistance with the field work, four anonymous referees for very helpful comments on an earlier draft of this manuscript, and Berend Pot and Jon Matthews for their help in improving the English text.
Additional information
Guest editors: M. T. Ferreira, M. O'Hare, K. Szoszkiewicz & S. Hellsten / Plants in Hydrosystems: From Functional Ecology to Weed Research
About this article
Cite this article
Pot, R., ter Heerdt, G.N.J. Succession dynamics of aquatic lake vegetation after restoration measures: increased stability after 6 years of development. Hydrobiologia 737, 333–345 (2014). https://doi.org/10.1007/s10750-014-1835-3
Received:

Accepted:

Published:

Issue Date:
Keywords
Restoration

Biomanipulation

Lake

Macrophyte

Nutrients

Fish

Waterfowl