Abstract
We contrasted histological characteristics with a macroscopic maturity scale in Octopus vulgaris. Seven histological stages of maturation were identified, and a stereological method was used to develop a new histological maturity index (HMI). This index was related to the gonadosomatic index giving the possibility to estimate the histological stage of individual octopus without sampling the gonads. However, the existing macroscopic maturity scale produced some degree of overlap along the range of HMI, suggesting that this macroscale at this moment might be just good enough to separate immature from fully mature individuals. A histological maturity criterion based on the presence of a larger proportion of folding oocytes compared to earlier microstages resulted in a size at maturity of 1.5 kg. However, using two different macroscopic criteria, size at maturity was 1.3 and 2.3 kg. The estimate of size at maturity is therefore sensitive to the maturity criteria used. The maturation cycle of female O. vulgaris was seasonal, peaking in spring months and reaching a maximum of reproductive activity in April independently of the maturation criteria used. Oogenesis was reviewed and found to be an asynchronic process. Our results suggest that there is a need to examine all these issues in other cephalopod species.
Access options
Buy single article
Instant access to the full article PDF.
USD 39.95
Price excludes VAT (USA)
Tax calculation will be finalised during checkout.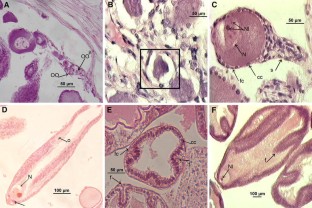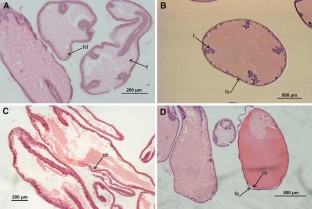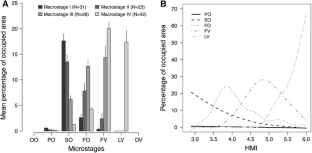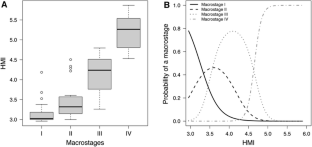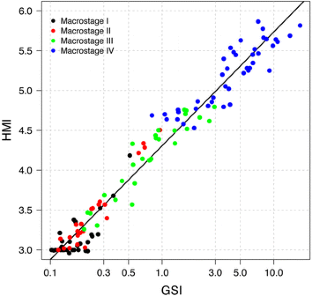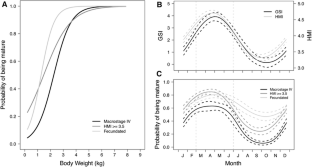 References
Bolognari, A., M. P. A. Carmignani & G. Zaccone, 1976. A cytochemical analysis of the follicular cells and the yolk in the growing oocytes of Octopus vulgaris (cephalopoda, mollusca). Acta Histochemica 55: 167–175.

Brown-Peterson, N., D. M. Wyanski, F. Saborido-Rey, B. J. Macewicz & S. Lowerre-Barbieri, 2011. A standardized terminology for describing reproductive development in fishes. Marine and Coastal Fisheries 3: 52–70.

Buckley, S. K. L., 1977. Oogenesis and Its Hormonal Control in Octopus vulgaris. Ph.D. Thesis, University of Cambridge, Cambridge.

Castro, B. G., J. L. Garrido & C. G. Sotelo, 1992. Changes in composition of digestive gland and mantle muscle of the cuttlefish Sepia officinalis during starvation. Marine Biology 114: 11–20.

Cuccu, D., M. Mereu, C. Porcu, M. C. Follesa, A. L. Cau & A. Cau, 2013. Development of sexual organs and fecundity in Octopus vulgaris Cuvier, 1797 from the Sardinian waters (Mediterranean Sea). Mediterranean Marine Science 14: 270–277.

Delesse, M. A., 1847. Procédé mécanique pour déterminer la composition des roches. Comptes Rendus de l'Académie des Sciences 25: 544–545.

Di Cosmo, A. D. & C. Di Cristo, 2001. Sex steroid hormone fluctuations and morphological changes of the reproductive system of the female of Octopus vulgaris throughout the annual cycle. Journal of Experimental Zoology 289: 33–47.

Dia, M. & A. Goutschine, 1990. The sexual maturity scale of octopus (Octopus vulgaris, Cuvier 1797) of Mauritanian waters. Bulletin Scientifique du Centre National de Recherches Océanographiques et des Pêches 21: 1–6.

Díaz-Uribe, J. G., A. Hernández-Herrera, E. Morales-Bojórquez, S. Martínez-Aguilar, M. C. Suárez-Higuera & A. Hernández-López, 2006. Histological validation of the gonadal maturation stages of female jumbo squid (Dosidicus gigas) in the Gulf of California, Mexico. Ciencias Marinas 32: 23–31.

Domínguez-Petit, R., 2007. Study of reproductive potential of Merluccius merluccius in the Galician Shelf. Ph.D. Thesis, University of Vigo, Spain.

Estefanell, J., J. Socorro, F. J. Roo, R. Guirao, H. Fernández-Palacios & M. Izquierdo, 2010. Gonad maturation in Octopus vulgaris during ongrowing, under different conditions of sex ratio. ICES Journal of Marine Science 67: 1487–1493.

Gabe, M., 1968. Techniques Histologiques. Masson et Cie Editeurs, Paris.

Gonçalves, I., J. Sendão & T. C. Borges, 2002. Octopus vulgaris (Cephalopoda: Octopodidae) gametogenesis: a histological approach to the verification of the macroscopic maturity scales. Abhandlungen der Geologischen Bundesanstalt A 57: 79–88.

Gonçalves, J. M., 1993. Octopus vulgaris Cuvier, 1797 (Polvo-Comum): Sinopse da Biologia e Exploração. Ph.D. Thesis, University of Açores, Portugal.

Guerra, A., 1975. Determinación de las diferentes fases de desarrollo sexual de Octopus vulgaris Lamarck, mediante un índice de madurez. Investigaciones Pesqueras 39: 397–416.

Guerra, A., 2006. Estrategias evolutivas de los cefalópodos. Investigación y Ciencia 355: 50–59.

Hernández-García, V., J. L. Hernández-López & J. J. Castro-Hernández, 2002. On the reproduction of Octopus vulgaris off the coast of the Canary Islands. Fisheries Research 57: 197–203.

Hoving, H. J. T., V. V. Laptikhovsky, M. R. Lipinski & E. Jürgens, 2013. Fecundity, oogenesis, and ovulation pattern of southern African Lycoteuthis lorigera (Steenstrup, 1875). Hydrobiologia. doi:10.1007/s10750-013-1586-6.

ICES, 2010. Report of the Workshop on Sexual Maturity Staging of Cephalopods (WKMSCEPH) ICES CM 2010/ACOM 49, Livorno, Italy.

Idrissi, F. H., N. Koueta, M. Idhalla, D. Belghyti & S. Bencherifi, 2006. The modalities of the sexual cycle of Octopus vulgaris in the southern Moroccan Atlantic (Tantan, Boujdour). Comptes Rendus Biologies 329: 903–911.

Inejih, C. A. O., 2000. Dynamique Spatio-Temporelle et Biologie du Poulpe (Octopus vulgaris) dans les Eaux Mauritanienne: Modélisation de l'Abondance et Aménagement des Pêcheries. Ph.D. Thesis, Université de Bretagne Occidentale, France.

Jiménez-Badillo, M. L., R. E. Río-Rodríguez, M. I. Gómez-Solano, A. Cu-Escamilla & D. Méndez-Aguilar, 2008. Madurez Gonádica del Pulpo Octopus vulgaris en el Golfo de México: Análisis Macroscópico y Microscópico. Universidad Autónoma de Campeche, México. http://epomex.uacam.mx.

Khallahi, O. M. F., 2002. Étude de la gamétogenèse chez le poulpe Octopus vulgaris (Cuvier, 1797). Bulletin Scientifique du Centre National de Recherches Océanographiques et des Pêches 28: 44–52.

Khallahi, O. M. F. & C. A. O. Inejih, 2002. Proposition d'une échelle macroscopique de maturité sexuelle des femelles de poulpe Octopus vulgaris (Cuvier, 1797). Bulletin Scientifique du Centre National de Recherches Océanographiques et des Pêches 23: 51–57.

Lipinski, M. R. & G. Underhill, 1995. Sexual maturation in squid: quantum or continuum? South African Journal of Marine Science 15: 207–223.

Lourenço, S., A. Moreno, L. Narciso, A. F. González & J. Pereira, 2012. Seasonal trends of the reproductive cycle of Octopus vulgaris in two environmentally distinct coastal areas. Fisheries Research 127(128): 116–124.

Mangold, K., 1963. Biologie des Céphalopodes Benthiques et Nectoniques de la Mer Catalane. Vie et Milieu, supplément no. 13, Hermann, Banyuls-sur-Mer.

Marza, V., 1938. Histophysiologie de L'ovogenèse. Herman et Cie, Paris.

Murua, H., G. Kraus, F. Saborido-Rey, P. R. Witthames & S. Junquera, 2003. Procedures to estimate fecundity of marine fish species in relation to their reproductive strategy. Journal of Northwest Atlantic Fishery Science 33: 33–54.

Nigmatullin, C. M., 2002. Ovary development, potential and actual fecundity and oocyte resorption in coleoid cephalopods: a review. Berliner Paläobiologische Abhandlungen 1: 82–84.

Olivares Paz, A., M. Zamora, P. Portilla & O. Zuniga, 2001. Estudio histológico de la ovogénesis y maduración ovárica en Octopus mimus (Cephalopoda: Octopodidae) de la II Región de Chile. Estudios Oceanológicos 20: 13–22.

Ortiz, N., 2013. Validation of macroscopic maturity stages of the Patagonian red octopus Enteroctopus megalocyathus. Journal of the Marine Biological Association of the United Kingdom 93: 833–842.

Otero, J., A. F. González, M. P. Sieiro & A. Guerra, 2007. Reproductive cycle and energy allocation of Octopus vulgaris in Galician waters, NE Atlantic. Fisheries Research 85: 122–129.

Pierce, G. J., L. Allcock, I. Bruno, P. Bustamante, A. González, A. Guerra, P. Jereb, E. Lefkaditou, S. Malham, A. Moreno et al., 2010. Cephalopod Biology and Fisheries in Europe. ICES Cooperative Research Report No. 303.

R Development Core Team, 2012. R: A Language and Environment for Statistical Computing. R Foundation for Statistical Computing, Vienna. http://www.R-project.org.

Rocha, F., A. Guerra & A. F. González, 2001. A review of reproductive strategies in cephalopods. Biological Reviews 76: 291–304.

Rodríguez-Rúa, A., I. Pozuelo, M. A. Prado, M. J. Gómez & M. A. Bruzón, 2005. The gametogenic cycle of Octopus vulgaris (Mollusca: Cephalopoda) as observed on the Atlantic coast of Andalusia (south of Spain). Marine Biology 147: 927–933.

Sauer, W. H. & M. R. Lipinski, 1990. Histological validation of morphological stages of sexual maturity in chokker squid Loligo vulgaris reynaudii D'Orb (Cephalopoda: Loliginidae). South African Journal of Marine Science 9: 189–200.

Silva, L., I. Sobrino & F. Ramos, 2002. Reproductive biology of the common octopus, Octopus vulgaris Cuvier, 1797 (Cephalopoda: Octopodidae) in the Gulf of Cádiz (SW Spain). Bulletin of Marine Science 71: 837–850.

Tomkiewicz, J., L. Tybjerg & A. Jespersen, 2003. Micro- and macroscopic characteristics to stage gonadal maturation of female Baltic cod. Journal of Fish Biology 62: 253–275.

Vitale, F., H. Svedäg & M. Cardinale, 2006. Histological analysis invalidates macroscopically determined maturity ogives of the Kattegat cod (Gadus morhua) and suggests new proxies for estimating maturity status of individual fish. ICES Journal of Marine Science 63: 485–492.

Weibel, E. R., G. S. Kistler & W. F. Scherle, 1966. Practical stereological methods for morphometric cytology. The Journal of Cell Biology. 30: 23–38.

West, G., 1990. Methods of assessing ovarian development in fishes: a review. Marine and Freshwater Research 41: 199–222.

Wood, S., 2006. Generalized Additive Models: An Introduction Using R. Chapman & Hall/CRC, Boca Raton.

Zuur, A. F., E. N. Ieno, N. J. Walker, A. A. Saveliev & G. M. Smith, 2009. Mixed Effects Models and Extensions in Ecology with R. Springer, New York.
Acknowledgements
We thank the "Asociación de Naseiros de Meira" for providing the majority of the octopus individuals, and Jose Manuel Antonio, Manuel. E. Garci, and María Teresa Fernández for their help in processing the samples. The Fisheries Group (CSIC) allowed us to use their image analyzer, and Alex Alonso in particular provided valuable support in the use of the stereological method and helpful suggestions during the manuscript preparation. This work was funded by the Comisión Interministerial de Ciencia y Tecnología (CICYT, Spain) (Project VEM 2003–2010). P. Sieiro was supported by a fellowship of Departamento de Postgrado y Especialización (CSIC), and J. Otero was supported by a "Junta para la Ampliación de Estudios" Fellowship (JAE-Doc programme 2011) from the CSIC and ESF. We also acknowledge the input of four anonymous reviewers that greatly improved the manuscript.
Additional information
Handling editor: Begoña Santos
Electronic supplementary material
Below is the link to the electronic supplementary material.
About this article
Cite this article
Sieiro, P., Otero, J. & Guerra, Á. Contrasting macroscopic maturity staging with histological characteristics of the gonads in female Octopus vulgaris . Hydrobiologia 730, 113–125 (2014). https://doi.org/10.1007/s10750-014-1826-4
Received:

Revised:

Accepted:

Published:

Issue Date:

DOI: https://doi.org/10.1007/s10750-014-1826-4
Keywords
Reproduction

Maturation

Oogenesis

Histology

Size-at-maturity

Octopus vulgaris