Abstract
Blanket peat catchments are important biodiversity refugia. Key pressures on peatland catchment water bodies include artificial drainage, forestry, over-grazing, wind farm development and climate change, and assessment of these pressures requires sensitive monitoring programmes. This study, undertaken in two neighbouring blanket peat catchments, examined the variability in macroinvertebrate and diatom assemblages and related indices in response to spatial and seasonal variability. Multivariate analysis revealed significant trends in the taxa distribution of both groups and the indices downstream and away from the constraining influence of the peat. However, the ecological quality ratios and status assessments for the associated water bodies were consistent irrespective of spatial variability in assemblages and raw indices. Significant seasonal trends emerged only in the macroinvertebrate assemblages and indices. This study contributes to the understanding of sources of uncertainty in ecological assessment and thus provides valuable information for the calibration of assessment protocols for sensitive peatland catchments.
Access options
Buy single article
Instant access to the full article PDF.
US$ 39.95
Tax calculation will be finalised during checkout.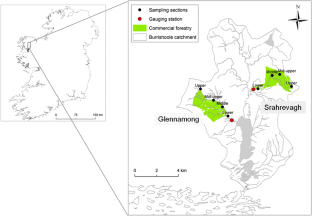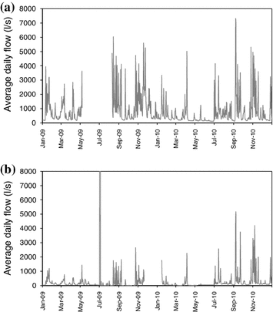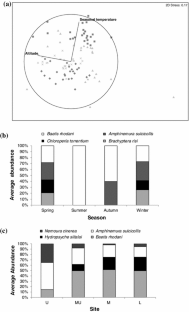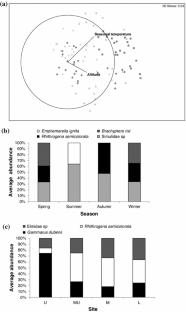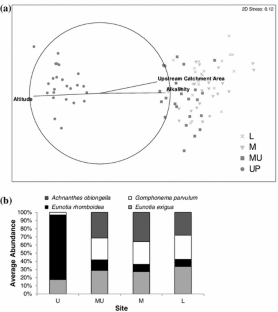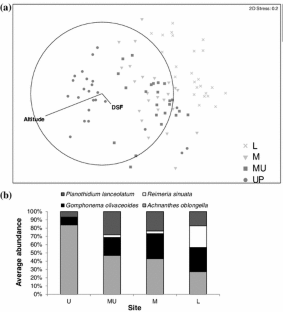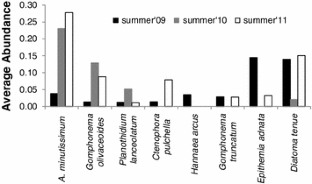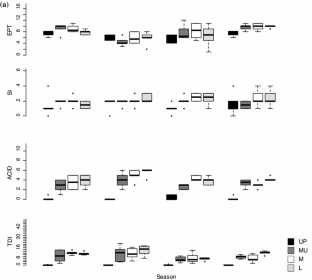 References
Allott, N. & M. Brennan, 2000. Nature and origin of acid episodes in western Ireland. Internationale Vereinigung für Theoreische und Angewandte Limnologie 27: 2471–2474.

Allott, N., M. Brennan, D. Cooke, J. Reynolds, & N. Simon, 1997. AQUAFOR Report 4: Stream Chemistry, Hydrology and Biota, Galway–Mayo Region. In A Study of the Effects of Stream Hydrology and Water Chemistry in Forested Catchments on Fish and Macroinvertebrates. COFORD, Dublin.

Anderson, M. J., 2005. PERMANOVA: A FORTRAN computer program for permutational multivariate analysis of variance. Department of Statistics, University of Auckland, New Zealand.

Andrén, C. & A. Jarlman, 2008. Benthic diatoms as indicators of acidity in streams. Fundamental and Applied Limnology 173: 237–253.

ANZECC, 2000. Australian and New Zealand guidelines for fresh and marine water quality. Australian and New Zealand Environment and Conservation Council and Agriculture and Resource Management Council of Australia and New Zealand.

APHA, 1998. Standard Methods for the Examination of Water and Wastewater, 20th edn. American Public Health Association, Washington, DC.

Bain, C. G., A. Bonn, R. Stoneman, S. Chapman, A. Coupar, M. Evans, B. Gearey, M. Howat, H. Joosten, C. Keenleyside, J. Labadz, R. Lindsay, N. Littlewood, P. Lunt, C. J. Miller, A. Moxey, H. Orr, M. Reed, P. Smith, V. Swales, D. B. A. Thompson, P. S. Thompson, R. Van de Noort, J. D. Wilson, F. Worrall, 2011. IUCN UK Commission of Inquiry on Peatlands. http://www.iucn-ukpeatlandprogramme.org/commission/. Assessed on 02 October 2013.

Battin, T., S. Luyssaert, L. A. Kaplan, A. K. Aufdenkampe, A. Richter & L. J. Tranvik, 2009. The boundless carbon cycle. Nature Geoscience 2: 598–600.

Bennett, C., R. Owen, S. Birk, A. Buffagni, S. Erba, N. Mengin, J. Murray-Bligh, G. Ofenböck, I. Pardo & W. Van De Bund, 2011. Bringing European river quality into line: an exercise to intercalibrate macro-invertebrate classification methods. Hydrobiologia 667: 31–48.

Biggs, B. J. F., 2000. New Zealand Periphyton Guideline: Detecting, Monitoring and Managing the Enrichment of Streams. Ministry for Environment Publication, Wellington.

Biggs, B., R. Stevenson & R. Lowe, 1998. A habitat matrix conceptual model for stream periphyton. Archiv für Hydrobiologie 143: 21–56.

Cairns, J., J. L. Plafkin, R. L. Kaesler & R. L. Lowe, 1983. Early colonization patterns of diatoms and protozoa in fourteen fresh-water lakes. Journal of Eukaryotic Microbiology 30: 47–51.

Carter, J. L., V. H. Resh, M. J. Hannaford & M. J. Myers, 2007. Invertebrates as biotic indicators of environmental quality. In Hauer, F. R. & G. A. Lamberti (eds), Methods in Stream Ecology. Academic Press, Burlington, MA: 805–831.

CEN, 2004. Water quality: guidance standard for the identification, enumeration and interpretation of benthic diatom samples from running waters. EN 14407:2004. Comité European de Normalisation, Geneva.

Clarke, R. T., 2013. Estimating confidence of European WFD ecological status class and WISER Bioassessment Uncertainty Guidance Software (WISERBUGS). Hydrobiologia 704: 39–56.

Clarke, K. R. & M. Ainsworth, 1993. A method of linking multivariate community structure to environmental variables. Marine Ecology Progress Series 92: 205–219.

Clarke, K. R. & R. N. Gorley, 2006. PRIMER v6: User Manual/Tutorial. PRIMER-E, Plymouth.

Clarke, A., R. MacNally, N. Bond & P. Lake, 2008. Macroinvertebrate diversity in headwater streams: a review. Freshwater Biology 53: 1707–1721.

Coillte, 2012. http://www.coillte.ie/coillteforest/responsible_forest_management_and_certification/certification_introduction/. Retrieved 02 October 2013.

Cummins, T. & E. P. Farrell, 2003. Biogeochemical impacts of clear felling and reforestation on blanket peatland streams. I. Phosphorus. Forest Ecology and Management 180(1–3): 545–555.

Dall, P. C., 1979. A sampling technique for littoral stone dwelling organisms. Oikos 33: 106–112.

Dalton, C., E. Jennings, D. Taylor, B. O'Dwyer, S. Murnaghan, K. Bosch, E. De Eyto, K. Sparber, 2010. Past, current and future interactions between pressures, chemical status and biological quality elements for lakes in contrasting catchments in Ireland. EPA/ERTDI PROJECT # 2005-W-MS-40 Draft Report 290 pp.

Dawson, J., M. Billett, C. Neal & S. Hill, 2002. A comparison of particulate, dissolved and gaseous carbon in two contrasting upland streams in the UK. Journal of Hydrology 257: 226–246.

Dawson, J. J., M. F. Billett, D. Hope, S. M. Palmer & C. M. Deacon, 2004. Sources and sinks of aquatic carbon in a peatland stream continuum. Biogeochemistry 70: 71–92.

De Yoe, H. R., R. L. Lowe & J. C. Marks, 1992. Effects of nitrogen and phosphorus on the endosymbiont load of Rhopalodia gibba and Epithemia turgida (Bacillariophyceae). Journal of Phycology 28: 773–777.

EC, 2003. The conservation of natural habitats and of wild fauna and flora. In: COMMISSION, E. (ed.), Official Journal of the European Union L 236 33 23 September 2003.

EPA, 2005. Phosphorus Regulations National Implementation Report. http://www.epa.ie/downloads/pubs/water/phosphorus/EPAphosphorusreport2005.pdf. Assessed 13 October 2013.

EPA, 2006. Water Framework Directive Monitoring Programme. Version 1., 2006. Prepared to meet the requirements of the EU Water Framework Directive (2000/60/EC) and National Regulations implementing the Water Framework Directive (S.I. No 722 of 2003) and National Regulations implementing the Nitrates Directive (S.I. No. 788 of 2005). Environmental Protection Agency, Ireland.

European Union, 2000. Directive 2000/60/EC of the European Parliament and of the Council of 23 October 2000 establishing a framework for community action in the field of water policy. Official Journal of the European Communities L327: 1–73.

Evans, M., J. Warburton & J. Yang, 2006. Sediment budgets for eroding blanket peat catchments: global and local implications of upland organic sediment budgets. Geomorphology 79: 45–57.

Eyre, M. D., J. G. Pilkington, R. P. Mcblane & S. P. Rushton, 2005. Macroinvertebrate species and assemblages in the headwater streams of the River Tyne, northern England in relation to land cover and other environmental variables. Hydrobiologia 544: 229–240.

Fealy, R., N. Allot, C. Borderick, E. de Eyto, M. Dillane, R. Erdil, E. Jennings, K. McCrann, C. Murphy & C. O'toole, 2010. RESCALE: review and simulate climate and catchment responses at Burrishoole. Marine Research Sub Programme 2007–2013: 1–126.

Feeley, H. B., C. Kerrigan, P. Fanning, E. Hannigan & M. Kelly-Quinn, 2011. Longitudinal extent of acidification effects of plantation forest on benthic macroinvertebrate communities in soft water streams: evidence for localised impact and temporal ecological recovery. Hydrobiologia 671: 217–226.

Feeley, H. B., M. Bruen, S. Blacklocke & M. Kelly-Quinn, 2013. A regional examination of episodic acidification response to reduced acidic deposition and the influence of plantation forests in Irish headwater streams. Science of the Total Environment 443: 173–183.

Forest Service, 2008. Indicative Forestry Statement, The right trees in the right places. Department of Agriculture, Fisheries and Food. Report.

Fowler, D., J. N. Cape, M. H. Unsworth, H. Mayer, J. M. Crowther, P. G. Jarvis, B. Gardiner & W. J. Shuttleworth, 1989. Deposition of Atmospheric Pollutants on Forests. Philosophical Transactions of the Royal Society B: Biological Sciences 324: 247–265.

Gibson, G. R., M. T. Barbour, J. Stribling, J. Gerritsen, J. Karr, 1996. Biological Criteria: Technical Guidance for Streams and Small Rivers. Environmental Protection Agency, Washington, DC, USA. Office of Water.

Giller, P. S. & H. Twomey, 1993. Benthic macroinvertebrate community organisation in two contrasting rivers: between-site differences and seasonal patterns. Biology and Environment: Proceedings of the Royal Irish Academy. JSTOR 93B(3): 115–126.

Greig, S. M., D. A. Sear & P. A. Carling, 2007. A review of factors influencing the availability of dissolved oxygen to incubating salmonid embryos. Hydrological Processes 21: 323–334.

Heikurainen, L., K. Kenttämies & J. Laine, 1978. The environmental effects of forest drainage. Suo 29: 49–58.

Hendley, N. I., 1974. The permanganate method for cleaning freshly gathered diatoms. Microscopy 32: 423–426.

Henrikson L., Medin, M., 1986. Biologisk bedömning av försurningspåverkan pålelångens illflöden och grundområden. Aquaekologerna. Report to Älvsborgs County Administrative Board [in Swedish].

Holden, J. & T. P. Burt, 2003. Runoff production in blanket peat covered catchments. Water Resources Research 39: 1191.

Holmes, R. M., J. W. McClelland, P. A. Raymond, B. B. Frazer, B. J. Peterson & M. Stieglitz, 2008. Lability of DOC transported by Alaskan rivers to the Arctic Ocean. Geophysical Research Letters 35: L03402.

Jenkins, A., B. J. Cosby, R. Ferrier, T. A. B. Walker & J. D. Miller, 1990. Modelling stream acidification in afforested catchments. An assessment of the relative effects of acid deposition and afforestation. Journal of Hydrology 120: 163–181.

Joensuu, S., E. Ahti & M. Vuollekoski, 1999. The effects of peatland forest ditch maintenance on suspended solids in runoff. Boreal Environment Research 4: 343–355.

Johnson, R. C., M. M. Carreiro, H. -S. Jin & J. D. Jack, 2012. Within-year temporal variation and life-cycle seasonality affect stream macroinvertebrate community structure and biotic metrics. Ecological Indicators 13: 206–214.

Joosten, H., Clarke, D., 2002. Wise use of mires and peatlands, A Framework for Decision making. International Mire Conservation Group & International Peat Society.

Juggins, S., Kelly, M., 2012. A WFD-compatible approach to assess acidification using diatoms in UK and Irish rivers. Report SC070034/TR2, Environment Agency, Bristol.

Kelly, M., A. Cazaubon, E. Coring, A. Dellüomo, L. Ector, B. Goldsmith, H. Guasch, J. Hürlimann, A. Jarlman & B. Kawecka, 1998. Recommendations for the routine sampling of diatoms for water quality assessments in Europe. Journal of Applied Phycology 10: 215–224.

Kelly, M. G., 2003. Short term dynamics of diatoms in an upland stream and implications for monitoring eutrophication. Environmental Pollution 125: 117–122.

Kelly, M. G., 2013. Data rich, information poor? Phytobenthos assessment and the Water Framework Directive. European Journal of Phycology 48(4): 437–450.

Kelly, M., S. Juggins, R. Guthrie, S. Pritchard, J. Jamieson, B. Rippey, H. Hirst & M. Yallop, 2008. Assessment of ecological status in UK rivers using diatoms. Freshwater Biology 53: 403–422.

Kelly, M., H. Bennion, A. Burgess, J. Ellis, S. Juggins, R. Guthrie, J. Jamieson, V. Adriaenssens & M. Yallop, 2009. Uncertainty in ecological status assessments of lakes and rivers using diatoms. Hydrobiologia 633: 5–15.

Kelly-Quinn, M., D. Tierney, C. Coyle & J. J. Bracken, 1996. Factors affecting the susceptibility of Irish soft-water streams to forest-mediated acidification. Fisheries Management and Ecology 3: 287–301.

Kelly-Quinn, M., J. R. Baars, C. Bradley, I. Dodkins, T. J. Harrington, B. Ni Chathain, M. O'Connor, B. Rippey, D. Trigg, 2004. Characterisation of reference conditions and testing of typology of rivers (RIVTYPE). Irish EPA.

Kenttämies, K., 1981. The effects on water quality of forest drainage and fertilization in peatlands. Publications of the Water Research. Institute, National Board of Waters, Finland 43: 24–31.

Kiely, J., Diamond, S., Burke, P.J. Collins, T. 1974. The soil map of West Mayo. National Soil Survey, Soils Division, An Foras Taluntais, Dublin.

Krammer, K. & H. Lange-Bertalot, 1986. Die Süsswasserflora von Mitteleuropa 2: Bacillariophyceae. Teil 1: Naviculaceae, Gustav Fisher Verlag, Stuttgart.

Krammer, K., & H. Lange-Bertalot, 1997. Die Süsswasserflora von Mitteleuropa, II: 2. Bacillariophyceae. Teil 2: Bacillariaceae, Epithemiaceae, Surirellaceae. 2te Auflage., Gustav Fisher Verlag, Stuttgart.

Krammer, K. & H. Lange-Bertalot, 2000. Die Süsswasserflora von Mitteleuropa 2: Bacillariophyceae. Teil 3: Centrales, Fragilariaceae, Eunotiaceae. 2te Auflage, Gustav Fischer Verlag, Stuttgart.

Krammer, K. & H. Lange-Bertalot, 2004. Die Süsswasserflora von Mitteleuropa 2: Bacillariophyceae. Teil 4: Achnanthaceae. Kritische Ergänzungen zu Achnanthes s.l., Navicula s. str., Gomphonema., Spektrum Akademischer Verlag/Gustav Fisher, Heidelberg.

Laudon, H., R. A. Sponseller, R. W. Lucas, M. N. Futter, G. Egnell, K. Bishop, A. Agren, E. Ring & P. Högberg, 2011. Consequences of more intensive forestry for the sustainable management of forest soils and waters. Forests 2: 243–260.

Lewis, C., J. Albetson, X. Xu & G. Kiely, 2011. Spatial variability of hydraulic conductivity and bulk density along a blanket peatland hillslope. Hydrological Processes 26(10): 1527–1537.

Long, M. & P. Jennings, 2006. Analysis of the peat slide at Pollatomish, County Mayo, Ireland. Landslides 3: 51–61.

Lowe, R. L., B. H. Rosen & G. Fairchild, 1984. Endosymbiotic blue–green algae in freshwater diatoms: an advantage in nitrogen poor habitats. Journal of Phycology 20: 24–30.

Mayorga, E., A. K. Aufdenkampe, C. A. Masiello, A. V. Krusche, J. I. Hedges, P. D. Quay, J. E. Richey & T. A. Brown, 2005. Young organic matter as a source of carbon dioxide outgassing from Amazonian rivers. Nature 436: 538–541.

McGarrigle, M. L., J. J. Bowman, K. J. Clabby, J. Lucey, P. Cunningham, M. MacCarthaigh, M. Keegan, B. Cantrell, M. Lehane, C. Clenaghan & P. F. Toner, 2002. Water quality in Ireland 1998–2000. EPA, Wexford.

Miller, J. D., J. K. Adamson & D. Hirst, 2001. Trends in stream water quality in environmental change network upland catchments: the first 5 years. Science of the Total Environment 265: 27–38.

Moe, S. J., A. K. Schartau, T. Bækken & B. McFarland, 2010. Assessing macroinvertebrate metrics for classifying acidified rivers across northern Europe. Freshwater Biology 55: 1382–1404.

Müller, M., 2000. Hydrogeographical studies in the Burrishoole Catchment, Newport, Co. Mayo, Ireland: affects of afforestation on the run-off regime of small mountain spate river catchments. Verhandlung Internationale Vereinigung Limnologie: 27.

Mykrä, H., T. Saarinen, M. Tolkkinen, B. Mcfarland, H. Hämäläinen, K. Martinmäki & B. Kløve, 2012. Spatial and temporal variability of diatom and macroinvertebrate communities: how representative are ecological classifications within a river system? Ecological Indicators 18: 208–217.

Nieminen, M., 2003. Effects of clear-cutting and site preparation on water quality from a drained Scots pine mire in southern Finland. Boreal Environment Research 8: 53–59.

O'Driscoll, C., E. de Eyto, M. Rodgers, M. O'Connor, Z. Z. Asam & L. Xiao, 2012. Diatom assemblages and their associated environmental factors in upland peat forest rivers. Ecological Indicators 18: 443–451.

O'Driscoll, C., E. de Eyto, M. Rodgers, M. O'Connor, Z.-Z. Asam & L. Xiao, 2013. Biotic response to forest harvesting in acidic blanket peat fed streams: a case study from Ireland. Forest Ecology and Management 310: 729–739.

Oemke, M. P. & T. M. Burton, 1986. Diatom colonization dynamics in a lotic system. Hydrobiologia 139: 153–166.

Olden, J. D. & N. Poff, 2003. Redundancy and the choice of hydrologic indices for characterizing streamflow regimes. River Research and Applications 19: 101–121.

Ormerod, S. J., A. P. Donald & S. J. Brown, 1989. The influence of plantation forestry on the pH and aluminium concentration of upland welsh streams: a re-examination. Environmental Pollution 62: 47–62.

Ormerod, S. J., G. Rutt, N. S. Weatherley, K. Wade, 1991. Detecting and managing the influence of forestry on river systems in Wales: results from surveys, experiments and models. In Steer M. W. (ed.), Irish Rivers: Biology and Management. Royal Irish Academy, Dublin: 163–84.

Owende, P. M. O., J. Lyons, R. Haarlaa, A. Peltola, R. Spinelli, J. Molano, S. M. Ward, 2002. Operations protocol for eco-efficient wood harvesting on sensitive sites. In ECOWOOD Partnership.

Paavilainen, E. & J. Päivänen, 1995. Peatland Forestry: Ecology and Principles. Springer, Berlin.

Passy, S. I., 2006. Diatom community dynamics in streams of chronic and episodic acidification: the roles of environment and time. Journal of Phycology 42: 312–323.

Passy, S. I., 2007. Diatom ecological guilds display distinct and predictable behavior along nutrient and disturbance gradients in running waters. Aquatic Botany 86: 171–178.

Potapova, M. G. & D. F. Charles, 2002. Benthic diatoms in USA Rivers: distributions along spatial and environmental gradients. Journal of Biogeography 29: 167–187.

Pound, K. L., G. B. Lawrence & S. I. Passy, 2013. Wetlands serve as natural sources for improvement of stream ecosystem health in regions affected by acid deposition. Global Change Biology 19(9): 2720–2728.

Ramchunder, S. J., L. E. Brown, J. Holden & R. Langton, 2011. Spatial and seasonal variability of peatland stream ecosystems. Ecohydrology 4: 577–588.

Riipinen, M. P. & M. Dobson, 2010. Benthic organic matter biomass and invertebrate community structure in five conifer plantation streams in the peak district (Derbyshire, England). Freshwater Forum 28: 61–75.

Rodgers, M., M. O'Connor, M. G. Healy, C. O'Driscoll, Z. Z. Asam, M. Nieminen, R. Poole, M. Müller & L. Xiao, 2010. Phosphorus release from forest harvesting on an upland blanket peat catchment. Forest Ecology and Management 260: 2241–2248.

Schneider, S. C., M. Kahlert & M. G. Kelly, 2013. Interactions between pH and nutrients on benthic algae in streams and consequences for ecological status assessment and species richness patterns. Science of the Total Environment 444: 73–84.

Scott, J. T., R. D. Doyle & C. T. Filstrup, 2005. Periphyton nutrient limitation and nitrogen fixation potential along a wetland nutrient-depletion gradient. Wetlands 25: 439–448.

Šporka, F., H. E. Vlek, E. Bulánková & I. J. Krno, 2006. Influence of seasonal variation on bioassessment of streams using macroinvertebrates. Hydrobiologia 566: 543–555.

Sprules, W. M., 1947. An ecological investigation of stream insects in Algonquin Park, Ontario. University Toronto Studies, Biology Series 56: 1–81.

Toner, P., K. Bowman, K. Clabby, J. Lucey, M. McGarrigle, C. Concannon, C. Clenaghan, P. Cunningham, J. Delaney, S. O'Boyle, M. Macarthaigh, M. Craig & R. Quinn, 2005. Water Quality in Ireland 2001–2003. Irish Environmental Protection Agency, Wexford, Ireland.

Vlek, H. E., 2006. Influence of seasonal variation on bioassessment of streams using invertebrates. Verhandlungen des Internationalen Verein Limnologie 29: 1971–1975.

Whelan, K. F., R. Poole, P. McGinnity, G. Rogan, D. Cotter, 1998. The Burrishoole System. In Moriarty, C. (ed.) Studies of Irish Rivers and Lakes, Essays on the occasion of the XXVII Congress of Societas Internationalis Limnologiae (SIL), Dublin.

Worrall, F., T. P. Burt & J. K. Adamson, 2006. Long-term changes in hydrological pathways in an upland peat catchment—recovery from severe drought? Journal of Hydrology 321: 5–20.
Acknowledgments
This study was funded by the Department of Agriculture and Food's Research Stimulus Fund (RSF), financed by the Irish Government under the National Development Plan 2007–2013. The authors wish to acknowledge the input of Coillte in allowing access to state forestry for this project. The authors gratefully acknowledge the help and support from the, Marine Institute, and the EPA, and Coillte. Sincere thanks are also given to Bryan Kennedy, Mary Dillane, Cian O'Driscoll and Tom Reed. The comments made by anonymous reviewers are very much appreciated.
Additional information
Handling editor: Katya E. Kovalenko
Electronic supplementary material
Below is the link to the electronic supplementary material.
About this article
Cite this article
O'Driscoll, C., de Eyto, E., Rodgers, M. et al. Spatial and seasonal variation of peatland-fed riverine macroinvertebrate and benthic diatom assemblages and implications for assessment: a case study from Ireland. Hydrobiologia 728, 67–87 (2014). https://doi.org/10.1007/s10750-014-1807-7
Received:

Revised:

Accepted:

Published:

Issue Date:
Keywords
Peatland catchments

Diatoms

Macroinvertebrates

Variation

WFD