Abstract
In lakes, spatial and temporal variability of water chemistry and phytoplankton are characteristic phenomena although often difficult to link together. This motivated us to study their interplay in Lake Vanajanselkä, a eutrophic lake in Finland. We hypothesized that in summer spatial and temporal differences in phytoplankton and water chemistry can be extended in comparison to spring and autumn. Therefore, chlorophyll a and water chemistry was examined by six sampling campaigns with 15 sampling sites over the lake in May–October 2009–2010. In summer, chlorophyll, pH, and oxygen were horizontally and vertically unevenly distributed in the lake, and in the epilimnion pH and oxygen showed a distinct diurnal variability suggesting high photosynthesis during the day. Daily >1 pH unit difference between the sites and 2.5 pH unit difference between the epi- and hypolimnion were found. In agreement with pH and oxygen, NO3-N and NH4-N could be unevenly distributed in the epilimnion. In autumn no spatial differences were found, however. The results emphasized that algae and cyanobacteria were responsible, at least partly, for the variability in water chemistry in the surface layer, and short- and long-term gradients in space and time need to be considered when productive lakes are studied.
Access options
Buy single article
Instant access to the full article PDF.
US$ 39.95
Tax calculation will be finalised during checkout.
Subscribe to journal
Immediate online access to all issues from 2019. Subscription will auto renew annually.
US$ 119
Tax calculation will be finalised during checkout.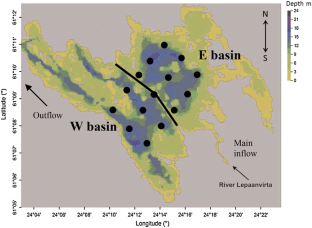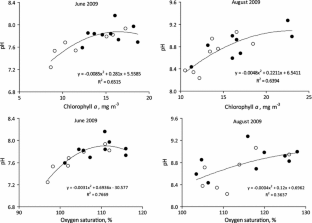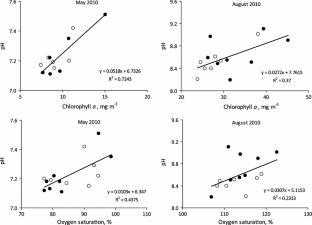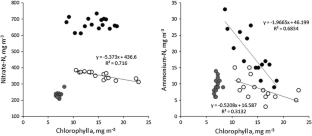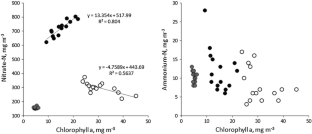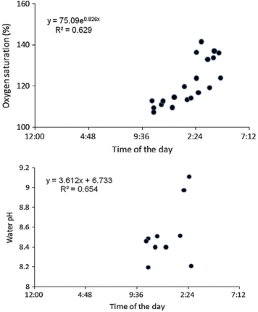 References
Anttila, S. & T. Kairesalo, 2010. Mean and variance estimations with different pixel sizes: case study in a small water quality monitoring area in southern Finland. Boreal Environment Research 15: 335–346.

Arvola, L., 1984. Diel variation in primary production and the vertical distribution of phytoplankton in a polyhumic lake. Archiv für Hydrobiologie 101: 503–519.

Arvola, L., A. Ojala, F. Barbosa & S. I. Heaney, 1991. Migration behaviour of three cryptophytes in relation to environmental gradients: an experimental approach. British Phycological Journal 26: 361–373.

Arvola, L., P. Kankaala, T. Tulonen & A. Ojala, 1996. Effects of phosphorus and allochthonous humic matter enrichment on the metabolic processes and community structure of plankton in a boreal lake. Canadian Journal of Fisheries and Aquatic Research 53: 1646–1662.

Boehrer, B. & M. Schultze, 2008. Stratification of lakes. Reviews in Geophysics 46: RG2005. doi:10.1029/2006RG000210.

Cloern, J. E., A. E. Alpine, B. E. Cole & T. Heller, 1992. Seasonal changes in the spatial distribution of phytoplankton in small, temperate-zone lakes. Journal of Plankton Research 14: 1017–1024.

Della Rossa, F., S. Fasani & S. Rinaldi, 2013. Conditions for patchiness in plankton models. Theoretical Population Biology 83: 95–100.

George, D. G. & R. W. Edwards, 1973. Daphnia distributions within Langmuir circulations. Limnology and Oceanography 18: 798–800.

George, D. G. & S. I. Heaney, 1978. Factors influencing the spatial distribution of phytoplankton in a small productive lake. Journal of Ecology 66: 133–155.

Hutchinson, G. E., 1967. A Treatise on Limnology, Vol. III. Introduction to Lake Biology and the Limnoplankton. Wiley, New York.

Jokiniemi, A., 2013. Wastewater spreading in inland waters [in Finnish]. M.Sc. Thesis, Department of Physics, University of Helsinki.

Kairesalo, T., 1980. Diurnal fluctuations within a littoral plankton community in oligotrophic Lake Pääjärvi, southern Finland. Freshwater Biology 10: 533–553.

Kalff, J., 2002. Limnology: Inland Water Ecosystems. Prentice-Hall Inc., Englewood Cliffs, NJ.

Kansanen, P., 1981. Effects of heavy pollution on the zoobenthos in Lake Vanajavesi, southern Finland, with special reference to the meiozoobenthos. Annales Zoologici Fennici 18: 243–251.

Keskitalo, J. & K. Salonen, 1994. Manual for Integrated Monitoring. Subprogramme Hydrobiology of Lakes. Publications of the Water and Environment Administration: Series B 16, National Board of Waters and the Environment, Helsinki: 41 pp.

Leppäranta, M., A. Heini, E. Jaatinen & L. Arvola, 2012. The influence of ice season on the physical and ecological conditions in Lake Vanajanselkä, southern Finland. Water Quality Research Journal of Canada 47: 287–299.

Reynolds, C. S., 2006. The Ecology of Phytoplankton. Cambridge University Press, Cambridge, UK.

Riley, G. A., 1976. A model of plankton patchiness. Limnology and Oceanography 21: 873–880.

Salonen, K. & M. Rosenberg, 2001. Advantages from diel vertical migration can explain the dominance of Gonyostomum semen (Raphidophyceae) in a small, steeply-stratified humic lake. Journal of Plankton Research 22: 1841–1853.

Salonen, K., R. I. Jones & L. Arvola, 1984. Hypolimnetic phosphorus retrieval by diel vertical migrations of phytoplankton. Freshwater Biology 14: 431–438.

Schmidt, W., 1928. Über Temperatur und Stabilitätsverhältnisse von Seen. Geografiska Annaler 10: 145–177.

Staehr, P. A., J. P. A. Christensen, R. D. Batt & J. S. Read, 2012. Ecosystem metabolism in a stratified lake. Limnology and Oceanography 57: 1317–1330.

Van De Bogert, M. C., D. L. Bade, S. R. Carpenter, J. J. Cole, M. L. Pace, P. C. Hanson & O. C. Langman, 2012. Spatial heterogeneity strongly affects estimates of ecosystem metabolism in two north temperate lakes. Limnology and Oceanography 57: 1689–1700.

Verduin, J., 1957. Daytime variations in phytoplankton photosynthesis. Limnology and Oceanography 2: 333–336.

Verspagen, J. M. H., J. Passarge, K. D. Jöhnk, P. M. Visser, L. Peperzak, P. Boers, H. J. Laanbroek & J. Huisman, 2006. Water management strategies against toxic Microcystis blooms in the Dutch delta. Ecological Applications 16: 313–327.

Vilar, J. M. G., R. V. Sole & J. M. Rubi, 2003. On the origin of plankton patchiness. Physica A 317: 239–246.

Wetzel, R. G., 2001. Limnology, 3E. Lake and River Ecosystems. Academic Press, San Diego, CA, USA.

Weyhenmeyer, G. A., E. Jeppesen, R. Adrian, L. Arvola, T. Blenckner, T. Jankowski, E. Jennings, P. Nõges, T. Nõges & D. Straile, 2007. Nitrate-depleted conditions on the increase in shallow northern European lakes. Limnology and Oceanography 52: 1346–1352.

Yang, Y., M. Leppäranta, Z. Li & B. Cheng, 2012. An ice model for Lake Vanajavesi, Finland. Tellus A 64: 17202. doi:10.3402/tellusa.v64i0.17202.
Acknowledgments
We want to thank the field group from the Department of Physics and Lammi Biological Station (LBS) of the University of Helsinki (Kirsi Arvola, Mikko Heini, Jarmo Hinkkala, Elina Jaatinen, Ruibo Lei, John Loehr, Pertti Saaristo, Jussi Vilén and Yu Yang), and the laboratory technicians of LBS for the chemical measurements and determinations. The work was supported by the YMPANA research project (Development of a lake monitoring station). YMPANA was a part of the YMLI project and funded by the European Structural Fund Programmes (2008–2011). This work is also partly (Anniina Heini) supported by the Finnish Cultural Foundation, Häme Regional Fund. The Centre for Economic Development, Transport and the Environment of Häme provided logistic support during the study. We also thank Dr. John Loehr for his English corrections and comments on the manuscript.
Additional information
Guest editors: D. Straile, D. Gerdeaux, D. M. Livingstone, P. Nõges, F. Peeters & K.-O. Rothhaupt / European Large Lakes III. Large lakes under changing environmental conditions
About this article
Cite this article
Heini, A., Puustinen, I., Tikka, M. et al. Strong dependence between phytoplankton and water chemistry in a large temperate lake: spatial and temporal perspective. Hydrobiologia 731, 139–150 (2014). https://doi.org/10.1007/s10750-013-1777-1
Received:

Accepted:

Published:

Issue Date:
Keywords
Spatial variability

Temporal variability

Chemistry

Phytoplankton