Abstract
Using a space-for-time substitution approach, we investigated the effects of a typhoon on the vegetation and soil development trajectories of monospecific stands of Rhizophora mucronata mangroves of different ages (6-, 8- 10-, 11-, 12-, 17-, 18- and 50-year stands). The vegetation and soil parameters were compared to a reference system comprised of mature, natural mangrove stands. Pre-typhoon measures of vegetation and soil parameters were compared with 1-mo, 7-mo and 9-mo post-typhoon. Prior to the occurrence of the typhoon, there were clear patterns of vegetation and soil development with age of the stands. The development trajectory was however interrupted by the occurrence of the typhoon. Severe damage was more apparent in older mangrove stands (11- and 18- year stands) with very low to no damage in the younger stands. The typhoon-impacted sites experienced a number of changes, including: complete defoliation; reduced living tree densities of 61–69 %; decreased above-ground biomass of 70–79 %; increased soil nutrient levels of 40–60 %; more waterlogged soils by at least 113 % and increased soil temperature of 8–10 °C. Cumulative tree mortality, compounded by the lack of seedling recruits and unfavourable soil conditions may limit long-term recovery of the typhoon-impacted stands.
Access options
Buy single article
Instant access to the full article PDF.
USD 39.95
Price excludes VAT (USA)
Tax calculation will be finalised during checkout.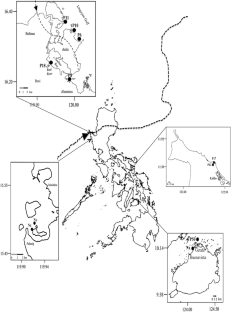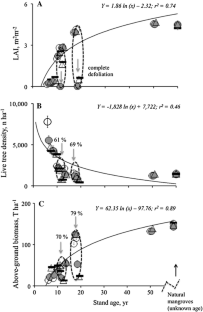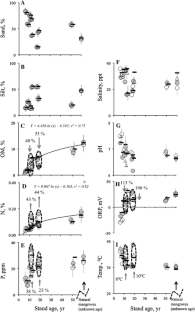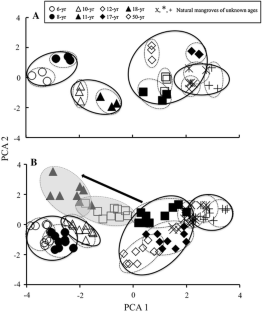 References
Alongi, D. M., 2009. The Energetics Of Mangrove Forests. Springer Science, Townsville: 216 pp.

Alongi, D. M., A. Sasekumar, F. Tirendi & P. Dixon, 1998. The influence of stand age on benthic decomposition and recycling of organic matter in managed mangrove forests of Malaysia. Journal of Experimental Marine Biology and Ecology 225: 197–218.

Ancelin, P., B. Courbaud & T. Fourcaud, 2004. Development of an individual tree-based mechanical model to predict wind damage within forest stands. Forest Ecology and Management 203: 101–121.

Baldwin, A. H., W. J. Platt, K. L. Gathen, J. M. Lessmann & T. L. Rauch, 1995. Hurricane damage and regeneration in fringe mangrove forests of southeast Florida, USA. Journal of Coastal Research sI21: 169–183.

Baldwin, A. H., M. Egnotovich, M. Ford & W. Platt, 2001. Regeneration in fringe mangrove forests damaged by Hurricane Andrew. Plant Ecology 157: 149–162.

Barbier, E. B., 2006. Natural barriers to natural disasters: replanting mangroves after the tsunami. Frontiers in Ecology and the Environment 4: 124–131.

Bianchi, T. S., 2011. The role of terrestrially derived organic carbon in the coastal ocean: a changing paradigm and the priming effect. Proceedings of the National Academy of Science 108: 19473–19481.

Boto, K. G., 1984. Waterlogged saline soils. In Snedaker, S. C. & J. C. Snedaker (eds), The Mangrove Ecosystem: Research Methods. UNESCO, Paris: 114–130.

Bosire, J. O., F. Dahdouh-Guebas, J. G. Kairo & N. Koedam, 2003. Colonization of non-planted mangrove species into restored mangrove stands in Gazi Bay, Kenya. Aquatic Botany 76: 267–279.

Boto, K. G. & J. T. Wellington, 1984. Soil characteristics and nutrient status in a northern Australian mangrove forest. Estuaries 7: 61–69.

Bray, R. H. & L. T. Kurtz, 1945. Determination of total, organic, and available forms of phosphorus in soils. Soil Science 59: 39–45.

Busby, P. E., G. Motzkin & E. R. Boose, 2008. Landscape-level variation in forest response to hurricane disturbance across a storm track. Canadian Journal of Forest Research 38(12): 2942–2950.

Cahoon, D. R., P. Hensel, J. Rybczyk, K. L. McKee, C. Proffitt & B. C. Perez, 2003. Mass tree mortality leads to mangrove peat collapse at Bay Islands, Honduras after Hurricane Mitch. The Journal of Ecology 91: 1093–1105.

Cairns, J. & J. R. Heckman, 1996. Restoration ecology: the state of an emerging field. Annual Review of Energy and Environment 21: 167–189.

Cardona, P. & L. Botero, 1998. Soil characteristics and vegetation structure in a heavily deteriorated mangrove forest in the Caribbean coast of Colombia. Biotropica 30: 24–34.

Castaneda-Moya, E., R. R. Twilley, V. H. Rivera-Monroy, K. Zhang, S. E. Davis III & M. Ross, 2010. Sediment and nutrient deposition associated with Hurricane Wilma in mangroves of the Florida Coastal Everglades. Estuaries and Coasts 33: 45–58.

Chen, R. & R. R. Twilley, 1998. A gap dynamic model of mangrove forest development along gradients of soil salinity and nutrient resources. The Journal of Ecology 86: 37–51.

Clarke, P. J., 1995. The population dynamics of the mangrove Avicennia marina: demographic synthesis and predictive modelling. Hydrobiologia 295: 83–88.

Clarke, K. R. & R. N. Gorley, 2006. PRIMER v6: User Manual/Tutorial. PRIMER-E, Plymouth.

Clough, B. F., J. E. Ong & W. K. Gong, 1997. Estimating leaf area index and photosynthetic production in canopies of the mangrove Rhizophora apiculata. Marine Ecology Progress Series 159: 285–292.

Cohen, M. C. L., R. J. Lara, J. F. D. Ramos & T. Dittmar, 1999. Factors influencing the variability of Mg, Ca and K in waters of a mangrove creek in Braganca, North Brazil. Mangroves and Salt Marshes 3: 9–15.

Colonello, G. & E. Medina, 1998. Vegetation changes induced by dam construction in a tropical estuary: the case of the Manamo river, Orinoco Delta (Venezuela). Plant Ecology 139: 145–154.

Craighead Jr, F. C. & V. C. Gilbert, 1962. The effects of Hurricane Donna on the vegetation of southern Florida. Quarterly Journal of the Florida Academy of Science 25: 1–28.

Doyle, T. W., T. J. Smith III & M. B. Robblee, 1995. Wind damage effects of Hurricane Andrew on mangrove communities along the southwest coast of Florida, USA. Journal of Coastal Research (S1) 21: 159–168.

Duarte, C. M., O. Geertz-Hansen, U. Thampanya, J. Terrados, M. D. Fortes, L. Kamp-Nielsen, J. Borum & S. Boromthanarath, 1998. Relationship between sediment conditions and mangrove Rhizophora apiculata seedling growth and nutrient status. Marine Ecology Progress Series 175: 277–283.

Duke, N. C., 2001. Gap creation and regenerative processes driving diversity and structure of mangrove ecosystems. Wetlands Ecology and Management 9: 257–269.

Ellison, A. M., 2000. Mangrove restoration: do we know enough? Restoration Ecology 8: 219–229.

Ellison, J. C., 1998. Impacts of sediment burial on mangroves. Marine Pollution Bulletin 37: 420–426.

Ellison, A. M. & E. J. Farnsworth, 1996. Anthropogenic disturbance of Caribbean mangrove ecosystems: past impacts, present trends, and future predictions. Biotropica 28: 549–565.

Everham III, E. M. & N. V. L. Brokaw, 1996. Forest damage and recovery from catastrophic wind. Botanical Review 62(2): 113–185.

Feller, I. C., 1995. Effects of nutrient enrichment on growth and herbivory of dwarf red mangrove (Rhizophora mangle). Ecological Monographs 65: 477–505.

Field, C. D., 1999. Mangrove rehabilitation: choice and necessity. Hydrobiologia 413: 47–52.

Fortes, M. D., 1995. Causes of failure (and success?) of mangrove restoration in the Philippines. In Khenmark C (ed.), Ecology and management of mangrove restoration and regeneration in East and Southeast Asia: Proceedings of the ECOTONE IV 18–22 January 1995. Wang Tai Hotel Surat Thani, Thailand: 129–141.

Fromard, F., H. Puig, E. Mougin, G. Marty, J. L. Betoulle & L. Cadamuro, 1998. Structure, above-ground biomass and dynamics of mangrove ecosystems: new data from French Guiana. Oecologia 115: 39–53.

Gaillard, J.-C., C. C. Liamzon & J. D. Villanueva, 2007. 'Natural' disaster? A retrospect into the causes of the late-2004 typhoon disaster in Eastern Luzon, Philippines. Environmental Hazards 7: 257–270.

Gardiner, B. A. & C. P. Quine, 2000. Management of forests to reduce the risk of abiotic damage – a review with particular reference to the effects of strong winds. Forest Ecology and Management 135: 261–277.

Gevaña, D. T. & N. M. Pampolina, 2009. Plant diversity and carbon storage of a Rhizophora stand in Verde Passage, San Juan, Batangas, Philippines. Journal of Environmental Science and Management 12: 1–10.

Hogarth, P., 2007. The Biology of Mangroves and Seagrasses. Oxford University Press, New York.

Hooper, D. U. & P. M. Vitousek, 1997. The effect of plant competition and diversity on ecosystem processes. Science 277: 1302–1305.

Imbert, D., P. Labbe & A. Rousteau, 1996. Hurricane damage and forest structure in Guadeloupe. Journal of Tropical Ecology 12: 663–680.

Kaly, U. L. & G. P. Jones, 1998. Mangrove restoration: a potential tool for coastal management in tropical developing countries. Ambio 27: 656–661.

Katon, B. M., R. S. Pomeroy, L. R. Garces & M. W. Ring, 2000. Rehabilitating the mangrove resources of Cogtong Bay, Philippines: a co-management perspective. Coastal Management 28: 29–37.

Kitamoto, A., 2009. [internet] Typhoon 200902 (Chan-hom). [Updated 22 Feb 2013; cited 22 Feb 2013]. Available from: http://agora.ex.nii.ac.jp/digital-typhoon/summary/wnp/1/200902.html.en.

Komiyama, A., J. E. Ong & S. Poungparn, 2008. Allometry, biomass and productivity of mangrove forests: a review. Aquatic Botany 89: 128–137.

Kubota, H. & C. L. Chan, 2009. Interdecadal variability of tropical cyclone landfall in the Philippines from 1902 to 2005. Geophysical Research Letters 36: L12802.

Lewis III, R. R., 2005. Ecological engineering for successful management and restoration of mangrove forests. Ecological Engineering 24: 403–418.

McKee, K. L., 1995. Interspecific variation in growth, biomass partitioning, and defensive characteristics of neotropical mangrove seedlings: response to light and nutrient availability. American Journal of Botany 82: 299–307.

McKee, K. L., 2010. Biophysical controls on accretion and elevation change in Caribbean mangrove ecosystems. Estuarine, Coastal and Shelf Science 91: 475–483.

McKee, K. L. & P. L. Faulkner, 2000. Biogeochemical functioning of restored and natural mangrove forests in Southwest Florida, USA. Restoration Ecology 8: 247–259.

McKoy, E. D., H. R. Mushinsky, D. Johnson & W. E. Meshaka, 1996. Mangrove damage caused by Hurricane Andrew on the southwestern coast of Florida. Bulletin of Marine Science 59: 1–8.

Michener, W. K., 1997. Quantitatively evaluating restoration experiments: research design, statistical analysis, and data management considerations. Restoration Ecology 5: 324–337.

Milbrandt, E. C., J. M. Greenawalt-Boswell, P. D. Sokoloff & S. A. Bortone, 2006. Impact and response of Southwest Florida mangroves to the 2004 hurricane season. Estuaries and Coasts 29: 979–984.

Morrisey, D. J., G. A. Skilleter, J. I. Ellis, B. R. Burns, C. E. Kemp & K. Burta, 2003. Differences in benthic fauna and sediment among mangrove (Avicennia marina var. australasica) stands of different ages in New Zealand. Estuarine, Coastal and Shelf Science 56: 581–592.

Nelson, D. W. & L. E. Sommers, 1972. A simple digestion procedure for estimation of total nitrogen in soils and sediments. Journal of Environmental Quality 1(4): 423–425.

Pernetta, J. C., 1993. Mangrove forests, climate change and sea level rise: hydrological influences on community structure and survival, with examples from the Indo-West Pacific. A Marine Conservation and Development Report. IUCN, Gland, Switzerland.

Pickett, S. T. A., 1989. Space-for-time substitution as an alternative to long-term studies. In Likens, G. E. (ed.), Long-Term Studies in Ecology: Approaches and Alternatives. Springer-Verlag, New York: 110–135.

Primavera, J. H. & J. M. A. Esteban, 2008. A review of mangrove rehabilitation in the Philippines: successes, failures and future prospects. Wetlands Ecology and Management 16: 345–358.

R Development Core Team, 2012. R: A language and environment for statistical computing. R Foundation for Statistical Computing, Vienna, Austria. http://www.R-project.org/. Accessed 15 Dec 2012.

Rivera-Monroy, V. H., R. R. Twilley, E. Medina, E. B. Moser, L. Botero, A. M. Francisco & E. Bullard, 2004. Spatial variability of soil nutrients in disturbed riverine mangrove forests at different stages of regeneration in the San Juan River Estuary, Venezuela. Estuaries 27: 44–57.

Roth, L. C., 1992. Hurricanes and mangrove regeneration: effects of Hurricane Joan, October 1988, on the vegetation of Isla del Venado, Bluefields, Nicaragua. Biotropica 24: 375–384.

Saenger, P., 2002. Mangrove Ecology, Silviculture and Conservation. Kluwer Academic Publishers, Dordrecht.

Salmo III, S. G. & N. C. Duke, 2010. Establishing mollusk colonization and assemblage patterns in planted mangrove stands of different ages in Lingayen Gulf, Philippines. Wetlands Ecology and Management 18: 745–754.

Salmo III, S. G., C. Lovelock & N. C. Duke, 2013. Vegetation and soil characteristics as indicators of restoration trajectories in restored mangroves. Hydrobiologia 720: 1–18.

Samson, M. S. & R. N. Rollon, 2008. Growth performance of planted mangroves in the Philippines: revisiting forest management strategies. Ambio 37: 234–240.

Sherman, R. E., T. J. Fahey & R. W. Howarth, 1998. Soil-plant interactions in a neotropical mangrove forest: iron, phosphorus and sulfur dynamics. Oecologia 115: 553–563.

Sherman, R. E., T. J. Fahey & P. Martinez, 2001. Hurricane impacts on a mangrove forest in the Dominican Republic: damage patterns and early recovery. Biotropica 33: 393–408.

Smith III, T. J., M. B. Robblee, H. R. Wanless & T. W. Doyle, 1994. Mangroves, hurricanes, and lightning strikes. BioScience 44: 252–262.

Smith III, T. J., G. Anderson, K. Balentine, G. Tiling, G. A. Ward & K. R. T. Whelan, 2009. Cumulative impacts of hurricanes on Florida mangrove ecosystems: sediment deposition, storm surges and vegetation. Wetlands 29: 24–34.

Sokal, R. R. & F. J. Rohlf, 1997. Biometry, The Principles and Practice of Statistics in Biological Research, 3rd ed. WH Freeman and Company, New York.

Thom, B. G., 1987. Mangrove environments. In Field, C. D. & A. J. Dartnall, Mangrove Ecosystems of Asia and the Pacific: Status, Exploitation and Management. Proceedings of the Research for Development Seminar held at the Australian Institute of Marine Science, Townsville, Australia: 286–291.

Tolhurst, T. J. & M. G. Chapman, 2007. Patterns in biogeochemical properties of sediments and benthic animals among different habitats in mangrove forests. Australian Ecology 32: 775–788.

Tomlinson, P. B., 1994. The Botany of Mangroves. Cambridge University Press, New York.

Twilley, R. R., V. H. Rivera-Monroy, R. Chen & L. Botero, 1998. Adapting an ecological mangrove model to simulate trajectories in restoration ecology. Marine Pollution Bulletin 37: 404–419.

Ukpong, I. E., 1994. Soil-vegetation interrelationships of mangrove swamps as revealed by multivariate analyses. Geoderma 64: 167–181.

Velasco, L. R. & L. Cabanilla, 2003. Assessment of physical resource capability in Philippine Agriculture. Philippine APEC Study Center Network Discussion Paper No. 2003-03.

Vitousek, P. M. & W. A. Reiners, 1975. Ecosystem succession and nutrient retention: a hypothesis. Bioscience 25: 376–381.

Walkley, A. & I. A. Black, 1934. An examination of the Degtjareff method for determining organic carbon in soils: effect of variations in digestion conditions and of inorganic soil constituents. Soil Science 63: 251–263.

Walters, B. B., 2004. Local management of mangrove forests in the Philippines: successful conservation or efficient resource exploitation? Human Ecology 32: 177–195.

Webster, P. J., G. J. Holland, J. A. Curry & H. R. Chang, 2005. Changes in tropical cyclone number, duration, and intensity in a warming environment. Science 309: 1844–1846.
Acknowledgments
We are grateful to Ford Foundation-International Fellowship Program (FORD-IFP) and International Foundation for Science (IFS; D/4667-1) for providing financial assistance throughout the study period; the University of Queensland Research Scholarship grant for providing financial support to SS; the Local Government Units and mangrove managers; and Jack Rengel and Tommy Conzaga for assisting in the field sampling. SS thank the Ateneo de Manila University for providing conference support grant, which facilitated the presentation of this manuscript to the international symposium 'Biodiversity in Changing Coastal Waters of Asia and Subtropical Asia' in Amakusa, Japan in November 2012.
Additional information
Guest editors: M. Tokeshi & H. T. Yap / Biodiversity in Changing Coastal Waters of Tropical and Subtropical Asia
About this article
Cite this article
Salmo, S.G., Lovelock, C.E. & Duke, N.C. Assessment of vegetation and soil conditions in restored mangroves interrupted by severe tropical typhoon 'Chan-hom' in the Philippines. Hydrobiologia 733, 85–102 (2014). https://doi.org/10.1007/s10750-013-1766-4
Received:

Accepted:

Published:

Issue Date:

DOI: https://doi.org/10.1007/s10750-013-1766-4
Keywords