Abstract
Cysts of the brine shrimp Artemia franciscana are harvested from the Great Salt Lake (GSL) and San Francisco Bay (SFB) saltworks in the USA, and marketed worldwide to provide live food for aquaculture. This species has become invasive across several countries. We investigated (1) if the introduced populations in the Mediterranean region could have originated from these USA populations, (2) how the genetic diversity of Mediterranean compares to that at GSL and SFB, and (3) if genetic patterns in the Mediterranean can shed light on colonization routes. We sequenced a fragment of the cytochrome c oxidase subunit I and screened microsatellites loci from Mediterranean populations and the two putative USA sources. Haplotypes from Mediterranean populations were identical or closely related to those from SFB and GSL, and not related to other available American populations. Microsatellite analyses showed a reduced population diversity for most Mediterranean populations suggesting bottleneck effects, but few populations were showing similar or higher genetic diversity than native ones, which are likely to be admixed from both GSL and SFB because of multiple introductions. Results suggest natural dispersal, potentially via flamingos, between two Spanish populations. Our analyses show that all invaded populations could have originated from those commercialized USA populations.
Access options
Buy single article
Instant access to the full article PDF.
USD 39.95
Price excludes VAT (USA)
Tax calculation will be finalised during checkout.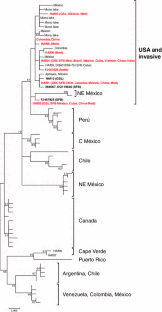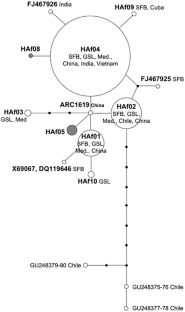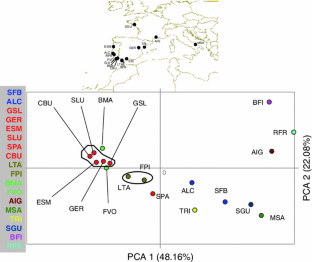 References
Amat, F., R. G. Cohen, F. Hontoria & J. C. Navarro, 2004. Further evidence and characterization of Artemia franciscana (Kellogg, 1906) populations in Argentina. Journal of Biogeography 31: 1735–1749.

Amat, F., F. Hontoria, O. Ruiz, A. J. Green, M. I. Sánchez, J. Figuerola & F. Hortas, 2005a. The American brine shrimp as an exotic invasive species in the western Mediterranean. Biological Invasions 7: 37–47.

Amat, J. A., M. A. Rendon, M. Rendon-Martos, A. Garrido & J. M. Ramirez, 2005b. Ranging behaviour of greater flamingos during the breeding and post-breeding periods: linking connectivity to biological processes. Biological Conservation 125: 183–192.

Amat, F., F. Hontoria, J. C. Navarro, N. Vieira & G. Mura, 2007. Biodiversity loss in the genus Artemia in the western Mediterranean region. Limnetica 26: 177–194.

Amat, F., F. Hontoria, E. Redon, M. Maccari, I. Varo, J. C. Navarro & L. Ballell, 2010. Biodiversidad de Artemia en Macaronesia. In XV Congreso de la Asociación Ibérica de Limnología, Ponta Delgada, San Miguel, Azores, 4–11 Julio.

Ashton, G. V., M. I. Stevens, M. C. Hart, D. H. Green, M. T. Burrows, E. J. Cook & K. J. Willis, 2008. Mitochondrial DNA reveals multiple Northern Hemisphere introductions of Caprella mutica (Crustacea, Amphipoda). Molecular Ecology 17: 1293–1303.

Bailey, S. A., I. C. Duggan, C. D. A. van Overdijk, P. T. Jenkins & H. J. MacIsaac, 2003. Viability of invertebrate diapausing eggs collected from residual ballast sediment. Limnology and Oceanography 48: 1701–1710.

Bengtson, D. A., P. Léger & P. Sorgeloos, 1991. Use of Artemia as a food source for aquaculture. In Browne, R. A., P. Sorgeloos & C. A. N. Trotman (eds), Artemia Biology. CRC Press, Boca Raton, FL: 255–285.

Browne, R. A., 1980. Competition experiments between parthenogenetic and sexual strains of the brine shrimp, Artemia salina. Ecology 31: 471–474.

Browne, R. A. & G. Wanigasekera, 2000. Combined effects of salinity and temperature on survival and reproduction of five species of Artemia. Journal of Experimental Marine Biology and Ecology 244: 29–44.

Camara, M. R., 2001. Dispersal of Artemia franciscana Kellogg (Crustacea; Anostraca) populations in the coastal saltworks of Rio Grande do Norte, northeastern Brazil. Hydrobiologia 466: 145–148.

Clement, M., D. Posada & K. A. Crandall, 2000. TCS: a computer program to estimate gene genealogies. Molecular Ecology 9: 1657–1659.

Corander, J., P. Waldmann & M. J. Sillanpaa, 2003. Bayesian analysis of genetic differentiation between populations. Genetics 163: 367–374.

Corander, J., P. Marttinen, J. Sirén & J. Tang, 2008. Enhanced Bayesian modelling in BAPS software for learning genetic structures of populations. BMC Bioinformatics 9: 539.

Darling, J. A., M. J. Bagley, J. Roman, C. K. Tepolt & J. B. Geller, 2008. Genetic patterns across multiple introductions of the globally invasive crab genus Carcinus. Molecular Ecology 17: 4992–5007.

De Meester, L., A. Gómez, B. Okamura & K. Schwenk, 2002. The Monopolization hypothesis and the dispersal-gene flow paradox in aquatic organisms. Acta Oecologica 23: 121–135.

Deiner, K., J. Hull & B. May, 2013. Eight novel microsatellite loci developed from vernal pool fairy shrimp. Journal of Fish and Wildlife Management 4: 134–138.

Dlugosch, K. M. & C. G. Hays, 2008. Genotypes on the move: some things old and some things new shape the genetics of colonization during species invasions. Molecular Ecology 17: 4583–4585.

Dlugosch, K. M. & I. M. Parker, 2008. Founding events in species invasions: genetic variation, adaptive evolution, and the role of multiple introductions. Molecular Ecology 17: 431–449.

Dupont, L., D. Jolliver & F. Viard, 2003. High genetic diversity and ephemeral drift effects in a successful introduced mollusc (Crepidula fornicata: Gastropoda). Marine Ecology Progress Series 253: 183–195.

Dupont, L., F. Viard, M. J. Dowell, C. Wood & J. D. D. Bishop, 2009. Fine- and regional-scale genetic structure of the exotic ascidian Styela clava (Tunicata) in southwest England, 50 years after its introduction. Molecular Ecology 18: 442–453.

Elderkin, C. L., E. J. Perkins, P. L. Leberg, P. L. Klerks & R. F. Lance, 2004. Amplified fragment length polymorphism (AFLP) analysis of the genetic structure of the zebra mussel Dreissena polymorpha, in the Mississippi River. Freshwater Biology 49: 1487–1494.

Excoffier, L., G. Laval & S. Schneider, 2005. Arlequin (version 3.0): an integrated software package for population genetics data analysis. Evolutionary Bioinformatics 1: 47–50.

Ficetola, G. F., A. Bonin & C. Miaud, 2008. Population genetics reveals origin and number of founders in a biological invasion. Molecular Ecology 17: 773–782.

Figuerola, J., A. J. Green & T. C. Michot, 2005. Invertebrate eggs can fly: evidence of waterfowl-mediated gene flow in aquatic invertebrates. The American Naturalist 165: 274–280.

Folmer, O., M. Black, W. Hoeh, R. Lutz & R. Vrijenhoek, 1994. DNA primers for amplification of mitochondrial cytochrome c oxidase subunit I from diverse metazoan invertebrates. Molecular Marine Biology and Biotechnology 3: 294–299.

Gaubert, P., J. A. Godoy, I. del Cerro & F. Palomares, 2009. Early phases of a successful invasion: mitochondrial phylogeography of the common genet (Genetta genetta) within the Mediterranean Basin. Biological Invasions 11: 523–546.

Georgiev, B. B., M. I. Sánchez, G. P. Vasileva, P. N. Nikolov & A. J. Green, 2007. Cestode parasitism in invasive and native brine shrimps (Artemia spp.) as a possible factor promoting the rapid invasion of A. franciscana in the Mediterranean region. Parasitology Research 101: 1647–1655.

Gherardi, F., 2007. In Gherardi, F. (ed.), Biological Invaders in Inland Waters: Profiles, Distribution, and Threats. Springer, The Netherlands: 733 pp. ISBN: 978-1-4020-6028-1.

Golani, D. G., E. Azzurro, M. Corsini-Foka, M. Falautana, F. Andaloro & G. Bernardi, 2007. Genetic bottlenecks and successful biological invasions: the case of a recent Lessepsian migrant. Biology Letters 3: 541–545.

Gray, D. K., S. A. Bailey, I. C. Duggan & H. J. MacIsaac, 2005. Viability of invertebrate diapausing eggs exposed to saltwater: implications for Great Lakes' ship ballast management. Biological Invasions 7: 531–539.

Grosholz, E., 2002. Ecological and evolutionary consequences of coastal invasions. Trends Ecology and Evolution 17: 22–27.

Hairston, N. G., 1996. Zooplankton egg banks as biotic reservoirs in changing environments. Limnology and Oceanography 41: 1087–1092.

Hebert, P. D. N. & M. Cristescu, 2002. Genetic perspective on invasions: the case of the Cladocera. Canadian Journal of Fisheries and Aquatic Science 59: 1229–1234.

Herborg, L. M., D. Weetman, C. van Oosterhout & B. Hänfling, 2007. Genetic population structure and contemporary dispersal patterns of a recent European invader, the Chinese mitten crab, Eriocheir sinensis. Molecular Ecology 16: 231–242.

Hontoria, F., J. C. Navarro, I. Varo, A. Gonzalbo, F. Amat & N. Vieira, 1987. Ensayo de caracterización de cepas autóctonas de Artemia de Portugal. In Seminario Aquac. Inst. Ciencias Biom. "Abel Salazar" Porto (Portugal). Publ Inst C Biomed: 10 pp.

Jost, L., 2008. Gst and its relative do not measure differentiation. Molecular Ecology 17: 4015–4026.

Kelly, D. W., J. R. Muirhead, D. D. Heath & H. J. Macisaac, 2006. Contrasting patterns in genetic diversity following multiple invasions of fresh and brackish waters. Molecular Ecology 15: 3461–3653.

Knowlton, N., 1993. Sibling species in the sea. Annual Review of Ecology and Systematics 24: 189–216.

Knowlton, N. & L. A. Weigt, 1997. Species of marine invertebrates: a comparison of the biological and phylogenetic species concepts. In Claridge, M. F., H. A. Dawah & M. R. Wilson (eds), Species: The Units of Biodiversity. Chapman and Hall, New York: 199–219.

Lavens, P. & P. Sorgeloos, 2000. The history, present status and prospects of the availability of Artemia cysts for aquaculture. Aquaculture 181: 397–403.

Lee, C. E., 2000. Global phylogeography of a cryptic copepod species complex and reproductive isolation between genetically proximate "populations". Evolution 54: 2014–2027.

Mabuchi, K., H. Senou & M. Nishida, 2008. Mitochondrial DNA analysis reveals cryptic large-scale invasion of non-native genotypes of common carp (Cyprinus carpio) in Japan. Molecular Ecology 17: 796–809.

MacDonald, G. H., 1980. The use of Artemia cysts as food by the flamingo (Phoenicopterus ruber roseus) and the shelduck (Tadorna tadorna). In Persoone, G., P. Sorgeloos, O. Roels & E. Jaspers (eds), The Brine Shrimp Artemia. Ecology, Culturing, Use in Aquaculture. Universal Press, Wetteren: 97–104.

Mergeay, J., D. Verschuren & L. De Meester, 2005. Cryptic invasion and dispersal of an American Daphnia in east Africa. Limnology and Oceanography 50: 1278–1283.

Mergeay, J., J. Vanoverbeke, D. Verschuren & L. De Meester, 2007. Extinction, recolonization, and dispersal through time in a planktonic crustacean. Ecology 88: 3032–3043.

Montero-Pau, J., A. Gómez & J. Muñoz, 2008. Application of an inexpensive and high-throughput genomic DNA extraction method for the molecular ecology of zooplanktonic diapausing eggs. Limnology and Oceanography Methods 6: 218–222.

Muñoz, J. & F. Pacios, 2010. Global biodiversity and geographical distribution of diapausing aquatic invertebrates: the case of the cosmopolitan brine shrimp, Artemia (Branchiopoda, Anostraca). Crustaceana 83: 465–480.

Muñoz, J., A. Gómez, A. J. Green, J. Figuerola, F. Amat & C. Rico, 2008. Phylogeography and local endemism of the native Mediterranean brine shrimp Artemia salina (Branchiopoda: Anostraca). Molecular Ecology 17: 3160–3177.

Muñoz, J., A. J. Green, J. Figuerola, F. Amat & C. Rico, 2009. Characterization of polymorphic microsatellite markers in the brine shrimp Artemia (Branchiopoda, Anostraca). Molecular Ecology Resources 9: 547–550.

Muñoz, J., F. Amat, A. J. Green, J. Figuerola & A. Gómez, 2013. Bird migratory flyways influence the phylogeography of the invasive brine shrimp Artemia franciscana in its native American range. PeerJ 1: e200.

Muñoz-Fuentes, V., A. J. Green, M. D. Sorenson, J. J. Negro & C. Vilà, 2006. The ruddy duck Oxyura jamaicensis in Europe: natural colonisation or human introduction? Molecular Ecology 15: 1441–1453.

Mura, G., I. Kappas, A. D. Baxevanis, S. Moscatello, Q. D'Amico, G. M. Lopez, F. Hontoria, F. Amat & T. J. Abatzopoulos, 2006. Morphological and molecular data reveal the presence of the invasive Artemia franciscana in Margherita di Savoia salterns (Italy). International Review of Hydrobiology 91: 539–554.

Peakall, R. & P. Smouse, 2012. GenAlEx 6.5: genetic analysis in Excel. Population genetic software for teaching and research – an update. Bioinformatics 28: 2537–2539.

Petit, R. J., A. El Mousadik & O. Pons, 1998. Identifying populations for conservation on the basis of genetic markers. Conservation Biology 12: 844–855.

Rius, M., M. Pascual & X. Turon, 2008. Phylogeography of the widespread marine invader Microcosmus squamiger (Ascidiacea) reveals high genetic diversity of introduced populations and non-independent colonizations. Diversity and Distribution 14: 818–828.

Rodríguez-Pérez, H. & A. J. Green, 2006. Waterbird impacts on widgeongrass Ruppia maritima in a Mediterranean wetland: comparing bird groups and seasonal effects. Oikos 112: 525–534.

Roman, J. & J. A. Darling, 2007. Paradox lost: genetic diversity and the success of aquatic invasions. Trends in Ecology and Evolution 22: 454–464.

Rozas, J., J. C. Sánchez-DelBarrio, X. Messeguer & R. Rozas, 2003. DnaSP, DNA polymorphism analyses by the coalescent and other methods. Bioinformatics 19: 2497–24969.

Ruebhart, D. R., I. E. Cock & G. R. Shaw, 2008. Invasive character of the brine shrimp Artemia franciscana Kellogg 1906 (Branchiopoda: Anostraca) and its potential impact on Australia inland hypersaline waters. Marine & Freshwater Research 59: 587–595.

Ruiz, G. M., P. W. Fofonoff, J. T. Carlton, M. J. Wonham & A. H. Hines, 2000. Invasion of coastal marine communities in North America: apparent patterns, processes, and biases. Annual Review of Ecology and Systematics 31: 481–531.

Sakai, A. K., F. W. Allendorf, J. S. Holt, D. M. Lodge, J. Molofsky, K. A. With, S. Baughman, R. J. Cabin, J. E. Cohen, N. C. Ellstrand, D. E. McCauley, P. O'Neil, I. M. Parker, J. N. Thompson & S. G. Weller, 2001. The population biology of invasive species. Annual Review of Ecology and Systematics 32: 305–332.

Sánchez, M. I., A. J. Green, F. Amat & E. M. Castellanos, 2007. Transport of brine shrimps via the digestive system of migratory waders: dispersal probabilities depend on diet and season. Marine Biology 151: 1407–1415.

Sánchez, M. I., F. Hortas, J. Figuerola & A. J. Green, 2009. Sandpipers select red brine shrimps rich in both carotenoids and parasites. Ethology 115: 196–200.

Sánchez, M. I., F. Hortas, J. Figuerola & A. J. Green, 2012. Comparing the dispersal potential of a native and an invasive brine shrimp via waterbirds. Freshwater Biology 57: 1896–1903.

Sánchez, M. I., P. N. Nikolov, D. D. Georgieva, B. B. Georgiev, G. P. Vasileva, P. Pankov, M. Paracuellos, K. Lafferty & A. J. Green, 2013. High prevalence of cestodes in Artemia spp. throughout the annual cycle: relationship with abundance of avian final hosts. Parasitology Research 112: 1913–1923.

Tamura, K., J. Dudley, M. Nei & S. Kumar, 2007. MEGA4: Molecular Evolutionary Genetics Analysis (MEGA) software version 4.0. Molecular Biology and Evolution 24: 1596–1599.

Thiery, A. & F. Robert, 1992. Bisexual populations of the brine shrimp Artemia in Sète-Villeroy and Villeneuve Saltworks (Languedoc, France). International Journal of Salt Lake Research 1: 47–63.

Van Stappen, G., H. Y. Yu, X. M. Wang, S. Hoffman, K. Cooreman, P. Bossier & P. Sorgeloos, 2007. Occurrence of allochthonous Artemia species in the Bohai Bay area, PR China, as confirmed by RFLP analysis and laboratory culture tests. Fundamental and Applied Limnology 170: 21–28.

Vanhaecke, P. & P. Sorgeloos, 1983. International study on Artemia XIX. Hatching data for ten commercial sources of brine shrimp cysts and re-evaluation of the "hatching efficiency" concept. Aquaculture 30: 43–52.

Vanschoenwinkel, B., S. Gielen, M. Seaman & L. Brendonck, 2008a. Any way the wind blows – frequent wind dispersal drives species sorting in ephemeral aquatic communities. Oikos 117: 125–134.

Vanschoenwinkel, B., S. Gielen, H. Vandewaerde, M. Seaman & L. Brendonck, 2008b. Relative importance of different dispersal vectors for small aquatic invertebrates in a rock pool metacommunity. Ecography 31: 567–577.

Viana, D. S., L. Santamaria, T. C. Michot & J. Figuerola, 2013. Migratory strategies of waterbirds shape the continental-scale dispersal of aquatic organisms. Ecography 36: 430–438.

Waterkeyn, A., B. Vanschoenwinkel, S. Elsen, M. Anton-Pardo, P. Grillas & L. Brendonck, 2010. Unintentional dispersal of aquatic invertebrates via footwear and motor vehicles in a Mediterranean wetland area. Aquatic Conservation: Marine and Freshwater Ecosystems 20: 580–587.

Wilson, J. R. U., E. E. Dormontt, P. J. Prentis, A. J. Lowe & D. M. Richardson, 2009. Something in the way you move: dispersal pathways affect invasion success. Trends in Ecology and Evolution 24: 136–144.
Acknowledgments
The authors are grateful to F. Hortas, M.I. Sánchez, and H. Rodríguez for assistance in collecting samples, and to J.M. Arroyo for assistance in microsatellite screening. This study was funded by the Spanish Ministerio de Educación y Ciencia (Projects BOS2003-02846, CGL2005-02306/BOS, CGL2006-05085/BOS, and CGL 2008-03277 including FEDER funds). AG was supported by an Advanced NERC Fellowship (NE/B501298/1, UK).
Additional information
Handling editor: Diego Fontaneto
Joaquín Muñoz and Africa Gómez contributed equally to this work.
About this article
Cite this article
Muñoz, J., Gómez, A., Figuerola, J. et al. Colonization and dispersal patterns of the invasive American brine shrimp Artemia franciscana (Branchiopoda: Anostraca) in the Mediterranean region. Hydrobiologia 726, 25–41 (2014). https://doi.org/10.1007/s10750-013-1748-6
Received:

Revised:

Accepted:

Published:

Issue Date:

DOI: https://doi.org/10.1007/s10750-013-1748-6
Keywords
Aquatic ecosystems

Biological invasion

Human- and bird-mediated dispersal

Microsatellites

mtDNA

Population structure