Abstract
In the context of global change, eroded soil carbon fate and its impact on aquatic ecosystems CO2 emissions are subject to intense debates. In particular, soil carbon mineralization could be enhanced by its interaction with autochthonous carbon, a process called priming effect, but experimental evidences of this process are scarce. We measured in a microcosm experiment simulating oligo-mesotrophic and eutrophic aquatic conditions how quickly soil organic matter (SOM) sampled in diverse ecosystems was mineralized as compared to mineralization within soil horizons. For both nutrient loads, 13C-glucose was added to half of the microcosms to simulate exudation of labile organic matter (LOM) by phytoplankton. Effects of LOM on soil mineralization were estimated using the difference in δ13C between the SOM and the glucose. After 45 days of incubation, the mean SOM mineralization was 63% greater in the aquatic context, the most important CO2 fluxes arising during the first days of incubation. Nutrients had no significant effect on SOM mineralization and glucose addition increased by 12% the mean SOM mineralization, evidencing the occurrence of a priming effect.
Access options
Buy single article
Instant access to the full article PDF.
USD 39.95
Price excludes VAT (USA)
Tax calculation will be finalised during checkout.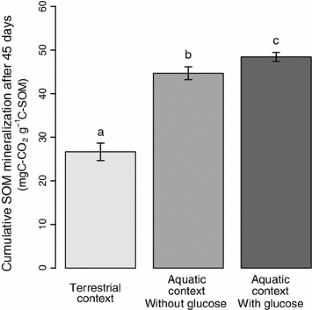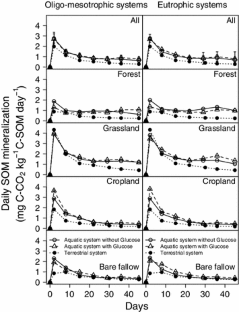 References
Aufdenkampe, A. K., E. Mayorga, P. A. Raymond, J. M. Melack, S. C. Doney, S. R. Alin, R. E. Aalto & K. Yoo, 2011. Riverine coupling of biogeochemical cycles between land, oceans, and atmosphere. Frontiers in Ecology and the Environment 9: 53–60.

Balabane, M. & A. Plante, 2004. Aggregation and carbon storage in silty soil using physical fractionation techniques. European Journal of Soil Science 55: 415–427.

Barré, P., T. Eglin, B. T. Christensen, P. Ciais, S. Houot, T. Kätterer, F. van Oort, P. Peylin, P. R. Poulton, V. Romanenkov & C. Chenu, 2010. Quantifying and isolating stable soil organic carbon using long-term bare fallow experiments. Biogeosciences 7: 3839–3850.

Berhe, A. A., E. Carpenter, L. Codispoti, A.-M. Izac, J. Lemoalle, F. Luizao, M. Scholes, P. Tréguer & B. Ward, 2005. Nutrient cycling, Chap. 12. In Hassan, R. et al. (eds) Ecosystems and Human Well-Being: Current State and Trends. Millennium Ecosystem Assessment, Island Press, Washington, DC: 722.

Blagodatskaya, E. V., S. A. Blagodatsky, T. H. Anderson & Y. Kuzyakov, 2007. Priming effects in Chernozem induced by glucose and N in relation to microbial growth strategies. Applied Soil Ecology 37: 95–105.

Carlson R. E. & J. Simpson, 1996. A Coordinator's Guide to Volunteer Lake Monitoring Methods. North American Lake Management Society, Madison: 96 pp.

Carlson, C. A., S. J. Giovannoni, D. A. Hansell, S. J. Goldberg, R. Parsons, M. P. Otero, K. Vergin & B. R. Wheeler, 2002. Effect of nutrient amendments on bacterioplankton production, community structure, and DOC utilization in the northwestern Sargasso Sea. Aquatic Microbial Ecology 30: 19–36.

Cheng, W., 1999. Rhizosphere feedbacks in elevated CO2. Tree Physiology 19: 313–320.

Cole, J. J., Y. T. Prairie, N. F. Caraco, W. H. McDowell, L. J. Tranvik, R. G. Striegl, C. M. Duarte, P. Kortelainen, J. A. Downing, J. J. Middelburg & J. Melack, 2007. Plumbing the global carbon cycle: integrating inland waters into the Terrestrial Carbon Budget. Ecosystems 10: 172–185.

Craine, J. M., C. Morrow & N. Fierer, 2007. Microbial nitrogen limitation increases decomposition. Ecology 88: 2105–2113.

Danger, M., J. Cornut, E. Chauvet, P. Chavez, A. Elger & A. Lecerf, 2013. Benthic algae stimulate leaf litter decomposition in detritus-based headwater streams: a case of aquatic priming effect? Ecology. doi:10.1890/12-0606.1.

De Haan, H., 1977. Effect of benzoate on microbial decomposition of fulvic acids in Tjeukemeer (Netherlands). Limnology and Oceanography 22: 38–44.

Dean, W. E. & E. Gorham, 1998. Magnitude and significance of carbon burial in lakes, reservoirs, and peatlands. Geology 26: 535–538.

del Giorgio, P. A., J. J. Cole & A. Cimbleris, 1997. Respiration rates in bacteria exceed phytoplankton production in unproductive aquatic systems. Nature 385: 148–151.

Dodds, W. K. & J. J. Cole, 2007. Expanding the concept of trophic state in aquatic ecosystems: it's not just the autotrophs. Aquatic Sciences 69: 427–439.

Dubois, M., K. A. Gilles, J. K. Hamilton, P. A. Rebers & F. Smith, 1956. Colorimetric method for determination of sugars and related substances. Analytical Chemistry 28: 350–356.

Farjalla, V., C. C. Marinho, B. M. Faria, A. M. Amado, F. A. Esteves, R. L. Bozelli & D. Giroldo, 2009. Synergy of fresh and accumulated organic matter to bacterial growth. Microbial Ecology 57: 657–666.

Fontaine, S., G. Bardoux, L. Abbadie & A. Mariotti, 2004. Carbon input to soil may decrease soil carbon content. Ecology Letters 7: 314–320.

Fontaine, S., S. Barot, P. Barré, N. Bdioui, B. Mary & C. Rumpel, 2007. Stability of organic carbon in deep soil layers controlled by fresh carbon supply. Nature 450: 277–280.

Gastine, A., M. Scherer-Lorenzen & P. W. Leadley, 2003. No consistent effects of plant diversity on root biomass, soil biota and soil abiotic conditions in temperate grassland communities. Applied Soil Ecology 24: 101–111.

Goodman, K. J., M. A, Baker & W. A., Wurtsbaugh, 2011. Lakes as buffers of stream dissolved organic matter (DOM) variability: temporal patterns of DOM characteristics in mountain stream-lake systems. Journal of Geophysical Research 116:G00N02.

Guenet, B., M. Danger, L. Abbadie & G. Lacroix, 2010a. Priming effect: bridging the gap between terrestrial and aquatic ecology. Ecology 91: 2850–2861.

Guenet, B., J. Leloup, X. Raynaud, G. Bardoux & L. Abbadie, 2010b. Negative priming effect on mineralization in a soil free of vegetation for 80 years. European Journal of Soil Science 61: 384–391.

Guenet, B., C. Neill, G. Bardoux & L. Abbadie, 2010c. Is there a linear relationship between priming effect intensity and the amount of organic matter input? Applied Soil Ecology 46: 436–442.

Hamer, U., B. Marschner, S. Brodowski & W. Amelung, 2004. Interactive priming of black carbon and glucose mineralization. Organic Geochemistry 35: 823–830.

Hamilton, D. & S. Mitchell, 1996. An empirical model for sediment resuspension in shallow lakes. Hydrobiologia 317: 209–220.

Houghton, R. A., 2007. Balancing the global carbon budget. Annual Review Earth and Planetary Sciences 35: 313–347.

Johnsen, K., C. S. Jacobsen, V. Torsvik & J. Sørensen, 2001. Pesticide effects on bacterial diversity in agricultural soils – a review. Biology and Fertility of Soils 33: 443–453.

Kilham, S. S., D. A. Kreeger, S. G. Lynn, C. E. Goulden & L. Herrera, 1998. COMBO: a defined freshwater culture medium for algae and zooplankton. Hydrobiologia 377: 147–159.

Kraus, T. E. C., R. A. Dahlgren & R. J. Zasoski, 2003. Tannins in nutrient dynamics of forest ecosystems – a review. Plant and Soil 256: 41–66.

Kuzyakov, Y., J. K. Friedel & K. Stahr, 2000. Review of mechanisms and quantification of priming effects. Soil Biology and Biochemistry 32: 1485–1498.

Lal, R., 2003. Soil erosion and the global carbon budget. Environment International 29: 437–450.

Lal, R., 2005. Soil erosion and carbon dynamics. Soil and Tillage Research 81: 137–142.

Lal, R. & D. Pimentel, 2008. Soil erosion: a carbon sink or source? Science 319: 1040–1041.

Lehmann, J., D. Solomon, J. Kinyangi, L. Dathe, S. Wirick & C. Jacobsen, 2008. Spatial complexity of soil organic matter forms at nanometre scales. Nature Geoscience 1: 238–242.

Loranger-Merciris, G., L. Barthes, A. Gastine & P. W. Leadley, 2006. Rapid effects of plant species diversity and identity on soil microbial communities in experimental grassland ecosystems. Soil Biology and Biochemistry 38: 2336–2343.

Lowry, O. H., N. J. Rosebrough, A. L. Farr & R. J. Randall, 1951. Protein measurement with the Folin phenol reagent. Journal of Biological Chemistry 193: 265–275.

Martin-Olmedo, P., R. M. Rees & J. Grace, 2002. The influence of plants grown under elevated CO2 and N fertilization on soil nitrogen dynamics. Global Change Biology 8: 643–657.

McCallister, S. L. & P. A. Del Giorgio, 2012. Evidence for the respiration of ancient terrestrial organic C in northern temperate lakes and streams. Proceedings of the National Academy of Sciences of the United States of America 109: 16963–16968.

Moorhead, D. & R. Sinsabaugh, 2006. A theoretical model of litter decay and microbial interaction. Ecological Monographs 76: 151–174.

Myklestad, S., 1995. Release of extracellular products by phytoplankton with special emphasis on polysaccharides. Science of the Total Environment 165: 155–164.

Nugteren, P., L. Moodley, G.-J. Brummer, C. H. Heip, P. M. J. Herman & J. J. Middelburg, 2009. Seafloor ecosystem functioning: the importance of organic matter priming. Marine Biology 156: 2277–2287.

Nunan, N., K. Wu, I. M. Young, J. W. Crawford & K. Ritz, 2003. Spatial distribution of bacterial communities and their relationships with the micro-architecture of soil. FEMS Microbiology Ecology 44: 203–215.

R Development Core Team, 2008. R: A Language and Environment for Statistical Computing R Foundation for Statistical Computing. Vienna, Austria.

Shimp, R. & F. K. Pfaender, 1985. Influence of naturally occurring humic acids on biodegradation of monosubstituted phenols by aquatic bacteria. Applied and Environmental Microbiology 49: 402–407.

Smith, S., W. Renwick, R. Buddemeier & C. Crossland, 2001. Budgets of soil erosion and deposition for sediments and sedimentary organic carbon across the conterminous United States. Global Biogeochemical Cycles 15: 697–707.

Terrence, J. T., G. R. Foster & K. G. Renard, 2002. Soil Erosion: Processes, Prediction, Measurement, and Control. Wiley, New York.

Van Oost, K., T. A. Quine, G. Govers, S. De Gryze, J. Six, J. W. Harden, J. C. Ritchie, G. W. McCarty, G. Heckrath, C. Kosmas, J. V. Giraldez, J. R. M. da Silva & R. Merckx, 2007. The impact of agricultural soil erosion on the global carbon cycle. Science 318: 626–629.

vön Lutzow, M., I. Kogel-Knabner, K. Ekschmitt, E. Matzner, G. Guggenberger, B. Marschner & H. Flessa, 2006. Stabilization of organic matter in temperate soils: mechanisms and their relevance under different soil conditions – a review. European Journal of Soil Science 57: 426–445.

Wetzel, R. G., 1990. Landwater interfaces: metabolic and Limnological regulators. Verhandlungen der Internationalen Vereinigung fur Theoretische und Angewandte Limnologie 24: 6–24.
Acknowledgments
The authors thank ANR Biofun and R2DS for financial support, J.P. Petraud and the INRA Versailles for maintaining the Closeaux and 42 plots long-term experiments. The authors acknowledge Emma Rochelle-Newall, Philippe Ciais, and Sebastian Luyssaert for providing comments and suggestions. Bertrand Guenet was a visiting international fellow funded by the Fund for Scientific Research-Flanders (FWO).
Additional information
Handling editor: Luigi Naselli-Flores
Electronic supplementary material
Below is the link to the electronic supplementary material.
About this article
Cite this article
Guenet, B., Danger, M., Harrault, L. et al. Fast mineralization of land-born C in inland waters: first experimental evidences of aquatic priming effect. Hydrobiologia 721, 35–44 (2014). https://doi.org/10.1007/s10750-013-1635-1
Received:

Revised:

Accepted:

Published:

Issue Date:

DOI: https://doi.org/10.1007/s10750-013-1635-1
Keywords