Abstract
Age estimation of the cephalopod Octopus vulgaris by using beaks has improved in recent years, but maximum age and longevity in the wild have not been confirmed due to the low availability of senescent wild octopuses. In this study, a beak analysis of lateral wall surfaces (LWS) from 20 spent specimens confirmed the 1-year lifecycle of the species in Central East Atlantic waters. Stress marks (checks) were clearly located in the daily increment sequence of rostrum sagittal sections (RSS). The highest daily variations in sea surface temperature (ΔT) that occurred during the last months of their lifetimes coincided with the locations of the marks on the beak, enabling confirmation of O. vulgaris beaks as life recorders for the first time. It also supports the daily deposition of RSS beak increments in the wild. Individuals were grouped into two main zones, at 20ºN and 18ºN, respectively. Both groups showed different thermal check patterns, in accordance with the oceanographic differences. Two other checks (not coinciding with high values of ΔT) were observed in RSS at averages of 15 and 28 days before death, respectively, which were interpreted as responding to senescent-related events.
This is a preview of subscription content, log in to check access.
Access options
Buy single article
Instant access to the full article PDF.
US$ 39.95
Tax calculation will be finalised during checkout.
Subscribe to journal
Immediate online access to all issues from 2019. Subscription will auto renew annually.
US$ 199
Tax calculation will be finalised during checkout.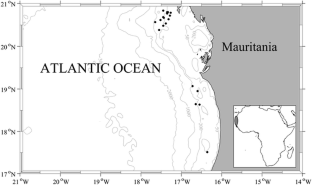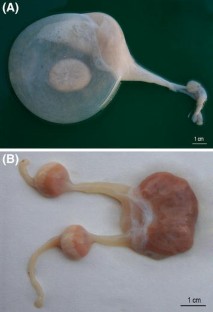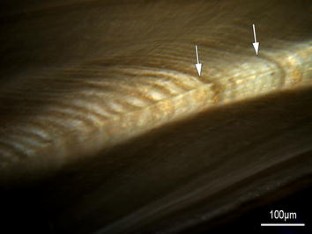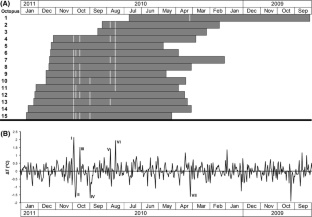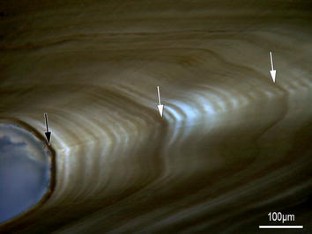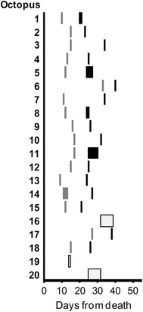 References
Anderson, R. C., J. B. Wood & R. A. Byrne, 2002. Octopus senescence: the beginning of the end. Journal of Applied Animal Welfare Science 5: 275–283.

André, J., E. P. M. Grist, J. M. Semmens, G. T. Pecl & S. Segawa, 2009. Effects of temperature on energetic and the growth pattern of benthic octopuses. Marine Ecology Progress Series 374: 167–179.

Arkhipkin, A. I., 2005. Statoliths as "black boxes" (life recorders) in squid. Marine and Freshwater Research 56: 573–583.

Arkhipkin, A. I., P. Jereb & S. Ragonese, 1999. Checks in the statolith microstructure of the short-finned squid, Illex coindetii from the Strait of Sicily (Central Mediterranean). Journal of the Marine Biological Association of the U.K. 79: 1091–1096.

Boyer, T. P., J. I. Antonov, H. E. Garcia, D. R. Johnson, R. A. Locarnini, A. V. Mishonov, M. T. Pitcher, O. K. Baranova & I. V. Smolyar, 2006. World Ocean Database 2005. In Levitus, S. (ed.), NOAA Atlas NESDIS 60, U.S. Government Printing Office, Washington, DC. (DVDs).

Bravo de Laguna, J., 1988. Managing an international multispecies fishery: the Saharan trawl fishery for cephalopods. In Caddy, J. F. (ed.), Marine Invertebrate Fisheries: Their Assessment and Management. Wiley-Interscience Publication, New York: 591–612.

Campana, S. E., 1983. Calcium deposition and otoliths check formation during periods of stress in coho salmon, Onchorynchus kisutch. Comparative Biochemistry and Physiology 75: 215–220.

Campana, S. E., 2001. Accuracy, precision and quality control in age determination, including a review of the use and abuse of age validation methods. Journal of Fish Biology 59: 197–242.

Campana, S. E. & J. D. Neilson, 1985. Microstructure of fish otoliths. Canadian Journal of Fisheries and Aquatic Sciences 42: 1014–1032.

Canali, E., G. Ponte, P. Belcari, F. Rocha & G. Fiorito, 2011. Evaluating age in Octopus vulgaris: estimation, validation and seasonal differences. Marine Ecology Progress Series 441: 141–149.

Cuccu, D., M. Mereu, A. Cau, P. Pesci & A. Cau, 2012. Reproductive development versus estimated age and size in wild Mediterranean population of Octopus vulgaris (Cephalopoda: Octopodidae). Journal of the Marine Biological Association of the U.K. Early view: 1–7.

Dia, M. A., 1988. Biologie et exploitation du poulpe Octopus vulgaris (Cuvier, 1797) des côtes mauritaniennes. Thèse de Docteur, Université de Bretagne Occidentale, Brest, France.

Dawe, E. G & P. C. Beck, 1992. Population structure, growth, and sexual maturation of short-finned squid at Newfoundland, Canada, based on statolith analysis. ICES C.M. 1992/K: 33.

Domain, F., D. Jouffre & A. Caverivière, 2000. Growth of Octopus vulgaris from tagging in Senegalese waters. Journal of the Marine Biological Association of the U. K. 80: 699–705.

Durholtz, M. D. & M. R. Lipinski, 2000. Influence of temperature on the microstructure of statoliths of the thumbstall squid Lolliguncula brevis. Marine Biology 136: 1029–1037.

FAO, 2012. Species fact sheets, Octopus vulgaris (Lamarck, 1798). United Nations Food and Agriculture Organization [available on internet at http://www.fao.org/fishery/species/3571/en]. Accessed November 2012.

Fernández-Núñez, M. M., C. L. Hernández-González, C. P. Raya & E. Balguerías, 1996. Reproductive biology of Octopus vulgaris Cuvier, 1797 from north-western African coast (21ºN-26ºN). ICES C.M. 1996/K: 15.

Hernández-López, J. L., J. J. Castro-Hernández & V. Hernández-García, 2001. Age determined from the daily deposition of concentric rings on common octopus (Octopus vulgaris) beaks. Fishery Bulletin 99: 679–684.

Hunt, S. & M. Nixon, 1981. A comparative study of protein composition in the chitin-protein complexes of the beak, pen, sucker disc, radula and oesophageal cuticle of Cephalopods. Comparative Biochemistry and Physiology Part B: Biochemistry and Molecular Biology 68: 535–546.

Inejih, C. O., 2000. Dynamique Spatio-temporelle et biologie du poulpe (Octopus vulgaris) dans les eaux mauritaniennes: modélisation de l'abondance et aménagement des pêcheries. Thèse de Docteur, Université de Bretagne Occidentale, Brest, France.

Jackson, G. D., 1994. Application and future potential of statoliths increment analysis in squids and sepioids. Canadian Journal of Fisheries and Aquatic Sciences 51: 2612–2625.

Jackson, G. D. & J. Yeatman, 1996. Variation in size and age at maturity in Photololigo (Mollusca: Cephalopoda) from the northwest shelf of Australia. Fishery Bulletin 94: 59–65.

Jackson, G. D. & N. A. Moltschaniwskyj, 2001. The influence of ration level on growth and statolith increment width of the tropical squid Sepoteuthis lessoniana (Cephalopoda: Loliginidae): an experimental approach. Marine Biology 138: 819–825.

Jouffre, D., C. A. Inejih & M. Simier, 2000. Cycle biologique du poulpe (Octopus vulgaris) au large du Cap-Blanc (Mauritanie). In Gascuel, D., P. Chavance, N. Bez & A. Biseau (eds), Les espaces de l′halieutique. Éditions IRD, Paris: 243–267.

Kalish, J. M., 1992. Formation of a stress-induced chemical check fish otoliths. Journal of Experimental Marine Biology and Ecology 162: 265–277.

Lipinski, M. R., 2001. Statoliths as archives of cephalopod life cycle: a search for universal rules. Folia Malacologica 9: 115–123.

Lipinski, M. R., M. D. Durholtz & L. G. Underhill, 1998. Field validation of age readings from the statoliths of chokka squid (Loligo vulgaris reynaudii d′Orbigny, 1845) and an assessment of associated errors. ICES Journal of Marine Science 55: 240–257.

Lombarte, A., M. M. Rufino & P. Sánchez, 2006. Statolith identification of Mediterranean Octopodidae, Sepiidae, Loliginidae, Ommastrephidae and Enoploteuthidae base don warp analyses. Journal of the Marine Biological Association of the U.K. 86: 767–771.

Mangold, K., 1983. Octopus vulgaris. In Boyle, P. R. (ed.), Cephalopod Life Cycles (I): Species Accounts. Academic Press, Orlando: 335–363.

Martínez-Marrero, A., A. Rodríguez-Santana, A. Hernández-Guerra, E. Fraile-Nuez, F. López-Laatzen, P. Vélez-Belchí & G. Parrilla, 2008. Distribution of water masses and diapycnal mixing in the Cape Verde Frontal Zone. Geophysical Research Letters 35: L07609. doi:10.1029/2008GL033229.

Mittelstaedt, E., 1991. The ocean boundary along the northwest African coast: circulation and oceanographic properties at the sea surface. Progress in Oceanography 26: 307–355.

Morales-Nin, 2000. Review of the growth regulation processes of otolith daily increment formation. Fisheries Research 46: 53–67.

Murphy, J. M., E. Balguerías, L. N. Key & P. R. Boyle, 2002. Microsatellite DNA markers discriminate between two Octopus vulgaris (Cephalopoda: Octopoda) fisheries along the northwest African coast. Bulletin of Marine Science 71: 545–553.

NOAA-THREDDS Data Server, 2012. http://www.ncdc.noaa.gov/thredds/catalog/oisst/NetCDF/AVHRR/catalog.html. Accessed June 2012.

Oosthuizen, A., 2003. A development and management framework for a new Octopus vulgaris fishery in South Africa. PhD Rhodes University, Grahamstown, South Africa.

O'Dor, R. K. & J. M. Wells, 1978. Reproduction versus somatic growth: hormonal control in Octopus vulgaris. The Journal of Experimental Biology 77: 15–31.

Pannella, G., 1980. Growth patterns in fish sagittae. In Rhoads, D. C. & R. A. Lutz (eds), Skeletal growth of aquatic organisms; biological records of environmental change. Plenum Press, New York: 519–560.

Perales-Raya, C., A. Bartolomé, M. T. García-Santamaría, P. Pascual-Alayón & E. Almansa, 2010. Age estimation obtained from analysis of octopus (Octopus vulgaris Cuvier, 1797) beaks: improvements and comparisons. Fisheries Research 106: 171–176.

Raya, C. & C. L. Hernández-González, 1998. Growth lines within the beak microstructure of the Octopus Octopus vulgaris Cuvier, 1797. In Payne, A. I. L., M. R. Lipinski, M. R. Clarke & M. A. C. Roeleveld (eds), Cephalopod biodiversity, Ecology and Evolution. South African Journal of Marine Science 20: 135–142.

Reynolds, R. W., T. M. Smith, C. Liu, D. B. Chelton, K. S. Casey & M. G. Schlax, 2007. Daily high-resolution-blended analyses for sea surface temperature. Journal of Climate 20: 5473–5496.

Semmens, J. M., G. T. Pecl, R. Villanueva, D. Jouffre, I. Sobrino, J. B. Wood & P. R. Rigby, 2004. Understanding octopus growth: patterns, variability and physiology. Marine Freshwater Research 55: 367–377.

Spounagle, S., 2010. Otolith microstructure reveals ecological and oceanographic processes important to ecosystem-based management. Environmental Biology of Fishes 89: 221–238.

Villanueva, R., A. Arkhipkin, P. Jereb, E. Lefkaditou, M. R. Lipinski, C. Perales-Raya, J. Riba & F. Rocha, 2003. Embryonic life of the loliginid squid Loligo vulgaris: comparison between statoliths of Atlantic and Mediterranean populations. Marine Ecology Progress Series 253: 197–208.

Volk, E. C., S. L. Schroder & J. J. Grimm, 1999. Otolith thermal marking. Fisheries Research 43: 205–219.

Young, J. Z., 1960. The statocysts of Octopus vulgaris. Proceedings of the Royal Society of London Series B, Biological Sciences 152: 3–29.
Acknowledgments
Financial support from Data Collection Framework (EC 1543/2000) and European Fisheries Found (Collective Action ANACEF-IEO: ARM/1193/2009).
Additional information
Guest editors: Erica A. G. Vidal, Mike Vecchione & Sigurd von Boletzky / Cephalopod Life History, Ecology and Evolution
About this article
Cite this article
Perales-Raya, C., Jurado-Ruzafa, A., Bartolomé, A. et al. Age of spent Octopus vulgaris and stress mark analysis using beaks of wild individuals. Hydrobiologia 725, 105–114 (2014). https://doi.org/10.1007/s10750-013-1602-x
Received:

Accepted:

Published:

Issue Date:
Keywords
Octopus vulgaris

Age

Beak microstructure

Check increments

Oceanography

Central East Atlantic