Abstract
We studied changes in air temperature (AT) in Tartu, Estonia, since 1866; ice phenology in two Estonian large lakes since the 1920s; and daily surface water temperatures (SWT) in these lakes since the 1940s. The Mann–Kendall test showed increasing AT trends in all seasons with biggest changes in spring. The strongest increase in SWT occurred in April and August. The temperature increase has accelerated since 1961. Despite significant trends in the seasonal AT and SWT of Estonian large lakes, trends in ice phenology were weak or absent, implying that the processes governing ice phenology are more complex than those governing lake SWT. Greater snowfall was associated with later ice breakup, longer duration of ice cover, and greater ice thickness, while the relationship between winter rainfall and these ice parameters was the opposite. In the deeper Lake Peipsi, ice-on occurred later and ice-off earlier than in the shallower Võrtsjärv. The dates of both ice-on and ice-off responded more sensitively to AT in the case of Peipsi than in the case of Võrtsjärv. An increase of the average November–March AT by 2°C would presumably halve the ice cover duration in Peipsi but shorten it only by about 20% in Võrtsjärv.
Access options
Buy single article
Instant access to the full article PDF.
USD 39.95
Price excludes VAT (USA)
Tax calculation will be finalised during checkout.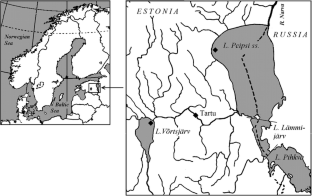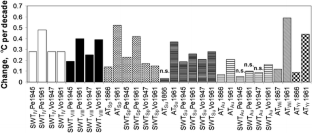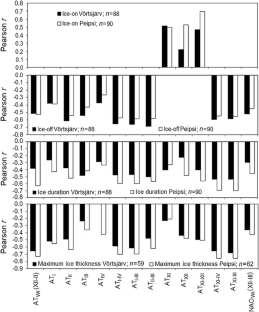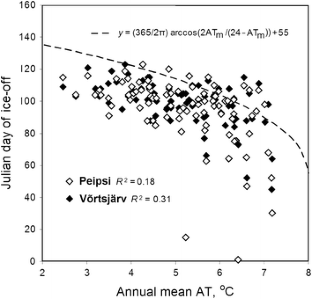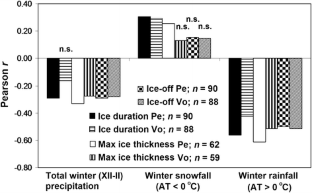 References
Adrian, R., C. M. O'Reilly, H. Zagarese, S. B. Baines, D. O. Hessen, W. Keller, D. M. Livingstone, R. Sommaruga, D. Straile, E. Van Donk, G. A. Weyhenmeyer & M. Winder, 2009. Lakes as sentinels of climate change. Limnology and Oceanography 54: 2283–2297.

Anneville, O., S. Gammeter & D. Straile, 2005. Phosphorus decrease and climate variability: mediators of synchrony in phytoplankton changes among European peri-alpine lakes. Freshwater Biology 50: 1731–1746.

Arvola, L., D. G. George, D. M. Livingstone, M. Järvinen, T. Blenckner, M. T. Dokulil, E. Jennings, C. N. Aonghusa, P. Nõges, T. Nõges & G. A. Weyhenmeyer, 2010. The impact of changing climate on the thermal characteristics of lakes. In George, D. G. (ed.), The Impact of Climate Change on European Lakes, Aquatic Ecology Series 4. Springer, Dordrecht: 85–101.

Assel, R. & D. M. Robertson, 1995. Changes in winter air temperatures near Lake Michigan, 1851–1993, as determined from regional lake-ice records. Limnology and Oceanography 40: 165–176.

Austin, J. A. & S. M. Colman, 2007. Lake Superior summer water temperatures are increasing more rapidly than regional air temperatures: a positive ice-albedo feedback. Geophysical Research Letters 34: L06604. doi:10.1029/2006GL029021.

BACC, 2008. Assessment of Climate Change for the Baltic Sea Basin. Regional Climate Studies. Springer, Berlin.

Beltaos, S., 2004. Climate impacts on the ice regime of an Atlantic river. Nordic Hydrology 35: 81–99.

Benson, B. J., J. J. Magnuson, O. P. Jensen, V. M. Card, G. Hodgkins, J. Korhonen, D. M. Livingstone, K. M. Stewart, G. A. Weyhenmeyer & N. G. Granin, 2012. Extreme events, trends, and variability in Northern Hemisphere lake-ice phenology (1855–2005). Climatic Change 112: 299–323.

Bernhardt, J., C. Engelhardt, G. Kirillin & J. Matschullat, 2012. Lake ice phenology in Berlin-Brandenburg from 1947–2007: observations and model hindcasts. Climatic Change 112: 791–817.

Cole, J. J., Y. T. Prairie, N. F. Caraco, W. H. McDowell, L. J. Tranvik, R. G. Striegl, C. M. Duarte, P. Kortelainen, J. A. Downing, J. J. Middelburg & J. Melack, 2007. Plumbing the global carbon cycle: integrating inland waters into the terrestrial carbon budget. Ecosystems 10: 171–184.

Dabrowski, M., W. Marszelewski & R. Skowron, 2004. The trends and dependencies between air and water temperatures in lakes in northern Poland from 1961–2000. Hydrology and Earth System Sciences 8: 79–87.

Dibike, Y., T. Prowse, T. Saloranta & R. Ahmed, 2011. Response of Northern Hemisphere lake-ice cover and lake-water thermal structure patterns to a changing climate. Hydrological Processes 25: 2942–2953.

Dibike, Y., T. Prowse, B. Bonsal, L. de Rham & T. Saloranta, 2012. Simulation of North American lake-ice cover characteristics under contemporary and future climate conditions. International Journal of Climatology 32: 695–709.

Duguay, C. R., T. D. Prowse, B. R. Bonsal, R. D. Brown, M. P. Lacroix & P. Ménard, 2006. Recent trends in Canadian lake ice cover. Hydrological Processes 20: 781–801.

Houser, J. N., 2006. Water color affects the stratification, surface temperature, heat content, and mean epilimnetic irradiance of small lakes. Canadian Journal of Fisheries and Aquatic Sciences 63: 2447–2455.

Hurrell, J. W., 1996. Influence of variations in extra-tropical wintertime teleconnections on Northern Hemisphere temperature. Geophysical Research Letters 23: 665–668.

IPCC, 2007. Climate Change 2007: the physical science basis. In Solomon, S., D. Qin, M. Manning, Z. Chen, M. Marquis, K. B. Averyt, M. Tignor & H. L. Miller (eds), Contribution of Working Group I to the Fourth Assessment Report of the Intergovernmental Panel on Climate Change. Cambridge University Press, Cambridge.

Izmest'eva, L. R., E. A. Silow & E. Litchman, 2011. Long-term dynamics of Lake Baikal pelagic phytoplankton under climate change. Inland Water Biology 4: 301–307.

Jaani, A., 2001. Thermal regime and ice conditions. In Nõges, T. (ed.), Lake Peipsi. Meteorology, Hydrology, Hydrochemistry. Sulemees Publishers, Tartu: 65–72.

Jankowski, T., D. M. Livingstone, R. Forster, H. Bührer & P. Niederhauser, 2006. Consequences of the 2003 European heatwave for lakes: implications for a warmer world. Limnology and Oceanography 51: 815–819.

Jensen, O. P., B. J. Benson, J. J. Magnuson, V. M. Card, M. N. Futter, P. A. Soranno & K. M. Stewart, 2007. Spatial analysis of ice phenology trends across the Laurentian Great Lakes region during a recent warming period. Limnology and Oceanography 52: 2013–2026.

Jones, P. D., T. Jonsson & D. Wheeler, 1997. Extension to the North Atlantic Oscillation using early instrumental pressure observations from Gibraltar and South-West Iceland. International Journal of Climatology 17: 1433–1450.

Karetnikov, S. G. & M. A. Naumenko, 2008. Recent trends in Lake Ladoga ice cover. Hydrobiologia 599: 41–48.

Kilkus, K. & G. Valiuškevičius, 2001. Klimato svyravimų atspindžiai ežerų ir upių hidrologiniuose bei hidrofiziniuose rodikliuose. In Bukantis, A. (ed.), Klimato svyravimų poveikis fiziniams geograiniams procesams Lietuvoje. Vilniaus Universitetas, Vilnius: 194–230.

Korhonen, J., 2002. Suomen vesistöjen lämpötilaolot 1900-luvulla. Suomen Ymparistö 566: 1–115.

Korhonen, J., 2006. Long-term trends in lake ice cover in Finland. Proceedings of the 18th IAHR International Symposium on Ice: 71–78.

Kundzewicz, Z. W. & A. J. Robson, 2004. Change detection in hydrological records – a review of the methodology. Hydrological Sciences Journal 49: 7–19.

Livingstone, D. M., 1997. Break-up dates of Alpine lakes as proxy data for local and regional mean surface air temperatures. Climatic Change 37: 407–439.

Livingstone, D. M., 2000. Large-scale climatic forcing detected in historical observations of lake ice break-up. Verhandlungen der Internationalen Vereinigung für Limnologie 27(5): 2775–2783.

Livingstone, D. M., 2003. Impact of secular climate change on the thermal structure of a large temperate central European lake. Climatic Change 57: 205–225.

Livingstone, D. M. & R. Adrian, 2009. Modeling the duration of intermittent ice cover on a lake for climate-change studies. Limnology and Oceanography 54: 1709–1722.

Livingstone, D. M. & M. T. Dokulil, 2001. Eighty years of spatially coherent Austrian lake surface water temperatures and their relationship to regional air temperature and the North Atlantic Oscillation. Limnology and Oceanography 46: 1220–1227.

Livingstone, D. M., R. Adrian, T. Blenckner, G. George & G. A. Weyhenmeyer, 2010a. Lake ice phenology. In George, D. G. (ed.), The Impact of Climate Change on European Lakes, Aquatic Ecology Series 4. Springer, Dordrecht: 51–61.

Livingstone, D. M., R. Adrian, L. Arvola, T. Blenckner, M. T. Dokulil, R. E. Hari, G. George, T. Jankowski, M. Järvinen, E. Jennings, P. Nõges, T. Nõges, D. Straile & G. A. Weyhenmeyer, 2010b. Regional and supra-regional coherence in limnological variables. In George, D. G. (ed.), The Impact of Climate Change on European Lakes, Aquatic Ecology Series 4. Springer, Dordrecht: 311–337.

Magnuson, J. J., D. M. Robertson, B. J. Benson, R. H. Wynne, D. M. Livingstone, T. Arai, R. A. Assel, R. G. Barry, V. Card, E. Kuusisto, N. G. Granin, T. D. Prowse, K. M. Stewart & V. S. Vuglinski, 2000. Historical trends in lake and river ice cover in the Northern Hemisphere. Science 289: 1743–1746.

Magnuson, J. J., B. J. Benson, J. D. Lenters & D. M. Robertson, 2006. Climate-driven variability and change. In Magnuson, J. J., T. K. Kratz & B. J. Benson (eds), Long-Term Dynamics of Lakes in the Landscape: Long-Term Ecological Research on North Temperate Lakes. Oxford University Press, Oxford: 123–150.

Nõges, T., 2009. Trends in air temperature in Estonia and in water temperature of Estonian large lakes in 1961–2004, possible consequences on water quality. Verhandlungen der internationalen Vereinigung für Limnologie 30(7): 997–999.

Nõges, T., P. Nõges, A. Jolma & J. Kaitaranta, 2009. Impacts of climate change on physical characteristics of lakes in Europe. JRC Scientific and Technical Reports, EUR 24064 EN. Office for Official Publications of the European Communities, Luxembourg.

Palecki, M. A. & R. G. Barry, 1986. Freeze-up and break-up of lakes as an index of temperature changes during the transition seasons: a case study for Finland. Journal of Climate and Applied Meteorology 25: 893–902.

Pärn, O., 2006. Jäänähtuste ja veetemperatuuri tundlikkus kliima muutusele. Publicationes Geophysicales Universitatis Tartuensis 50: 97–106.

Pernaravičiute, B., 2004. The impact of climate change on thermal regime of Lithuanian lakes. Ekologija 2: 58–63.

Robertson, D. M., R. A. Ragotzkie & J. J. Magnuson, 1992. Lake ice records used to detect historical and future climatic changes. Climatic Change 21: 407–427.

Roulet, N. & T. R. Moore, 2006. Browning the waters. Nature 444: 283–284.

Schneider, P. & S. J. Hook, 2010. Space observations of inland water bodies show rapid surface warming since 1985. Geophysical Research Letters 37: L22405. doi:10.1029/2010GL045059.

Skinner, W. R., 1993. Lake ice conditions as a cryospheric indicator for detecting climate variability in Canada. In Detection Strategies for Snow and Ice. Proceedings of the International Workshop on Snow and Lake Ice Cover, and the Climate System, 30–31 March 1992, Niagara, ON, Canada: 204–240.

Šporka, F., D. M. Livingstone, E. Stuchlík, J. Turek & J. Galas, 2006. Water temperatures and ice cover in the lakes of the Tatra Mountains. Biologia 61: 77–90.

Stewart, K. M. & R. K. Haugen, 1990. Influence of lake morphometry on ice dates. Verhandlungen der internationale Vereinigung für Limnologie 24(1): 122–127.

Tooming, H., 1996. Changes in surface albedo and air temperature at Tartu, Estonia. Tellus 48A: 722–726.

Vavrus, S. J., R. H. Wynne & J. A. Foley, 1996. Measuring the sensitivity of southern Wisconsin lake ice to climate variations and lake depth using a numerical model. Limnology and Oceanography 41: 822–831.

Weyhenmeyer, G. A., 2004. Synchrony in relationships between the North Atlantic Oscillation and water chemistry among Sweden's largest lakes. Limnology and Oceanography 49: 1191–1201.

Weyhenmeyer, G. A., M. Meili & D. M. Livingstone, 2004. Nonlinear temperature response of lake ice breakup. Geophysical Research Letters 31: L07203.

Weyhenmeyer, G. A., A.-K. Westöö & E. Willén, 2008. Increasingly ice-free winters and their effects on water quality in Sweden's largest lakes. Hydrobiologia 599: 111–118.

Weyhenmeyer, G. A., D. M. Livingstone, M. Meili, O. Jensen, B. Benson & J. J. Magnuson, 2011. Large geographical differences in the sensitivity of ice-covered lakes and rivers in the Northern Hemisphere to temperature changes. Global Change Biology 17: 268–275.

Williams, G., K. L. Layman & H. G. Stefan, 2004. Dependence of lake ice covers on climatic, geographic and bathymetric variables. Cold Regions Science and Technology 40: 145–164.

Williamson, C. E., W. Dodds, T. K. Kratz & M. Palmer, 2008. Lakes and streams as sentinels of environmental change in terrestrial and atmospheric processes. Frontiers in Ecology and the Environment 6: 247–254.

Williamson, C. E., J. E. Saros & D. W. Schindler, 2009. Sentinels of change. Science 323: 887–889.

Wynne, R. H., J. J. Magnuson, M. K. Clayton, T. M. Lillesand & D. C. Rodman, 1996. Determinants of temporal coherence in the satellite-derived 1987–1994 ice breakup dates of lakes on the Laurentian Shield. Limnology and Oceanography 41: 832–838.
Acknowledgments
The study was supported by the Estonian target funding project SF 0170011508, by grants 8729 and 9102 from the Estonian Science Foundation, by 7th EU Framework Programme, Theme 6 (Environment including Climate Change) project REFRESH (Adaptive strategies to Mitigate the Impacts of Climate Change on European Freshwater Ecosystems, Contract No. 244121) and by EU Regional Development Foundation, Environmental Conservation and Environmental Technology R&D Programme project VeeOBS (3.2.0802.11-0043). We wish to thank Dr. David Livingstone for advice and for checking the English language of our manuscript.
Additional information
Guest editors: D. Straile, D. Gerdeaux, D. M. Livingstone, P. Nõges, F. Peeters & K.-O. Rothhaupt / European Large Lakes III. Large lakes under changing environmental conditions
About this article
Cite this article
Nõges, P., Nõges, T. Weak trends in ice phenology of Estonian large lakes despite significant warming trends. Hydrobiologia 731, 5–18 (2014). https://doi.org/10.1007/s10750-013-1572-z
Received:

Accepted:

Published:

Issue Date:

DOI: https://doi.org/10.1007/s10750-013-1572-z
Keywords
Air temperature

Surface water temperature

Freezing date

Ice breakup date

Lake morphometry