Abstract
Mediterranean-climate regions (med-regions) are global hotspots of endemism facing mounting environmental threats associated with human-related activities, including the ecological impacts associated with non-native species introductions. We review freshwater fish introductions across med-regions to evaluate the influences of non-native fishes on the biogeography of taxonomic and functional diversity. Our synthesis revealed that 136 freshwater fish species (26 families, 13 orders) have been introduced into med-regions globally. These introductions, and local extirpations, have increased taxonomic and functional faunal similarity among regions by an average of 7.5% (4.6–11.4%; Jaccard) and 7.2% (1.4–14.0%; Bray–Curtis), respectively. Faunal homogenisation was highest in Chile and the western Med Basin, whereas sw Cape and the Aegean Sea drainages showed slight differentiation (decrease in faunal similarity) over time. At present, fish faunas of different med-regions have widespread species in common (e.g. Gambusia holbrooki, Cyprinus carpio, Oncorhynchus mykiss, Carassius auratus, and Micropterus salmoides) which are typically large-bodied, non-migratory, have higher physiological tolerance, and display fast population growth rates. Our findings suggest that intentional and accidental introductions of freshwater fish have dissolved dispersal barriers and significantly changed the present-day biogeography of med-regions across the globe. Conservation challenges in med-regions include understanding the ecosystem consequences of non-native species introductions at macro-ecological scales.
This is a preview of subscription content, log in to check access.
Access options
Buy single article
Instant access to the full article PDF.
US$ 39.95
Price includes VAT for USA
Subscribe to journal
Immediate online access to all issues from 2019. Subscription will auto renew annually.
US$ 199
This is the net price. Taxes to be calculated in checkout.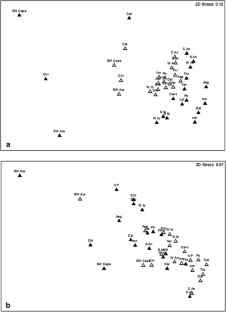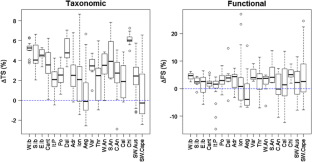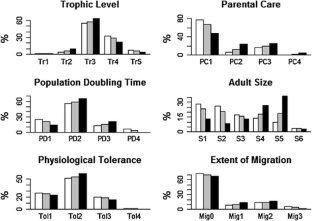 References
Abell, R., M. L. Theime, C. Revenga, M. Bryer, M. Kottelat, N. Bogutskaya, B. Coad, N. Mandrak, S. Contreras-Balderas, W. Bussing, M. L. J. Stiassny, P. Skelton, G. R. Allen, P. Unmack, A. Naseka, R. Ng, N. Sindorf, J. Robertson, E. Armijo, J. V. Higgins, T. J. Heibel, E. Wikramanayake, D. Olson, H. L. Lopez, R. E. Reis, J. G. Lundberg, M. H. Sabaj Perez & P. Petry, 2008. Freshwater ecoregions of the world: a new map of biogeographic units for freshwater biodiversity conservation. BioScience 58: 403–414.

Alcaraz, C., A. Vila-Gispert & E. García-Berthou, 2005. Profiling invasive fish species: the importance of phylogeny and human use. Diversity and Distributions 11: 289–298.

Arismendi, I., D. Soto, B. Penaluna, C. Jara, C. Leal & J. León-Muñoz, 2009. Aquaculture, non-native salmonid invasions and associated declines of native fishes in Northern Patagonian lakes. Freshwater Biology 54: 1135–1147.

Baiser, B., J. D. Olden, S. Record, J. L. Lockwood & M. L. McKinney., 2012. Pattern and process of biotic homogenization in the New Pangaea. Proceedings of the Royal Society B: Biological Sciences 279: 4772–4777.

Basulto, S., 2003. El largo viaje de los salmones: Una crónica olvidada: propagación y cultivo de especies acuáticas en Chile. Editorial Maval, Santiago.

Blanchet, S., G. Grenouillet, O. Beauchard, P. A. Tedesco, F. Leprieur, H. H. Dürr, F. Busson, T. Oberdorff & S. Brosse, 2010. Non-native species disrupt the worldwide patterns of freshwater fish body size: implications for Bergmann's rule. Ecology Letters 13: 421–431.

Brunel, S., G. Schrader, G. Brundu & G. Fried, 2010. Emerging invasive alien plants for the Mediterranean Basin. EPPO Bulletin 40: 219–238.

Buschmann, A. H., F. Cabello, K. Young, J. Carvajal, D. A. Varela & L. Henriquez, 2009. Salmon aquaculture and coastal ecosystem health in Chile: analysis of regulations, environmental impacts and bioremediation systems. Ocean and Coastal Management 52: 243–249.

Cambray, J. A., 2003. Impact on indigenous species biodiversity caused by the globalisation of alien recreational freshwater fishes. Hydrobiologia 500: 217–230.

Çelikkale, M. S., 2002. İçsu Balıkları ve Yetiştiriciliği (Aquaculture of Freshwater Fish). Karadeniz Technical University Press, Trabzon.

Clavel, J., R. Julliard & V. Devictor, 2010. Worldwide decline of specialist species: toward a global functional homogenization? Frontiers in Ecology and the Environment 9: 222–228.

Clavero, M. & E. García-Berthou, 2006. Homogenization dynamics and introduction routes of invasive freshwater fish in the Iberian Peninsula. Ecological Applications 16: 2313–2324.

Collares-Pereira, M. J., I. G. Cowx, F. Ribeiro, J. A. Rodrigues & L. Rogado, 2000. Threats imposed by water resource development schemes on the conservation of endangered fish species in the Guadiana River Basin in Portugal. Fisheries Management and Ecology 7: 167–178.

Copp, G. H., P. G. Bianco, N. G. Bogutskaya, T. Erös, I. Falka, M. T. Ferreira, M. G. Fox, J. Freyhof, R. E. Gozlan, J. Grabowska, V. Kováč, A. R. Moreno-Amich, A. M. Naseka, M. Peňáz, M. Povž, M. Przybylski, M. Robillard, I. C. Russell, S. Statkens, S. Šumer, A. Vila-Gispert & C. Wiesner, 2005. To be, or not to be, a non-native freshwater fish? Journal of Applied Ichthyology 21: 242–262.

Cowling, R. M., P. W. Rundel, B. B. Lamont, M. K. Arroyo & M. Arianoutsou, 1996. Plant diversity in Mediterranean-climate regions. TREE 11: 362–366.

Cowx, I. G., 1997. Introduction of fish species into European fresh waters: economic successes or ecological disasters? Bulletin français de la pêche et de la pisciculture 344–345: 57–78.

Cucherousset, J. & J. D. Olden, 2011. Ecological impacts of non-native freshwater fishes. Fisheries 36: 215–230.

de Moor, I. J. & M. N. Bruton, 1988. Atlas of alien and translocated indigenous aquatic animals in Southern Africa. South African National Scientific Programmes Report No. 144, CSIR, Pretoria.

Di Castri, F., 1991. An ecological overview of the five regions with a Mediterranean climate. In Groves, R. H. & F. Di Castri (eds), Biogeography of Mediterranean Invasions. Cambridge University Press, Cambridge: 3–16.

Economidis, P. S., 1995. Endangered freshwater fishes of Greece. Biological Conservation 72: 201–211.

Elvira, B. & A. Almodóvar, 2001. Freshwater fish introductions in Spain: facts and figures at the beginning of the 21st century. Journal of Fish Biology 59(Supplement A): 323–331.

Froese, R. & D. Pauly (eds), 2010. FishBase 2010: Concepts, Design and Data Sources. International Center for Living Aquatic Resource Management, Manila. www.fishbase.org.

Garcia de Leaniz, C., G. Gajardo & S. Consuegra, 2010. From best to pest: changing perspectives on the impact of exotic salmonids in the Southern Hemisphere. Systematics and Biodiversity 8: 447–459.

García-Berthou, E., 2007. The characteristics of invasive fishes: what has been learned so far? Journal of Fish Biology 71(Supplement D): 33–35.

García-Berthou, E. & P. B. Moyle, 2011. Rivers. In Simberloff, D. & M. Rejmánek (eds), Encyclopedia of Biological Invasions. University of California Press, Berkeley & Los Angeles: 609–612.

García-Berthou, E., C. Alcaraz, Q. Pou-Rovira, L. Zamora, G. Coenders & C. Feo, 2005. Introduction pathways and establishment rates of invasive aquatic species in Europe. Canadian Journal of Fisheries and Aquatic Sciences 62: 453–463.

Gherardi, F. & P. Acquistapace, 2007. Invasive crayfish in Europe: the impact of Procambarus clarkii on the littoral community of a Mediterranean lake. Freshwater Biology 52: 1249–1259.

Gozlan, R. E., J. R. Britton, I. G. Cowx & G. H. Copp, 2010. Current knowledge on non-native freshwater fish introductions. Journal of Fish Biology 76: 751–786.

Hermoso, V. & M. Clavero, 2011. Threatening processes and conservation management of endemic freshwater fish in the Mediterranean basin: a review. Marine and Freshwater Research 62: 244–254.

Hermoso, V., M. Clavero, F. Blanco-Garrido & J. Prenda, 2011. Invasive species and habitat degradation in Iberian streams: an analysis of their role in freshwater fish diversity loss. Ecological Applications 21: 175–188.

Hermoso, V., M. Clavero & M. J. Kennard, 2012. Determinants of fine-scale homogenization and differentiation of native freshwater fish faunas in a Mediterranean Basin: implications for conservation. Diversity and Distributions 18: 236–247.

Hooper, D. U., F. S. Chapin, J. J. Ewel, A. Hector, P. Inchausti, S. Lavorel, J. H. Lawton, D. M. Lodge, M. Loreau, S. Naeem, B. Schmid, H. Setälä, A. J. Symstad, J. Vandermeer & D. A. Wardle, 2005. Effects of biodiversity on ecosystem functioning: a consensus of current knowledge. Ecological Monographs 75: 3–35.

Impson, N. D., 2007. Freshwater fishes. In Nature, C. (ed.), Western Cape Province State of Biodiversity 2007. Cape Nature Scientific Services, Stellenbosch: 18–36.

Iriarte, J. A., G. A. Lobos & F. M. Jaksic, 2005. Invasive vertebrate species in Chile and their control and monitoring by government agencies. Revista Chilena de Historia Natural 78: 143–154.

Jiménez, A., A. Pauchard, L. A. Cavieres, A. Marticorena & R. O. Bustamante, 2008. Do climatically similar regions contain similar alien floras? A comparison between the Mediterranean areas of central Chile and California. Journal of Biogeography 35: 614–624.

Kark, S. & D. Sol, 2004. Establishment success across convergent Mediterranean ecosystems: an analysis of bird introductions. Conservation Biology 19: 1519–1527.

Katz, J., P. B. Moyle, R. M. Quiñones, J. Israel & S. Purdy, 2012. Impending extinction of salmon, steelhead, and trout (Salmonidae) in California. Environmental Biology of Fishes. doi:10.1007/s10641-012-9974-8.

Lapointe, N. W. R. & T. Light, 2012. Landscape-scale determinants of non-native fish communities. Diversity and Distributions 18: 282–293.

Leprieur, F., O. Beauchard, S. Blanchet, T. Oberdorff & S. Brosse, 2008. Fish invasions in the world's river systems: when natural processes are blurred by human activities. PLoS Biology 6: e28.

Lintermans, M., 2004. Human-assisted dispersal of alien freshwater fish in Australia. New Zealand Journal of Marine and Freshwater Research 38: 481–501.

Long, Z. T. & P. J. Morin, 2005. Effects of organism size and community composition on ecosystem functioning. Ecology Letters 8: 1271–1282.

Marr, S. M., M. P. Marchetti, J. D. Olden, D. L. Morgan, E. García-Berthou, I. Arismendi, J. A. Day, C. L. Griffiths & P. H. Skelton, 2010. Freshwater fish introductions in mediterranean-climate regions: are there commonalities in the conservation problem? Diversity and Distributions 16: 606–619.

Marr, S. M., N. D. Impson & D. Tweddle, 2012. An assessment of a proposal to eradicate non-native fish from priority rivers in the Cape Floristic Region, South Africa. African Journal of Aquatic Science 37: 131–142.

McKinney, M. L. & J. L. Lockwood, 1999. Biotic homogenization: a few winners replacing many losers in the next mass extinction. TREE 14: 450–453.

Millennium Ecosystem Assessment, 2005. Ecosystem and Human Well-being: Biodiversity Synthesis. World Resources Institute, Washington, DC.

Morgan, D. L., D. C. Thorburn & H. S. Gill, 2003. Salinization of south-western Western Australian rivers and the implications for the inland fish fauna: the Blackwood River, a case study. Pacific Conservation Biology 9: 161–171.

Morgan, D. L., H. S. Gill, M. G. Maddern & S. J. Beatty, 2004. Distribution and impacts of introduced freshwater fishes in Western Australia. New Zealand Journal of Marine and Freshwater Research 38: 511–523.

Moyle, P. B., 1976. Fish introductions in California: history and impact on native fishes. Biological Conservation 9: 101–118.

Moyle, P. B., 1995. Conservation of native freshwater fishes in the Mediterranean-type climate of California, USA: a review. Biological Conservation 72: 271–279.

Moyle, P. B. & M. P. Marchetti, 2006. Predicting invasion success: freshwater fishes in California as a model. BioScience 56: 513–524.

Moyle, P. B., J. V. E. Katz & R. M. Quiñones, 2011. Rapid decline of California's native inland fishes: a status assessment. Biological Conservation 144: 2414–2423.

Olden, J. D., 2006. Biotic homogenization: a new research agenda for conservation biology. Journal of Biogeography 33: 2027–2039.

Olden, J. D. & T. P. Rooney, 2006. On defining and quantifying biotic homogenization. Global Ecology and Biogeography 15: 113–120.

Olden, J. D., M. J. Kennard & B. J. Pusey, 2008. Species invasion and the changing biogeography of Australian freshwater fishes. Global Ecology and Biogeography 17: 25–37.

Olden, J. D., M. J. Kennard, F. Leprieur, P. A. Tedesco, K. O. Winemiller & E. García-Berthou, 2010. Conservation biogeography of freshwater fishes: recent progress and future challenges. Diversity and Distributions 16: 496–513.

Olden, J. D., J. L. Lockwood & C. L. Parr, 2011. Species invasions and the biotic homogenization of faunas and floras. In Whittaker, R. J. & R. J. Ladle (eds), Conservation Biogeography. Wiley-Blackwell, Oxford: 224–243.

Pauchard, A., L. A. Cavieres & R. O. Bustamante, 2004. Comparing alien plant invasions among regions with similar climates: where to from here? Diversity and Distributions 10: 371–375.

Pool, T. K. & J. D. Olden, 2012. Taxonomic and functional homogenization of an endemic desert fish fauna. Diversity and Distributions 18: 366–376.

Rahel, F. J., 2004. Unauthorized fish introductions: fisheries management of the people, for the people, or by the people? In Nickum, M. J., P. M. Mazik, J. G. Nickum & D. D. MacKinlay (eds), Propagated Fishes in Resource Management American Fisheries Society Symposium Series 44. American Fisheries Society, Bethesda, MD: 431–443.

Shumka, S., L. Shuka & S. Mali, 2010. (2010) Rivers water life and the responses of possible hydropower's to be constructed in the water courses of Vjosa, Semani and Drini in Albania. BALWOIS 25: 1–8.

Soto, D., F. Jara & C. Monero, 2001. Escaped salmon in the inner seas, Southern Chile: facing ecological and social conflicts. Ecological Applications 11: 1750–1762.

Soto, D., I. Arismendi, J. González, J. Sanzana, F. Jara, C. Jara, E. Guzmán & A. Lara, 2006. Southern Chile, trout and salmon country: invasion patterns and threats for native species. Revista Chilena de Historia Natural 79: 97–117.

Tedesco, P. A., F. Leprieur, B. Hugueny, S. Brosse, H. Dürr, O. Beauchard, F. Busson & T. Oberdorff, 2012. Patterns and processes of global freshwater fish endemism. Global Ecology and Biogeography 21: 977–987.

Villéger, S., S. Blanchet, O. Beauchard, T. Oberdorff & S. Brosse, 2011. Homogenization patterns of the world's freshwater fish faunas. Proceedings of the National Academy of Sciences 108: 18003–18008.

Vitule, J. R. S., F. Skóra & V. Abilhoa, 2012. Homogenization of freshwater fish faunas after the elimination of a natural barrier by a dam in Neotropics. Diversity and Distributions 18: 111–120.

Woodward, G., B. Ebenman, M. Emmerson, J. M. Montoya, J. M. Olesen, A. Valido & P. H. Warren, 2005. Body size in ecological networks. TREE 20: 402–409.

Zenetos, A., M.-A. Pancucci-Papadopoulou, S. Zogaris, E. Papastergiadou, L. Vardakas, K. Aligizaki & A. N. Economou, 2009. Aquatic alien species in Greece (2009): tracking sources, patterns and effects on the ecosystem. Journal of Biological Research-Thessaloniki 12: 135–172.
Acknowledgments
SMM acknowledges the financial support of the DST/NRF Centre of Excellence for Invasion Biology and the David and Elaine Potter Foundation during his PhD studies. EGB acknowledges funding support from the Spanish Ministry of Science (projects CGL2009-12877-C02-01 and Consolider-Ingenio 2010 CSD2009-00065). DLM acknowledges Dr Stephen Beatty (Murdoch University) for his work on the fishes of south-western Australia. RŠ acknowledges support from the Czech Ministry of Culture (DKRVO2012 and DKRVO 2013/14, National Museum, 00023272). The authors thank Nicolas Poulet (ONEMA) for providing data on French Mediterranean river systems, Meta Povž and Predag Simonovic for providing data on Adriatic river systems, and Sergio Zerunian and Massimo Lorenzoni for providing data on Italian river systems.
Additional information
Guest editors: N. Bonada & V. H. Resh / Streams in Mediterranean climate regions: lessons learned from the last decade
Electronic supplementary material
Below is the link to the electronic supplementary material.
About this article
Cite this article
Marr, S.M., Olden, J.D., Leprieur, F. et al. A global assessment of freshwater fish introductions in mediterranean-climate regions. Hydrobiologia 719, 317–329 (2013). https://doi.org/10.1007/s10750-013-1486-9
Received:

Accepted:

Published:

Issue Date:
Keywords
Introduced species

Non-native species

Conservation biogeography

Taxonomic homogenisation

Functional homogenisation