Abstract
The external ornamentations of the cysts in anostracans are often characterized by crests and ridges. However, their variation cannot be properly quantified by traditional morphometrics. We propose a fractal-based analysis through box-counting to evaluate and compare differences between groups. Box-counting provides a value (fractal dimension, FD) which is proportional to the coverage and space-filling property of a geometrical pattern. Therefore, it is useful to quantify features associated with the spatial organization of the crests. Crests height is moderately correlated with cyst body diameter at individual (R = 0.27; P < 0.0001) and population (R = 0.58; P = 0.05) level. The geometric pattern of the crests is not related to the cyst body size, suggesting that allometric components influencing the spatial distribution of the crests are absent or negligible. There is a faint correlation between crests geometry and height (R = 0.20; P = 0.003). Interestingly, the distribution of the FDs is bimodal, revealing two distinct morphotypes that may be associated with structural constraints, genetics, or environmental components. Taking into account the limited information on the factors shaping the external crests of the cysts, this approach can be useful in evaluating phylogenetic and ecological influences on the final phenotype of the cysts.
Access options
Buy single article
Instant access to the full article PDF.
USD 39.95
Price includes VAT (USA)
Tax calculation will be finalised during checkout.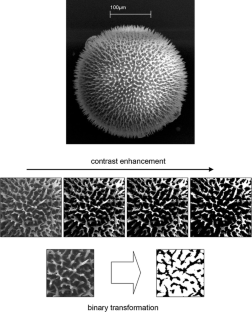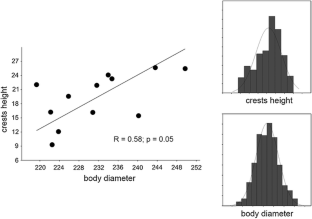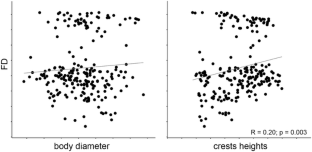 References
Anderson, E., J. H. Lochhead, M. S. Lochhead & E. Huebner, 1970. The origin and structure of the tertiary envelope in thick-shelled eggs of the brine shrimp Artemia. Journal of Ultrastructural Research 32: 497–525.

Bookstein, F. L., 1991. Morphometrics Tools for Landmarks Data: Geometry and Biology. Cambridge University Press, Cambridge.

Bruner, E., S. Mantini, A. Perna, C. Maffei & G. Manzi, 2005. Fractal dimension of the middle meningeal vessels: variation and evolution in Homo erectus, Neanderthals, and modern humans. European Journal of Morphology 42: 217–224.

Cottarelli, V. & G. Mura, 1984. Chirocephalus ruffoi n.sp. (Crustacea, Euphyllopoda, Anostraca) di acque astatiche d'alta quota dell'Appennino calabro-lucano. Bollettino del Museo Civico di Storia Naturale di Verona 2: 515–523.

Di Ieva, A., F. Grizzi, P. Gaetani, U. Goglia, M. Tschabitscher, P. Mortini & R. Rodriguez y Baena, 2008. Euclidean and fractal geometry of microvascular networks in normal and neoplastic pituitary tissue. Neurosurgery Review 31: 271–281.

Dumont, H. J., S. Nandini & S. S. S. Sarma, 2002. Cyst ornamentation in aquatic invertebrates: a defense against egg-predation. Hydrobiologia 486: 161–167.

Foroutan-pour, K., P. Dutilleul & D. L. Smith, 1999. Advances in the implementation of the box-counting method of fractal dimension estimation. Applied Mathematics and Computation 105: 195–210.

Garreau de Loubresse, N., 1974. Etude de la mise en place des enveloppes de l'oeuf d'un crustacé phyllopode: Tanymastix lacunae. Journal de Microscopie 20: 21–38.

Gautestad, A. O. & I. Mysterud, 2012. The dilution effect and the space fill effect: seeking to offset statistical artifacts when analyzing animal space use from telemetry fixes. Ecological Complexity 9: 33–42.

Gilchrist, B. M., 1978. Scanning electron microscope studies of the egg shell in some anostraca (Crustacea, Branchiopoda). Cell Tissue Research 193: 337–351.

Gunz, P., P. Mitteroecker & F. L. Bookstein, 2005. Semilandmarks in three dimensions. In Slice, D. E. (ed.), Modern Morphometrics in Physical Anthropology. Kluwer Academic/Plenum Publishers, New York: 73–98.

Lestrel, P. E., 1997. Fourier Descriptors and Their Applications in Biology. Cambridge University Press, Cambridge.

Li, J., Q. Du & C. Sun, 2009. An improved box-counting method for image fractal dimension estimation. Pattern Recognition 42: 2460–2469.

Lopes, R. & N. Betrouni, 2009. Fractal and multifractal analysis: a review. Medical Image Analysis 13: 634–649.

Lynnerup, N. & J. C. B. Jacobsen, 2003. Brief communication: age and fractal dimensions of human sagittal and coronal sutures. American Journal of Physical Anthropology 121: 332–336.

MacLeod, N., 1999. Generalizing and extending the eigenshape method of shape space visualization and analysis. Paleobiology 25: 107–138.

Mandelbrot, B. B., 1977. The Fractal Geometry of Nature. WH Freeman, New York.

McGhee, G. R., 2006. The Geometry of Evolution: Adaptive Landscapes and Theoretical Morphospaces. Cambridge University Press, New York.

Morris, J. E. & B. A. Afzelius, 1967. The structure of the shell and outer membranes in encysted Artemia salina during cryptobiosis and development. Journal of Ultrastructural Research 20: 244–259.

Mura, G., 1992. Additional remarks on cyst morphometrics in anostracan and its significance. Part II: egg morphology. Crustaceana 63: 225–246.

Mura, G., 2001. Morphological diversity of the resting eggs in the anostracan genus Chirocephalus (Crustacea, Branchiopoda). Hydrobiologia 450: 173–185.

Mura, G. & G. Rossetti, 2002. On the rediscovery of Chirocephalus ruffoi Cottarelli & Mura, 1984 in temporary pools of the Secchia and Panaro valleys (Tuscan-Emilian Apennines, Northern Italy) (Branchiopoda, Anostraca). Crustaceana 75: 969–977.

Mura, G. & G. Rossetti, 2010. Intraspecific morphological diversity of anostracan resting eggs: Chirocephalus ruffoi Cottarelli & Mura, 1984 as a study case. Journal of Biological Research 14: 137–150.

Mura, G., P. Zarattini & S. Petkowski, 2002. Morphological variation among Chirocephalus diaphanus carinatus populations (Anostraca) from the Balkan area. Journal of Crustacean Biology 22: 162–172.

Nourisson, M., 1964. Recherches écologiques et biologiques sur le Crustacé Branchiopode Chirocephalus diaphanus Prévost: etude expérimentale du developpement de l'Oeuf. Thèse, Universitè de Nancy: 154 pp.

Rasband, W. S., 1997. ImageJ, U.S. National Institutes of Health, Bethesda, MD, USA. http://imagej.nih.gov/ij/.

Rebecchi, L., S. Leonardi & M. A. Sabatini, 1990. Presenza di Chirocephalus ruffoi Cottarelli & Mura, 1984 (Crustacea, Anostraca) nell'Appennino tosco-emiliano e descrizione del cariotipo. Rivista di Idrobiologia 29: 587–595.

Schiwy-Bochat, K. H., 2001. The roughness of the supranasal region—a morphological sex trait. Forensic Science International 117: 7–13.

Schneider, C. A., W. S. Rasband & K. W. Eliceiri, 2012. NIH Image to ImageJ: 25 years of image analysis. Nature Methods 9: 671–675.

Slice, D., 1993. The fractal analysis of shape. In Marcus, L. E., E. Bello & A. Garcia-Valdecasas (eds), Contribution to Morphometrics. Museo Nacional de Ciencias Naturales, Madrid: 161–190.

Tannier, C., J. C. Foltete & X. Girardet, 2012. Assessing the capacity of different urban forms to preserve the connectivity of ecological habitats. Landscape Urban Planning 105: 128–139.

Zamir, M., 2001. Fractal dimensions and multifractility in vascular branching. Journal of Theoretical Biology 212: 183–190.

Zhang, L., J. Z. Liu, D. Dean, V. Sahgal & G. H. Yue, 2006. A three-dimensional fractal analysis method for quantifying white matter structure in human brain. Journal of Neuroscience Methods 150: 242–253.

Zollikofer, C. P. E. & J. D. Weismann, 2011. A bidirectional interface growth model for cranial interosseous suture morphogenesis. Journal of Anatomy 219: 100–114.
Acknowledgments
We are grateful to Melina Marrocco for her contribution in the preliminary analyses on the crests morphometrics. Thanks to Lyndsey Stewart for comments and suggestions on the manuscript. Three reviewers provided further advices and appreciated encouragements on this manuscript. The authors do not have any actual or potential conflict of interests.
Additional information
Handling Editor: S. S. S. Sarma
About this article
Cite this article
Bruner, E., Costantini, D. & Mura, G. Fractal analysis of the egg shell ornamentation in anostracans cysts: a quantitative approach to the morphological variations in Chirocephalus ruffoi . Hydrobiologia 705, 1–8 (2013). https://doi.org/10.1007/s10750-012-1343-2
Received:

Revised:

Accepted:

Published:

Issue Date:
Keywords
Chirocephalus

Fractal dimension

Box-counting

Cyst morphology