Abstract
Vibrio-like bacteria (VLO) were isolated from the seawater and sand of marine recreation beach located on the southern coast of the Baltic Sea and their antibiotic resistance was studied. According to susceptibility test, planktonic, and benthic VLO were the most resistant to β-lactam (ampicillin and penicillin) and lincosamide (clindamycin) antibiotics, while the most susceptible to tetracycline and aminoglycosides (gentamycin). Moreover the results showed that Vibrio-like bacteria inhabiting sand were more antibiotic-resistant than those isolated from seawater. In general, there was no difference in antibiotic resistance between VLO isolated from the surface and subsurface sand layers. More than 90% of planktonic and benthic Vibrio-like bacteria showed multiple antibiotic resistance.
Access options
Buy single article
Instant access to the full article PDF.
USD 39.95
Price excludes VAT (USA)
Tax calculation will be finalised during checkout.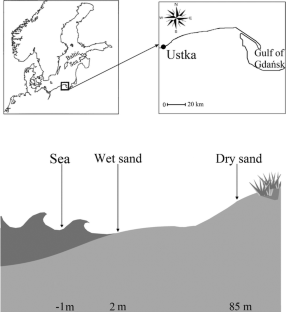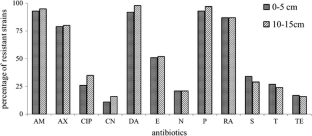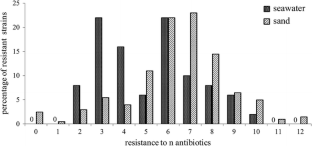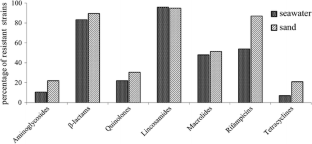 References
Arvanitidou, M., A. Tsakris, T. C. Constantindis & V. C. Katsouyannopulus, 1997. Transferable antibiotic resistance among Salmonella strains isolated from surface water. Water Research 37: 1112–1116.

Akond, M. A., S. Alam, M. R. Hasan, S. N. Uddin & M. Shirin, 2008. Antibiotic resistance of Vibrio cholerae sources of Dhaka, Bangladesh. Advances in Biological Research 2: 60–67.

Andreozzi, R., M. Carerino, R. Lo Giudice, R. Marotta, G. Pinto & A. Pollio, 2006. Lincomycin solar photodegradation, algal toxicity and removal from wastewaters by means of ozonation. Water Research 40: 630–638.

Beversdorf, L. J., S. M. Bornstein-Forst & S. L. McLellen, 2007. The potential for beach sand to serve as a reservoir for Escherichia coli and the physical influences on cell die-off. Journal of Applied Microbiology 102: 1372–1381.

Calamari, D., E. Zuccato, S. Castiglioni, R. Bagnati & R. Fanelli, 2003. Strategic survey of therapeutic drugs in the Rives Po and Lambro in Northern Italy. Environmental Science and Technology 37: 1241–1248.

Cetin, E. S., H. Gunes, S. Kaya, B. C. Aridogan & M. Demirci, 2008. Macrolide-lincosamide-streptogramin B resistance phenotypes in clinical staphylococcal isolates. International Journal of Antimicrobial Agents 31: 364–368.

Chandrasekaran, S., B. Venkatesh & D. Lalithakumari, 1998. Transfer and expression of multiple antibiotic resistance plasmid in marine bacteria. Current Opinion in Microbiology 37: 63–80.

Clark, A., T. Turner, K. P. Dorothy, J. Goutham, C. Klavati & B. Rajanna, 2003. Health hazards due to pollution of waters along the coast of Visakhapatnam, east coast of India. Ecotoxicology and Environmental Safety 56: 390–397.

Ding, C. & J. He, 2010. Effect of antibiotics in the environment on microbial populations. Applied of Microbiological Biotechnology 87: 925–941.

Dumontet, S., K. Krovacek, S. Svenson, V. Pasquale, S. B. Baloda & G. Figliuolo, 2000. Prevalence and diversity of Aeromonas and Vibrio spp. in coastal waters of Southern Italy. Comparative Immunology Microbiology & Infectious Diseases 23: 53–72.

Eleonor, A. & D. Leobert, 2001. Antibiotic resistance of bacteria form shrimp pounds. Aqaculture 195: 193–204.

Ellery, W. N. & M. H. Schleyer, 1984. Comparison of homogenization and ultrasonication as techniques in extracting attached sedimentary bacteria. Marine Ecology Progress Series 15: 247–250.

Epstein, S. S. & J. Rossel, 1995. Enumeration of sandy sediment bacteria: search for optimal protocol. Marine Ecology Progress Series 117: 289–298.

Foti, M., C. Giacopello, T. Bottari, V. Fisichella, D. Rinaldo & C. Mamminac, 2009. Antibiotic resistance of Gram negatives isolates from loggerhead sea turtles (Caretta caretta) in the central Mediterranean sea. Marine Pollution Bulletin 58: 1363–1366.

John, S. & J. Patterson, 2007. Probiotic activity and antibiotic resistance pattern of microbes isolated from shrimp ponds. Journal of the Marine Biology Association of India 49: 127–133.

Kelsey, R. H., G. I. Scott, D. E. Porter, B. Thompson & L. Webster, 2003. Using multiple antibiotic resistance and land use characteristics to determine sources of fecal coliform bacterial pollution. Environmental Monitoring and Assessment 81: 337–348.

Khan, W. A., J. S. Hossain & N. S. Uddin, 2007. Isolation, identification and determination of antibiotic susceptibility of Vibrio parahaemolyticus from shrimp at Khulna region of Bangladesh. Research Journal of Microbiology 2: 216–227.

Kimiran-Erdem, A., E. O. Arslan, N. O. S. Yurudu, Z. Zeybek, N. Dogruoz & A. Cotuk, 2007. Isolation and identification of enterococci from seawater samples: assessment of their resistance to antibiotics and heavy metals. Environmental Monitoring and Assessment 125: 219–228.

Kitaoka, M., S. T. Miyata, D. Unterweger & S. Pukatzki, 2011. Antibiotic resistance mechanisms of Vibrio cholerae. Journal of Medical Microbiology 60: 397–407.

Kobori, H., C. W. Sullivan & H. Shizuya, 1984. Bacterial plasmids in a Antarctic natural microbial assemblages. Applied and Environmental Microbiology 48: 515–518.

Kramarska, R., Sz. Uscinowicz, J. Zachowicz, P. Przezdziecki, J. Warzocha, J. Netzel & J. Janusz, 2003. Identification of submarine deposit drifts to artificial swelling. Department of Marine in Słupsk (in Polish). National Geological Institute, Department of Marine Geology.

Kumar, A. P., J. Patterson & P. Karpagam, 2009. Multiple antibiotic resistance profiles of Vibrio cholera non-01 and non-0139. Japanese Journal of Infectious Diseases 62: 230–232.

Laganà, P., G. Caruso, E. Minutoli, R. Zaccone & S. Delia, 2011. Susceptibility to antibiotics of Vibrio spp. and Photobacterium damsela ssp. piscicida strains isolated from Italian aquaculture farms. New Microbiologica 34: 53–63.

Lesley, M. B., L. Velnetti, Y. K. Cheah, R. Son, A. Kasing, L. Samuel, V. Micky & M. Nishibuchi, 2011. Antibiotic resistance and plasmid profiling of Vibrio parahaemolyticus isolated from cockles (Andara granosa) at Tanjung Karang, Kuala Selangor. International Food Research Journal 18: 1183–1188.

Li, X. Z., M. Mehrotra, S. Ghimire & L. Adewoye, 2007. β-Lactam resistance and β-lactamases in bacterial of animal origin. Veterinary Microbiology 121: 197–214.

Livermore, D. M., 1996. Are all β-lactams created equal? Scandinavian Journal of Infectious Diseases 101: 33–43.

Lüthje, P. & S. Schwarz, 2007. Molecular basis of resistance to macrolides and lincosamides among staphylococcus and streptococci from various animal sources collected in the resistance monitoring program BfT-GermanVet. International Journal of Antimicrobial Agents 29: 528–535.

Manivasagan, P., S. Ramesh, K. Sivakumar, T. Thangaradjou, S. Vijayalakshmi & K. Balasubramanian, 2010. Antibiotic resistance and plasmid profiles of Vibrio isolates from Muthupettai mangrove environment, Southeast Coast of India. Journal of International Dental and Medical Research 3: 38–44.

Manjusha, S., G. B. Sarita, K. K. Elyas & M. Chandrasekaran, 2005. Multiple antibiotic resistances of Vibrio isolates from costal and brackish water areas. American Journal of Biochemistry and Biotechnology 1: 201–206.

Manjusha, S. & G. B. Sarita, 2011. Plasmid associated antibiotic resistance in Vibrios isolated from costal waters of Kerala. International Food Research Journal 18: 1171–1181.

Molina-Aja, A., A. García-Gasca, A. Abreu-Grobois, C. Bolán-Mejía, A. Roque & B. Gomez-Gil, 2002. Plasmid profiling and antibiotic resistance of Vibrio strains isolated from cultured penaeid shrimp. FEMS Microbiology Letters 213: 7–12.

Mudryk, Z., 2002. Antibiotic resistance among bacteria inhabiting surface and subsurface waters layers in estuarine lake Gardno. Polish Journal of Ecology 11: 401–406.

Mudryk, Z., 2005. Occurrence and distribution antibiotic resistance of heterotrophic bacteria inhabiting a marine sandy beach. Marine Pollution Bulletin 50: 80–86.

Mudryk, Z. & P. Skórczewski, 1998. Antibiotic resistance in marine neustonic and planktonic bacteria isolated from the Gdańsk Deep. Oceanologia 40: 125–136.

Mudryk, Z. & B. Podgórska, 2007. Culturable microorganisms in sandy beaches in south Baltic Sea. Polish Journal of Ecology 55: 221–231.

Mudryk, Z. & P. Skórczewski, 2009. Frequency of antibiotic resistance in bacteria inhabiting downtown pond water. Baltic Coastal Zone 13a: 135–146.

Mudryk, Z., P. Perliński & P. Skórczewski, 2010. Detection of antibiotic resistance bacteria inhabiting sand of non-recreational marine beach. Marine Pollution Bulletin 60: 207–214.

Ngozi, A. F., I. L. Romanus, T. Eze, O. A. Egwu & N. O. Collins, 2010. Presence of coliform producing extended spectrum beta lactamase in sachet-water manufactured and solid in Abakaliki, Ebonyi, Nigeria. International Research Journal Microbiology 1: 32–36.

Okoh, A. I. & E. O. Igbinosa, 2010. Antibiotic susceptibility profiles of some Vibrio strains isolated from wastewater final effluents in a rural community of the Eastern Cape Province of South Africa. BMC Microbiology 10: 143.

Olańczuk-Neyman, K. & K. Jankowska, 1998. Bacteriological investigations of the sandy beach ecosystem in Sopot. Oceanologia 40: 135–149.

Orozova, P., V. Chikova, V. Kolarova, R. Nenova, M. Konovska & H. Najdenski, 2008. Antibiotic resistance of potentially pathogenic Aeromonas strains. Trakia Journal of Science 6: 71–78.

Quintoil, M. N., K. Porteen & A. K. Pramanik, 2007. Studies on occurrence of Vibrio parahaemolyticus in fin fishes and shellfishes from different ecosystem of West Bengal Livestock. Research for Rural Development 19: 1–7.

Ramesh, S., P. Manivasagan, S. Ashokkumar, G. Rajaram & P. Mayavu, 2010. Plasmid profiling and multiple antibiotic resistance of heterotrophic bacteria isolated from muthupettai mangrove environment, Southeast Coast of India. Current Research in Bacteriology 3: 227–237.

Reinthaler, F. F., J. Posch, G. Feierl, G. Wüst, D. Haas, G. Ruckenbauer, F. Maschar & E. Marth, 2003. Antibiotic resistance of E. coli in swage and sludge. Water Research 37: 1685–1690.

Ruban, P. & C. Gunaseelan, 2011. Antibiotic resistance of bacteria from Krishna Godavari Basin, Bay of Bengal, India. Environmental and Experimental Biology 9: 133–136.

Sabry, S. A., H. A. Ghozian & D. Abou-Zeid, 1997. Metal tolerance and antibiotic resistance patterns of a bacterial population isolated from seawater. Journal of Applied Bacteriology 82: 245–252.

Shinoda, S., 2005. Pathogenic factors of Vibrios with special emphasis on Vibrio vulnificus. Yakugaku Zasshi 125: 531–547.

Snoussi, M., E. Noumi, R. Lajnef, A. Belila, N. Yazidi & A. Bakhrouf, 2011. Phenotypic characterization and enterobacterial repetitive intergenic consensus polymerase chain reaction (eric-pcr) of Aeromonas spp. and Vibrio spp. strains isolated from Sparus aurata fish farm (Khenis, Tunisia). African Journal of Microbiology Research 5: 2920–2928.

Srinivasan, P. & P. Ramasamy, 2009. Occurrence, distribution and antibiotic resistance patterns of Vibrio species associated with viral diseased shrimp of South Indian Aquaculture Environment. International Journal of Agriculture Science 1: 1–10.

Stewart, K. R. & L. K. Koditschek, 1980. Drug resistance transfer Escherichia coli in New York Bight. Marine Pollution Bulletin 11: 130–133.

Taviani, E., D. Ceccarelli, N. Lazaro, S. Bani, P. Cappuccinelli, R. R. Colwell & M. M. Colombo, 2008. Environmental Vibrio spp., isolated in Mozambique, contain a polymorphic group of integrative conjugative elements and class 1 integrons. FEMS Microbiology Ecology 64: 45–54.

Tendencia, E. A. & L. D. de la Peña, 2001. Antibiotic resistance of bacteria from shrimp ponds. Aquaculture 195: 193–204.

Thavasi, R., K. Aparnadevi, S. Jayalakshmi & T. Balasubramanian, 2007. Plasmid mediated antibiotic resistance in marine bacteria. Journal of Environmental Biology 28: 617–621.

Webster, F. L., B. C. Thompson, M. H. Fulton, D. E. Chlestnut, F. R. van Dolach, A. K. Leight & G. I. Scott, 2004. Identification of source of Escherichia coli in South Carolina estuaries uses antibiotic resistance analysis. Journal of Experimental Marine Biology and Ecology 298: 179–195.

Zawadzka-Kahlau, E., 1999. Trends in South Baltic coast development during the last hundred years. Peribalticum 7: 115–136.

Zawadzka, E., 1996. Litho-morphodynamics in the vicinity of small ports of the Polish Central Coast. In Mitchel, J. & J. Taussik (eds), Partnership of the Coastal Management. Samara Publ. Limited, Cardigan: 353–360.

Zulkifli, Y., N. B. Alitheen, A. R. Raha, S. K. Yeap, R. Son & M. Nishibuchi, 2009. Antibiotic resistance and plasmid profiling of Vibrio parahaemolyticus isolated from cockles in Padang, Indonesia. International Food Research Journal 16: 53–58.
Additional information
Handling editor: Koen Martens
About this article
Cite this article
Mudryk, Z.J., Kosiorek, A. & Perliński, P. In vitro antibiotic resistance of Vibrio-like organisms isolated from seawater and sand of marine recreation beach in the southern Baltic Sea. Hydrobiologia 702, 141–150 (2013). https://doi.org/10.1007/s10750-012-1317-4
Received:

Revised:

Accepted:

Published:

Issue Date:

DOI: https://doi.org/10.1007/s10750-012-1317-4
Keywords
Beach

Vibrio-like organisms

Antibiotics resistance