Abstract
The present review with focus on the last decade (2000–2010) aims to (i) collecting the major hypotheses explaining freshwater biodiversity patterns, (ii) identifying the main stressors affecting freshwater biodiversity, and (iii) revealing information gaps regarding ecosystem types, organism groups, spatial and temporal scales to highlight research needs to better propose sound conservation measures. The comparative analysis addresses six organism groups ranging from microorganisms to fish in basins, rivers, lakes, wetlands, ponds and groundwater. Short-term studies at ecoregion and catchment scale focusing on invertebrates, macrophytes and fish in Palaearctic and Nearctic regions dominated. The most frequent hypotheses tested were the landscape filter concept, the species–area relationship, the metacommunity concept. Dominating natural drivers were area, heterogeneity and disturbance. Land use, eutrophication and habitat destruction were identified as most important stressors. Generally, freshwater biodiversity declined in response to these stressors in contrast to increasing biodiversity determined by natural drivers across all ecosystems. Preferred organism groups were fish and invertebrates, most frequently studied in rivers, in contrast to smaller organisms (e.g. bacteria) and, e.g. groundwater being underrepresented. Hypotheses originating from the last century are still tested in freshwater research, while novel concepts are either missing or untested. Protection of freshwater biodiversity is the ultimate challenge since it supports valuable ecosystems services ensuring perpetuation of mankind. For that, comprehensive large-scale studies with holistic approaches are urgently needed.
Access options
Buy single article
Instant access to the full article PDF.
USD 39.95
Price excludes VAT (USA)
Tax calculation will be finalised during checkout.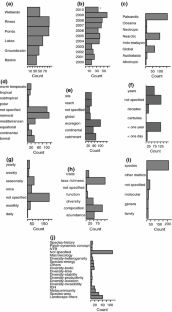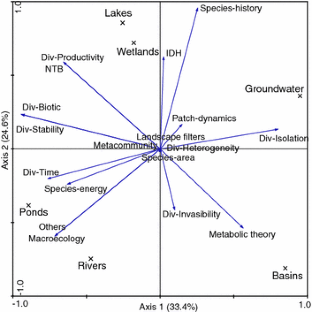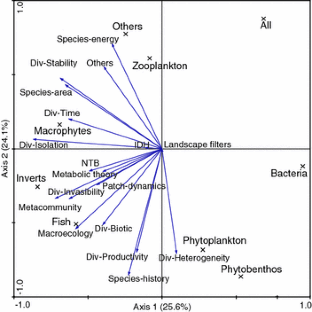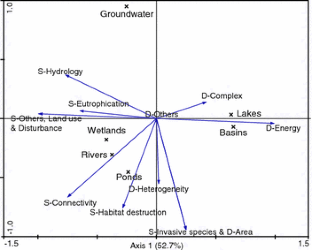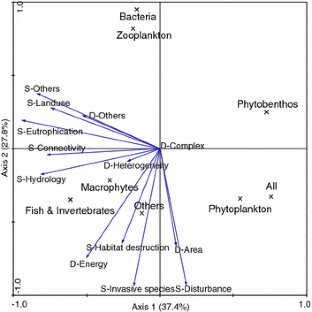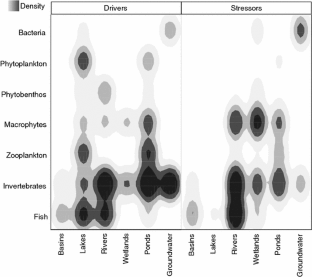 References
Acreman, M. C. & M. J. Dunbar, 2004. Defining environmental river flow requirements—a review. Hydrology and Earth System Sciences 8: 861–876.

Agostinho, A. A., S. M. Thomaz & L. C. Gomes, 2005. Conservation of the biodiversity of Brazil's inland waters. Conservation Biology 19: 646–652.

Aigo, J., V. Cussac, S. Peris, S. Ortubay, S. Gómez, H. López, M. Gross, J. Bariga & M. Batini, 2008. Distribution of introduced and native fish in Patagonia Argentina: patterns and changes in fish assemblages. Reviews in Fish Biology and Fisheries 18: 387–408.

Akasaka, M., N. Takamura, H. Mitsuhashi & Y. Kadono, 2010. Effects of land use on aquatic macrophyte diversity and water quality of ponds. Freshwater Biology 55: 909–922.

Alimov, A., 2001. Studies on biodiversity in the plankton, benthos, and fish communities, and the ecosystems of freshwater bodies differing in productivity. Biology Bulletin 28: 75–83.

Allen, A. P., J. H. Brown & J. F. Gillooly, 2002. Global biodiversity, biochemical kinetics, and the energetic-equivalence rule. Science 297: 1545–1548.

Altermatt, F., V. I. Pajunen & D. Ebert, 2008. Climate change affects colonization dynamics in a metacommunity of three Daphnia species. Global Change Biology 14: 1209–1220.

Amarasinghe, U. S. & R. L. Welcomme, 2002. An analysis of fish species richness in natural lakes. Environmental Biology of Fishes 65: 327–339.

Amon, J. P., C. A. Thompson, Q. J. Carpenter & J. Miner, 2002. Temperate zone fens of the glaciated Midwestern USA. Wetlands 22: 301–317.

Amoros, C. & G. Bornette, 2002. Connectivity and biocomplexity in waterbodies of riverine floodplains. Freshwater Biology 47: 761–776.

Araújo, F. G., B. C. T. Pinto & T. P. Teixeira, 2008. Longitudinal patterns of fish assemblages in a large tropical river in southeastern Brazil: evaluating environmental influences and some concepts in river ecology. Hydrobiologia 618: 89–107.

Auderset-Joye, D. A., B. Oertli, A. Lehmann, R. Juge & J.-B. Lachavanne, 2006. The prediction of macrophyte species occurrence in Swiss ponds. Hydrobiologia 570: 175–182.

Bagella, S., S. Gascón, M. C. Caria, J. Sala, M. A. Mariani & D. Boix, 2010. Identifying key environmental factors related to plant and crustacean assemblages in Mediterranean temporary ponds. Biodiversity and Conservation 19: 1749–1768.

Balcombe, C. K., J. T. Anderson, R. H. Fortney & W. S. Kordek, 2005. Aquatic macroinvertebrate assemblages in mitigated and natural wetlands. Hydrobiologia 541: 175–188.

Balian, E. V., H. Segers, C. Lévêque & K. Martens, 2008. An introduction to the Freshwater Animal Diversity Assessment FADA project. Hydrobiologia 595: 3–8.

Barnett, A., B. E. Beisner & E. Beisner, 2010. Zooplankton biodiversity and lake trophic state: explanations invoking resource abundance and distribution. Ecology 88: 1675–1686.

Barquín, J. & R. G. Death, 2006. Spatial patterns of macroinvertebrate diversity in New Zealand springbrooks and rhithral streams. Journal of the North American Benthological Society 25: 768–786.

Baselga, A., 2008. Determinants of species richness, endemism and turnover in European longhorn beetles. Ecography 31: 263–271.

Batzer, D. P., C. R. Jackson & M. Mosner, 2000. Influences of riparian logging on plants and invertebrates in small, depressional wetlands of Georgia, USA. Hydrobiologia 441: 123–132.

Bêche, L. A. & B. Statzner, 2009. Richness gradients of stream invertebrates across the USA: taxonomy- and trait-based approaches. Biodiversity and Conservation 18: 3909–3930.

Bednarek, A. T., 2001. Undamming rivers: a review of the ecological impacts of dam removal. Environmental Management 27: 803–814.

Bernez, I., H. Daniel, J. Haury & M. T. Ferreira, 2004. Combined effects of environmental factors and regulation on macrophyte vegetation along three rivers in western France. River Research and Applications 20: 43–59.

Biggs, J., P. Williams, M. Whitfield, P. Nicolet & A. Weatherby, 2005. 15 years of pond assessment in Britain: results and lessons learned from the work of pond conservation. Aquatic Conservation: Marine and Freshwater Ecosystems 15: 693–714.

Bilotta, G. S. & R. E. Brazier, 2008. Understanding the influence of suspended solids on water quality and aquatic biota. Water Research 42: 2849–2861.

Bjerring, R., E. Becares, S. Declerck, E. M. Gross, L.-A. Hansson, T. Kairesalo, M. Nykänen, A. Halkiewicz, R. Kornijów, J. M. Conde-Porcuna, M. Seferlis, T. Nõges, B. Moss, S. Lildalet Amsinck, B. Vad Odgaars & E. Jeppesen, 2009. Subfossil Cladocera in relation to contemporary environmental variables in 54 Pan-European lakes. Freshwater Biology 54: 2401–2417.

Blanchet, S., G. Grenouillet, O. Beauchard, P. A. Tedesco, F. Leprieur, H. H. Dürr, F. Busson, T. Oberdorff & S. Brosse, 2010. Non-native species disrupt the worldwide patterns of freshwater fish body size: implications for Bergmann's rule. Ecology Letters 13: 421–431.

Boix, D., J. Sala & R. Moreno-Amich, 2001. The faunal composition of Espolla pond NE Iberian Peninsula: the neglected biodiversity of temporary waters. Wetlands 21: 577–592.

Bonada, N., C. Zamora-Munoz, M. Rieradevall & N. Prat, 2005. Ecological and historical filters constraining spatial caddisfly distribution in Mediterranean rivers. Freshwater Biology 50: 781–797.

Bonada, N., M. Rieradevall, H. Dallas, J. Davis, J. Day, R. Figueroa, V. H. Resh & N. Prat, 2008. Multi-scale assessment of macroinvertebrate richness and composition in Mediterranean-climate rivers. Freshwater Biology 53: 772–788.

Bonada, N., C. Múrria, C. Zamora-Muñoz, M. El Alami, J. M. Poquet, T. Puntí, J. L. Moreno, N. Bennars, J. Alba-Tercedor, C. Ribera & N. Prat, 2009. Using community and population approaches to understand how contemporary and historical factors have shaped species distribution in river ecosystems. Global Ecology and Biogeography 18: 202–213.

Boulton, A. J. & P. Marmonier, 2007. Hyporheic invertebrate community composition in streams of varying salinity in southwestern Australia: diversity peaks at intermediate thresholds. River Research and Applications 594: 579–594.

Bourdaghs, M., C. A. Johnston & R. R. Regal, 2006. Properties and performance of the floristic quality index in great lakes coastal wetlands. Wetlands 26: 718–735.

Boyd, E. S., D. E. Cummings & G. G. Geesey, 2007. Mineralogy influences structure and diversity of bacterial communities associated with geological substrata in a pristine aquifer. Microbial Ecology 54: 170–182.

Brad, T., B. M. van Breukelen, M. Braster, N. M. van Straalen & W. F. M. Röling, 2008. Spatial heterogeneity in sediment-associated bacterial and eukaryotic communities in a landfill leachate-contaminated aquifer. FEMS Microbiology Ecology 65: 534–543.

Brady, V. J., B. J. Cardinale, J. P. Gathman & T. M. Burton, 2002. Does facilitation of faunal recruitment benefit ecosystem restoration? An experimental study of invertebrate assemblages in wetland mesocosms. Restoration Ecology 10: 617–626.

Brinson, M. M. & A. I. Malvárez, 2002. Temperate freshwater wetlands: types, status, and threats. Environmental Conservation 29: 115–133.

Broadmeadow, S. & T. R. Nisbet, 2004. The effects of riparian forest management on the freshwater environment: a literature review of best management practice. Hydrology and Earth System Sciences 8: 286–305.

Brönmark, C. & L.-A. Hansson, 2002. Environmental issues in lakes and ponds: current state and perspectives. Environmental Conservation 29: 290–306.

Brooks, R. T., 2000. Annual and seasonal variation and the effects of hydroperiod on benthic macroinvertebrates of seasonal forest "vernal" ponds in central Massachusetts, USA. Wetlands 20: 707–715.

Buckley, L. B. & W. Jetz, 2007. Environmental and historical constraints on global patterns of amphibian richness. Proceedings of the Royal Society B 274: 1167–1173.

Buckton, S. T. & S. J. Ormerod, 2002. Global patterns of diversity among the specialist birds of riverine landscapes. Freshwater Biology 47: 695–709.

Bunn, S. E. & A. H. Arthington, 2002. Basic principles and ecological consequences of altered flow regimes for aquatic biodiversity. Environmental Management 30: 492–507.

Capers, R. S., R. Selsky & G. J. Bugbee, 2010. The relative importance of local conditions and regional processes in structuring aquatic plant communities. Freshwater Biology 55: 952–966.

Carchini, G., A. G. Solimini & A. Ruggiero, 2005. Habitat characteristics and odonate diversity in mountain ponds of central Italy. Aquatic Conservation: Marine and Freshwater Ecosystems 15: 573–581.

Castellarini, F., F. Malard, M.-J. Dole-Olivier & J. Gibert, 2007. Modelling the distribution of stygobionts in the Jura Mountains eastern France Implications for the protection of ground waters. Diversity and Distributions 13: 213–224.

Chalcraft, D. R. & W. J. Resetarits, 2010. Predator identity and ecological impacts: functional redundancy or functional diversity? Ecology 84: 2407–2418.

Chen, L. & Z. Lin, 2008. The effect of habitat destruction on metapopulations with the Allee-like effect: a study case of Yancheng in Jiangsu Province, China. Ecological Modelling 213: 356–364.

Chipps, S. R., D. E. Hubbard, K. B. Werlin, N. J. Haugerud, K. A. Powell, J. Thompson & T. Johnson, 2006. Association between wetland disturbance and biological attributes in floodplain wetlands. Wetlands 26: 497–508.

Claret, C. & A. J. Boulton, 2003. Diel variation in surface and subsurface microbial activity along a gradient of drying in an Australian sand-bed stream. Freshwater Biology 48: 1739–1755.

Clarke, A., R. MacNally, N. Bond & P. S. Lake, 2008. Macroinvertebrate diversity in headwater streams: a review. Freshwater Biology 53: 1707–1721.

Cobbaert, D., S. E. Bayley & J.-L. Greter, 2010. Effects of a top invertebrate predator Dytiscus alaskanus; Coleoptera: Dytiscidae on fishless pond ecosystems. Hydrobiologia 644: 103–114.

Cornell, H. V. & J. H. Lawton, 1992. Species interactions, local and regional processes, and limits to the richness of ecological communities: a theoretical perspective. Journal of Animal Ecology 61: 1–12.

Corvalan, C., S. Hales & A. McMichael, 2005. Ecosystems and Human Well-Being: Health Synthesis: A Report of the Millennium Ecosystem Assessment. World Health Organization, Geneva.

Crain, C. M., L. K. Albertson & M. D. Bertness, 2008. Secondary succession dynamics in estuarine marshes across landscape-scale salinity gradients. Ecology 89: 2889–2899.

Culver, D. C., T. Pipan & K. Schneider, 2009. Vicariance, dispersal and scale in the aquatic subterranean fauna of karst regions. Freshwater Biology 54: 918–929.

Cumberlidge, N., P. K. L. Ng, D. C. J. Yeo, C. Magalhães, M. R. Campos, F. Alvarez, T. Naruse, S. R. Daniels, L. J. Esser, F. Y. K. Attipoe, F.-L. Clotilde-Ba, W. Darwall, A. McIvor, J. E. M. Baillie, B. Collen & M. Ramj, 2009. Freshwater crabs and the biodiversity crisis: importance, threats, status, and conservation challenges. Biological Conservation 142: 1665–1673.

Cussac, V. E., D. A. Fernández, S. E. Gómez & H. L. López, 2009. Fishes of southern South America: a story driven by temperature. Fish Physiology and Biochemistry 35: 29–42.

Danielopol, D. L., M. Artheau & P. Marmonier, 2009. Site prioritisation for the protection of rare subterranean species—the cases of two ostracods from south-western France. Freshwater Biology 54: 877–884.

Datry, T., S. Larned & M. Scarsbrook, 2007. Responses of hyporheic invertebrate assemblages to large-scale variation in flow permanence and surface-subsurface exchange. Freshwater Biology 52: 1452–1462.

Dauwalter, D. C., D. K. Splinter, W. L. Fisher & R. A. Marston, 2007. Biogeography ecoregions, and geomorphology affect fish species composition in streams of eastern Oklahoma, USA. Environmental Biology of Fishes 82: 237–249.

De Meester, L., S. Declerck, R. Stoks, G. Louette, F. Van De Meutter, T. De Bie, E. Michels & L. Brendonck, 2005. Ponds and pools as model systems in Conservation Biology ecology and evolutionary biology. Aquatic Conservation: Marine and Freshwater Ecosystems 15: 715–725.

Declerck, S., J. Vandekerkhove, L. Johansson, K. Muylaert, J. Conde-Porcuna, K. van der Gucht, C. Peirez-Martinez, T. Lauridsen, K. Schwenk, G. Zwart, W. Rommens, J. Lpez-Ramos, E. Jeppesen, W. Vyverman, L. Brendonck, L. De Meester, et al., 2005. Multi-group biodiversity in shallow lakes along gradients of phosphorus and water plant cover. Ecology 86: 1905–1915.

Deharveng, L., F. Stoch, J. Gibert, A. Bedos, D. Galassi, M. Zagmajster, A. Brancelj, A. Camacho, F. Fiers, P. Martin, N. Giani, G. Magniez & P. Marmonier, 2009. Groundwater biodiversity in Europe. Freshwater Biology 54: 709–726.

deLipthay, J. R., K. Johnsen, H.-J. Albrechtsen, P. Rosenberg & J. Aamand, 2004. Bacterial diversity and community structure of a sub-surface aquifer exposed to realistic low herbicide concentrations. FEMS Microbiology Ecology 49: 59–69.

Della Bella, V. & L. Mancini, 2009. Freshwater diatom and macroinvertebrate diversity of coastal permanent ponds along a gradient of human impact in a Mediterranean eco-region. Hydrobiologia 634: 25–41.

Denoel, M. & G. F. Ficetola, 2008. Conservation of newt guilds in an agricultural landscape of Belgium: the importance of aquatic and terrestrial habitats. Aquatic Conservation: Marine and Freshwater Ecosystems 18: 714–728.

Denoel, M., G. Dzukic & M. L. Kalezic, 2005. Effects of widespread fish introductions on paedomorphic newts in Europe. Conservation Biology 19: 162–170.

Dole-Olivier, M.-J., F. Malard, D. Martin, T. Lefébure & J. Gibert, 2009. Relationships between environmental variables and groundwater biodiversity at the regional scale. Freshwater Biology 54: 797–813.

Downes, B. J., L. A. Barmuta, P. G. Fairweather, D. P. Faith, M. J. Keough, P. S. Lake, B. D. Mapstone & G. P. Quinn, 2002. Monitoring Ecological Impacts. Concepts and Practice in Flowing Waters. Cambridge University Press, Cambridge

Drakou, E. G., D. C. Bobori, A. S. Kallimanis, A. D. Mazaris, S. P. Sgardelis & J. D. Pantis, 2009. Freshwater fish community structured more by dispersal limitation than by environmental heterogeneity. Ecology of Freshwater Fish 18: 369–379.

Drenovsky, R. E., K. P. Feris, K. M. Batten & K. Hristova, 2008. New and current microbiological tools for ecosystem ecologists: towards a goal of linking structure and function. The American Midland Naturalist 160: 140–159.

Dudgeon, D., A. H. Arthington, M. O. Gessner, Z.-I. Kawabata, D. J. Knowler, C. Lévêque, R. J. Naiman, A.-H. Prieur-Richard, D. Soto, M. L. J. Stiassny & C. A. Sullivan, 2006. Freshwater biodiversity: importance, threats, status and conservation challenges. Biological Reviews 81: 163–182.

Ehrlich, P. R. & A. H. Ehrlich, 1981. Extinction: The Causes and Consequences of the Disappearance of Species. Random House, New York.

Eitam, A., C. Noreña & L. Blaustein, 2004. Microturbellarian species richness and community similarity among temporary pools: relationships with habitat properties. Biodiversity and Conservation 13: 2107–2117.

Elton, C. S., 1958. The Ecology of Invasions by Animals and Plants. Methuen and Co. Ltd., London.

Emery, N. C., P. J. Ewanchuk & M. D. Bertness, 2001. Competition and salt-marsh plant zonation: stress tolerators may be dominant competitors. Ecology 82: 2471–2485.

Engel, A. S., N. Lee, M. L. Porter, L. A. Stern, P. C. Bennett & M. Wagner, 2003. Filamentous "Epsilonproteobacteria" dominate microbial mats from sulfidic cave springs. Applied and Environmental Microbiology 69: 5503–5511.

Englund, G., F. Johansson, P. Olofsson, J. Salonsaari & J. Ohman, 2009. Predation leads to assembly rules in fragmented fish communities. Ecology Letters 12: 663–671.

Fahd, K., A. Arechederra, M. Florencio, D. León & L. Serrano, 2009. Copepods and branchiopods of temporary ponds in the Doñana Natural Area SW Spain: a four-decade record 1964–2007. Hydrobiologia 634: 219–230.

Fahy, A., G. Lethbridge, R. Earle, A. S. Ball, K. N. Timmis & T. J. McGenity, 2005. Effects of long-term benzene pollution on bacterial diversity and community structure in groundwater. Environmental Microbiology 7: 1192–1199.

Fairchild, G. W., A. M. Faulds & J. F. Matta, 2000. Beetle assemblages in ponds: effects of habitat and site age. Freshwater Biology 44: 523–534.

Fawley, M. W., K. P. Fawley & M. A. Buchheim, 2004. Molecular diversity among communities of freshwater microchlorophytes. Microbial Ecology 48: 489–499.

Febria, C. M., R. R. Fulthorpe & D. D. Williams, 2009. Characterizing seasonal changes in physicochemistry and bacterial community composition in hyporheic sediments. Hydrobiologia 647: 113–126.

Fernandes, C. C., J. Podos & J. G. Lundberg, 2004. Amazonian ecology: tributaries enhance the diversity of electric fishes. Science 305: 1960–1962.

Ferreira, D., F. Malard, M.-J. Dole-Olivier & J. Gibert, 2007. Obligate groundwater fauna of France: diversity patterns and conservation implications. Biodiversity and Conservation 16: 567–596.

Filipe, A. F., M. F. Magalhães & M. J. Collares-Pereira, 2010. Native and introduced fish species richness in Mediterranean streams: the role of multiple landscape influences. Diversity and Distributions 16: 773–785.

Finke, D. L. & R. F. Denno, 2004. Predator diversity dampens trophic cascades. Nature 429: 22–24.

Finlay, B. J. & T. Fenchel, 2004. Cosmopolitan metapopulations of free-living microbial eukaryotes. Protist 55: 237–244.

Finn, D. S. & L. N. Poff, 2005. Variability and convergence in benthic communities along the longitudinal gradients of four physically similar Rocky Mountain streams. Freshwater Biology 50: 243–261.

Foulquier, A., F. Malard, T. Lefébure, C. J. Douady & J. Gibert, 2008. The imprint of Quaternary glaciers on the present-day distribution of the obligate groundwater amphipod Niphargus virei (Niphargidae). Journal of Biogeography 35: 552–564.

Fowler, R. & R. Death, 2001. The effect of environmental stability on hyporheic community structure. Hydrobiologia 445: 85–95.

Freestone, A. L. & S. Harrison, 2006. Regional enrichment of local assemblages is robust to variation in local productivity, abiotic gradients, and heterogeneity. Ecology Letters 9: 95–102.

Frisch, D., B. S. Libman, S. J. D'Surney & S. T. Threlkeld, 2005. Diversity of floodplain copepods Crustacea modified by flooding: species richness, diapause strategies and population genetics. Archiv für Hydrobiologie 162: 1–17.

Galassi, D. M. P., F. Stoch, B. Fiasca, T. Di Lorenzo & E. Gattone, 2009. Groundwater biodiversity patterns in the Lessinian Massif of northern Italy. Freshwater Biology 54: 830–847.

Galatowitsch, S. M., 2009. Restoring prairie pothole wetlands: does the species pool concept offer decision-making guidance for re-vegetation? Applied Vegetation Science 9: 261–270.

Gallardo, B., S. Gascón, Á. Cabezas, M. Gonzalez, M. García & F. A. Comín, 2009. Relationship between invertebrate traits and lateral environmental gradients in a Mediterranean river-floodplain. Archiv für Hydrobiologie 173: 281–292.

Gardezi, T. & A. Gonzalez, 2008. Scale dependence of species–energy relationships: evidence from fishes in thousands of lakes. The American Naturalist 171: 800–815.

Gaston, K. J., 2000. Global patterns in biodiversity. Nature 42: 220–227.

Gibert, J. & D. C. Culver, 2009. Assessing and conserving groundwater biodiversity: an introduction. Freshwater Biology 54: 639–648.

Gido, K. B., J. F. Schaefer & J. A. Falke, 2009. Convergence of fish communities from the littoral zone of reservoirs. Freshwater Biology 54: 1163–1177.

Gilpin, M. E. & I. A. Hanksi, 1991. Metapopulation Dynamics: Empirical and Theoretical Investigations. Academic Press, London.

Gray, D. & J. S. Harding, 2009. Braided river benthic diversity at multiple spatial scales: a hierarchical analysis of β diversity in complex floodplain systems. Journal of the North American Benthological Society 28: 537–551.

Griffiths, D., 2006. Pattern and process in the ecological biogeography of European freshwater fish. Journal of Animal Ecology 75: 734–751.

Grime, J. P., 1973. Competitive exclusion in herbaceous vegetation. Nature 242: 344–347.

Gutierrez-Estrada, J. C. & D. T. Bilton, 2010. A heuristic approach to predicting water beetle diversity in temporary and fluctuating waters. Ecological Modeling 221: 1451–1462.

Hahn, H. J. & A. Fuchs, 2009. Distribution patterns of groundwater communities across aquifer types in south-western Germany. Freshwater Biology 54: 848–860.

Hart, D. D. & N. L. Poff, 2002. How dams vary and why it matters for the emerging science of dam removal. BioScience 52: 659–668.

Hawkins, B. A., E. E. Porter & J. A. F. Diniz-Filho, 2003. Productivity and history as descriptors of the latitudinal diversity gradient for terrestrial birds. Ecology 84: 1608–1623.

Heegaard, E., 2004. Trends in aquatic macrophyte species turnover in Northern Ireland—which factors determine the spatial distribution of local species turnover? Global Ecology and Biogeography 13: 397–408.

Heino, J., 2005. Functional biodiversity of macroinvertebrate assemblages along major ecological gradients of boreal headwater streams. Freshwater Biology 50: 1578–1587.

Heino, J., L. M. Bini, S. M. Karjalainen, H. Mykrä, J. Soininen, L. C. G. Vieira & J. A. F. Diniz-Filho, 2010. Geographical patterns of micro-organismal community structure: are diatoms ubiquitously distributed across boreal streams? Oikos 119: 129–137.

Hillebrand, H., 2004. On the generality of the latitudinal diversity gradient. The American Naturalist 163: 192–211.

Hillebrand, H. & T. Blenckner, 2002. Regional and local impact on species diversity—from pattern to processes. Oecologia 132: 479–491.

Hoeinghaus, D. J., K. O. Winemiller & J. S. Birnbaum, 2007. Local and regional determinants of stream fish assemblage structure: inferences based on taxonomic vs. functional groups. Journal of Biogeography 34: 324–338.

Holcík, J., 2003. Changes in the fish fauna and fisheries in the Slovak section of the Danube River: a review. Annales de Limnologie-International Journal of Limnology 39: 177–195.

Holmes, P. M., 2005. A decision-making framework for restoring riparian zones degraded by invasive alien plants in South Africa. South African Journal of Science 101: 553–564.

Hubbell, S. P., 2001. The Unified Neutral Theory of Biodiversity and Biogeography. Princeton University Press, New Jersey.

Irz, P., C. Argillier & T. Oberdorff, 2004. Native and introduced fish species richness in French lakes: local and regional influences. Global Ecology and Biogeography 13: 335–344.

IUCN, 2011 http://www.iucnredlist.org/.

Jeffries, M., 2008. The spatial and temporal heterogeneity of macrophyte communities in thirty small, temporary ponds over a period of ten years. Ecography 31: 765–775.

Jenkins, D. G. & D. Rinne, 2008. Red herring or low illumination? The peninsula effect revisited. Journal of Biogeography 35: 2128–2137.

Johnson, A., N. Llewellyn, J. Smith, C. van der Gast, A. Lilley, A. Singer & I. Thompson, 2004. The role of microbial community composition and groundwater chemistry in determining isoproturon degradation potential in UK aquifers. FEMS Microbiology Ecology 49: 71–82.

Johnson, K., M. Allen & K. Havens, 2007a. A review of littoral vegetation, fisheries, and wildlife responses to hydrologic variation at Lake Okeechobee. Wetlands 27: 110–126.

Johnson, R. K., M. T. Furse, D. Hering & L. Sandin, 2007b. Ecological relationships between stream communities and spatial scale: implications for designing catchment-level monitoring programs. Freshwater Biology 52: 939–958.

Kahlert, M., 2002. Horizontal variation of biomass and C:N:P ratios of benthic algae in lakes. Hydrobiologia 489: 171–177.

Kerr, J. T. & L. Packer, 1997. Habitat heterogeneity as a determinant of mammal species richness in high energy regions. Nature 385: 252–254.

Kerr, J. T., R. Vincent & D. J. Currie, 1998. Lepidopteran species richness patterns in North America. EcoScience 5: 448–453.

Kimura, H., M. Sugihara, H. Yamamoto, B. K. C. Patel, K. Kato & S. Hanada, 2005. Microbial community in a geothermal aquifer associated with the subsurface of the Great Artesian Basin, Australia. Extremophiles 9: 407–414.

Kjellin, J., S. Hallin & A. Wörman, 2007. Spatial variations in denitrification activity in wetland sediments explained by hydrology and denitrifying community structure. Water Research 41: 4710–4720.

Kleinebecker, T., N. Hölzel & A. Vogel, 2010. Patterns and gradients of diversity in South Patagonian ombrotrophic peat bogs. Australian Ecology 35: 1–12.

Kneitel, J. M. & C. L. Lessin, 2010. Ecosystem-phase interactions: aquatic eutrophication decreases terrestrial plant diversity in California vernal pools. Oecologia 163: 461–469.

Knight, T. M., M. W. McCoy, J. M. Chase, K. A. McCoy & R. D. Holt, 2005. Trophic cascades across ecosystems. Nature 437: 880–883.

Lair, N., 2006. A review of regulation mechanisms of metazoan plankton in riverine ecosystems: aquatic habitat versus biota. River Research and Applications 22: 567–593.

Lamouroux, N., N. L. Poff & P. L. Angermeier, 2010. Intercontinental convergence of stream fish community traits along geomorphic and hydraulic gradients. Ecological Society of America 83: 1792–1807.

Lehman, R. M., F. F. Roberto, D. Earley, D. F. Bruhn, S. E. Brink, S. P. O. Connell, M. E. Delwiche & F. S. Colwell, 2001. Attached and unattached bacterial communities in a 120-meter corehole in an acidic, crystalline rock aquifer. Applied and Environmental Microbiology 69: 2095–2106.

Leibold, M. A. & J. Norberg, 2004. Biodiversity in metacommunities: plankton as complex adaptive systems? Limnology and Oceanography 49: 1278–1289.

Leprieur, F., O. Beauchard, S. Blanchet, T. Oberdorff & S. Brosse, 2008. Fish invasions in the world's river systems: when natural processes are blurred by human activities. PLoS Biology 6: 0404–0408.

Leprieur, F., J. D. Olden, S. Lek & S. Brosse, 2009. Contrasting patterns and mechanisms of spatial turnover for native and exotic freshwater fish in Europe. Journal of Biogeography 36: 1899–1912.

Light, T. & M. P. Marchetti, 2007. Distinguishing between invasions and habitat changes as drivers of diversity loss among California's freshwater fishes. Conservation Biology 21: 434–446.

Lindström, E. S. & A.-K. Bergström, 2004. Influence of inlet bacteria on bacterioplankton assemblage composition in lakes of different hydraulic retention time. Limnology and Oceanography 49: 125–136.

Lindström, E. S., M. Forslund, G. Algesten & A.-K. Bergström, 2006. External control of bacterial community structure in lakes. Limnology and Oceanography 51: 339–342.

Long, Z. T. & P. J. Morin, 2005. Effects of organism size and community composition on ecosystem functioning. Ecology Letters 8: 1271–1282.

Longhi, M. L. & B. E. Beisner, 2010. Patterns in taxonomic and functional diversity of lake phytoplankton. Freshwater Biology 55: 1349–1366.

MacArthur, R. H., 1955. Fluctuations of animal populations and a measure of community stability. Ecology 36: 533–536.

Malard, F., C. Boutin, A. I. Camacho, D. Ferreira, G. Michel, B. Sket & F. Stoch, 2009. Diversity patterns of stygobiotic crustaceans across multiple spatial scales in Europe. Freshwater Biology 54: 756–776.

Marchetti, M. P., T. Light, P. B. Moyle & J. H. Viers, 2010. Fish invasions in California watersheds: testing hypotheses using landscape patterns. Ecological Society of America 14: 1507–1525.

Martin, P., C. De Broyer, F. Fiers, G. Michel, R. Sablon & K. Wouters, 2009. Biodiversity of Belgian groundwater fauna in relation to environmental conditions. Freshwater Biology 54: 814–829.

Mason, N. W. H., C. Lanoiselée, D. Mouillot, P. Irz & C. Argillier, 2007. Functional characters combined with null models reveal inconsistency in mechanisms of species turnover in lacustrine fish communities. Oecologia 153: 441–452.

Mazaris, A. D., M. Moustaka-Gouni, E. Michaloudi & D. C. Bobori, 2010. Biogeographical patterns of freshwater micro- and macroorganisms: a comparison between phytoplankton, zooplankton and fish in the eastern Mediterranean. Journal of Biogeography 37: 1341–1351.

McAbendroth, L., P. M. Ramsay, A. Foggo, S. D. Rundle & D. T. Bilton, 2005. Does macrophyte fractal complexity drive invertebrate diversity, biomass and body size distributions? Oikos 111: 279–290.

McHugh, P. A., A. R. McIntosh & P. G. Jellyman, 2010. Dual influences of ecosystem size and disturbance on food chain length in streams. Ecology Letters 13: 881–890.

Mehner, T., M. Diekmann, U. Bramick & R. Lemcke, 2005. Composition of fish communities in German lakes as related to lake morphology, trophic state, shore structure and human-use intensity. Freshwater Biology 50: 70–85.

Mehner, T., K. Holmgren, T. L. Lauridsen, E. Jeppesen & M. Diekmann, 2007. Lake depth and geographical position modify lake fish assemblages of the European "Central Plains" ecoregion. Freshwater Biology 52: 2285–2297.

Meyer, J. L., D. L. Strayer, J. B. Wallace, S. L. Eggert, G. S. Helfman & N. E. Leonard, 2007. The contribution of headwater streams to biodiversity in river networks. Journal of the American Water Resources Association 43: 86–103.

Milner, A. M., J. E. Brittain, E. Castella & G. E. Petts, 2001. Trends of macroinvertebrate community structure in glacier-fed rivers in relation to environmental conditions: a synthesis. Freshwater Biology 46: 1833–1847.

Mori, T., M. Murakami & T. Saitoh, 2009. Latitudinal gradients in stream invertebrate assemblages at a regional scale on Hokkaido Island, Japan. Freshwater Biology 55: 1520–1532.

Mosepele, K., P. B. Moyle, G. S. Merron, D. R. Purkey & B. Mosepele, 2009. Fish, floods, and ecosystem engineers: aquatic conservation in the Okavango delta, Botswana. BioScience 59: 53–64.

Murphy, K., 2002. Plant communities and plant diversity in softwater lakes of northern Europe. Aquatic Botany 73: 287–324.

Nabout, J. C., T. Siqueira, L. M. Bini & I. D. S. Nogueira, 2009. No evidence for environmental and spatial processes in structuring phytoplankton communities. Acta Oecologica 35: 720–726.

Ney-Nifle, M. & M. Mangel, 2000. Habitat loss and changes in the species–area relationship. Conservation Biology 14: 893–898.

Nilsson, C., F. Lepori, B. Malmqvist, E. Törnlund, N. Hjerdt, J. M. Helfield, D. Palm, J. Östergren, R. Jansson, E. Brännäs & H. Lundqvist, 2005. Forecasting environmental responses to restoration of rivers used as log floatways: an interdisciplinary challenge. Ecosystems 8: 779–800.

Olden, J. D. & N. L. Poff, 2010. Ecological processes driving biotic homogenization: testing a mechanistic model using fish faunas. Ecology 85: 1867–1875.

Olden, J., N. Poff & M. Mckinney, 2006. Forecasting faunal and floral homogenization associated with human population geography in North America. Biological Conservation 127: 261–271.

Olden, J. D., M. J. Kennard & B. J. Pusey, 2008. Species invasions and the changing biogeography of Australian freshwater fishes. Global Ecology and Biogeography 17: 25–37.

Olden, J. D., M. J. Kennard, F. Leprieur, P. A. Tedesco, K. O. Winemiller & E. García-Berthou, 2010. Conservation biogeography of freshwater fishes: recent progress and future challenges. Diversity and Distributions 16: 496–513.

Orendt, C., C. Schmitt, C. Liefferinge, G. Wolfram & E. Deckere, 2009. Include or exclude? A review on the role and suitability of aquatic invertebrate neozoa as indicators in biological assessment with special respect to fresh and brackish European waters. Biological Invasions 12: 265–283.

Palmer, M. A., A. P. Covich, S. Lake, P. Biro, J. J. Brooks, J. Cole, C. Dahm, J. Gilbert, W. Goedkoop, K. Martens, J. Verhoeven & W. J. van de Bund, 2000. Linkages between aquatic sediment biota and life above sediments as potential drivers of biodiversity and ecological processes. BioScience 50: 1062–1068.

Parris, K. M., 2006. Urban amphibian assemblages as metacommunities. Journal of Animal Ecology 75: 757–764.

Passy, S. I., 2008. Continental diatom biodiversity in stream benthos declines as more nutrients become limiting. Proceedings of the National Academy of Sciences of the United States of America 105: 9663–9667.

Passy, S. I., 2009. The relationship between local and regional diatom richness is mediated by the local and regional environment. Global Ecology and Biogeography 18: 383–391.

Pearce, D. A., C. S. Cockell, E. S. Lindström & L. J. L. J. Tranvik, 2007. First evidence for a bipolar distribution of dominant freshwater lake bacterioplankton. Antarctic Science 19: 245.

Pegg, M. A. & R. M. Taylor, 2007. Fish species diversity among spatial scales of altered temperate rivers. Journal of Biogeography 34: 549–558.

Peltzer, P. M. & R. C. Lajmanovich, 2004. Anuran tadpole assemblages in riparian areas of the Middle Parana River, Argentina. Biodiversity and Conservation 13: 1833–1842.

Piorski, N. M., A. Sanches, L. F. Carvalho-Costa, T. Hatanaka, M. Carrillo-Avila, P. D. Freitas & P. M. Galetti, 2008. Contribution of conservation genetics in assessing neotropical freshwater fish biodiversity. Brazilian Journal of Biology 68: 1039–1050.

Piscart, C., J.-C. Moreteau & J.-N. Beisel, 2006. Salinization consequences in running waters: use of a sentinel substrate as a bioassessment method. Journal of the North American Benthological Society 25: 477–486.

Pithart, D., R. Pichlová, M. Bílý, J. Hrbáček, K. Novotná & L. Pechar, 2007. Spatial and temporal diversity of small shallow waters in river Lužnice floodplain. Hydrobiologia 584: 265–275.

Poff, N. L., 1997. Landscape filters and species traits: towards mechanistic understanding and prediction in stream ecology. Journal of the North American Benthological Society 16: 391–409.

Potapova, M. G. & D. F. Charles, 2002. Benthic diatoms in USA rivers: distributions along spatial and environmental gradients. Journal of Biogeography 29: 167–187.

Potthoff, A. J., B. R. Herwig, M. A. Hanson, K. D. Zimmer, M. G. Butler, J. R. Reed, B. G. Parsons & M. C. Ward, 2008. Cascading food-web effects of piscivore introductions in shallow lakes. Journal of Applied Ecology 45: 1170–1179.

Preston, F. W., 1962. The canonical distribution of commonness and rarity: Part I. Ecology 43: 185–215.

Pronk, M., N. Goldscheider & J. Zopfi, 2008. Microbial communities in karst groundwater and their potential use for biomonitoring. Hydrogeology Journal 17: 37–48.

Ptacnik, R., A. G. Solimini, T. Andersen, T. Tamminen, P. Brettum, L. Lepistö, E. Willén & S. Rekolainen, 2008. Diversity predicts stability and resource use efficiency in natural phytoplankton communities. Proceedings of the National Academy of Sciences of the United States of America 105: 5134–5138.

Rahel, F. J., 2002. Homogenization of freshwater faunas. Annual Review of Ecology and Systematics 33: 291–315.

Ramos-Jiliberto, R., J. P. Oyanedel, C. Vega-Retter & F. S. Valdovinos, 2009. Nested structure of plankton communities from Chilean freshwaters. Limnologica - Ecology and Management of Inland Waters 39: 319–324.

Rayner, T. S., K. M. Jenkins & R. T. Kingsford, 2009. Small environmental flows, drought and the role of refugia for freshwater fish in the Macquarie Marshes, arid Australia. Ecohydrology 2: 440–453.

Real, R., J. Olivero & J. M. Vargas, 2008. Using chorotypes to deconstruct biogeographical and biodiversity patterns: the case of breeding waterbirds in Europe. Global Ecology and Biogeography 17: 735–746.

Reed, D. A., S. Toze & B. Chang, 2008. Spatial and temporal changes in sulphate-reducing groundwater bacterial community structure in response to Managed Aquifer Recharge. Water Science and Technology 57: 789–795.

Reeves, J. M., P. Deckker & S. A. Halse, 2007. Groundwater Ostracods from the arid Pilbara region of northwestern Australia: distribution and water chemistry. Hydrobiologia 585: 99–118.

Remsburg, A. J. & M. G. Turner, 2009. Aquatic and terrestrial drivers of dragonfly Odonata assemblages within and among north-temperate lakes. Journal of the North American Benthological Society 28: 44–56.

Renöfält, B. M., R. Jansson & C. Nilsson, 2010. Effects of hydropower generation and opportunities for environmental flow management in Swedish riverine ecosystems. Freshwater Biology 55: 49–67.

Richardson, D. M., P. M. Holmes, K. J. Esler, S. M. Galatowitsch, J. C. Stromberg, S. P. Kirkman, P. Pysek & R. J. Hobbs, 2007. Riparian vegetation: degradation, alien plant invasions, and restoration prospects. Diversity and Distributions 13: 126–139.

Ricklefs, R. E., 2004. A comprehensive framework for global patterns in biodiversity. Ecology Letters 7: 1–15.

Ricklefs, R. E. & D. Schluter, 1993. Species Diversity in Ecological Communities. Historical and Geographical Perspectives. Chicago University Press, Chicago.

Rohde, S., M. Hostmann, A. Peter & K. Ewald, 2006. Room for rivers: an integrative search strategy for floodplain restoration. Landscape and Urban Planning 78: 50–70.

Romanenko, V. D., S. A. Afanasyev & O. G. Vasenko, 2005. Review of status of fisheries and Aquaculture in the Dnipro region in relation to biodiversity conservation. Water Quality Research Journal of Canada 40: 42–53.

Roque, F. O., T. Siqueira, L. M. Bini, M. C. Ribeiro, L. R. Tambosi, G. Ciocheti & Trivinho-S Strixino, 2010. Untangling associations between chironomid taxa in Neotropical streams using local and landscape filters. Freshwater Biology 55: 847–865.

Rundle, S. D., D. T. Bilton & D. K. Shiozawa, 2000. Global and regional patterns in lotic meiofauna. Freshwater Biology 44: 123–134.

Rusak, J. A., P. R. Leavitt, S. McGowan, G. Chen, O. Olson, S. Wunsam & B. F. Cumming, 2004. Millennial-scale relationships of diatom species richness and production in two prairie lakes. Limnology and Oceanography 49: 1290–1299.

Ryberg, W. A. & J. M. Chase, 2007. Predator-dependent species–area relationships. The American Naturalist 170: 636–642.

SAS, 2010. JMP-Statistics made visual, 3.1. SAS Institute Inc., Cary, North Carolina.

Schweiger, O., J. C. Biesmeijer, R. Bommarco, T. Hickler, P. E. Hulme, S. Klotz, I. Kühn, M. Moora, A. Nielsen, R. Ohlemüller, T. Petanidou, S. G. Potts, P. Pysek, J. C. Stout, M. T. Sykes, T. Tscheulin, M. Vilà, W. Gian-Reto, C. Westphal, M. Winter, M. Zobel & J. Settele, 2010. Multiple stressors on biotic interactions: how climate change and alien species interact to affect pollination. Biological Reviews 85: 777–795.

Shabarova, T. & J. Pernthaler, 2010. Karst pools in subsurface environments: collectors of microbial diversity or temporary residence between habitat types. Environmental Microbiology 12: 1061–1074.

Shoup, D. E. & D. H. Wahl, 2009. Fish diversity and abundance in relation to interannual and lake-specific variation in abiotic characteristics of floodplain lakes of the lower Kaskaskia River, Illinois. Transactions of the American Fisheries Society 138: 1076–1092.

Shurin, J. B., 2000. Dispersal limitation, invasion resistance, and the structure of pond zooplankton communities. Ecology 81: 3074–3086.

Shurin, J. B., S. E. Arnott, H. Hillebrand, A. Longmuir, B. Pinel-Alloul, M. Winder & N. D. Yan, 2007. Diversity–stability relationship varies with latitude in zooplankton. Ecology Letters 10: 127–134.

Shurin, J. B., K. Cottenie & H. Hillebrand, 2009. Spatial autocorrelation and dispersal limitation in freshwater organisms. Oecologia 159: 151–159.

Shurin, J. B., J. E. Havel, M. A. Leibold & B. Pinel-Alloul, 2010a. Local and regional zooplankton species richness: a scale-independent test for saturation. Ecology 81: 3062–3073.

Shurin, J. B., M. Winder, R. Adrian, W. B. Keller, B. Matthews, A. M. Paterson, M. J. Paterson, B. Pinel-Alloul, J. A. Rusak & N. D. Yan, 2010b. Environmental stability and lake zooplankton diversity—contrasting effects of chemical and thermal variability. Ecology Letters 13: 453–463.

Smith, H. & P. J. Wood, 2002. Flow permanence and macroinvertebrate community variability in limestone spring systems. Hydrobiologia 487: 45–58.

Smith, V. H., B. L. Foster, J. P. Grover, R. D. Holt, M. A. Leibold & F. Denoyelles, 2005. Phytoplankton species richness scales consistently from laboratory microcosms to the world's oceans. Proceedings of the National Academy of Sciences of the United States of America 102: 4393–4396.

Soininen, J., M. Kokocinski, S. Estlander, J. Kotanen & J. Heino, 2007. Neutrality, niches, and determinants of plankton metacommunity structure across boreal wetland ponds. EcoScience 14: 146–154.

Soininen, J., J. Heino, M. Kokocinski & T. Muotka, 2009. Local-regional diversity relationship varies with spatial scale in lotic diatoms. Journal of Biogeography 36: 720–727.

Solimini, A. G., M. Bazzanti, A. Ruggiero & G. Carchini, 2008. Developing a multimetric index of ecological integrity based on macroinvertebrates of mountain ponds in central Italy. Hydrobiologia 597: 109–123.

Søndergaard, M., L. S. Johansson, T. L. Lauridsen, T. B. Jørgensen, L. Liboriussen & E. Jeppesen, 2010. Submerged macrophytes as indicators of the ecological quality of lakes. Freshwater Biology 55: 893–908.

Statzner, B., 2001. Perspectives for biomonitoring at large spatial scales: a unified measure for the functional composition of invertebrate communities in European running waters. Basic and Applied Ecology 2: 73–85.

Stein, H., C. Kellermann, S. I. Schmidt, H. Brielmann, C. Steube, S. E. Berkhoff, A. Fuchs, H. J. Hahn, B. Thulin & C. Griebler, 2010. The potential use of fauna and bacteria as ecological indicators for the assessment of groundwater quality. Journal of Environmental Monitoring 12: 242–254.

Stendera, S. E. S. & R. K. Johnson, 2005. Additive partitioning of aquatic invertebrate species diversity across multiple spatial scales. Freshwater Biology 50: 1360–1375.

Stenert, C. & L. Maltchik, 2007. Influence of area, altitude and hydroperiod on macroinvertebrate communities in southern Brazil wetlands. Marine and Freshwater Research 58: 993.

Stoch, F., M. Artheau, A. Brancelj, D. M. P. Galassi & F. Malard, 2009. Biodiversity indicators in European ground waters: towards a predictive model of stygobiotic species richness. Freshwater Biology 54: 745–755.

Stoks, R. & M. A. McPeek, 2003. Predators and life histories shape Lestes damselfly assemblages along a freshwater habitat gradient. Ecology 84: 1576–1587.

Storey, R. G. & D. D. Williams, 2004. Spatial responses of hyporheic invertebrates to seasonal changes in environmental parameters. Freshwater Biology 49: 1468–1486.

Studinski, J. M. & S. A. Grubbs, 2006. Environmental factors affecting the distribution of aquatic invertebrates in temporary ponds in Mammoth Cave National Park, Kentucky, USA. Hydrobiologia 575: 211–220.

Sullivan, G., J. C. Callaway & J. B. Zedler, 2007. Plant assemblage composition explains and predicts how biodiversity affects salt marsh functioning. Ecological Monographs 77: 569–590.

Tabacchi, E., J. Steiger, D. Corenblit, M. T. Monaghan & A.-M. Planty-Tabacchi, 2009. Implications of biological and physical diversity for resilience and resistance patterns within highly dynamic river systems. Aquatic Sciences 71: 279–289.

Taft, O. W., M. A. Colwell, C. R. Isola & R. J. Safran, 2002. Waterbird responses to experimental drawdown: implications for the multispecies management of wetland mosaics. Journal of Applied Ecology 39: 987–1001.

Takai, K., M. R. Mormile, J. P. McKinley, F. J. Brockman, W. E. Holben, W. P. Kovacik & J. K. Fredrickson, 2003. Shifts in archaeal communities associated with lithological and geochemical variations in subsurface Cretaceous rock. Environmental Microbiology 5: 309–320.

Ter Braak C. J. & F. P. Smilauer, 1997–1998. GLW-CPRO. Canoco for Windows, 4.0. Wageningen, The Netherlands: Centre for Biometry Wageningen CPRO-DLO.

Tolotti, M., M. Manca, N. Angeli, G. Morabito, B. Thaler, E. Rott & E. Stuchlik, 2006. Phytoplankton and zooplankton associations in a set of Alpine High Altitude Lakes: geographic distribution and ecology. Hydrobiologia 562: 99–122.

Turvey, S. T., L. A. Barrett, H. Yujiang, Z. Lei, Z. Xinqiao, W. Xianyan, H. Yadong, Z. Kaiya, T. Hart & W. Ding, 2010. Rapidly shifting baselines in Yangtze fishing communities and local memory of extinct species. Conservation Biology 24: 778–787.

Tyser, R. W., S. J. Rogers, T. W. Owens & L. R. Robinson, 2001. Changes in backwater plant communities from 1975 to 1995 in Navigation Pool 8: Upper Mississippi River. Regulated Rivers: Research & Management 17: 117–129.

Uchida, Y. & M. Inoue, 2010. Fish species richness in spring-fed ponds: effects of habitat size versus isolation in temporally variable environments. Freshwater Biology 55: 983–994.

Urban, M. C., 2004. Disturbance heterogeneity determines freshwater metacommunity structure. Ecology 85: 2971–2978.

Van De Meutter, F., R. Stoks & L. De Meester, 2006. Rapid response of macroinvertebrates to drainage management of shallow connected lakes. Journal of Applied Ecology 43: 51–60.

Venterink, H., M. J. Wassen, A. W. M. Verkroost & P. C. De Ruiter, 2003. Species richness–productivity patterns differ between N-, P-, and K-limited wetlands. Ecology 84: 2191–2199.

Verleyen, E., W. Vyverman, M. Sterken, D. A. Hodgson, A. De Wever, S. Juggins, B. Van de Vijver, V. J. Jones, P. Vanormelingen, D. Roberts, R. Flower, C. Kilroy, C. Souffreau & K. Sabbe, 2009. The importance of dispersal related and local factors in shaping the taxonomic structure of diatom metacommunities. Oikos 118: 1239–1249.

Vinson, M. R. & C. P. Hawkins, 1998. Biodiversity of stream insects: variation at local, basin, and regional scales. Annual Review of Entomology 43: 271–293.

Virola, T., V. Kaitala, A. Lammi, P. Siikamaki & J. Suhonen, 2001. Geographical patterns of species turnover in aquatic plant communities. Freshwater Biology 46: 1471–1478.

Vörösmarty, C. J., P. B. McIntyre, M. O. Gessner, D. Dudgeon, A. Prusevich, P. Green, S. Glidden, S. E. Bunn, C. A. Sullivan, C. Reidy Liermann & P. M. Davies, 2010. Global threats to human water security and river biodiversity. Nature 467: 555–561.

Wagner, R. & H. Schmidt, 2004. Yearly discharge patterns determine species abundance and community diversity: analysis of a 25 year record from the Breitenbach. Archiv für Hydrobiologie 161: 511–540.

Walker, S. C. & H. Cyr, 2007. Testing the standard neutral model of biodiversity in lake communities. Oikos 116: 143–155.

Ward, J. V. & K. Tockner, 2001. Biodiversity: towards a unifying theme for river ecology. Freshwater Biology 46: 807–819.

Warner, B. G. & T. Asada, 2006. Biological diversity of peatlands in Canada. Aquatic Sciences 68: 240–253.

Waterkeyn, A., P. Grillas, B. Vanschoenwinkel & L. Brendonck, 2008. Invertebrate community patterns in Mediterranean temporary wetlands along hydroperiod and salinity gradients. Freshwater Biology 53: 1808–1822.

Weckström, J. & A. Korhola, 2008. Patterns in the distribution, composition and diversity of diatom assemblages in relation to ecoclimatic factors in Arctic Lapland. Journal of Biogeography 28: 31–45.

Weithoff, G., 2001. The intermediate disturbance hypothesis—species diversity or functional diversity? Journal of Plankton Research 23: 1147–1155.

Wetzel, G., 1963. Primary productivity in lakes. Nature 197: 1026–1028.

Whitehouse, N. J., P. G. Langdon, R. Bustin & S. Galsworthy, 2008. Fossil insects and ecosystem dynamics in wetlands: implications for biodiversity and conservation. Biodiversity and Conservation 17: 2055–2078.

Wilcox, D. A. & S. J. Nichols, 2008. The effects of water-level fluctuations on vegetation in a Lake Huron wetland. Wetlands 28: 487–501.

Wolters, M., A. Garbutt & J. Bakker, 2005. Salt-marsh restoration: evaluating the success of de-embankments in north-west Europe. Biological Conservation 123: 249–268.

Wood, P., J. Gunn & S. Rundle, 2008. Response of benthic cave invertebrates to organic pollution events. Aquatic Conservation: Marine and Freshwater Ecosystems 922: 909–922.

Wright, D. H., 1983. Species–energy theory: an extension of species-area theory. Oikos 41: 496–506.

Zhao, S., J. Fang, C. Peng & Z. Tang, 2006. Patterns of fish species richness in China's lakes. Global Ecology and Biogeography 15: 386–394.
Acknowledgments
The authors would like to thank Mark Gessner providing valuable comments and Pablo Verde for helping in processing the literature on lakes. We also appreciate anonymous reviewers for constructive comments on the manuscript draft. This study is part of the BioFresh project (Biodiversity of Freshwater Ecosystems: Status, Trends, Pressures, and Conservation Priorities), funded by the European Union under the 7th Framework Programme, Theme 6 (Environment including Climate Change), Contract No. 226874.
Additional information
Handling editor: Koen Martens
About this article
Cite this article
Stendera, S., Adrian, R., Bonada, N. et al. Drivers and stressors of freshwater biodiversity patterns across different ecosystems and scales: a review. Hydrobiologia 696, 1–28 (2012). https://doi.org/10.1007/s10750-012-1183-0
Received:

Accepted:

Published:

Issue Date:

DOI: https://doi.org/10.1007/s10750-012-1183-0
Keywords