Abstract
The ecology of cubozoans is poorly understood and there are few quantitative studies on their distribution patterns. Sampling was designed to test first for variation in abundance with distance across the continental shelf in waters of the Great Barrier Reef, Australia. Second, we tested for the possible influence of islands versus submerged reefs on the abundances of cubozoan jellyfishes. Jellyfishes were collected after attraction to tethered night lights. Additional sampling focused on turbid near-shore waters. Carybdeid jellyfishes were found at mainland, inner, and mid-shelf reefs during summers between 2007 and 2010. No cubozoan medusae were found at outer reef sites. Copula sivickisi and Carukia barnesi were more abundant near reefs with islands than at fully submerged reefs. There was no evidence of lunar periodicity in abundance for these cubozoan taxa. Chironex fleckeri medusae were only found close to shore near the mainland, but they were rarely observed when riverine runoff was high. All taxa were characterized by high spatial and temporal variation and there was some evidence for small populations at spatial scales of less than one kilometer. "Blooms" and related intensity of predation and risk to humans are most likely at small spatial scales.
Access options
Buy single article
Instant access to the full article PDF.
USD 39.95
Price includes VAT (USA)
Tax calculation will be finalised during checkout.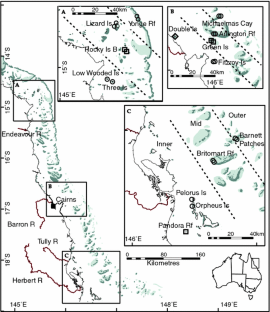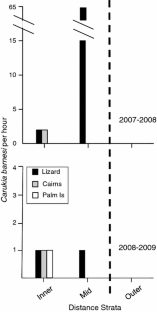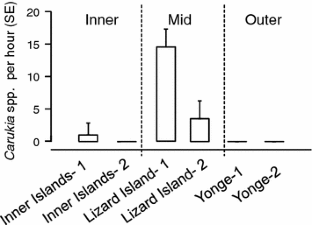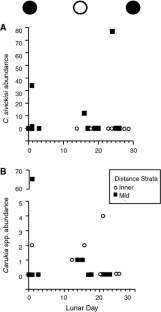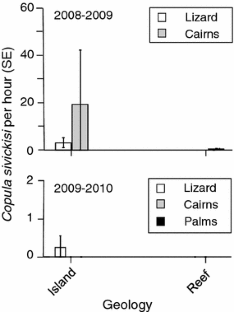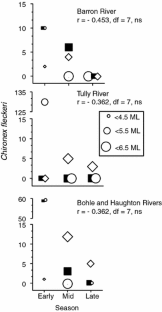 References
Barnes, J. H., 1966. Studies on three venomous Cubomedusae. In Rees, W. J. (ed.), The Cnidaria and Their Evolution. Academic Press, London: 307–332.

Bentlage, B., P. Cartwright, A. A. Yanagihara, C. Lewis, G. S. Richards & A. G. Collins, 2010. Evolution of box jellyfish (Cnidaria: Cubozoa), a group of highly toxic invertebrates. Proceedings of the Royal Society B-Biological Sciences 277: 493–501.

Coates, M. C. & J. C. Theobald, 2003. Optimal visual parameters for a cubozoan jellyfish in the mangrove environment. Integrative and Comparative Biology 43: 1016.

Doherty, P. J., 1987. Light-traps: selective but useful devices for quantifying the distributions and abundance of larval fishes. Bulletin of Marine Science 41: 423–431.

Fenner, P. J. & J. Lippmann, 2009. Severe Irukandji-like jellyfish stings in Thai waters. Diving and Hyperbaric Medicine 39: 175–177.

Gershwin, L. A., 2005a. Taxonomy and phylogeny of Australian Cubozoa. PhD Thesis, James Cook University, Townsville.

Gershwin, L. A., 2005b. Two new species of jellyfishes (Cnidaria: Cubozoa: Carybdeida) from tropical Western Australia, presumed to cause Irukandji syndrome. Zootaxa 1084: 1–30.

Gershwin, L. A. & M. J. Kingsford, 2008. Pelagic Cnidaria and Ctenophora. In Hutchings, P., M. Kingsford & O. Hoegh-Guldberg (eds), The Great Barrier Reef: Biology, Environment and Management. CSIRO Publishing, Collingwood: 188–198.

Gershwin, L. A., M. De Nardi, K. D. Winkel & P. J. Fenner, 2010. Marine stingers: review of an under-recognized global coastal management issue. Coastal Management 38: 22–41.

Gordon, M. R., C. Hatcher & J. E. Seymour, 2004. Growth and age determination of the tropical Australian cubozoan Chiropsalmus sp. Hydrobiologia 530: 339–345.

Gordon, M. R. & J. E. Seymour, 2009. Quantifying movement of the tropical Australian cubozoan Chironex fleckeri using acoustic telemetry. Hydrobiologia 616: 87–97.

Hartwick, R. F., 1991a. Observations on the anatomy, behavior, reproduction and life-cycle of the cubozoan Carybdea sivickisi. Hydrobiologia 216: 171–179.

Hartwick, R. F., 1991b. Distributional ecology and behavior of the early life stages of the box-jellyfish Chironex fleckeri. Hydrobiologia 216: 181–188.

Hurlbert, S. H., 1984. Pseudoreplication and the design of ecological field experiments. Ecological Monographs 54: 187–211.

Kingsford, M. J., 1998. Analytical aspects of sampling design. In Kingsford, M. J. & C. N. Battershill (eds), Studying Temperate Marine Environments: A Handbook for Ecologists. University of Canterbury Press, Christchurch: 49–83.

Kingsford, M. J., K. A. Pitt & B. M. Gillanders, 2000. Management of jellyfish fisheries, with special reference to the order Rhizostomeae. Oceanography and Marine Biology: An Annual Review 38: 85–156.

Kintner, A., S. Edwards & J. E. Seymour, 2005. Variation in lethality and effects of two Australian chirodropid jellyfish venoms, Chironex fleckeri and Chiropsalmus sp., in fish. Toxicon 46: 699–708.

Little, M., P. Pereira, T. Carrette & J. Seymour, 2006. Jellyfish responsible for Irukandji syndrome. Quarterly Journal of Medicine 99: 425–427.

Lough, J. M., 2008. A changing climate for coral reefs. Journal of Environmental Monitoring 10: 21–29.

Lynam, C. P., S. J. Hay & A. S. Brierley, 2005. Jellyfish abundance and climatic variation: contrasting responses in oceanographically distinct regions of the North Sea, and possible implications for fisheries. Journal of the Marine Biological Association of the United Kingdom 85: 435–450.

Lynam, C. P., M. J. Attrill & M. D. Skogen, 2010. Climatic and oceanic influences on the abundance of gelatinous zooplankton in the North Sea. Journal of the Marine Biological Association of the United Kingdom 90(special issue): 1153–1159.

Matsumoto, G. I., 1995. Observations on the anatomy and behaviour of the cubozoan Carybdea rastonii Haacke. Marine and Freshwater Behaviour and Physiology 26: 139–148.

Nagai, H., K. Takuwa, M. Nakao, B. Sakamoto, G. L. Crow & T. Nakajima, 2000. Isolation and characterization of a novel protein toxin from the Hawaiian box jellyfish (sea wasp) Carybdea alata. Biochemical and Biophysical Research Communications 275: 589–594.

Nilsson, D. E., L. Gislen, M. M. Coates, C. Skogh & A. Garm, 2005. Advanced optics in a jellyfish eye. Nature 435: 201–205.

Pereira, P., J. Barry, M. Corkeron, P. Keir, M. Little & J. E. Seymour, 2010. Intracerebral hemorrhage and death after envenoming by the jellyfish Carukia barnesi death due to Irukandji syndrome. Clinical Toxicology 48: 390–392.

Pitt, K. A. & M. J. Kingsford, 2000. Geographic separation of stocks of the edible jellyfish, Catostylus mosaicus (Rhizostomeae) in New South Wales, Australia. Marine Ecology Progress Series 196: 143–155.

Purcell, J. E., S. Uye & W.-T. Lo, 2007. Anthropogenic causes of jellyfish blooms and their direct consequences for humans: a review. Marine Ecology Progress Series 350: 153–174.

Rippingale, R. J. & S. J. Kelly, 1995. Reproduction and survival of Phyllorhiza punctata (Cnidaria: Rhizotomeae) in a seasonally fluctuating salinity regime in Western Australia. Marine & Freshwater Research 46: 1145–1151.

Straehler-Pohl, I. & G. Jarms, 2005. Life cycle of Carybdea marsupialis Linnaeus, 1758 (Cubozoa, Carybdeidae) reveals metamorphosis to be a modified strobilation. Marine Biology 147: 1271–1277.

Thomas, C. S., S. A. Scott, D. J. Galanis & R. S. Goto, 2001. Box jellyfish (Carybdea alata) in Waikiki: their influx cycle plus the analgesic effect of hot and cold packs on their stings to swimmers at the beach: a randomized, placebo-controlled, clinical trial. Hawaii Medical Journal 60: 100–107.

Tiong, K., 2009. Irukandji syndrome, catecholamines, and mid-ventricular stress cardiomyopathy. European Journal of Echocardiography 10: 334–336.

Underwood, A. J., 1997. Experiments in Ecology: Their Logical Design and Interpretation Using Analysis of Variance. Cambridge University Press, Cambridge: 504 pp.

Underwood, A. H. & J. E. Seymour, 2007. Venom ontogeny, diet and morphology in Carukia barnesi, a species of Australian box jellyfish that causes Irukandji syndrome. Toxicon 49: 1073–1082.

Winter, K. L., G. K. Isbister, J. J. Schneider, N. Konstantakopoulos, J. E. Seymour & W. C. Hodgson, 2008. An examination of the cardiovascular effects of an 'Irukandji' jellyfish, Alatina nr mordens. Toxicology Letters 179: 118–123.

Winter, K. L., G. K. Isbister, S. McGowan, J. J. Schneider, N. Konstantakopoulos, J. E. Seymour & W. C. Hodgson, 2009. A pharmacological and biochemical examination of the geographical variation of Chironex fleckeri venom. Toxicology Letters 192: 419–424.

Wolanski, E., J. Imberger & M. L. Heron, 1984. Island wakes in shallow coastal waters. Journal of Geophysical Research 89: 553–569.

Yamada, T., T. Takeda & S. Kubota, 2010. Temporal patterns of jellyfish species occurrence at the Suma Coast, Kobe City, Hyogo Prefecture (Years 2003–2009). Kuroshio Biosphere 6: 27–30.
Acknowledgments
Counting cubozoans under lights is often arduous and we thank our many volunteers for assisting, especially Shelley Templeman and Christopher Mooney. The crews of MV Piscean, MV Kalinda, and MV Phoenix provided critical support on the cross-shelf cruises. For the Double Island samples we thank Teresa Carrette, Avril Underwood, Glenda Seymour, and Richard Fitzpatrick for their assistance. We also thank SLSA for providing data and specimens of cubozoans collected on beaches in North Queensland. We also appreciate photographs of cubozoans provided by John Sinclair. Funding was provided by a Marine Science Tropical Science Research Facility (MTSRF) and a LIONS Foundation grant.
Additional information
Guest editors: J. E. Purcell, H. Mianzan & J. R. Frost / Jellyfish Blooms: Interactions with Humans and Fisheries
About this article
Cite this article
Kingsford, M.J., Seymour, J.E. & O'Callaghan, M.D. Abundance patterns of cubozoans on and near the Great Barrier Reef. Hydrobiologia 690, 257–268 (2012). https://doi.org/10.1007/s10750-012-1041-0
Keywords
Chironex

Irukandji

Carukia
Alatina

Abundance

Runoff