Abstract
The purpose of this investigation was to assess the possible use of algicidal bacteria in conjunction with an immobilization technique for efficient termination of natural blooms of Stephanodiscus concomitant with minimization of adverse effects caused by a single application of bacteria. The performance of Pseudomonas fluorescens cells immobilized on cellulose sponges (CIS) was compared with that of freely suspended cells (FSC) of the organism at low water temperature (WT) of <10°C in co-cultures and natural microcosms. In the co-cultures, CIS resulted in more effective lysis of Stephanodiscus, irrespective of similar bacterivore (Spumella sp.) density, and significantly reduced the concentrations of nitrate and soluble reactive phosphorus (SRP), but not that of silicate, compared with FSC. In the microcosms containing natural freshwater, CIS reduced the densities of Stephanodiscus spp. and Aulacoseira spp. but had no effect on other phytoplankton. Compared with FSC, removal of nutrients by the CIS prevented secondary blooms caused by other phytoplankton. Our results indicate that the CIS affords effective protection of P. fluorescens from low WT and heterotrophs, and restrained regeneration of both SRP and nitrate. Thus, it was demonstrated that the CIS may be an attractive alternative to FSC for control of natural blooms.
This is a preview of subscription content, log in to check access.
Access options
Buy single article
Instant access to the full article PDF.
US$ 39.95
Tax calculation will be finalised during checkout.
Subscribe to journal
Immediate online access to all issues from 2019. Subscription will auto renew annually.
US$ 199
Tax calculation will be finalised during checkout.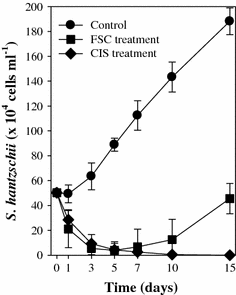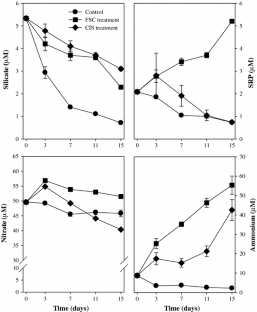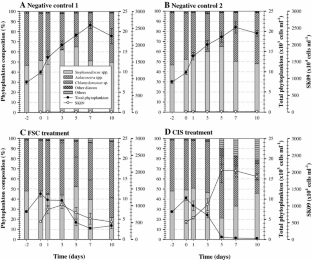 References
Amann, R. I., W. Ludwig & K. H. Schleifer, 1995. Phylogenetic identification and in situ detection of individual microbial cells without cultivation. Microbiological Review 59: 143–169.

Beakes, G., H. M. Canter & G. H. M. Jaworski, 1988. Zoospores ultrastructure of Zygorhizidium affluens Canter and Z. planktonicum Canter, two chytrids parasitizing the diatom Asterionella formosa Hassall. Canadian Journal of Botany 66: 1054–1067.

Cho, K. J., J. K. Shin, S. K. Kwak & O. H. Lee, 1998. Diatom genus Stephanodiscus as eutrophication indicator for water quality assessment. Korean Journal of Environmental Biology 31: 204–210. (in Korean).

de Ory, I., L. E. Romeo & D. Cantero, 2003. Optimization of immobilization conditions for vinegar production. Siran wood chips and polyurethane foam as carriers for Acetobacter aceti. Process Biochemistry 43: 1–10.

Ha, K., M. H. Jang & G. J. Joo, 2003. Winter Stephanodiscus bloom development in the Nakdong River regulated by an estuary dam and tributaries. Hydrobiologia 506–509: 221–227.

Hahn, M. W., P. Stadler, Q. L. Wu & M. Pockl, 2004. The filtration acclimatization method for isolation of an important fraction of the not readily cultivable bacteria. Journal of Microbiological Methods 57: 379–390.

Han, M.-S., K. Lee & K. I. Yoo, 1995. Ecological studies on Togyo reservoir in Chulwon, Korea I. A field test for in situ aquatic net-enclosure mesocosm. Korean Journal of Limnology 28: 487–495. (in Korean).

Jimenez-Perez, M. V., P. Sanchez-Castillo, O. Romera, D. Fernandez-Moreno & C. Perez-Martinez, 2004. Growth and nutrient removal in free and immobilized planktonic green algae isolated from pig manure. Enzyme and Microbial Technology 34: 392–398.

Jung, S. W., B.-H. Kim, T. Katano, D.-S. Kong & M.-S. Han, 2008. Pseudomonas fluorescens HYK0210-SK09 offers species-specific biological control of winter algal blooms caused by freshwater diatom Stephanodiscus hantzschii. Journal of Applied Microbiology 105: 186–195.

Jung, S. W., Y.-H. Kang, T. Katano, B.-H. Kim, S.-Y. Cho, J. H. Lee, Y.-O. Kim & M.-S. Han, 2010. Testing addition of Pseudomonas fluorescens HYK0210-SK09 to mitigate blooms of the diatom Stephanodiscus hantzschii in small- and large-scale mesocosms. Journal of Applied Phycology 22: 409–419.

Kang, Y.-H., S.W. Jung, S.-H. Jo, & M.-S. Han, 2011. Field assessment of the potential of algicidal bacteria against diatom blooms. Biocontrol Science and Technology 21: 969–984.

Kang, Y.-H., J.-D. Kim, B.-H. Kim, D. S. Kong & M.-S. Han, 2005. Isolation and characterization of a bio-agent antagonistic to diatom, Stephanodiscus hantzschii. Journal of Applied Microbiology 98: 1030–1038.

Kang, Y.-H., B.-H. Kim, H.-J. Choi, J. G. Seo & M.-S. Han, 2007. Enhancement of algicidal activity by immobilization of algicidal bacteria antagonistic to Stephanodiscus hantzschii (Bacillariophyceae). Journal of Applied Microbiology 103: 1983–1994.

Katano, T., B.-K. Lee, B.-H. Kim, H.-O. Lee & M.-S. Han, 2006. Population dynamics of Pseudomonas sp. HYK0210-SK09 in microbial communities using the genus specific probe in tyramide signal amplification-fluorescence in situ hybridization. Proceedings of 2nd Japan-Korea Joint Symposium for limnology, Pusan: 44–51.

Kolmakov, V. I., N. A. Gaevskii, E. A. Ivanova, O. P. Dubovskaya, I. V. Gribovskaya & E. S. Kravchuk, 2002. Comparative analysis of ecophysiological characteristics of Stephanodiscus hantzschii Grun. In the periods of its bloom in recreational water bodies. Russian Journal of Ecology 33: 97–103.

Koss, A. M. & W. E. Snyder, 2004. Alternative prey disrupt biocontrol by guild of generalist predators. Biological Control 10: 1–9.

Krivtsov, V., E. Bellinger & D. Sigee, 2003. Ecological study of Stephanodiscus rotula during a spring diatom bloom. Dynamics of intracellular elemental concentrations and correlations in relation to water chemistry, and implications for overall geochemical cycling in a temperate lake. Acta Oecologica 24: 265–274.

Lee, C. W., C. W. Jung, S. W. Han, L. S. Kang & J. H. Lee, 2001. The removal of algae by oxidation and coagulation process. Journal of Korean Society of Environmental Engineers 23: 1527–1536. (in Korean).

Lee, B.-K., T. Katano, S.-I. Kitamura, M.-J. Oh & M.-S. Han, 2008. Monitoring of algicidal bacterium, Alteromonas sp. strain A14 in its application to natural Cochlodinium polykrikoides blooming seawater using fluorescence in situ hybridization. Journal of Microbiology 46: 274–282.

Lim, Y. S., W. S. Song, J. S. Cho, H. J. Lee & J. S. Heo, 2000. The effect of algae on coagulation and filtration of water treatment process. Korean Journal of Environmental Agriculture 19: 13–19. (in Korean).

Lovejoy, C., J. P. Bowman & G. M. Hallegraeff, 1998. Algicidal effects of a novel marine Pseudoalteromonas isolated (Class Proteobacteria, Gamma Subdivision) on harmful algal bloom species of the genera Chatonella, Gymnodinium, and Heterosigma. Applied and Environmental Microbiology 64: 2806–2813.

Maicas, C., I. Pardo & S. Ferrer, 2001. The potential of positively-charged cellulose sponge for malolactic fermentation of wine, using Oenococcus oeni. Enzyme and Microbial Technology 28: 415–419.

Mallick, N., 2002. Biotechnological potential of immobilized algae for wastewater N, P and metal removal: a review. BioMetals 15: 377–390.

Manage, P. M., Z. Kawabata & S. Nakano, 2000. Algicidal effect of the bacterium Alcaligenes denitrificans on Microcystis spp. Aquatic Microbial Ecology 22: 111–117.

Manohar, S. & T. B. Karegoudar, 1998. Degradation of naphthalene by cells of Pseudomonas sp. strain NGK1 immobilized in alginate, agar and polyacrylamide. Applied Microbiology and Biotechnology 55: 311–316.

Manohar, S., C. K. Kim & T. B. Karegoudar, 2001. Enhanced degradation of naphthalene by immobilization of Pseudomonas sp. strain NGK1 in polyurethane foam. Applied Microbiology and Biotechnology 55: 311–316.

Messing, R. A., 1976. Adsorption and inorganic bridge formations. Methods in Enzymology 44: 148–169.

Nakano, S., T. Koitabashi & T. Ueda, 1998. Seasonal changes in abundance of heterotrophic nanoflagellates and their consumption of bacteria in Lake Biwa with special reference to tropic interactions with Daphnia galeata. Archives of Hydrobiology 142: 21–34.

O' Reilly, A. & J. A. Scott, 1993. Use of ion-exchange sponge to immobilise yeast in high gravity apple based (cider) alcoholic fermentation. Biotechnology Letters 15: 1061–1069.

Patterson, D. J., 2003. Free-Living Freshwater Protozoa. ASM Press, Washington.

Pitta, P., A. Giannakourou, P. Divanach & M. Kentouri, 1998. Planktonic food web in marine mesocosms in the eastern Mediterranean: bottom-up or top-down regulation? Hydrobiologia 365: 97–105.

Riemann, L., G. F. Steward & F. Azam, 2000. Dynamics of bacterial community composition and activity during a microcosm diatom bloom. Applied Environmental and Microbiology 66: 578–587.

Round, F. E., R. M. Crawford & D. G. Mann, 1990. The Diatom Biology and Morphology of Genera. Cambridge University Press, Cambridge.

Scott, J. A., A. M. O'Reilly & S. Kirkhope, 1995. A fibrous sponge matrix to immobilise yeast for beverage fermentations. Biotechnology Techniques 9: 305–310.

Willis, J. K., P. J. van den Brink & J. D. Green, 2004. Seasonal variation in plankton community responses of microcosms dosed with pentachlorophenol. Ecotoxicology 13: 707–720.

Woodward, J., 1985. Immobilizaed enzyme: adsorption and covalent coupling. In Woodward, J. (ed.), Immobilized Cells and Enzymes: A Practical Approach. IRL, Oxford, UK: 3–17.
Acknowledgments
This study was supported by grants from the Eco-STAR Project Program of the ministry of Korean Environmental Technology (EW21-07-12) and from HYU (HY-2011-HYURS) research program of Hanyang University.
Additional information
Handling editor: P. Nõges
About this article
Cite this article
Kang, YH., Jung, S.W., Joo, JH. et al. Use of immobilized algicidal bacteria to control natural freshwater diatom blooms. Hydrobiologia 683, 151–162 (2012). https://doi.org/10.1007/s10750-011-0951-6
Received:

Revised:

Accepted:

Published:

Issue Date:
Keywords
Microcosm

Immobilization

Stephanodiscus

Algicidal bacteria

Pseudomonas fluorescens