Abstract
Major and trace elements were measured in sponges, seawater and sediment in Darwin Harbour (Australia) to test the hypothesis that metals are elevated in sponges closer to a sewage outfall compared with unimpacted sites. Seawater and sediment at the sewage discharge site contained high, but localised, concentrations of phosphorus (P), manganese (Mn), iron (Fe), cobalt (Co), nickel (Ni), copper (Cu), zinc (Zn), arsenic (As) and lead (Pb) compared with background sites. Metal concentrations in the sponge Spheciospongia vagabunda were highly elevated compared with other sponges and, although site specific, high metal concentrations were unrelated to the presence of sewage effluent. X-ray fluorescence microprobe imaging was used to investigate the metal distribution pattern in S. vagabunda. High Fe, Ni and Zn concentrations were either localised in circular patches (100–200 μm size) near water canals or in the pinacoderm, or scattered in spots (approximately 10 μm) throughout the tissue. This supports a microflora-mediated metal bioaccumulation hypothesis. In contrast, Co and Mn were highly dispersed and probably associated with aluminium- and iron-oxide rich sediment inclusions. Although the lack of association between sewage effluent and metal accumulation precludes the use of S. vagabunda as a biomonitor, the apparent differential mechanisms of metal accumulation warrants further investigation.
This is a preview of subscription content, log in to check access.
Access options
Buy single article
Instant access to the full article PDF.
US$ 39.95
Price includes VAT for USA
Subscribe to journal
Immediate online access to all issues from 2019. Subscription will auto renew annually.
US$ 199
This is the net price. Taxes to be calculated in checkout.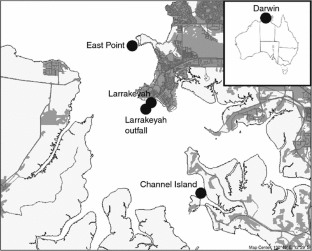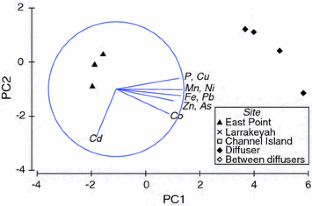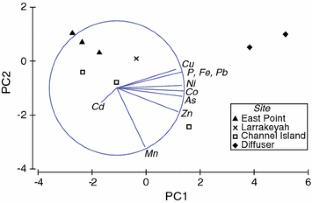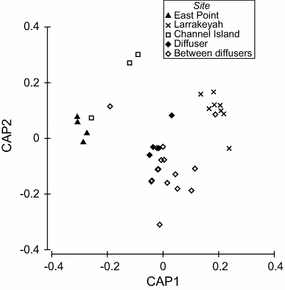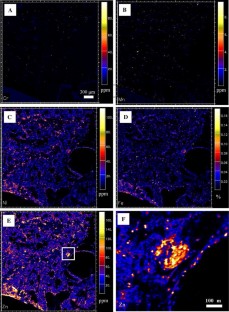 References
Aguiar, P., J. Medeiros, A. Costa, M. Humanes & M. Barreto, 2010. Distribution of nickel in the tissue of Cliona viridis from the coast of São Miguel (Azores). VIII World Sponge Conference, Girona, Spain.

Anderson, M. J., R. N. Gorley & K. R. Clarke, 2008. PERMANOVA+ for PRIMER: Guide to Software and Statistical Methods. PRIMER-E Ltd, Plymouth, UK.

ANZECC, 2000. Australian and New Zealand Guidelines for Fresh and Marine Water Quality. ANZECC, Australia.

Araújo, M., A. Cruz, M. Humanes, M. Lopes, J. A. L. da Silva & J. J. R. da Silva, 1999. Elemental composition of Demospongiae from the eastern Atlantic coastal waters. Chemical Speciation and Bioavailability 11: 25–36.

Araújo, M., A. Conceição, T. Barbosa, M. Lopes & M. Humanes, 2003. Elemental composition of marine sponges from the Berlengas natural park, western Portuguese coast. X-Ray Spectrometry 32: 428–433.

Australian Synchrotron, 2010. Australian Synchrotron Technical Information (XFM). Australian Synchrotron [available on internet at http://www.synchrotron.org.au/index.php/aussyncbeamlines/x-ray-fluorescence-microprobe-x-ray-microspectroscopy/technical-information].

Bargagli, R., L. Nelli, S. Ancora & S. Focardi, 1996. Elevated cadmium accumulation in marine organisms from Terra Nova Bay (Antarctica). Polar Biology 16: 513–520.

Becerro, M., X. Turon & M. J. Uriz, 1997. Multiple functions for secondary metabolites in encrusting marine invertebrates. Journal of Chemical Ecology 23: 1527–1547.

Bowen, V. & D. Sutton, 1951. Comparative studies of mineral constituents of marine sponges I. The genera Dysidea, Chondrilla, Terpios. Journal of Marine Research X: 153–167.

Capon, R., K. Elsbury, M. Butler, C. Lu, J. Hooper, J. Rostas, K. O'Brien, L. Mudge & A. Sim, 1993. Extraordinary levels of cadmium and zinc in a marine sponge, Tedania charcoti Topsent: inorganic chemical defense agents. Cellular and Molecular Life Sciences 49: 263–264.

Cebrian, E., M. Uriz & X. Turon, 2007. Sponges as biomonitors of heavy metals in spatial and temporal surveys in northwestern Mediterranean: multispecies comparison. Environmental Toxicology and Chemistry 26: 2430–2439.

Cox, G. & A. Larkum, 1983. A diatom apparently living in symbiosis with a sponge. Bulletin of Marine Science 33: 943–945.

CSIRO, 2010. Quantitative Imaging Using Dynamic Analysis. CSIRO [available on internet at http://nmp.csiro.au/dynamic.html].

Denton, G., L. Concepcion, H. Wood, V. Eflin & G. Pangelinan, 1999. Heavy Metals, PCBs and PAHs in Marine Organisms from Four Harbor Locations on Guam. Technical Report No. 87. Water and Environmental Research Institute of the Western Pacific University of Guam.

Dettrick, D. & K. Schlusser, 2006. A Report on Larrakeyah Sewage Outfall, Darwin Harbour, August 2006. Northern Territory Government: 1–17.

Esteves, A., S. Chaves, J. Xavier, R. Tenreiro & M. Humanes, 2010. A new Symbiodinium sp. lineage in Atlanto-Mediterranean Cliona viridis. VIII World Sponge Conference, Girona, Spain.

Flowers, A., M. Garson, R. Webb, E. Dumdei & R. Charan, 1998. Cellular origin of chlorinated diketopiperazines in the dictyoceratid sponge Dysidea herbacea (Keller). Cell and Tissue Research 292: 597–607.

Fortune, J., 2006. The Grainsize and Heavy Metal Content of Sediment in Darwin Harbour. Report No. 14/2006D. Aquatic Health Unit (Northern Territory Government) and the Environment Protection Agency.

Garson, M., J. Thompson, R. M. Larsen, C. H. Battershill, P. T. Murphy & P. R. Bergquist, 1992. Terpenes in sponge cell membranes: cell separation and membrane fractionation studies with the tropical marine sponge Amphimedon sp. Lipids 27: 378–388.

Garson, M., A. Flowers, R. Webb, R. Charan & E. J. McCaffrey, 1998. A sponge/dinoflagellate association in the haplosclerid sponge Haliclona sp.: cellular origin of cytotoxic alkaloids by Percoll density gradient fractionation. Cell and Tissue Research 293: 365–373.

Hansen, I., J. Weeks & M. Depledge, 1995. Accumulation of copper, zinc, cadmium and chromium by the marine sponge Halichondria panicea Pallas and the implications for biomonitoring. Marine Pollution Bulletin 31: 133–138.

Hentschel, U., J. Hopke, M. Horn, A. Friedrich, M. Wagner, J. Hacker & B. Moore, 2002. Molecular evidence for a uniform microbial community in sponges from different oceans. Applied and Environmental Microbiology 68: 4431–4440.

Holmes, B. & H. Blanch, 2007. Genus-specific associations of marine sponges with group I crenarchaeotes. Marine Biology 150: 759–772.

Kelly-Borges, M. & J. Vacelet, 1998. Sponges of the New Caledonian Lagoon: class Demospongiae, order Hadromerida. In Levi, C. (ed.), Sponges of the New Caledonian Lagoon. Orstom Editions, Paris: 87–93.

Long, E., D. MacDonald, S. Smith & F. Calder, 1995. Incidence of adverse biological effects within ranges of chemical concentrations in marine and estuarine sediments. Environmental Management 19: 81–97.

Moir, C. M., 1995. The effects of sewage discharge on the water quality of Darwin Harbour and Buffalo Creek. Northern Territory University Honours thesis.

Munksgaard, N. & D. Parry, 2001. Trace metals, arsenic and lead isotopes in dissolved and particulate phases of North Australian coastal and estuarine seawater. Marine Chemistry 75: 165–184.

Munksgaard, N. & D. Parry, 2002. Metals, arsenic and lead isotopes in near-pristine estuarine and marine coastal sediments from northern Australia. Marine & Freshwater Research 53: 719–729.

Negri, A., K. Burns, S. Boyle, D. Brinkman & N. Webster, 2006. Contamination in sediments, bivalves and sponges of McMurdo Sound, Antarctica. Environmental Pollution 143: 456–467.

Olesen, T. & J. Weeks, 1994. Accumulation of Cd by the marine sponge Halichondria panicea Pallas: effects upon filtration rate and its relevance for biomonitoring. Bulletin of Environmental Contamination and Toxicology 52: 722–728.

Padovan, A., 2002. Darwin Harbour Water Quality Monitoring 2001/02 Report. Report No. 23/2002. Water Monitoring Section, Natural Resource Management Division, Conservation and Natural Resources Group: 1–16.

Padovan, A., 2003. Darwin Harbour water and sediment quality. Proceedings of the Darwin Harbour Public Presentations, February 2003, Darwin, NT, Australia: 5–18.

Patel, B., M. Balani & S. Patel, 1985. Sponge 'sentinel' of heavy metals. The Science of the Total Environment 41: 145–152.

Perez, T., D. Longet, T. Schembri, P. Rebouillon & J. Vacelet, 2005. Effects of 12 years' operation of a sewage treatment plant on trace metal occurrence within a Mediterranean commercial sponge (Spongia officinalis, Demospongiae). Marine Pollution Bulletin 50: 301–309.

Philp, R., 1999. Cadmium content of the marine sponge Microciona prolifera, other sponges, water and sediment from the eastern Florida panhandle: possible effects on Microciona cell aggregation and potential roles of low pH and low salinity. Comparative Biochemistry and Physiology Part C 124: 41–49.

Philp, R., F. Leung & C. Bradley, 2003. A comparison of the metal content of some benthic species from coastal waters of the Florida Panhandle using high-resolution inductively coupled plasma mass spectrometry (ICP-MS) analysis. Archives of Environmental Contamination and Toxicology 44: 218–223.

Power and Water Corporation, 2006. Wastewater Treatment, Reuse and Discharge Report 2006. Power and Water Corporation.

Preston, C., K. Wu, T. Molinski & E. DeLong, 1996. A psychrophilic crenarchaeon inhabits a marine sponge: Cenarchaeum symbiosum gen. nov., sp. nov. Proceedings of the National Academy of Sciences of the United States of America 93: 6241–6246.

Quinn, G. & M. Keough, 2002. Experimental Design and Data Analysis for Biologists. Cambridge University Press, Cambridge, UK.

Rao, J., P. Kavitha, N. Reddy & T. Rao, 2006. Petrosia testudinaria as a biomarker for metal contamination at Gulf of Mannar, southeast coast of India. Chemosphere 6: 634–638.

Rao, J. V., K. Srikanth, R. Pallela & T. G. Rao, 2009. The use of marine sponge, Haliclona tenuiramosa as bioindicator to monitor heavy metal pollution in the coasts of Gulf of Mannar, India. Environmental Monitoring and Assessment 156: 451–459.

Reichelt-Brushett, A. J. & G. McOrist, 2003. Trace metals in the living and nonliving components of scleractinian corals. Marine Pollution Bulletin 46: 1573–1582.

Reiswig, H., 1971. Particle feeding in natural populations of three marine demosponges. Biological Bulletin 141: 568–591.

Ridley, S. O., 1884. Spongiida. In Report on the Zoological Collections made in the Indo-Pacific Ocean During the Voyage of H.M.S. 'Alert', 1881-2. British Museum of Natural History, London: 366–482, 339–343, 582–630, 353–354.

Rützler, K., 1990. Associations between Caribbean sponges and photosynthetic organisms. In Rützler, K. (ed.), New Perspectives in Sponge Biology. Smithsonian Institution Press, Washington, DC: 455–466.

Rützler, K., 1997. The role of psammobiontic sponges in the reef community. Proceedings of the 8th International Coral Reef Symposium, Vol. 2: 1393–1397.

Ryan, C. G., 2000. Quantitative trace element imaging using PIXE and the nuclear microprobe. International Journal of Imaging Systems and Technology 11: 219–230.

Ryan, C. G., R. Kirkham, R. M. Hough, G. Moorhead, D. P. Siddons, M. D. de Jonge, D. J. Paterson, G. De Geronimo, D. L. Howard & J. S. Cleverley, 2010. Elemental X-ray imaging using the Maia detector array: the benefits and challenges of large solid-angle. Nuclear Instruments and Methods in Physics Research Section A: Accelerators, Spectrometers, Detectors and Associated Equipment 619: 37–43.

Sará, M. & L. Liaci, 1964. Symbiotic association between zooxanthellae and two marine sponges of the genus Cliona. Nature 203: 321.

Shah, S., 2008. Study of heavy metal accumulation in scleractinian corals of Viti Levu, Fiji Islands. University of the South Pacific Masters thesis.

Skinner, L., S. Townsend & J. Fortune, 2009. The Impact of Urban Land-Use on Total Pollutant Loads Entering Darwin Harbour. Report 06/2008D. Aquatic Health Unit, Department of Natural Resources, Environment, the Arts and Sport, Northern Territory Government: 1–66.

Sutcliffe, P. R., J. N. A. Hooper & C. R. Pitcher, 2010. The most common sponges on the Great Barrer Reef seabed, Australia, include species new to science (Phylum Porifera). Zootaxa 2616: 1–30.

Turon, X., M. Becerro & M. Uriz, 2000. Distribution of brominated compounds within the sponge Aplysina aerophoba: coupling of X-ray microanalysis with cryofixation techniques. Cell and Tissue Research 301: 311–322.

Vacelet, J. & C. Donadey, 1977. Electron microscope study of the association between some sponges and bacteria. Journal of Experimental Marine Biology and Ecology 30: 301–314.

Vacelet, J., B. Verdenal & G. Perinet, 1988. The iron mineralization of Spongia officinalis L. (Porifera, Dictyoceratida) and its relationships with the collagen skeleton. Biology of the Cell 62: 189–198.

Verdenal, B., C. Diana, A. Arnoux & J. Vacelet, 1985. Pollutant levels in Mediterranean commercial sponges. In Rützler, K. (ed.), Proceedings of the 3rd International Sponge Conference. Smithsonian Institution Press, Washington, DC: 516–524.

Welch, M., J. Schult & A. J. Padovan, 2008. Effects of Urban Stormwater on Heavy Metal and Nutrient Concentrations in Mangrove Sediments of Darwin Harbour. Aquatic Health Unit, Department of Natural Resources, Environment, the Arts and Sport, Northern Territory Government Report 08/2008D: 1–37.

Wilkinson, C. R., 1980. Cyanobacteria symbiotic in marine sponges. In Schwemmler, W. & H. E. A. Schenk (eds), Endocytobiology. Walter de Gruyter, Berlin: 553–563.

Woods, B. B., 1998. Heavy metals in Darwin Harbour sediments and the use of lead isotope ratios for the determination of anthropogenic sources of lead. Northern Territory University Honours thesis.
Acknowledgments
A Postdoctoral Fellowship funded by Charles Darwin University and the Australian Institute of Marine Science supported this research. We thank Constanza Buccella (CDU) for assisting with sample collection and laboratory processing, Ellie Hayward (CDU) for preparing tissue sections for XFM analysis, and Francoise Foti and the EACU team at CDU for ICP-MS analyses. We acknowledge the Australian Synchrotron XFM beam line staff David Paterson, Martin de Jonge and Daryl Howard for technical support, and the Australian Synchrotron for approving XFM beam time and travel funds.
Additional information
Guest editors: M. Maldonado, X. Turon, M. A. Becerro & M. J. Uriz / Ancient animals, new challenges: developments in sponge research
About this article
Cite this article
Padovan, A., Munksgaard, N., Alvarez, B. et al. Trace metal concentrations in the tropical sponge Spheciospongia vagabunda at a sewage outfall: synchrotron X-ray imaging reveals the micron-scale distribution of accumulated metals. Hydrobiologia 687, 275–288 (2012). https://doi.org/10.1007/s10750-011-0916-9
Received:

Accepted:

Published:

Issue Date:
Keywords
Sponge

Metals

Biomonitoring

Bioconcentration

Spheciospongia vagabunda

X-ray imaging