Abstract
In the NE Atlantic, evidence has been found of genetic discontinuities between Iberian bottlenose dolphins and those of Scotland and the Mediterranean. Here, we explored the genetic relationships between resident populations of dolphins from southern Galicia (NW Spain) and the Sado estuary (S Portugal), and their relationship with dolphins inhabiting neighbouring areas. A total of 91 skin and muscle samples were taken from stranded and biopsied animals between 1994 and 2008 in southern Galicia (N = 29), the Sado estuary (N = 5) and five other geographical locations (N = 57) including sites around the Iberian Peninsula, the Canary Islands and the Azores. Individuals were genotyped at 10 microsatellite loci and sequenced at the highly variable mitochondrial control region. From individual-based analyses of microsatellite data, dolphins from southern Galicia and the Sado estuary were assigned to an individual genetic population, though nine dolphins were identified as possible migrants between putative populations as their genetic makeup did not correspond with their geographical stranding location. Pairwise estimates of genetic differentiation (F ST) based on mitochondrial and nuclear DNA also revealed genetic differences between populations. The existence of fine-scale population substructure should be considered in the future designation of Special Areas of Conservation (SACs) for the species, as required by the European Habitats Directive.
Access options
Buy single article
Instant access to the full article PDF.
US$ 39.95
Tax calculation will be finalised during checkout.
Subscribe to journal
Immediate online access to all issues from 2019. Subscription will auto renew annually.
US$ 119
Tax calculation will be finalised during checkout.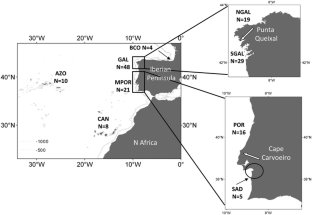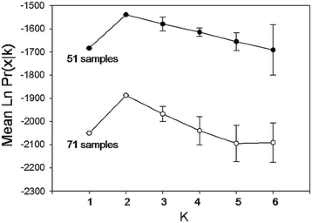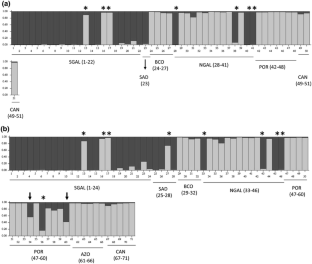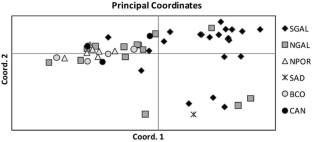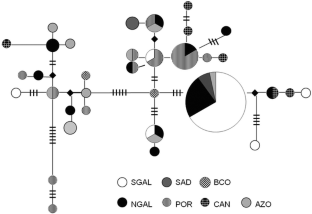 References
Bandelt, H. J., P. Forster & A. Röhl, 1999. Median-joining networks for inferring intraspecific plylogenetics. Molecular Biology and Evolution 16: 37–48.

Brito, C., N. Vieira, E. Sá & I. Carbalho, 2009. Cetaceans' occurrence off the west central Portugal coast: a compilation of data from whaling, observations of opportunity and boat-based surveys. Journal of Marine Animals and their Ecology 2(1): 10–13.

Caeiro, S., M. H. Costa, T. B. Ramos, F. Fernandes, N. Silveira, A. Coimbra, G. Medeiros & M. Painho, 2005. Assessing heavy metal contamination in Sado Estuary sediment: an index analysis approach. Ecological indicators 5: 151–169.

Connor, R. C., R. S. Wells, J. Mann & A. J. Read, 2000. The bottlenose dolphin. In Mann, J., R. C. Connor, P. L. Tyack & H. Whitehead (eds), Cetacean Societies. University of Chicago Press, London: 19–125.

Coughlan, J., L. Mirimin, E. Dillane, E. Rogan & T. F. Cross, 2006. Isolation and characterization of novel microsatellite loci for the short-beaked common dolphin (Delphinus delphis) and cross-amplification in other cetacean species. Molecular Ecology Notes 6: 490–492.

dos Santos, M. E. & M. Lacerda, 1987. Preliminary observations of the bottlenose dolphin (Tursiops truncatus) in the Sado estuary (Portugal). Aquatic Mammals 13: 65–80.

dos Santos, M. E., S. Louro, M. Couchinho & C. Brito, 2005. Whistles of bottlenose dolphins in the Sado estuary, Portugal: characteristics, production rates and long-term contour stability. Aquatic Mammals 31(4): 453–462.

Eggert, S. L., C. A. Lux, G. M. O'Corry-Crowe & A. E. Dizon, 1998. Dried dolphin blood on fishery observer records provides DNA for genetic analyses. Marine Mammal Science 14: 136–143.

Fernández, R., 2010. Ecology of the bottlenose dolphin, Tursiops truncatus (Montagu 1821), in Galician waters, NW Spain. PhD thesis, Universidade d Vigo, Spain.

Fernández, R., S. García-Tiscar, M. B. Santos, A. López, J. A. Martínez-Cedeira & G. J. Pierce, 2011. Stable isotope analysis in two sympatric populations of bottlenose dolphins Tursiops truncatus: evidence of resource partitioning? Marine Biology. doi:10.1007/s00227-011-1629-3.

Figueiras, F. G., U. Labarta & J. M. Fernández-Reiriz, 2002. Coastal upwelling, primary production and mussel growth in the Rías Baixas of Galicia. Hydrobiologia 484: 121–131.

Fontaine, M. C., S. J. E. Baird, S. Piry, N. Ray, K. A. Tolley, S. Duke, A. Birkun, M. Ferreira, T. Jauniaux, A. Llavona, B. Öztürk, A. A. Öztürk, V. Ridoux, E. Rogan, M. Sequeira, U. Siebert, G. A. Vikingsson, J. M. Bouquegneau & J. R. Michaux, 2007. Rise of oceanographic barriers in continuous populations of a cetacean: the genetic structure of harbour porpoises in Old World waters. BMC Biology 5: 30–46.

Gaspar, R., 2003. Status of the resident bottlenose dolphin population in the Sado Estuary: past, present and future. PhD thesis, University of St Andrews, UK.

Goudet, J., 2001. FSTAT, a program to estimate and test gene diversities and fixation indices (version 2.9.3) [available on internet at http://www2.unil.ch/popgen/softwares/fstat.htm].

Hoelzel, R. A., 1998. Genetic structure of cetacean populations in sympatry, parapatry and mixed assemblages: Implications for conservation policy. The Journal of the Heredity 89(5): 451–457.

Hoelzel, A. R., C. W. Potter & P. B. Best, 1998. Genetic differentiation between parapatric "nearshore" and "offshore" populations of the bottlenose dolphin. Proceedings of the Royal Society Series B, Biological Sciences 265(1402): 1177–1183.

Hoffman, J. I., K. K. Dasmahapatra, W. Amos, C. D. Phillips, T. S. Gelatt & J. W. Bickham, 2009. Contrasting patterns of genetic diversity at three different genetic markers in a marine mammal metapopulation. Molecular Ecology 18: 2961–2978.

Hoyt, E., 2005. Marine Protected Areas for Whales, Dolphins and Porpoises: A Worldwide Handbook for Cetacean Habitat Conservation. Earthscan, London.

Kalinowski, S. T., 2002. How many alleles per locus should be used o estimate genetic distances? Heredity 88: 62–65.

Krützen, M., W. B. Sherwin, P. Berggren & N. Gales, 2004. Population structure in an inshore cetacean revealed by microsatellite and mtDNA analysis: bottlenose dolphins (Tursiops sp.) in Shark Bay, Western Australia. Marine Mammal Science 20(1): 28–47.

Librado, P. & J. Rozas, 2009. DnaSP vs.5: A software for comprehensive analysis of DNA polymorphism data. Bioinformatics 25: 1451–1452.

López, A., 2003. Estatus dos pequenos cetáceos da plataforma de Galicia. PhD thesis, Universidade de Santiago de Compostela, Spain.

Méndez, G. & F. Vilas, 2005. Geological antecedents of the Rias Baixas (Galicia, northwest Iberian Peninsula). Journal of Marine Systems 54: 195–207.

Natoli, A., A. Birkun, A. Aguilar, A. López & A. R. Hoelzel, 2005. Habitat structure and the dispersal of male and female bottlenose dolphins (Tursiops truncatus). Proceedings of the Royal Society Series B, Biological Sciences 272: 1217–1226.

Nichols, C., J. Herman, O. E. Gaggiotti, K. M. Dobney, K. Parsons & A. R. Hoelzel, 2007. Genetic isolation of a now extinct population of bottlenose dolphins (Tursiops truncatus). Proceedings of the Royal Society Series B, Biological Sciences 274: 1611–1616.

Parsons, K. M., L. R. Noble, R. J. Reid & P. M. Thompson, 2002. Mitochondrial genetic diversity and population structuring of UK bottlenose dolphins Tursiops truncatus: is the NE Scotland population demographically and geographically isolated? Biological Conservation 108: 175–182.

Parsons, K. M., J. W. Durban, D. E. Claridge, D. L. Herzing, K. Balcom & L. R. Noble, 2006. Population genetic structure of coastal bottlenose dolphins (Tursiops truncatus) in the northern Bahamas. Marine Mammal Science 22(2): 276–298.

Peakall, R. & P. E. Smouse, 2006. GENALEX 6: genetic analysis in Excel. Population genetic software for teaching and research. Molecular Ecology Notes 6: 288–295.

Peltier, H., G. Certain, O. Van Canneyt, P. Daniel & V. Ridoux, 2009. How strandings can inform on cetacean at sea: an attempt to model and validate drift and discovery rates. In 23th Conference of the European Cetacean Society, 2–4 March 2009, Istambul, Turkey.

Pritchard, J. K., M. Stephens & P. Donnelly, 2000. Inference of population structure from multi-locus genotype data. Genetics 155: 945–959.

Quérouil, S., M. A. Silva, L. Freitas, R. Prieto, S. Magalhães, A. Dinis, F. Alves, J. A. Matos, D. Mendoςa, P. S. Hammond & R. S. Santos, 2007. High gene flow in oceanic bottlenose dolphins (Tursiops truncatus) of the North Atlantic. Conservation Genetics 81: 1405–1419.

Reeves, R. R., B. D. Smith, E. A. Crespo & G. Notarbartolo di Sciara, 2003. Dolphins, Whales and Porpoises: 2002–2010 Conservation Plan for the World's Cetaceans. IUCN/SSC Cetacean Specialist Group. IUCN, Gland, Switzerland and Cambridge, UK: 139 pp.

Rosel, P. E., A. E. Dizon & M. G. Haygood, 1995. Variability of the mitochondrial control region in populations of the harbour porpoise, Phocoena phocoena, on interoceanic and regional scales. Canadian Journal of Fisheries and Aquatic Sciences 52: 1210–1219.

Rosel, P. E., V. Forgetta & K. Dewar, 2005. Isolation and characterization of twelve polymorphic microsatellite markers in bottlenose dolphins (Tursiops truncatus). Molecular Ecology Notes 5: 830–833.

Ryman, N. & S. Palm, 2006. POWSIM: a computer program for assessing statistical power when testing for genetic differentiation. Molecular Ecology Notes 6: 600–602.

Ryman, N., S. Palm, C. André, G. R. Carvalho, T. G. Dahlgren, P. E. Jordes, L. Laikre, L. C. Larsson & A. Palmé, 2006. Power for detecting genetic divergence: differences between statistical methods and marker loci. Molecular Ecology 15: 2031–2045.

Santos, A. M. P., M. F. Borges & S. Groom, 2001. Sardine and horse mackerel recruitment and upwelling off Portugal. ICES Journal of Marine Science 58: 589–596.

Santos, M. B., R. Fernández, A. López, J. A. Martínez & G. J. Pierce, 2007. Variability in the diet of bottlenose dolphin, Tursiops truncatus, in Galician waters, north-western Spain, 1990–2005. Journal of the Marine Biological Association of the United Kingdom 87: 231–242.

Segura, I., A. Rocha-Olivares, S. Flores-Ramírez & L. Rojas-Bracho, 2006. Conservation implications of the genetic and ecological distinction of Tursiops truncatus ecotypes in the Gulf of California. Biological Conservation 133: 336–346.

Sellas, A. B., R. S. Wells & P. E. Rosel, 2005. Mitochondrial and nuclear DNA analyses reveal fine scale geographic structure in bottlenose dolphins (Tursiops truncatus) in the Gulf of Mexico. Conservation Genetics 6: 715–728.

Silva, C., 2008. A população residente de Tursiops truncatus num quadro de gestão integrada do estuário do Sado: Proposta de um acordo voluntário. Master's thesis, Faculdade de Ciências da Universidade de Lisboa, Portugal.

Silva, M. A., R. Prieto, S. Magalhães, M. I. Seabra, R. S. Santos & P. S. Hammond, 2008. Ranging patterns of bottlenose dolphins living in oceanic waters: implications for population structure. Marine Biology 156: 179–192.

Tamura, K., N. Dudley, M. Nei & S. Kumar, 2007. MEGA4: molecular evolutionary genetics analysis (MEGA) software version 4.0. Molecular Biology and Evolution 24: 1596–1599.

Tezanos-Pinto, G., C. S. Baker, K. Russell, K. Martien, R. W. Baird, A. Hutt, G. Stone, A. A. Mignucci-Giannoni, S. Caballero, T. Endo, S. Lavery, M. Oremus, C. Olavarría & C. Garrige, 2009. A worldwide perspective on the population structure and genetic diversity of bottlenose dolphins (Tursiops truncatus) in New Zealand. Journal of the Heredity 100(1): 11–24.

Van Oosterhout, C., W. F. Hutchinson, D. P. M. Wills & P. Shipley, 2004. MICRO-CHECKER: software for identifying and correcting genotyping errors in microsatellite data. Molecular Ecology Notes 4: 535–538 [available on internet at http://www.microchecker.hull.ac.uk/].

VVAA, 2007. Bases para la conservación y la gestiόn de las especies de cetaceos amenazadas en las aguas atlánticas y cantábricas. Memoria Final Proyecto Fundaciόn Biodiversidad. CEMMA, Gondomar, Spain: 155 pp.

Wells, R. S. & M. D. Scott, 2002. Bottlenose dolphins: Tursiops aduncus and Tursiops truncatus. In Perrin, W. F., B. Würsic & J. G. M. Thewissen (eds), Enciclopedia of Marine Mammals. Academic Press, San Diego: 122–128.

Wells, R. S., H. L. Rhinehart, P. Cunningham, J. Whaley, M. Baran, C. Koberna & D. P. Costa, 1999. Long distance offshore movements of bottlenose dolphins. Marine Mammal Science 15(4): 1098–1114.

Wiszniewski, J., L. B. Beheregaray, S. J. Allen & L. Möller, 2009. Environmental and social influences on the genetic structure of bottlenose dolphins (Tursiops aduncus) in Southeastern Australia. Conservation Genetics 11: 1405–1419.
Acknowledgements
The authors gratefully acknowledge the assistance of volunteers from the Coordinadora para o Estudio dos Mamíferos Mariños (CEMMA), Sociedade Portuguesa de Vida Selvagem (SPVS), Canarias Conservación, Instituto da Conservaςão da Natureza and Sociedad para el Estudio y la Conservación de la Fauna Marina (AMBAR). We wish to thank M. Sequeira who provided tissue samples. Thanks to F. Marshall, G. Murray-Dickson, C.D. MacLeod and C. Gubili at the University of Aberdeen and to A. Centeno-Cuadros at the Estación Biolόgica de Doñana (CSIC) for useful comments during data analysis and discussion. R.F. was supported during the research period through Marie Curie Early-Stage Research Grant (ECOSUMMER project. 020501-2). G.J.P. was supported by the ANIMATE project (MEXC-CT-2006-042337). M.A.S. was supported by an FCT (Portuguese Science and Technology Foundation) postdoctoral grant (SFRH/BPD/29841/2006). IMAR-DOP/UAç is the R&D Unit #531 and part of the Associated Laboratory #9 (ISR) funded through the pluri-annual and programmatic funding schemes of FCT-MCTES and DRCT-Azores. Sample collection in The Azores was funded by the FCT, under the CETMARH project (POCTI/BSE/38991/01).
Additional information
Guest editors: Graham J. Pierce, Vasilis D. Valavanis, Begoña M. Santos & Julio M. Portela / Marine Ecosystems and Sustainability
About this article
Cite this article
Fernández, R., Santos, M.B., Pierce, G.J. et al. Fine-scale genetic structure of bottlenose dolphins, Tursiops truncatus, in Atlantic coastal waters of the Iberian Peninsula. Hydrobiologia 670, 111 (2011). https://doi.org/10.1007/s10750-011-0669-5
Keywords
Genetic differentiation

Resident populations

Cetaceans

Migrants

Conservation