Abstract
The purpose of this study was to examine the sensitivity, in a field situation, of the hyporheic fauna to pollution by heavy metals and also to test the use of oxidative stress enzymes produced by this fauna as a sensitive indicator of oxidative stress generated by chemical contamination. This was done by surveying the patterns of distribution, structure, and composition of hyporheic invertebrate communities in one of the most polluted rivers in Romania. Twelve permanent sampling stations with differing water qualities were established along a 180 km transect of the Arieş River. Data on hyporheic invertebrate abundance and richness, chemistry of the surface and hyporheic water and interstitial suspended particles were analyzed via multifactorial analyses. In the downstream, more polluted stations, epigean species were less abundant and hyporheic communities, especially macrocrustaceans and oligochetes, became dominant. The higher levels of hyporheic invertebrate biodiversity in the moderately polluted stations compared to highly polluted, and the increase of the number of some hyporheos (especially macrocrustaceans) in the moderately polluted stations, suggested that the hyporheic fauna was more tolerant of heavy metal pollution than the surface water fauna of the area. However, the different richness and abundance of hyporheic fauna in sites of similar water chemistry suggested that additional factors, such as sediment structure are shaping the spatial distribution of hyporheic fauna. Strong correlations between superoxide dismutase (SOD) activity in pooled tissues extracts and some chemical parameters suggest that oxidative stress enzymes may prove to be sensitive indicators of chemical pollution in hyporheic zones.
Access options
Buy single article
Instant access to the full article PDF.
USD 39.95
Price includes VAT (USA)
Tax calculation will be finalised during checkout.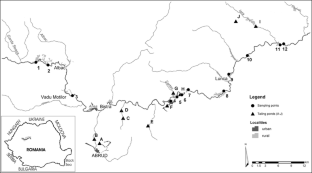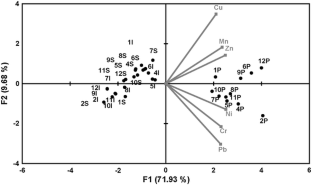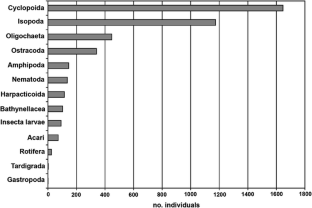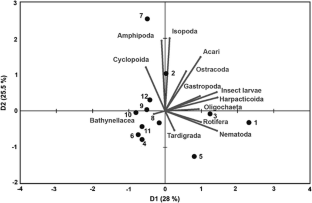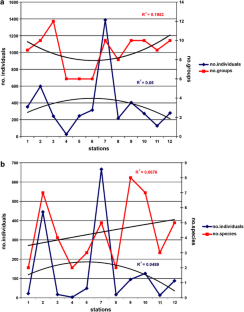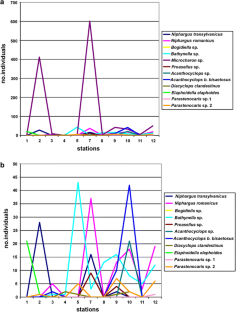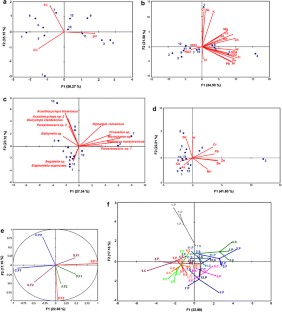 References
Bork, J., S. E. Berkhoff, S. Bork & H. J. Hahn, 2009. Using subsurface metazoan fauna to indicate groundwater–surface water interactions in the Nakdong River floodplain. South Korea Hydrogeology Journal 17: 61–75.

Bou, C., 1974. Recherches sur les eaux souterraines. 25—Méthodes de récolte dans les eaux souterraines interstitielles. Annales de Spéléologie 29: 611–619.

Boulton, A. J., 2000a. River ecosystem health down under: assessing ecological condition in riverine groundwater zones in Australia. Ecosystem Health 6: 118–198.

Boulton, A. J., 2000b. The subsurface macrofauna. In Jones, J. B. & P. J. Mulholland (eds), Streams and Ground Waters. Academic Press, San Diego: 337–361.

Boulton, A. J., S. Findlay, P. Marmonier, E. H. Stanley & H. M. Valett, 1998. The functional significance of the hyporheic zone in streams and rivers. Annual Review of Ecology, Evolution, and Systematics 29: 59–81.

Bourg, A. C. M. & C. Bertin, 1993. Biogeochemical processes during the infiltration of river water into an alluvial aquifer. Environmental Science & Technology 27: 661–666.

Bradford, M. M., 1976. A rapid and sensitive method for the quantitation of microgram quantities of protein utilizing the principle of protein-dye binding. Analytical Biochemistry 72: 248–254.

Bretschko, G., 1991. Bedsediments, groundwater and stream limnology. Verhandlungen der Internationalen Vereinigung fur Theoretische und Angewandte Limnologie 24: 1957–1960.

Brown, R. J., S. D. Rundle, T. H. Hutchinson, T. D. Williams & M. B. Jones, 2003. Small-scale detritus-invertebrate interactions: Influence of detrital biofilm composition on development and reproduction in a meiofaunal copepod. Archiv für Hydrobiologie 157: 117–129.

Brunke, M. & T. Gonser, 1997. The ecological significance of exchange processes between rivers and groundwater. Freshwater Biology 37: 1–33.

Cantú-Medellín, N., N. O. Olguín-Monroy, L. C. Méndez-Rodríguez & T. Zenteno-Savín, 2009. Antioxidant enzymes and heavy metal levels in tissues of the black chocolate clam Megapitaria squalida in Bahía de La Paz, Mexico. Archives of Environmental Contamination and Toxicology 56: 60–66.

Chafiq, M., J. Gibert & C. Claret, 1999. Interactions among sediments, organic matter, and microbial activity in the hyporheic zone of an intermittent stream. Canadian Journal of Fisheries and Aquatic Sciences 56(3): 487–495.

Connell, J. H., 1978. Diversity in tropical rain forests and coral reefs. Science 199: 1302–1310.

Cravo, A., B. Lopes, A. Serafim, R. Company, L. Barreira, T. Gomes & M. J. Bebianno, 2009. A multibiomarker approach in Mytilus galloprovincialis to assess environmental quality. Journal of Environmental Monitoring 11(9): 1673–1686.

Creuzé des Châtelliers, M., D. Poinsart & J.-P. Bravard, 1994. Geomorphology of alluvial groundwater ecosystems. In Gibert, J., D. L. Danielopol & J. A. Stanford (eds), Groundwater Ecology. Academic Press, San Diego: 158–185.

Culver, D. C., 1982. Cave Life: Evolution and Ecology. Harvard University Press, Cambridge.

Danielopol, D. L., M. Creuzé des Châtteliers, F. Mösslacher, P. Pospisil & R. Popa, 1994. Adaption of Crustacea to interstitial habitats: a practical agenda for ecological studies. In Gibert, J., D. L. Danielopol & J. A. Stanford (eds), Groundwater Ecology. Academic, New York: 218–243.

Danielopol, D. L., R. Rouch, P. Pospisil, P. Torreiter & F. Mößlacher, 1997. Ecotonal animal assemblages; their interest for groundwater studies. In Gibert, J., J. Mathieu & F. Fournier (eds), Groundwater/Surface Water Ecotones: Biological and Hydrological Interactions and Management Options. Cambridge University Press, Cambridge: 11–20.

Datry, T., F. Malard & J. Gibert, 2005. Response of invertebrate assemblages to increased groundwater recharge rates in a phreatic aquifer. Journal of the North American Benthological Society 24: 461–477.

de Oliveira, U. O., A. S. da Rosa Araujo, A. Bello′-Klein, R. S. M. da Silvaa & L. C. Kucharski, 2005. Effects of environmental anoxia and different periods of reoxygenation on oxidative balance in gills of the estuarine crab Chasmagnathus granulate. Comparative Biochemistry and Physiology Part B 140: 51–57.

Dole-Olivier, M.-J., 1998. Surface water-groundwater exchanges in three dimensions on a backwater of the Rhône River. Freshwater Biology 40: 93–109.

Dole-Olivier, M.-J., F. Malard, D. Martin, T. Leférbure & J. Gibert, 2009. Relationships between environmental variables and groundwater biodiversity at the regional scale. Freshwater Biology 54: 797–813.

El Adnani, M., A. Ait Boughrous, M. Y. Khebiza, A. El Gharmali, M. L. Sbai, A. S. Errouane, L. Loukili Idrissi & A. Nejmeddine, 2007. Impact of mining wastes on the physicochemical and biological characteristics of groundwater in a mining area in Marrakech (Morocco). Environmental Technology 28: 71–82.

Fan, W. H., G. Tang, C. M. Zhao, Y. Duan & R. Zhang, 2009. Metal accumulation and biomarker responses in Daphnia magna following cadmium and zinc exposure. Environmental Toxicology & Chemistry 28(2): 305–310.

Febria, C. M., R. R. Fulthorpe & D. D. Williams, 2009. Characterizing seasonal changes in physicochemistry and bacterial community composition in hyporheic sediments. Hydrobiologia. doi:10.1007/s10750-009-9882-x.

Forray, F. L., 2001. Aplicarea analizei factoriale în studiul poluării râului Arieş (Munţii Apuseni). Studia Universitatis Babeş-Bolyai (Geologia) 46: 47–58.

Fuller, C. C. & J. W. Harvey, 2000. Reactive uptake of trace metals in the hyporheic zone of a mining-contaminated stream, Pinal Creek, Arizona. Environmental Science & Technology 34: 1150–1155.

Geret, F., A. Serafim, L. Barreira & M. J. Bebianno, 2002. Effect of cadmium on antioxidant enzyme activities and lipid peroxidation in the gills of the clam Ruditapes decussates. Biomarkers 7(3): 242–256.

Griebler, C. & F. Mösslacher, 2003. Grundwasser-eine ökosystemische Betrachtung. In Griebler, C. & F. Mösslacher (eds), Grundwasserökologie. UTB-Facultas Verlag, Wien: 253–310.

Hahn, H. J., 2006. The GW-fauna-index: a first approach to a quantitative ecological assessment of groundwater habitats. Limnologica 36: 119–137.

Hahn, H. J. & D. Matzke, 2005. A comparison of stygofauna communities inside and outside groundwater bores. Limnologica 35: 31–44.

Hakenkamp, C. C. & M. A. Palmer, 2000. The ecology of hyporheic meiofauna. In Jones, J. B. & P. J. Mulholland (eds), Streams and Ground Waters. Academic, San Diego: 307–335.

Hancock, P. J., 2002. Human impacts on the stream-groundwater exchange zone. Environmental Management 29(6): 763–781.

Hendricks, S. P. & D. S. White, 1995. Seasonal biogeochemical patterns in surface water, subsurface hyporheic, and riparian ground water in a temperate stream ecosystem. Archiv für Hydrobiologie 134: 459–490.

Hinkle, S., J. Duff, F. Triska, A. Laenen, E. Gates, K. Bencala, D. Wentz & S. Silva, 2001. Linking hyporheic flow and nitrogen cycling near the Willamette River—a large river in Oregon, USA. Journal of Hydrology 244: 157–180.

Malard, F. & F. Hervant, 1999. Oxygen supply and the adaptations of animals in groundwater. Freshwater Biology 41: 1–30.

Malard, F., J.-L. Reygrobellet, J. Mathieu & M. Lafont, 1994. The use of invertebrate communities to describe groundwater flow and contaminant transport in a fractured rock aquifer. Archiv für Hydrobiologie 131(1): 93–110.

Malard, F., S. Plénet & J. Gibert, 1996. The use of invertebrates in ground water monitoring: a rising research field. Ground Water Monitoring and Remediation 16: 103–113.

Manduzio, H., T. Monsinjon, C. Galap, F. Leboulenger & B. Rocher, 2004. Seasonal variations in antioxidant defences in blue mussels Mytilus edulis collected from a polluted area: major contributions in gills of an inducible isoform of Cu/Zn-superoxide dismutase and of glutathione S-transferase. Aquatic Toxicology 70(1): 83–93.

Moldovan, O., Iepure, S. & A. Perşoiu, 2005. Biodiversity and protection of Romanian karst areas: the example of interstitial fauna. In Stevanovič, Z. & P. Milanovič (eds), Water Resources and Environmental Problems in Karst. Proceedings International Conference & Field Seminar, Beograd & Kotor, 13–19 September 2005: 831–836.

Momeu, L., K. W. Battes, F. Pricope, A. Avram, K. P. Battes, M. Cîmpean, D. Ureche & I. Stoica, 2007. Preliminary data on algal, macroinvertebrate and fish communities from the Arieş catchment area, Transylvania, Romania. Studia Universitatis Babeş-Bolyai (Biología) 52: 25–36.

Morel, F. M. M., 1983. Principles of Aquatic Chemistry. Wiley, New York.

Moser, D. P., J. K. Fredrickson, D. R. Geist, E. V. Arntzen, A. D. Peacock & S.-M. W. Li, 2003. Biogeochemical processes and microbial characteristics across groundwater-surface water boundaries of the Hanford Reach of the Colombia River. Environmental Science & Technology 37: 5127–5134.

Mösslacher, F. & J. Notenboom, 1999. Groundwater biomonitoring. In Gerhardt, A. (ed.), Biomonitoring of Polluted Water. Environmental Science Forum 96: 119–140.

Mösslacher, F. & M. Creuzé des Châtelliers, 1996. Physiological and behavioural adaptations of an epigean and a hyporheic dwelling population of Asellus aquaticus (L.) (Crustacea, Isopoda). Archiv für Hydrobiologie 138: 187–198.

Munk, L., G. Faure, D. Pride & J. Bigham, 2002. Sorption of trace metals to an aluminum precipitate in a stream receiving acid rock-drainage; Snake River, Summit County, Colorado. Applied Geochemistry 17: 421–430.

Notenboom, J., S. Plénet & M.-J. Turquin, 1994. Groundwater contamination and its impact on groundwater animals and ecosystems. In Gibert, J., D. L. Danielopol & J. A. Stanford (eds), Groundwater Ecology. Academic Press, San Diego: 477–504.

Pagés, J., 2004. Multiple factor analysis: main features and application to sensory data. Revista Colombiana de Estadistica 27: 1–26.

Plénet, S., 1995. Freshwater amphipods as biomonitors of metal pollution in surface and interstitial aquatic systems. Freshwater Biology 33: 127–137.

Plénet, S., 1999. Metal accumulation by an epigean and a hypogean freshwater amphipod: considerations for water quality assessment. Water Environment Research 71: 1298–1309.

Plénet, S. & J. Gibert, 1994. Invertebrate community responses to physical and chemical factors at the river/aquifer interaction zone. I. Upstream from the city of Lyon. Archiv für Hydrobiologie 132: 165–189.

Plénet, S., H. Hugueny & J. Gibert, 1996. Invertebrate community responses to physical and chemical factors at the river/aquifer interaction zone. II. Downstream from the city of Lyon. Archiv für Hydrobiologie 136: 65–88.

Pyle, G. G. & R. S. Mirza, 2007. Copper-impaired chemosensory function and behavior in aquatic animals. Human Ecological Risk Assessment 13: 492–505.

Rouch, R. & D. Danielopol, 1987. L'origine de la faune aquatique souterraine, entre le paradigme du refuge et le modèle de la colonization active. Stygologia 3: 345–372.

Rusu, M., H. L. Banciu, M. Banciu, T. Brad & O. T. Moldovan, 2010. Oxidative stress enzymes as biomarkers of heavy metal pollution in interstitial invertebrates. Studia Universitatis Babes-Bolyai 2: 61–66.

Schmid-Araya, J. M., 1998. Small-sized invertebrates in a gravel stream: community structure and variability of benthic rotifers. Freshwater Biology 39: 25–39.

Ukeda, H., T. Shimamura, M. Tsubouchi, Y. Harada, Y. Nakai & M. Sawamura, 2002. Spectrophotometric assay of superoxide anion formed in Maillard reaction based on highly water-soluble tetrazolium salt. Analytical Sciences 18: 1151–1154.

Van Damme, P. A., C. Hamel, A. Ayala & L. Bervoets, 2008. Macroinvertebrate community response to acid mine drainage in rivers of the High Andes (Bolivia). Environmental Pollution 156: 1061–1068.

Williams, D. D. & R. R. Fulthorpe, 2003. Using invertebrate and microbial communities to assess the condition of the hyporheic zone of a river subject to 80 years of contamination by chlorobenzenes. Canadian Journal of Zoology 8: 789–802.

Wong, S. W., P. T. Leung, A. B. Djurisić & K. M. Leung, 2010. Toxicities of nano zinc oxide to five marine organisms: influences of aggregate size and ion solubility. Analytical and Bioanalytical Chemistry 396(2): 609–618.
Acknowledgments
We are grateful to Frank Fiers for useful discussions and suggestions, to Géza Rajka, Ákos Nagy and Nimrod Nemeth for help with samplings, to Vlad Paul for insect larvae identification, and to Mihai Terente for the map. Claire Stephens was very helpful in improving the content and the English of the manuscript. Stuart Halse, Koen Martens and two anonymous reviewers made valuable remarks improving considerably the manuscript quality. This study was funded through the grants 31_032/2007 (CNMP, Ministry of Education, Research and Innovation, Romania) and SYNTHESYS BE-TAF 4681 (European Union-funded Integrated Activities grant).
Additional information
Handling editor: Stuart Anthony Halse
About this article
Cite this article
Moldovan, O.T., Levei, E., Marin, C. et al. Spatial distribution patterns of the hyporheic invertebrate communities in a polluted river in Romania. Hydrobiologia 669, 63–82 (2011). https://doi.org/10.1007/s10750-011-0651-2
Received:

Revised:

Accepted:

Published:

Issue Date:
Keywords
Interstitial fauna

Crustacea

Heavy metals

Oxidative stress enzymes

Arieş River