Abstract
The distribution, abundance and habitat characteristics of an alien species, Elodea canadensis, were surveyed in watercourses in Slovenia. The accompanying plant community was also examined. Distribution and abundance of macrophytes were assessed in reaches of different length, and habitat assessment is based on 12 parameters of the Riparian, Channel, and Environmental (RCE) Inventory. E. canadensis thrived in 132 out of 1,227 reaches examined and in 12 of the 39 watercourses surveyed. It grew in the company of a variety of species, most frequently with different species of Potamogeton. It was rarely found as the prevailing, and never as the only species in any reach. Canonical correspondence analysis (CCA) of reaches with E. canadensis revealed that the presence of detritus, retention structures and properties of the riparian zone explained most of the variance in community composition. Habitat analysis of well-established stands of E. canadensis showed that its preferred habitats were watercourses flowing through agricultural landscape, with a narrow, more or less disturbed riparian zone, with moderate presence of retention structures, and with sediment that was a mixture of gravel, sand and silt with either coarse or fine organic matter. It was not found in the parts of streams with the most dynamic flow, and was absent from watercourses in the karst region, due to the frequent and extreme water level fluctuations. The alien species E. canadensis did not express its invasive character in heterogeneous watercourses with rich macrophyte communities.
This is a preview of subscription content,
to check access.
Access this article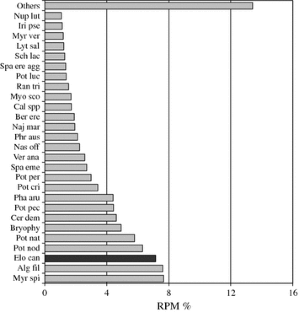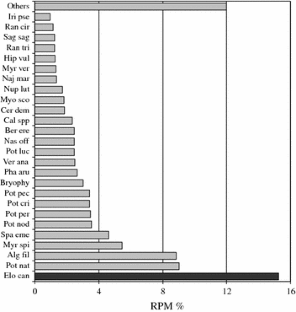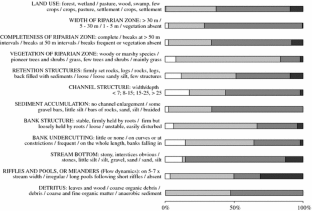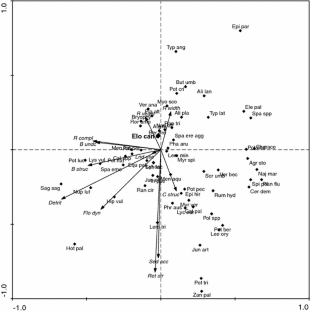 Similar content being viewed by others
References
Abernethy, V. J., M. R. Sabbatini & K. J. Murphy, 1996. Response of Elodea canadensis Michx. and Myriophyllum spicatum L. to shade, cutting and competition in experimental culture. Hydrobiologia 340: 219–224.

ARSO (Agencija Republike Slovenije za okolje), 2001. Pregled stanja biotske raznovrstnosti in krajinske pestrosti v Sloveniji. ARSO, Ljubljana.

ARSO (Agencija Republike Slovenije za okolje), 2008. Monitoring kakovosti površinskih vodotokov v Sloveniji v letu 2006. ARSO, Ljubljana.

Baatrup-Pedersen, A. & T. Riis, 1999. Macrophyte diversity and composition in relation to substratum characteristics in regulated and unregulated Danish streams. Freshwater Biology 42: 375–385.

Barrat-Segretain, M. H. & B. Cellot, 2007. Response of invasive macrophyte species to drawdown: the case of Elodea sp. Aquatic Botany 87: 255–261.

Barrat-Segretain, M. H. & D. G. Lemoine, 2007. Can snail herbivory influence the outcome of competition between Elodea species? Aquatic Botany 86: 157–162.

Bornette, G., C. Amoros & D. Chessel, 1994. Effect of allogenic processes on successional rates in former river channels. Journal of Vegetation Science 5: 237–246.

Chambers, P. A., P. Lacoul, K. J. Murphy & S. M. Thomaz, 2008. Global diversity of aquatic macrophytes. Hydrobiologia 595: 9–26.

Dykyjová, D., A. Košánová, Š. Husák & A. Sládečková, 1985. Macrophytes and water pollution of the Zlatá Stoka (Golden Canal), Trebon Biosphere Reserve, Czechoslovakia. Archiv für Hydrobiologie 105: 31–58.

Erhard, D. & E. M. Gross, 2006. Allelopathic activity of Elodea canadensis and Elodea nuttallii against epiphytes and phytoplankton. Aquatic Botany 85: 203–211.

Germ, M., A. Gaberščik & O. Urbanc-Berčič, 2000. The wider environmental assessment of river ecosystems. Acta Biologica Slovenica 43: 13–19.

Germ, M., M. Dolinšek & A. Gaberščik, 2003. Macrophytes of the River Ižica – comparison of species composition, abundance in the years 1996 and 2000. Archiv für Hydrobiologie Supplementband 147 (Large Rivers 14): 181–193.

Germ, M., O. Urbanc-Berčič, G. A. Janauer, P. Filzmoser, N. Exler & A. Gaberščik, 2008. Macrophyte distribution pattern in the Krka River – the role of habitat quality. Fundamental and Applied Limnology/Archiv für Hydrobiologie Supplementband 162 (Large rivers 18): 145–155.

Gurevitch, J., S. M. Scheiner & G. Fox, 2002. The Ecology of Plants. Sinauer Associates, Sunderland.

Herault, B., A. Bornet & M. Tremolieres, 2008. Redundancy and niche differentiation among the European invasive Elodea species. Biological Invasions 10: 1099–1107.

Jahnke, L. S., T. T. Eighmy & W. R. Fagerberg, 1991. Studies of Elodea nuttallii grown under photorespiratory conditions. I. Photosynthetic characteristics. Plant, Cell and Environment 14: 147–156.

Karr, J. R. & I. J. Schlosser, 1978. Water resources and the land–water interface. Science 201: 229–234.

Kiraly, G., A. Mesterhazy & B. Bakan, 2007. Elodea nuttallii (Planch.) H. St. John, Myosotis laxa Lehm. and Pyrus austriaca Kern., new for Slovenia, as well as other floristic records. Hladnikia 20: 11–15.

Kohler, A. & G. A. Janauer, 1995. Zur Methodik der Untersuchung von aquatischen Makrophyten in Fließgewässern. In Steinberg, C., H. Bernhardt & H. Klapper (eds), Handbuch Angewandte Limnologie. Ecomed Verlag, Landsberg/Lech: 3–22.

Kuhar, U., T. Gregorc, M. Renčelj, N. Šraj-Kržič & A. Gaberščik, 2007. Distribution of macrophytes and condition of the physical environment of streams flowing through agricultural landscape in north-eastern Slovenia. Limnologica 37: 146–154.

Kuhar, U., N. Kržič, M. Germ & A. Gaberščik, 2009. Habitat characteristics of threatened macrophyte species in the watercourses of Slovenia. Verhandlungen Internationale Vereinigung für theoretische und angewandte Limnologie 30: 754–756.

Madsen, J. D., C. F. Hartleb & C. W. Boylen, 1991. Photosynthetic characteristics of Myriophyllum spicatum and six submersed aquatic macrophyte species native to Lake George, New York. Freshwater Biology 26: 233–240.

Martinčič, A., T. Wraber, N. Jogan, A. Podobnik, B. Turk, B. Vreš, V. Ravnik, B. Frajman, S. Strgulc Krajšek, B. Trčak, T. Bačič, M. A. Fischer, K. Eler & B. Surina, 2007. Mala flora Slovenije. Tehniška založba Slovenije, Ljubljana.

Nichols, S. A. & B. H. Shaw, 1986. Ecological life histories of the three aquatic nuisance plants, Myriophyllum spicatum, Potamogeton crispus and Elodea canadensis. Hydrobiologia 131: 3–21.

Ozimek, T., E. van Donk & R. D. Gulati, 1993. Growth and nutrient uptake by two species of Elodea in experimental conditions and their role in nutrient accumulation in a macrophyte-dominated lake. Hydrobiologia 251: 13–18.

Pall, K. & G. A. Janauer, 1995. Die Makrophytenvegetation von Flußstauen am Beispiel der Donau zwischen Fluß-km 2552, 0 und 2511, 8 in der Bundesrepublik Deutschland. Archiv für Hydrobiologie Supplementband 101 (Large Rivers 9): 91–109.

Petersen, R. C., 1992. The RCE: a Riparian, Channel, and Environmental Inventory for small streams in the agricultural landscape. Freshwater Biology 27: 295–306.

Pokorny, J., J. Kvet, J. P. Ondok, Z. Toul & I. Ostry, 1984. Production-ecological analysis of a plant community dominated by Elodea canadensis Michx. Aquatic Botany 19: 263–292.

Riis, T., 2008. Dispersal and colonisation of plants in lowland streams: success rates and bottlenecks. Hydrobiologia 596: 341–351.

Riis, T. & K. Sand-Jensen, 2006. Dispersal of plant fragments in small streams. Freshwater Biology 51: 274–286.

Schneider, S. & A. Melzer, 2003. The Trophic Index of Macrophytes (TIM) – a new tool for indicating the trophic state of running waters. International Review of Hydrobiology 88: 49–67.

Schulze, E. D., E. Beck & K. M. Hohenstein, 2005. Plant Ecology. Springer Verlag, Berlin.

Šajna, N., M. Haler, S. Škornik & M. Kaligarič, 2007. Survival and expansion of Pistia stratiotes L. in a thermal stream in Slovenia. Aquatic Botany 87: 75–79.

Šraj-Kržič, N., M. Germ, O. Urbanc-Berčič, U. Kuhar, G. A. Janauer & A. Gaberščik, 2007. The quality of the aquatic environment and macrophytes of karstic watercourses. Plant Ecology 192: 107–118.

Thiebaut, G., 2005. Does competition for phosphate supply explain the invasion pattern of Elodea species? Water Research 39: 3385–3393.

Thiebaut, G., 2007. Invasion success of non-indigenous aquatic and semi-aquatic plants in their native and introduced ranges. A comparison between their invasiveness in North America and in France. Biological Invasions 9: 237–251.

Urbanič, G., 2008a. Redelineation of European inland water ecoregions in Slovenia. Review of Hydrobiology 1: 17–25.

Urbanič, G., 2008b. Inland water subecoregions and bioregions of Slovenia. Natura Sloveniae 10: 5–19.

Vought, L. B.-M., G. Pinay, A. Fuglsang & C. Ruffinoni, 1995. Structure and function of buffer strips from a water quality perspective in agricultural landscapes. Landscape and Urban Planning 31: 323–331.

Wiegleb, G., 1981. Application of multiple discriminant analysis on the analysis of the correlation between macrophyte vegetation and water quality in running waters of Central Europe. Hydrobiologia 79: 91–100.
Acknowledgments
This research was financed by the Ministry of Higher Education, Science and Technology of the Republic of Slovenia, through the programmes "Biology of plants" (P1-0212) and "Young researchers" (3311-04-831246). The financial support is gratefully acknowledged.
Additional information
Guest editors: A. Pieterse, S. Hellsten, J. Newman, J. Caffrey, F. Ecke, T. Ferreira, B. Gopal, J. Haury, G. Janauer, T. Kairesalo, A. Kanninen, K. Karttunen, J. Sarvala, K. Szoszkiewicz, H. Toivonen, L. Triest, P. Uotila and N. Willby / Aquatic Invasions and Relation to Environmental Changes: Proceedings of the 12th International Symposium on Aquatic Weeds, European Weed Research Society
About this article
Cite this article
Kuhar, U., Germ, M. & Gaberščik, A. Habitat characteristics of an alien species Elodea canadensis in Slovenian watercourses. Hydrobiologia 656, 205–212 (2010). https://doi.org/10.1007/s10750-010-0438-x
Published:

Issue Date:

DOI: https://doi.org/10.1007/s10750-010-0438-x
Keywords